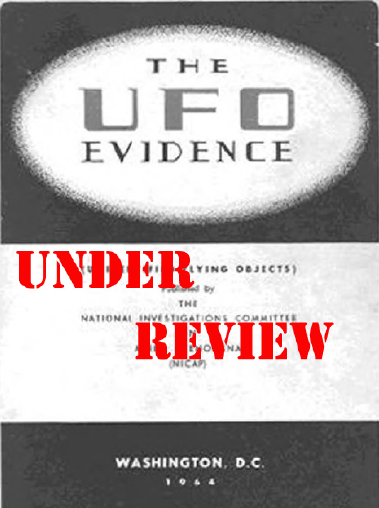 June 1, 1954 Boston, Massachusetts
June 1, 1954--Nr. Boston, Mass. TWA pilot enroute from Paris, control tower operators, saw large white disc. [V]1
Section V states:
White disc paced airliner.
and
A disc-shaped UFO paced a Trans-World Airways plane June 1, 1954. United Press reported the incident (newswire copy on file at NICAP):
FLYING SAUCER OR A WEATHER BALLOON... THAT SEEMS TO BE THE ISSUE BETWEEN AN AIRLINES PILOT AND THE AIR FORCE.
TRANS-WORLD AIRWAYS PILOT CHARLES KRATOVIL OF PORT WASHINGTON, NEW YORK, SAYS HE SAW AN UNIDENTIFIED OBJECT . . . LARGE, WHITE-COLORED, AND DISC-SHAPED.
HE SAYS HE AND HIS TWO CREW MATES SPOTTED THE OBJECT 10 MILES NORTH OF BOSTON THIS MORNING
THAT IT WAS PURSUING THE SAME COURSE AS HIS PLANE BUT WAS OBSCURED BY HIGH CLOUDS.
KRATOVIL SAYS HE RECEIVED A MESSAGE FROM THE AIRLINES BOSTON OFFICE QUOTING THE AIR FORCE AS SAYING THE OBJECT PROB- ABLY WAS A WEATHER BALLOON.
HOWEVER, THE PILOTS PUT IT THIS WAY:
"IF THIS IS A WEATHER BALLOON... IT'S THE FIRST TIME I EVER SAW ONE TRAVELING AGAINST THE WIND."3
The formal explanation appears that it was a weather balloon. Is this correct?
Other sources
Project Blue Book does have a record of investigation. However, it consists only of the form completed by the witness on August 3, 1954. While the UP story indicated the pilot dismissed the balloon explanation, by August of 1954, his attitude had changed. He became aware that it was not a weather balloon but a large research balloon that had been launched at 0430 from Grenier AFB in Manchester, NH. When he learned of this balloon flight, he now seemed to agree with the explanation.

The Blue Book record cardalso states that five ground personnel saw the object with binoc- ulars.5
Dr. James McDonald wrote the following about the case:
At 0930 EDST, a Paris-New York TWA Constellation was passing near Boston when the cockpit crew spotted "a large, white-colored disc-like object" overhead (Ref. 41). Capt. Charles J. Kratovil, copilot W. R. Davis, and flight engineer Harold Raney all watched it for a total time of 10 minutes as they flew on their own southwestward course to New York. They would occasionally lose it behind overlying clouds. Knowing that they were flying into headwinds, they concluded that it could not be any kind of balloon, so they radioed the Boston airport control tower, which in- formed him that jets were scrambled and saw the object, but could not close with it.
After landing in New York, Capt. Kratovil was informed that official spokesmen had attributed the sighting to a "weather balloon" released from Grenier AFB, in New Hampshire.6
He would add that a weather balloon could not be the source because the plane flew 50 miles in the ten minutes and the weather balloon could not keep up with the aircraft.
Analysis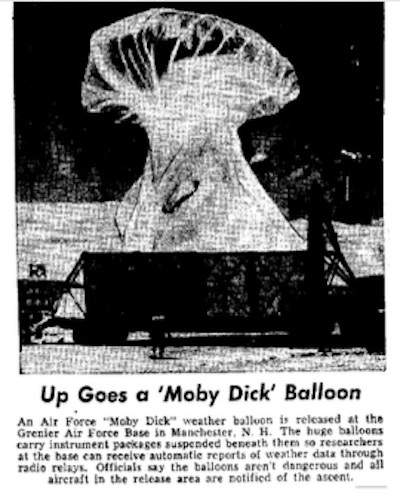 Grenier Air Force Base had been launching "Moby Dick" balloons that spring. The photograph above appeared in the Ogden high altitude research balloon. The fact that the object was also seen by ground personnel with binoculars indicated that what was seen was large and visible over a large area. A high altitude plastic balloon would satisfy these observations.
It is interesting to note that at least one more balloon launched by Grenier airfield that summer produced UFO reports that were mentioned in the news media.8 In this instance, the media identified the source. If they had not done so, these reports probably would have also appeared in "The UFO evidence".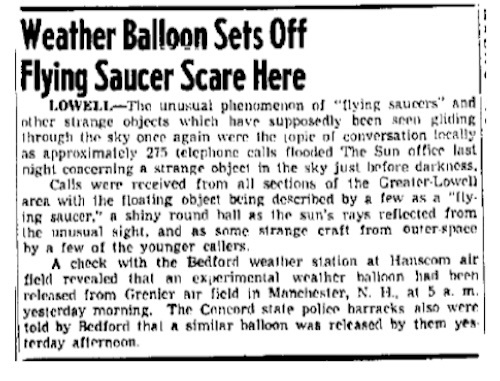 Conclusion
It seems very likely that the pilot saw a high altitude balloon launched from Manchester that morning. The case should be labeled "probably a balloon" and removed from the "best evidence" list.
Quelle: SUNlite 3/2019
1645 Views