9.12.2018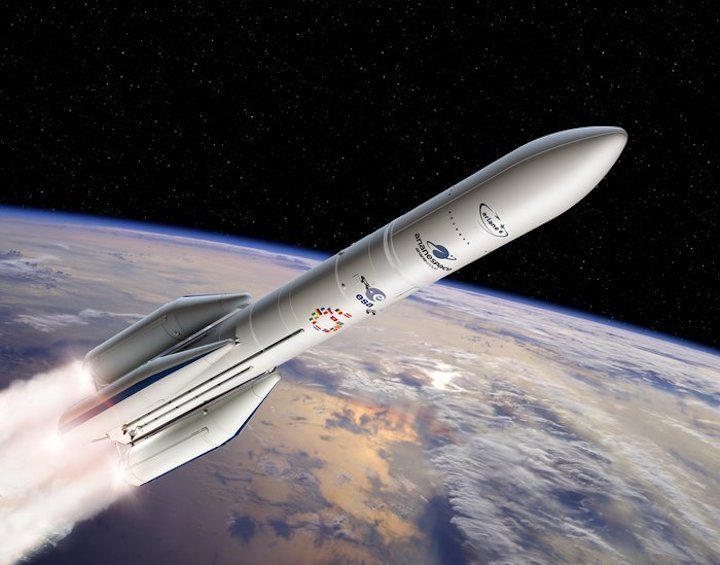 ARIANE 6 ON THE WAY TO FLIGHT
Artist's view of the configuration of Ariane 6 using four boosters (A64)
This has been an intense year for Ariane 6 development, with progress boosted across Europe: plants are manufacturing new parts using novel methods, all engines have been tested, and the construction of launch facilities is well underway.
ESA has worked with an industrial network led by prime contractor ArianeGroup, of more than 600 companies in 13 European countries, including 350 small- and medium-sized enterprises, to fine-tune the design and start production. Meanwhile, France's CNES space agency has been preparing its launch facilities at Europe's Spaceport in French Guiana.
Details on all these activities were recently shared at the 69th International Astronautical Congress in Bremen, Germany – downloadable here (.pdf) – along with two papers submitted to the congress: launch system (.pdf) and launcher system (.pdf), here are the highlights.
Europe's new Ariane 6 launcher covers a broad range of commercial and institutional applications while dramatically decreasing the cost of launches compared to Ariane 5.
Enabled by ESA's Light satellite Low-cost Launch opportunity Initiative, a multiple launch service for small satellites starting mid-2021 will offer cost-effective launch opportunities for satellites of under 400 kg, via a rideshare approach on launchers such as Ariane 6, and its smaller cousin Vega-C.
The Ariane 6's core stage is powered by Vulcain 2.1, an upgraded engine derived from Ariane 5's Vulcain 2; its upper stage is powered by the reignitable Vinci engine. Two or four P120C solid-fuel boosters for Ariane 6, common with Vega-C, will be strapped on to provide thrust at liftoff.
The P120C and Vulcain 2.1 development models have started their ground testing, the Vinci is now qualified. This leads to the next significant milestone: the delivery of the Ariane 6 qualification model, to start combined tests in French Guiana at the end of 2019.
The second P120C model will be tested in French Guiana early next year, to verify its design and performance.
The Ariane 6 upper stage will be tested at the DLR German Aerospace Center newly developed P5.2 test facility in Lampoldshausen at the end of 2019.
Quelle: ESA
----
Update: 16.05.2019
.
Prototype Ariane 6 carbon-composite upper stage gets ESA funding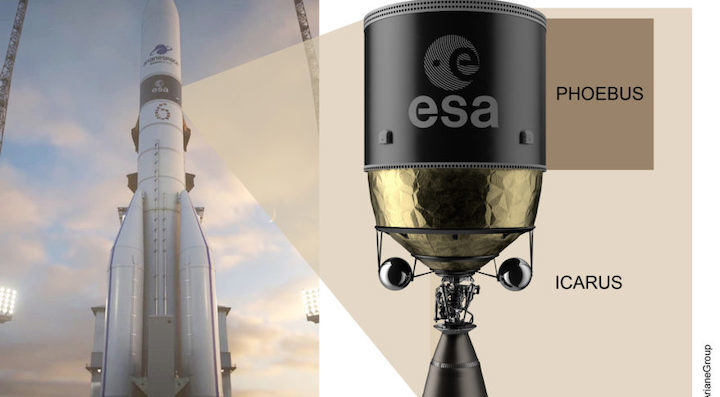 WASHINGTON — The European Space Agency gave contracts to ArianeGroup and MT Aerospace on May 14 to develop a prototype upper stage that could lead to an advanced carbon-composite upgrade for the Ariane 6 rocket.
ArianeGroup, the Franco-German company building Europe's Ariane 6 rocket, and subcontractor MT Aerospace of Augsburg, Germany, received funding repurposed from a previously scuttled Ariane 6 project to instead develop the "Prototype of a Highly Optimized Black Upper Stage," or PHOEBUS.
ESA member states decided last May to reallocate 70 million euros ($78.4 million at current exchange rates) to lightweight upper stage technologies and keep production of the P120C strap-on booster in Italy rather than spending it on creating a second production line in Germany. Those funds, provided by Germany, are being channeled into the two PHOEBUS contracts, as well as other programs, Jérôme Breteau, head of ESA's Future Launchers Preparatory Program, told SpaceNews.
Breteau said by email that the majority of the PHOEBUS program is funded, with a small amount expected to come from ESA's ministerial conference this November in Seville, Spain, where its 22 member states will decide on funding levels for current and future programs.
An upper stage built with carbon-composite materials instead of aluminum could lower the price of Ariane 6 launches while increasing the amount it can carry to geosynchronous orbit by up to two metric tons, according to ESA.
Guenther Hoerbst, a spokesperson for OHB, the parent company of MT Aerospace, said the company received 8.6 million euros from ESA for the PHOEBUS program. The company will focus on developing carbon-composite tanks and cryogenic structures.
ArianeGroup declined to state the value of its contract. ESA tasked ArianeGroup with working on "innovative stage architectures and system integration," according to a company news release.
ArianeGroup and MT Aerospace said PHOEBUS prototype technologies will be integrated into a demonstrator in 2021 to test compatibility with liquid oxygen and hydrogen fuels.
The PHOEBUS prototype sets the stage for a future Ariane 6 upper stage called Icarus — the Innovative Carbon Ariane Upper Stage — that would be made of carbon-fiber reinforced plastic. ESA says Icarus could be ready for Ariane 6 by 2025 if fully funded. Ariane 6's maiden flight is in mid-2020.
Breteau said the final funding level would also determine how much more performance the upgraded rocket stage can provide. Last year former ArianeGroup CEO Alain Charmeau said the target was to increase Ariane 6's launch capability by one metric ton. ESA and industry's new goal is around double that amount.
ESA said a decision on Icarus funding will be made at the ministerial conference.
Quelle: SN
3584 Views