A little more than a day after launch, SpaceX's Crew Dragon capsule successfully docked with the International Space Station early Sunday morning after autonomously maneuvering itself, marking another major milestone of this test mission.
The capsule did not have humans on board. Instead, it carried 400 pounds of supplies for the space station and a mannequin passenger named Ripley, outfitted with multiple sensors to measure her ride to space.
This was the first time a SpaceX capsule had attempted to attach itself to the station. During the Hawthorne company's previous 16 resupply missions, its Dragon cargo capsule hovered below the station until it was grabbed by a robotic arm and attached to a port.
This time, the capsule gradually maneuvered itself closer to the station before docking on its own.
Two astronauts aboard the station monitored the Crew Dragon's progress and sent commands to the capsule until it was about six feet away. At that point, the capsule took over and attached itself to the station in a "soft capture" at 2:51 a.m. Pacific time. "Hard capture," meaning the capsule firmly latched onto the station via 12 hooks, occurred a little after 3 a.m. Pacific time.
Bob Behnken, one of the two NASA astronauts who will be on the capsule's first crewed test mission, said it was "super exciting" to see the Crew Dragon dock.
"Just one more milestone that gets us ready for our flight coming up here," he said on a livestream of the docking.
It was Crew Dragon's first test flight and the first launch of NASA's commercial crew program — a public-private partnership in which the agency awarded SpaceX and Boeing Co. a combined $6.8 billion in contracts to build separate spacecraft that will take NASA astronauts to the space station.
Boeing is set to launch its first uncrewed test mission in April, with a crewed mission no earlier than August. SpaceX's crewed test flight is set for no earlier than July.
Crew Dragon will remain at the space station for a few days before undocking and splashing down in the Atlantic Ocean early Friday morning, where a recovery ship will be nearby to pick it up.
Musk described the capsule's reentry as "probably my biggest concern." Unlike its cargo counterpart, Crew Dragon has emergency-escape thrusters integrated into the capsule's side, making it less smooth, he said.
Quelle: Los Angeles Times
+++
SpaceX's Crew Dragon capsule successfully docks with International Space Station
If the six-day demo goes well, SpaceX could launch two astronauts this summer under NASA's commercial crew program.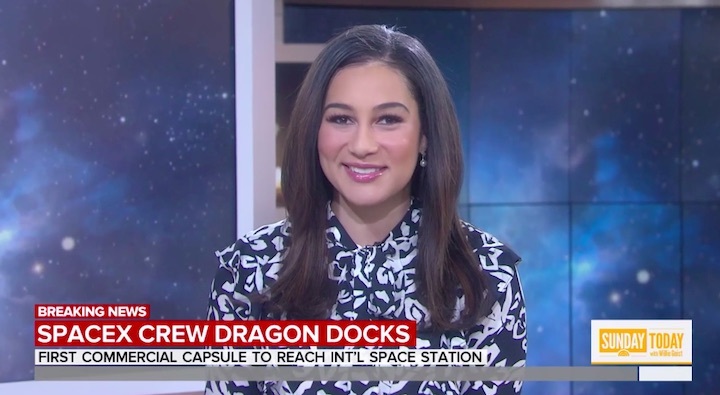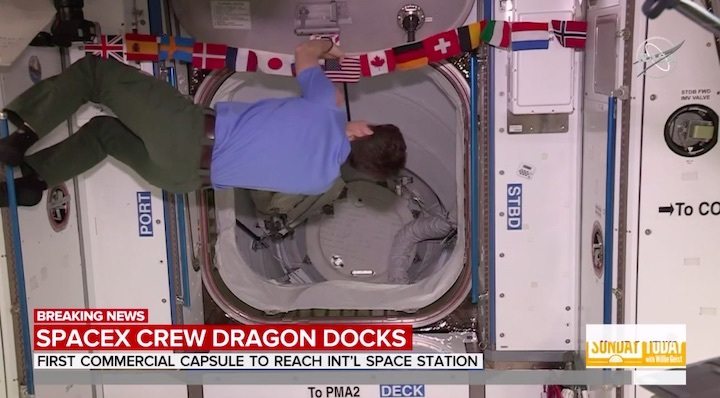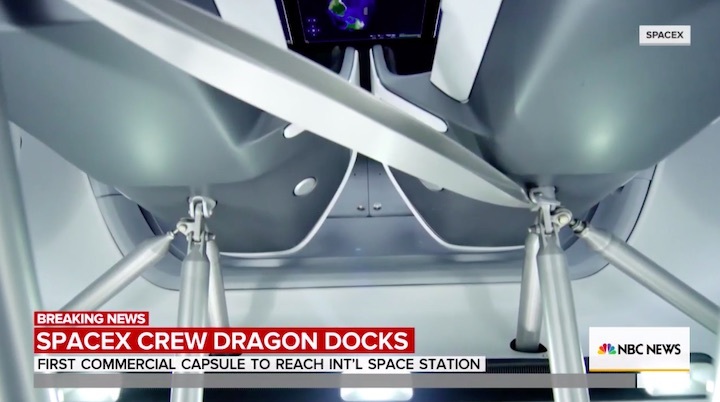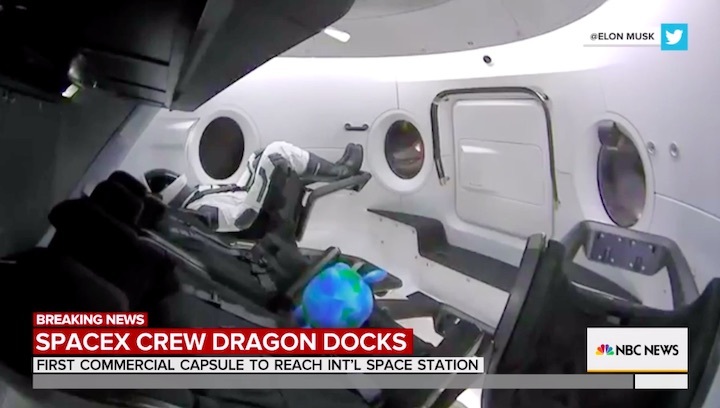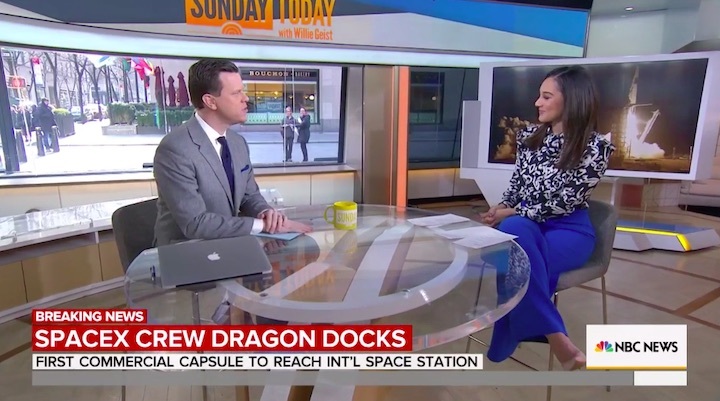 CAPE CANAVERAL, Fla. — SpaceX's new crew capsule arrived at the International Space Station on Sunday, acing its second milestone in just over a day.
No one was aboard the capsule launched Saturday on its first test flight, only an instrumented dummy. But the three station astronauts had front-row seats as the sleek, white vessel neatly docked and became the first American-made, designed-for-crew spacecraft to pull up in eight years.
TV cameras on Dragon as well as the space station provided stunning views of one another throughout the rendezvous.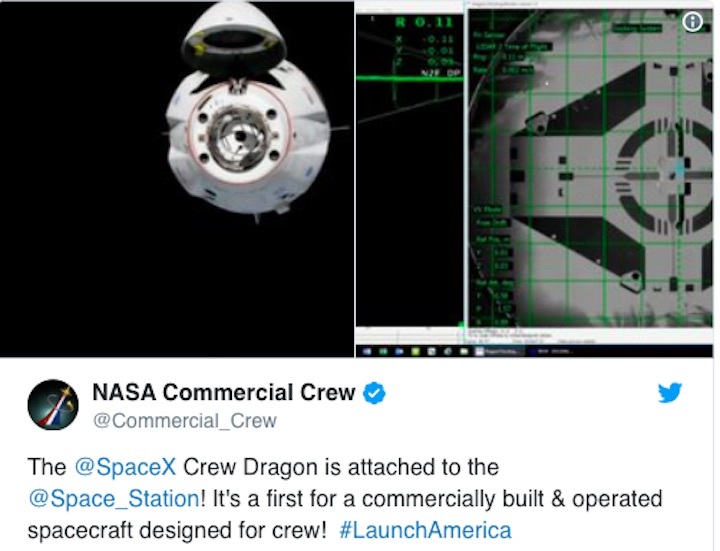 If the six-day demo goes well, SpaceX could launch two astronauts this summer under NASA's commercial crew program. Both astronauts — Doug Hurley and Bob Behnken — were at SpaceX Mission Control in Southern California, observing all the action. They rushed there from Florida after watching the Dragon rocket into orbit early Saturday from NASA's Kennedy Space Center.
"Just super excited to see it," Behnken said minutes after the link-up. "Just one more milestone that gets us ready for our flight coming up here."
While SpaceX has sent plenty of cargo Dragons to the space station, crew Dragon is a different beast. It docked autonomously, instead of relying on the station's robot arm for help.
The spacecraft will remain attached to the orbiting outpost for a week, before undocking on March 8 and splashing down in the Atlantic Ocean, off the coast of Florida, several hours later.
The spacecraft is designed to carry up to seven passengers to the space station, but for this flight, the capsule is loaded up with 450 pounds of cargo and a test dummy outfitted in one of SpaceX's customized spacesuits. The dummy is nicknamed Ripley, in honor of Ellen Ripley, the fictional character played by Sigourney Weaver in the 1979 film "Alien," Hans Koenigsmann, SpaceX's vice president of Build and Flight Reliability, revealed Thursday in a pre-launch news briefing.
Last year, SpaceX sent another spacesuit-clad test dummy — this one named Starman in a nod to David Bowie — into space on the inaugural launch of the company's Falcon Heavy rocket.
SpaceX's Crew Dragon was developed in partnership with NASA to help the space agency replace its space shuttle fleet, which was retired in 2011. Since then, NASA has been relying on Russian rockets and space capsules to ferry its astronauts to and from the space station, for a reported cost of $80 million per journey.
In 2014, NASA awarded SpaceX and Boeing a combined $6.8 billion contract to build a pair of new spacecraft. Boeing's CST-100 Starliner capsule could undergo its first uncrewed test flight in April.
Quelle: NBC
+++
Crew Dragon successfully conducts debut docking with the ISS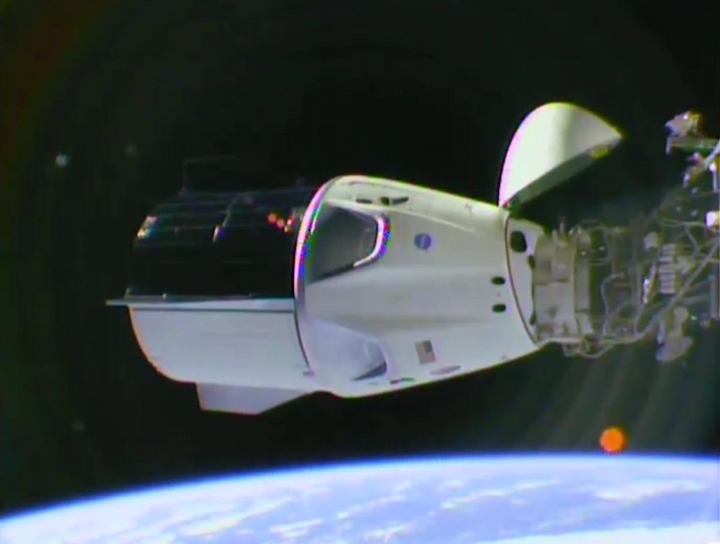 Following a successful launch early Saturday morning, SpaceX's Crew Dragon spacecraft has successfully conducted a rendezvous and docking to the International Space Station for the first time. Docking was ahead of schedule at 5:51 AM EST (10:51 UTC) on Sunday, March 3.

A Falcon 9 Block 5 rocket lofted Dragon to orbit from LC-39A at NASA's Kennedy Space Center in Florida, kicking off the first orbital test flight of NASA's Commercial Crew program.
The Demo-1 mission marks the first flight of the new and improved Dragon 2 spacecraft, which is longer and more massive than its Dragon 1 predecessor.
Furthermore, the crew variant of Dragon 2 is one of two spacecraft that will return domestic crew launch capability to the United States, the other being Boeing's CST-100 Starliner.
In order to certify Crew Dragon to carry humans, NASA and SpaceX will complete a series of four test flights, of which Demo-1 is the second. Following a successful pad abort test in 2015, the objective of Demo-1 is to demonstrate nominal end-to-end performance of Crew Dragon and its launcher, Falcon 9.
This includes demonstrating the on-orbit operation of avionics, communications, telemetry, life support, electrical, and propulsion systems, as well as the guidance, navigation, control (GNC) systems aboard both Falcon 9 and Dragon. GNC system performance must be demonstrated during ascent, on-orbit operations, and reentry.
The first two post-launch milestones for Crew Dragon were successfully completed shortly separating from Falcon 9's second stage, as confirmed by SpaceX CEO Elon Musk during a post-launch press conference Saturday morning.
The nosecone of Dragon opened to reveal the docking port and forward-facing Draco thrusters, and the first of a series of burns to gradually match the ISS's orbit was completed. Musk also confirmed that Dragon's solar panels and electrical systems were operating nominally.
Dragon 2 was the first SpaceX vehicle to attempt an autonomous docking in orbit. Dragon 1, which has been flying cargo resupply missions to the ISS since 2012, only maneuvered close enough to be grappled by the station's robotic arm, which then moved the spacecraft into position to be berthed.
Dragon 2, on the other hand, will not utilize the robotic arm, but rather use the onboard Draco thrusters to dock with the station. During a crewed mission, astronauts aboard the spacecraft will have the capability to intervene and fly the vehicle manually, if needed.
Crew Dragon docked to the forward port of the space station's Harmony module, which has been fitted with an International Docking Adaptor (IDA). The IDA was launched aboard Dragon 1 on the SpaceX CRS-9 mission. Crew currently aboard the ISS completed a checkout of the docking port in advance of Saturday's launch, and verified the docking system was "go" for docking.
During the rendezvous, Dragon went through numerous milestones, first coming into view at around 3,000 meters out, before approaching towards the Approach Elipsode and arrive at Waypoint 0.
With permission to enter the Keep Out Sphere (KOS), Dragon approached to within 150 meters of the docking port, where the station's crew tested a retreat command at Waypoint 1.
Sending this command to the spacecraft moved Dragon back to 180 meters. After remaining in this position for approximately 10 minutes, Dragon was cleared to proceed to 20 meters for another brief hold, at Waypoint 2, followed by the historic docking to the ISS at 5:51 AM Eastern.
A single action item concerning Dragon's approach to the station was identified during the Flight Readiness Review (FRR) conducted before launch.
A concern over Dragon's docking abort procedures was raised by the Russian space agency Roscosmos, one of NASA's international partners in the ISS program. While a scenario in which this issue would arise is unlikely, NASA and Roscosmos agreed to additional procedures to follow should Dragon encounter a problem during the rendezvous. No issues were suffered during the test objectives.
Also of interest over the course of Dragon's mission will be the performance of the Draco thrusters used to maneuver in orbit. Thermal vacuum testing conducted last year revealed less than nominal performance within the full thermal environment the Draco thrusters were expected to experience during the Demo-1 mission.
As a result, NASA and SpaceX modified the mission design to constrain the thermal environment and ensure the thrusters would be ready for flight. Lessons learned, including the addition of heaters to the thrusters' fuel lines, will allow the removal of those thermal constraints for the Demo-2 mission.
After docking to the station, Dragon's hatch was opened, and the station crew boarded the spacecraft to perform inspections. Aboard Dragon is Ripley, a mannequin fitted with instruments to gather data during the flight, along with 181 kg of supplies and equipment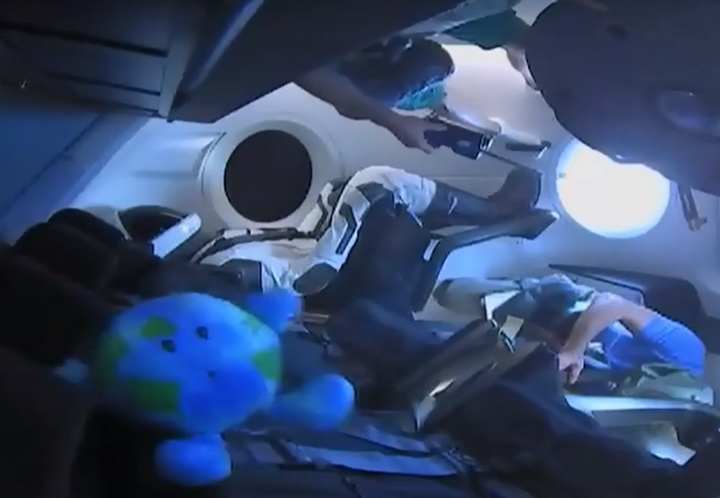 Dragon will spend four days docked to the ISS, after which Dragon will return to Earth with science samples as well as a failed spacesuit part needing repair. During operational crew missions, Dragon will be able to carry approximately 50 kg of cargo to and from the station, in addition to the crew.
Dragon's hatch is set to be closed at 12:25 PM EST (17:25 UTC) on Thursday, March 7. The following morning at 2:31 AM EST (07:31 UTC), Dragon will autonomously undock from the Harmony module and maneuver away from the station.
The deorbit burn, which will last up to 15 minutes, will begin at 7:50 AM EST (12:50 UTC). Like its Dragon 1 predecessor, the Dragon 2 capsule will separate from the spacecraft's trunk prior to reentry.
Unlike Cargo Dragon, Crew Dragon will splash down via four parachutes in the Atlantic Ocean off of the coast of Florida, whereas Cargo Dragon has always landed in the Pacific. Splashdown is scheduled for 8:45 AM EST (13:45 UTC) on Friday, March 8.
Quelle: NS
+++
NASA, SpaceX Launch First Flight Test of Space System Designed for Crew
SpaceX Crew Capsule Docks with Space Station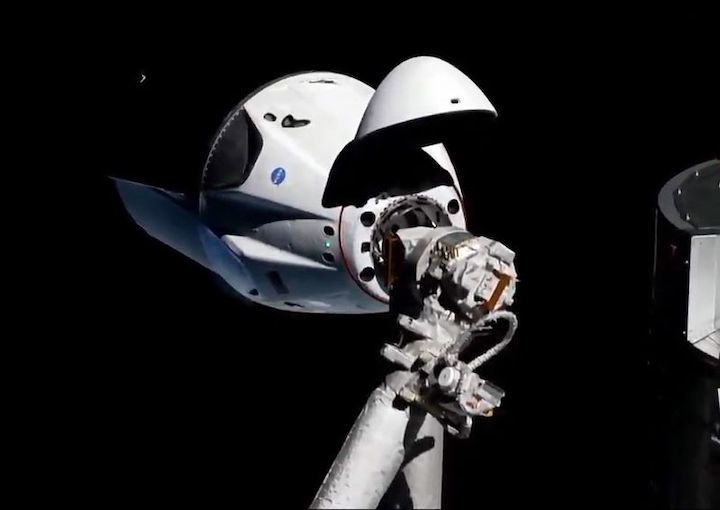 For the first time in history, a commercially-built and operated American crew spacecraft and rocket, which launched from American soil, is on its way to the International Space Station. The SpaceX Crew Dragon spacecraft lifted off at 2:49 a.m. EST Saturday on the company's Falcon 9 rocket from Launch Complex 39A at NASA's Kennedy Space Center in Florida.
"Today's successful launch marks a new chapter in American excellence, getting us closer to once again flying American astronauts on American rockets from American soil," said NASA Administrator Jim Bridenstine. "I proudly congratulate the SpaceX and NASA teams for this major milestone in our nation's space history. This first launch of a space system designed for humans, and built and operated by a commercial company through a public-private partnership, is a revolutionary step on our path to get humans to the Moon, Mars and beyond."
Known as Demo-1, SpaceX's inaugural flight with NASA's Commercial Crew Program is an important uncrewed mission designed to test the end-to-end capabilities of the new system. It brings the nation one-step closer to the return of human launches to the space station from the United States for the first time since 2011 – the last space shuttle mission. Teams still have work to do after this flight to prepare the spacecraft to fly astronauts. The best way to advance the system design was to fly this spacecraft and uncover any other areas or integrated flight changes that might be required.
The program demonstrates NASA's commitment to investing in commercial companies through public-private partnerships and builds on the success of American companies, including SpaceX, already delivering cargo to the space station. Demo-1 is a critical step for NASA and SpaceX to demonstrate the ability to safely fly missions with NASA astronauts to the orbital laboratory.
"First a note of appreciation to the SpaceX team. It has been 17 years to get to this point, 2002 to now, and an incredible amount of hard work and sacrifice from a lot of people that got us to this point...I'd also like to express great appreciation for NASA," said Elon Musk, CEO and lead designer at SpaceX. "SpaceX would not be here without NASA, without the incredible work that was done before SpaceX even started and without the support after SpaceX did start."
The public-private partnership combines commercial companies' unique, innovative approaches to human spaceflight and NASA's decades-long experience in design, development and operations of a crew space system.
"We are watching history being made with the launch of the SpaceX Demo-1 mission," said Steve Stich, launch manager and deputy manager of NASA's Commercial Crew Program. "SpaceX and NASA teams have been working together for years, and now we are side-by-side in control rooms across the country for launch, in-orbit operations and, eventually, splashdown of the Crew Dragon right here off Florida's coast."
SpaceX controlled the launch of the Falcon 9 rocket from Kennedy's Launch Control Center Firing Room 4, the former space shuttle control room, which SpaceX has leased as its primary launch control center. As Crew Dragon ascended into space, SpaceX commanded the Crew Dragon spacecraft from its mission control center in Hawthorne, California. NASA teams will monitor space station operations throughout the flight from Mission Control Center at the agency's Johnson Space Center in Houston.
The SpaceX Crew Dragon spacecraft is on its way to the space station for a 6:05 a.m. Sunday, March 3 docking to the low-Earth orbit destination. Live coverage of the rendezvous and docking will air on NASA Television and the agency's website beginning at 3:30 a.m. Coverage will resume at 8:30 a.m. with the hatch opening, followed at 10:45 a.m. with a crew welcoming ceremony.
Teams in the space station mission center at Johnson will monitor station crew members' opening of the spacecraft hatch, entering Crew Dragon and unpacking the capsule.
Mission Objectives
All the launch pad and vehicle hardware, and the launch day operations, were conducted in preparation for the next flight with crew aboard, including the control teams and ground crews. The mission and testing continues once the Falcon 9 lifts off the pad.
During the spacecraft's approach, in-orbit demonstrations will include rendezvous activities from a distance of up to 2.5 miles (4 kilometers), known as far field, and activities within one mile (1.6 kilometers), known as near field. As the spacecraft approaches the space station, it will demonstrate its automated control and maneuvering capabilities by reversing course and backing away from the station before the final docking sequence.
The docking phase, as well as the return and recovery of Crew Dragon, include many first-time events that cannot be totally modeled on the ground and, thus, are critical to understanding the design and systems ability to support crew flights. Previous cargo Dragon vehicles have been attached to the space station after capture by the station's robotic arm. The Crew Dragon will approach to dock using new sensor systems, new propulsion systems and the new international docking mechanism to attach to the station's Harmony module forward port, fitted with a new international docking adapter. Astronauts installed the adapter during a spacewalk in August 2016, following its delivery to the station in the trunk of a SpaceX Dragon spacecraft on its ninth commercial resupply services mission.
For Demo-1, Crew Dragon is carrying more than 400 pounds of crew supplies and equipment to the space station and will return some critical research samples to Earth. A lifelike test device named Ripley also will travel on the Crew Dragon, outfitted with sensors to provide data on potential effects on humans traveling in Crew Dragon.
For operational missions, Crew Dragon will be able to launch as many as four crew members and carry more than 220 pounds of cargo, enabling the expansion of the crew members, increasing the time dedicated to research in the unique microgravity environment, and returning more science back to Earth.
The Crew Dragon is designed to stay docked to station for up to 210 days, although the Crew Dragon used for this flight test will not have that capability. This spacecraft will remain docked to the space station only five days, departing Friday, March 8. After undocking from the station, Crew Dragon will begin its descent to Earth. Live coverage of the undocking will air on NASA Television and the agency's website beginning at 2 a.m., with deorbit and landing coverage resuming at 7:30 a.m.
Additional spacecraft mission objectives include a safe departure from the station, followed by a deorbit burn and parachute deployment to slow the spacecraft before splashdown in the Atlantic Ocean, off the Florida Space Coast. SpaceX's recovery ship, Go Searcher, will retrieve Crew Dragon and transport it back to port. Teams will be closely monitoring the parachute system and entry control system operation, which have been changed from cargo Dragons to provide higher reliability for crew flights.
NASA and SpaceX will use data from Demo-1, along with planned upgrades and additional qualification testing, to further prepare for Demo-2, the crewed flight test that will carry NASA astronauts Bob Behnken and Doug Hurley to the International Space Station. NASA will validate the performance of SpaceX's systems before putting crew on board for the Demo-2 flight, currently targeted for July.
NASA's Commercial Crew Program is working with Boeing and SpaceX to design, build, test and operate safe, reliable and cost-effective human transportation systems to low-Earth orbit. Both companies are focused on test missions, including abort system demonstrations and crew flight tests, ahead of regularly flying crew missions to the space station. Both companies' crewed flights will be the first times in history NASA has sent astronauts to space on systems owned, built, tested and operated by private companies.
Quelle: NASA