15.09.2017
Mysterious X-37B Space Plane Explained: Boeing's New Video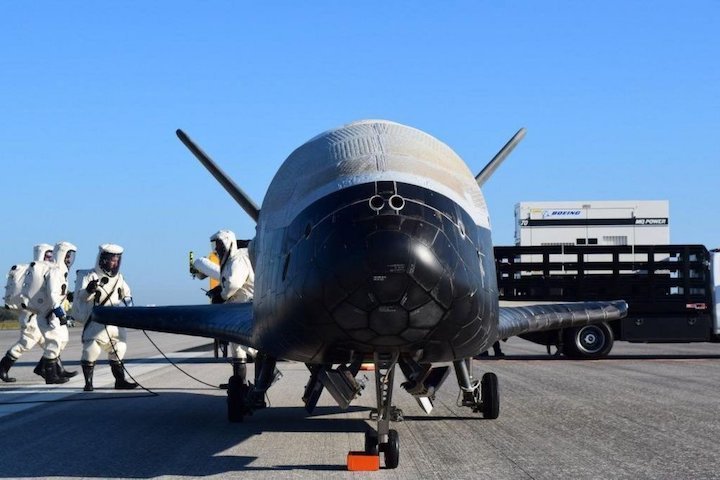 Tarmac touchdown
Exactly when the space plane will land is unknown.
The previous X-37B mission touched down at KSC's Shuttle Landing Facility on May 7, 2017 — a first for the program. All prior missions had ended with a tarmac touchdown at Vandenberg Air Force Base in California.
Several website postings say that the Air Force aims to launch the sixth X-37B mission, OTV-6, sometime this year aboard a United Launch Alliance Atlas V (501) rocket. The liftoff would be from Cape Canaveral Air Force Station's Space Launch Complex-41.
The classified X-37B program "fleet" consists of two known reusable vehicles, both of which were built by Boeing.
The Orbital Test Vehicles were fabricated at several Boeing locations in Southern California, including Huntington Beach, Seal Beach and El Segundo. The program transitioned to the U.S. Air Force in 2004 after earlier funded research efforts by Boeing, NASA and the Defense Advanced Research Projects Agency.
Looking like a miniature version of NASA's now-retired space shuttle orbiter, the military space plane is 29 feet (8.8 meters) long and 9.6 feet (2.9 m) tall, with a wingspan of nearly 15 feet (4.6 m).
The X-37B space plane has a payload bay measuring 7 feet (2.1 m) by 4 feet (1.2 m) that can be outfitted with a robotic arm. Each X-37B has a launch weight of 11,000 lbs. (4,990 kilograms) and is powered on orbit by gallium-arsenide solar cells with lithium-ion batteries.
Milestone for the program
Prior to the launch of OTV-5, Randy Walden, the director of the Air Force Rapid Capabilities Office, said there were many firsts on this mission, making it a milestone for the program. "It is our goal to continue advancing the X-37B OTV so it can more fully support the growing space community," Walden said.
The Air Force also noted that the fifth OTV mission was launched into, and will be landed from, a higher-inclination orbit than prior missions to further expand the X-37B's orbital envelope.
Ground track
Ted Molczan, a Toronto-based satellite analyst, told Inside Outer Space that OTV-5 began September 2018 in an orbit about 243 miles (391 kilometers) high, inclined 54.5 degrees to the equator. Its ground track repeated every three days, after 46 revolutions.
"In mid-September, it lowered its altitude to 214 miles (344 km), which caused its ground track to repeat every two days, after 31 revolutions," Molczan said. "It appeared to still be in approximately that orbit when last observed, on January 26, by Alberto Rango, from Rome, Italy."
Repeating ground tracks are very common, Molczan said, especially for spacecraft that observe the Earth. "I do not know why OTV has repeating ground tracks," he said.
Kevin Fetter, an amateur Canadian satellite spotter in Brockville, Ontario, caught the OTV-5 craft zip by above a bright star.
Quelle: SC
----
Update: 1.05.2019
.
X-37B Military Space Plane's Latest Mystery Mission Passes 600 Days
Exactly what it's doing up there is unclear.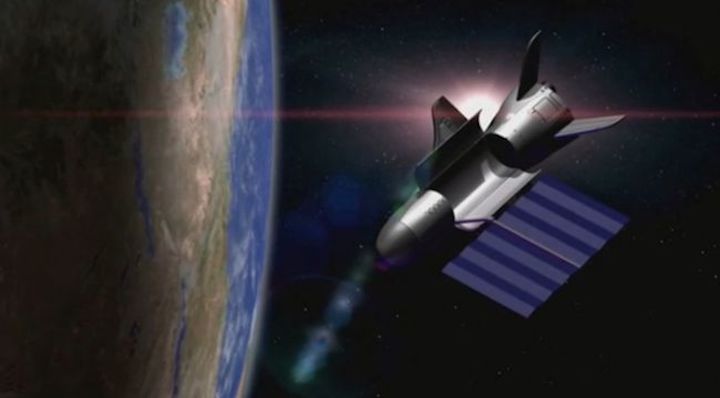 The U.S. Air Force's X-37B space plane has now been circling Earth for more than 600 days on its latest mystery mission.
The reusable robotic vehicle, which looks like a miniature version of NASA's space shuttle orbiters, launched atop a SpaceX Falcon 9 rocket from NASA's Kennedy Space Center in Florida on Sept. 7, 2017.
As of today (April 30), the space plane has been aloft for 601 days, on a mission known as Orbital Test Vehicle 5 (OTV-5) because it's the fifth flight of the X-37B program.
Related: The X-37B Space Plane: 6 Surprising Facts
It's unclear what exactly the spacecraft is doing up there. X-37B missions are classified, and Air Force officials tend to speak of project goals in general terms, as this excerpt from the X-37B fact sheet shows: "The primary objectives of the X-37B are twofold: reusable spacecraft technologies for America's future in space and operating experiments which can be returned to, and examined, on Earth."
Still, the Air Force does divulge some payloads flying on X-37B missions. For example, we know that OTV-5 includes the Advanced Structurally Embedded Thermal Spreader experiment (ASETS-II), which is measuring the performance of electronics and oscillating heat pipes in the space environment.
The Air Force has at least two X-37B vehicles, both of which were built by Boeing. Each space plane is 29 feet (8.8 meters) long and 9.6 feet (2.9 m) tall, with a wingspan of almost 15 feet (4.6 m). The solar-powered spacecraft have payload bays about the size of a pickup-truck bed.
The X-37B launches vertically and lands horizontally on a runway, like the space shuttle orbiters did.
OTV-5 is not, so far, the longest-duration X-37B mission, though the outing will earn that distinction if the established pattern holds: Each OTV flight has lasted longer than its predecessors:
Quelle: SC
6571 Views