Japan launched seven spacecraft to Earth orbit today (Jan. 17), including a little satellite designed to create dazzling artificial meteor showers.
he payloads rode to space aboard an Epsilon rocket, which lifted off from Uchinoura Space Center, on the Japanese island of Kyushu, at 7:50 p.m. EST (0050 GMT and 9:50 a.m. local Japan time on Jan. 18). If all goes according to plan, the seven spacecraft will settle into an orbit about 310 miles (500 kilometers) above our planet.
The launch was the first for the Japan Aerospace Exploration Agency's (JAXA) Innovative Satellite Technology Demonstration Program, which seeks to nurture and prove out advanced new space tech. [Satellite Quiz: How Well Do You Know What's Orbiting Earth?]
"Through these demonstration experiments, we intend to strengthen the international competitiveness of Japanese satellite technology, promote space utilization and generate innovation," JAXA officials wrote in the mission's press kit.
The primary payload on today's launch was the Rapid Innovative Payload Demonstration Satellite 1 (RAPIS-1), whose boxy body measures about 3.3 feet (1 meter) on a side. In a first for JAXA, the agency consigned the manufacture and operation of RAPIS-1 to a startup — the Japanese company Axelspace.
RAPIS-1 carries a variety of technology demonstrations, including a thin-membrane, paddle-shaped solar array; small thrusters that use low-toxicity propellant; a low-cost particle sensor; and "deep-learning" software that will aid attitude control and Earth observation.
The six ride-along satellites include ALE-1, which was built by the Tokyo-based company Astro Live Experiences. ALE-1 is 24 inches long by 24 inches wide by 31 inches tall (60 by 60 by 80 centimeters) and is packed with 0.4-inch-wide (1 cm) particles engineered to create a sky show when they come down through Earth's atmosphere.
ALE-1 and a few follow-on craft will "investigate feasibility of man-made meteors and [their] marketability," as well as provide data about Earth's upper atmosphere, Astro Live Experiences representatives wrote in a project description.
Those first artificial meteors won't flare up for another year or so. ALE-1 will eventually deploy a drag-increasing "membrane," which will help lower the satellite's altitude by about 62 miles (100 km). Then, in the spring of 2020, it will deploy its first pellets — over the Japanese city of Hiroshima, if everything goes according to plan. The resulting meteors should be visible to more than 6 million people, across a region about 125 miles (200 km) wide, Astro Live Experiences representatives said.
The other secondary payloads that launched today are the Earth-observation craft MicroDragon and RISESAT; OrigamiSat-1, which will demonstrate a "multifunctional deployable membrane structure"; Aoba VELOX-IV, which aims to prove out thruster and imaging tech for future moon missions; and NEXUS, a tiny (3.9 by 3.9 by 4.3 inches, or 10 by 10 by 11 cm) cubesat that will demonstrate three new types of transmitters for use in amateur satellite communication.
These six spacecraft range greatly in mass, from NEXUS' 2.9 lbs. (1.3 kilograms) to 150 lbs. (68 kg) for ALE-1.
This evening's launch was the fourth for an Epsilon rocket, which debuted in 2013. The 79-foot-tall (24 m) booster can loft up to 1,543 lbs. (700 kg) to a 310-mile-high circular orbit.
No previous Epsilon launch had ever launched more than one satellite at a time, JAXA officials said.
Quelle: SC
+++
Japan's Epsilon conducts RAPIS-1 launch
Japan conducted its first launch of 2019 Friday, using the small Epsilon rocket to launch seven satellites, including the RAPIS-1 technology demonstration mission, into orbit. Epsilon lifted off from the Uchinoura Space Centre at the start of a nine-minute, 17-second window that opened at 09:50:20 local time (00:50 UTC).

The primary payload for Friday's launch was the Rapid Innovation Payload Demonstration Satellite, RAPIS-1, for the Japan Aerospace Exploration Agency (JAXA). Also known as the Innovative Technology Demonstration Satellite, this spacecraft aims to test components in orbit for potential use on future missions.
The 200-kilogram (440-lb) satellite is cube-shaped, with sides of one meter (3.3 feet), and was constructed by Axelspace in conjunction with JAXA. RAPIS-1 will operate in a sun-synchronous orbit.

RAPIS-1 will operate for at least one year. In that time, it will test several technologies in orbit. These include a nanobridge-based field-programmable gate array (NBFPGA) which will be evaluated for use in future integrated circuit chips, an X-band communications payload incorporating a high data-rate transmitter and medium-gain antenna and a reaction control system for maneuvering the satellite which uses more environmentally-friendly propellants.
Other experiments include a particle monitor and star trackers that incorporate deep machine learning to ascertain the attitude of the satellite.
Fireant is a miniaturized low-power receiver that will use signals from navigation satellites to track RAPIS-1's position in orbit.
Finally, the satellite will be powered by prototype lightweight solar arrays, consisting of five lightweight panels mounted on a deployable paddle which will be extended once RAPIS is in orbit to generate around 100 watts.

Six small satellites were accompanying RAPIS-1 during its ascent on Friday.
These included Astro Live Experiences 1 (ALE-1), a 68-kilogram (150 lb) spacecraft for Japanese company Astro Live Experiences which will be used to generate artificial meteor showers. The satellite will eject small pellets into the atmosphere – each measuring about a centimeter (0.4 inches) in diameter – which will burn up over a designated area for the enjoyment of spectators. ALE-1 is a prototype, intended to demonstrate the concept before larger satellites are launched to offer this service in the future.
Hodoyoshi-2, also known as the Rapid International Scientific Experiment Satellite (RISESAT), is a 50-kilogram (110-pound) satellite flown for an international research consortium led by the University of Tokyo. It carries a high-precision telescope to study how the Earth reflects sunlight, two cameras to record transient luminous events (TLEs) – a phenomenon in Earth's upper atmosphere – and to study the surface of the oceans. Hodoyoshi-2 also incorporates a magnetometer, radiation detectors, a dosimeter and an optical communications experiment. In addition, the satellite will be used to collect and relay data from environmental monitoring stations.
The Vietnam National Satellite Centre's MicroDragon is a 50-kilogram satellite built to study Vietnam's coastal regions, collecting data to help determine the quality of the water, locate regions to fish, and monitor changes in the country's coastline.
The other three satellites aboard Epsilon were CubeSats. OrigamiSat-1 was built to the three-unit CubeSat standard by, measuring 10 by 10 by 34 centimeters (3.94 by 3.94 by 13.39 inches) undeployed. The satellite will be operated by the Tokyo Institute of Technology. Once in orbit, OrigamiSat will test deployment of a structure with a membrane, observing its behavior as it deploys and its final shape. The satellite is also equipped with an amateur radio payload.
Nihon University's NEXUS satellite is a single-unit CubeSat which is equipped with a camera and an amateur radio transponder. The satellite's objective is to demonstrate its amateur radio system, which is anticipated to allow a faster relay of data than comparable existing satellites. The Aoba VELOX IV satellite is a two-unit CubeSat which was jointly developed by Japan's Kyushu Institute of Technology and Singapore's Nanyang Technological University.
Aoba VELOX IV will test in Earth orbit a camera intended to study lunar horizon glow – a phenomenon where a glowing light has been observed shortly after sunset over the Moon's surface. Once demonstrated, a similar camera could be sent on a future mission to study this glow from lunar orbit. Aoba VELOX IV will also test pulsed plasma thrusters, and relay telemetry on its subsystems to the ground for evaluation.
Friday's launch was the fourth flight for Japan's Epsilon, which was introduced in 2013. The launch took place a year to the day after the rocket's third flight, which deployed the experimental ASNARO-2 radar imaging satellite on 18 January 2018 (17 January in UTC).

Epsilon was developed as a successor to the earlier Mu series of rockets, which Japan used to launch its smaller science and technology satellites. The last member of the Mu family, the M-V, was retired in 2006 with foreign launches and rideshare opportunities on the larger H-IIA rocket used to cover the gap before Epsilon's debut. Epsilon was designed to leverage existing components, combining the upper stages of the M-V with a first stage derived from the SRB-A3 boosters used on the H-IIA, although from its second flight onwards upgraded versions of the M-V stages have been used.
At its core, the Epsilon rocket is a three-stage solid-fuelled vehicle, however it can also fly in a four-stage configuration with the Compact Liquid Propulsion System (CLPS). This restartable liquid-fuelled upper stage can provide an extra impulse to the rocket's payload and ensure delivery to a precise orbit. CLPS will be used in conjunction with Epsilon for Friday's launch.
Epsilon launches take place from the Mu Centre, a launch complex of the Uchinoura Space Center which was originally built as a rail launcher for the Mu series of rockets. After the retirement of the M-V, the pad was converted to allow Epsilon to be launched vertically, with the former launch rail remaining in place to serve as an umbilical tower.
At the zero mark in Friday's countdown, Epsilon's first stage ignited, and the rocket lifted off to begin its climb toward orbit. Its SRB-A3 motor burned for 108 seconds, accelerating Epsilon to a speed of 2.3 kilometers (1.4 miles) per second. After burnout, the rocket coasted – shedding its payload fairing 43 seconds later at an altitude of 151 kilometers (76 miles, 66 nautical miles). Ten seconds after fairing separation Epsilon's spent first stage was jettisoned, with second stage ignition occurring four seconds after that.
Epsilon's second stage is an M-35, derived from the M-34 that made up the third stage of the earlier M-V rocket. M-35 powered Epsilon's flight for 129 seconds, before another 96-second coast to separation. The third stage, KM-V2c, began its burn four seconds after second stage separation, firing for 88 seconds. KM-V2c is derived from the KM-V upper stages that were used in conjunction with the M-V.
The third stage and CLPS separated from each other 112 seconds after burnout, however the upper stage did not ignite for another 285 seconds. CLPS performed a complex seven-burn mission to deploy each of Epsilon's payloads into their prescribed orbits, ensuring adequate separation between them. The first burn lasted five minutes, and after a 23-minute, 38-second coast a six-minute, 32-second burn put the stage in the correct orbit for RAPIS-1. Spacecraft separation came 126 seconds after the end of the second burn.
With RAPIS-1 successfully deployed, CLPS waited nine minutes and 16 seconds before performing a 17-second burn. Hodoyoshi-2 was deployed 112 seconds after this burn is complete. Twenty-three seconds later the fourth stage performed a three-second burn and 74-second coast before deploying MicroDragon.
After another 24 seconds, a two-second burn followed by a seventy-four second coast to provide spacing to deploy OrigamiSat. The cycle of twenty-four second coast, two-second burn and seventy-four second coast was repeated for the next deployment, which saw NEXUS and Aoba VELOX IV both separate. Twenty-three seconds later CLPS began its final burn, firing for four seconds and deploying ALE-1 seventy-three seconds after the burn's conclusion.
Friday's launch was Japan's first of 2019, following on from a year in which the country conducted six successful orbital launches. It is the first Epsilon launch in exactly a year and is currently expected to be the rocket's only flight in 2019 – with its next mission slated for 2020 with a further demonstration satellite.
Japan has not yet announced a date for the country's next satellite launch. However, several are expected later this year including the deployment of data relay and Information Gathering Satellite (IGS) reconnaissance spacecraft via H-IIA vehicles and the HTV-8 (Kounotori 8) resupply craft to the International Space Station aboard an H-IIB.
Quelle:NS
+++
Launch Success, The Innovative Satellite Technology
Demonstoration-1 aboard Epsilon-4
National Research and Development Agency
Japan Aerospace Exploration Agency (JAXA)
National Research and Development Agency Japan Aerospace Exploration Agency (JAXA) launched the Innovative Satellite Technology Demonstration-1* aboard the fourth Epsilon Launch Vehicle (Epsilon-4) from the JAXA Uchinoura Space Center. The launch proceeded on time at 9:50:20 a.m., (Japan Standard Time, JST) January 18, 2019.
The launch and flight of Epsilon-4 occurred nominally. All seven satellites separated from the launch vehicle successfully; the Rapid Innovative Payload Demonstration Satellite 1 (RAPIS-1) was jettisoned from the launch vehicle approximately 51 minutes 55 seconds into launch. Thereafter, other onboard satellites - MicroDragon, RISESAT, ALE-1, OrigamiSat-1, Aoba VELOX-IV and NEXUS - were respectively separated from Epsilon-4.

JAXA appreciates all for the support shown in behalf of the Epsilon-4 launch.
*Innovative Satellite Technology Demonstoration-1 is a suit of seven small satellite missions to demonstrate innovative new technological approaches;
- Rapid Innovative payload demonstration Satellite 1 (RAPIS-1), which JAXA developed with the assistance of startups
- Small satellites: MicroDragon, RISESAT and ALE-1
- CubeSats: OrigamiSat-1, Aoba VELOX-IV, NEXUS
Quelle: JAXA
----
Update: 19.01.2019
.
Japan launches Epsilon rocket carrying seven satellites, including one supposed to generate fake meteor shower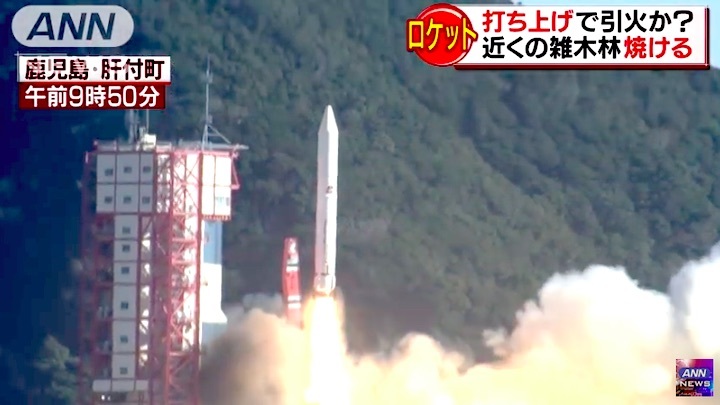 Japan successfully launched on Friday morning a low-cost Epsilon rocket carrying seven satellites built by 10 organizations, including a space venture aiming to create artificial shooting stars.
The launch by the Japan Aerospace Exploration Agency (JAXA) of the Epsilon-4 rocket, from Uchinoura Space Center in Kagoshima Prefecture, is the first since new rules were set in November to promote private-sector space development activities.
Among the satellites sent into space was one developed by Tokyo-based ALE Co. that plans to replicate a meteor shower by releasing metal pieces into the atmosphere. It was accompanied by a land and weather observer named MicroDragon, developed by engineers from the Vietnam National Satellite Center with the support of professors from Japanese universities.
ALE founder and CEO Lena Okajima, 39, and some 20 employees of the space venture took part in a tour to observe the launch along with more than 700 other people at a site about 3 kilometers from the space center.
"It was a beautiful launch. It is thrilling and at the same time sobering as the key stage will start from now," Okajima said.
Her company aims to create the world's first artificial meteor shower next year, above the coastal region of Hiroshima Prefecture along the Seto Inland Sea.
With demand growing globally for small satellites, JAXA hopes to attract orders with its Epsilon rockets that are specially designed to carry such satellites at a lower cost.
The Epsilon is a solid fuel rocket equipped with artificial intelligence technology that cuts labor and launch costs, and which can be controlled from the ground by just two personal computers.
JAXA aims to eventually cut the Epsilon's ¥5.5 billion ($50 million) launch cost — about half that of its more commonly used H-IIA rocket — to ¥3 billion.
Quelle: The Japan Times
+++
Japanese rocket blasts into space to deliver world's 1st artificial meteor shower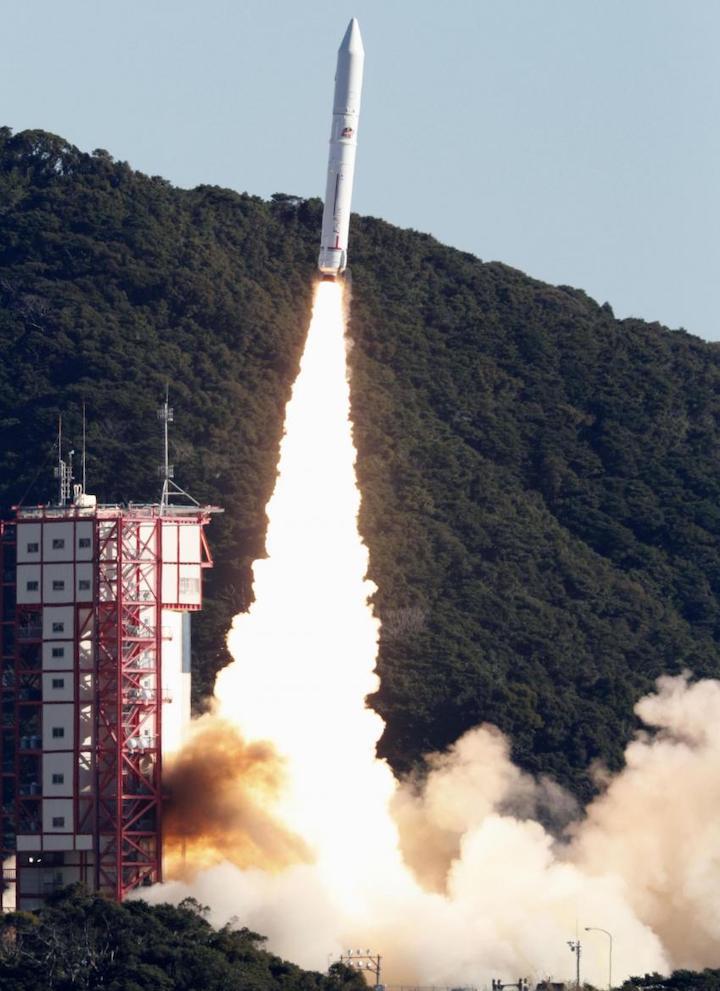 The Epsilon-4 rocket blasts off from the Uchinoura Space Center in Kimotsuki, Kagoshima Prefecture, on Friday, carrying satellites, including one developed by a Tokyo venture company to create an artificial meteor shower. Photo: KYODO
A rocket carrying a satellite on a mission to deliver the world's first artificial meteor shower blasted into space on Friday, Japanese scientists said.
A start-up based in Tokyo developed the micro-satellite for the celestial show over Hiroshima early next year as the initial experiment for what it calls a "shooting stars on demand" service. The satellite is to release tiny balls that glow brightly as they hurtle through the atmosphere, simulating a meteor shower.
It hitched a ride on the small-size Epsilon-4 rocket that was launched from the Uchinoura space center by the Japan Aerospace Exploration Agency (JAXA) on Friday morning. The rocket is carrying a total of seven ultra-small satellites that will demonstrate various "innovative" technologies, JAXA spokesman Nobuyoshi Fujimoto told AFP.
By around noon on Friday, the first of the seven satellites had been successfully sent into orbit, he added, with JAXA officials waiting for signals to confirm the fate of the other six.
The company behind the artificial meteor shower plan, ALE Co Ltd, plans to deliver its first out-of-this-world show over Hiroshima in the spring of 2020.
The satellite launched Friday carries 400 tiny balls whose chemical formula is a closely-guarded secret. That should be enough for 20-30 events, as one shower will involve up to 20 stars, according to the company.
ALE's satellite, released 500 kilometers above the Earth, will gradually descend to 400 kilometers over the coming year as it orbits the Earth.
The company plans to launch a second satellite on a private-sector rocket in mid-2019. ALE says it is targeting "the whole world" with its products and plans to build a stockpile of shooting stars in space that can be delivered across the world.
When its two satellites are in orbit, they can be used separately or in tandem, and will be programmed to eject the balls at the right location, speed and direction to put on a show for viewers on the ground.
Tinkering with the ingredients in the balls should mean that it is possible to change the colors they glow, offering the possibility of a multi-colored flotilla of shooting stars.
Each star is expected to shine for several seconds before being completely burned up -- well before they fall low enough to pose any danger to anything on Earth. They would glow brightly enough to be seen even over the light-polluted metropolis of Tokyo, ALE says.
If all goes well, and the skies are clear, the 2020 event could be visible to millions of people, it says.
ALE chief executive Lena Okajima has said her company chose Hiroshima for its first display because of its good weather, landscape and cultural assets. ALE is working in collaboration with scientists and engineers at Japanese universities as well as local government officials and corporate sponsors.
It has not disclosed the price for an artificial meteor shower.
Quelle: JAPANTODAY