5.11.2018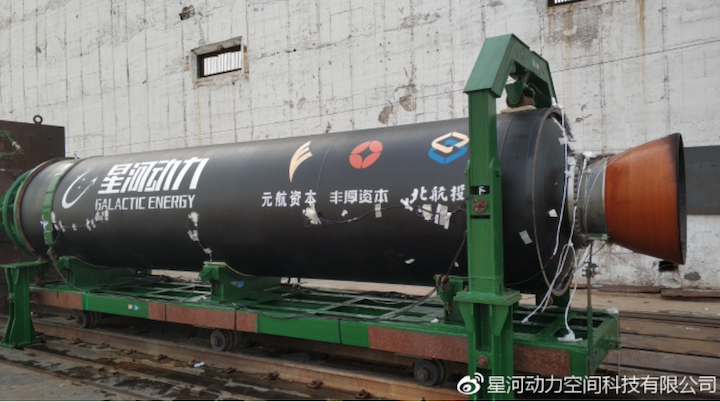 The 1.4 m diameter GS-1 solid rocket motor tested by Xinghe Power on Novemer 3, 2018. Xinghe Power/Sina Weibo
One of a group of new Chinese launch startup companies held its first test firing of a large solid rocket engine over the weekend in what was a further step towards its goal of providing low-cost access to space.
Xinghe Power (星河动力), also known as 'Galactic Energy', fired the GS-1 solid rocket engine from its planned 'Light Year' (光年/guang nian) launch vehicle series on November 3, according to a press release (Chinese).
Chinese language Science and Technology Daily quoted Xinghe Power CEO Liu Baiqi as saying, "the ground test firing was a complete success" and that all the required data had been obtained.
The 1.4-metre-diameter rocket engine, which burns Hydroxyl-terminated polybutadiene (HTPB) and is derived from missile technology, can provide a maximum thrust of 65 tonnes with a burn time of 73.9 seconds and a sea level specific impulse of 249.5 seconds, according to Xinghe Power.
Ground firing of Xinghe Power's GS-1 solid-propellant rocket engine on November 3, 2018. Xinghe Power/Sina Weibo
The company has also recently tested liquid-propellent attitude control thrusters and is looking to debut its first orbital rocket, with a mass of 30 metric tonnes and capability of carrying 350 kg to low Earth orbit (LEO), in March 2020.
A 36kr.com article from October stated that Xinghe Power says it aims to provide launch services at 100,000 yuan per kilogramme, or US$14,400 per kilo. It has a core technology team of 20 people and has secured more than 20 million yuan in angel financing from Yuanhang Capital, Fengcai Capital and Beihang Investment.
For comparison, Shu Chang, CEO of OneSpace which also develops solid-propellant launch vehicles, has previously stated he aims to provide launch at a price below $10,000 per kilo-
Support for commercial space
Xinghe Power, a private company, was founded in February 2018 and has already advanced to testing an engine, which underlines the support in terms of technology being provided by state-owned space industry players.
In late 2014 a government decision saw the space launch and small satellite sectors opened up to private investment, and this was backed up by policy support for commercial entities, which was further outlined in China's 2016 Space White Paper.
The test comes just days after another young company named S-Motor tested a solid rocket engine as a key part of the process of developing an unnamed three-stage solid-propellant launch vehiclecapable of delivering 160 kg of payload to a Sun-synchronous orbit (SSO) at an unspecified altitude.
S-Motor and Xinghe Power belong to what could be perceived as a second tier of younger, emerging private Chinese launch providers, along with JiuZhou YunJian (reusable methalox rockets), SpaceTrek (solid), Galaxy Space and Deep Blue Space.
The more well-known launch companies are Landspace, with its recent high-profile orbital launch attempt, OneSpace and iSpace, each with a pair of suborbital launches this year, and Linkspace, which is developing a vertical takeoff, vertical landing (VTVL) launcher for use in 2020.
Animation showing video footage captured by the Jilin-1 commercial satellite of the OneSpace OS-X1 suborbital rocket launch from Jiuquan on September 7, 2018. Sina Weibo/CGST
OneSpace looks set to make the next Chinese private orbital launch attempt as soon as the end of the year, while iSpace is looking to launch its Hyperbola-1 in April 2019 to place payloads into a 300-km LEO orbit from the Jiuquan Satellite Launch Centre.
Also in the coming months, SpaceTrek's XT-1 suborbital solid rocket could fly, while Linkspace is to move on to larger VTVL tests with its RLV-T5 technology demonstrator.
Expace, a nominally private spin-off belonging to CASIC and the Sanjiang Space Group, is also expected to launch another Kuaizhou-1A this year and could debut the larger Kuaizhou-11, with a liftoff mass of 78 tonnes and capability of lofting 1 metric tonne of payload to a 700-km-altitude SSO, which was originally expected to fly in the first half of 2018.
Liftoff of the Landspace Zhuque-1 solid-fuelled rocket from Jiuquan on October 27, 2018. Landspace
Quelle: gbtimes
2278 Views