2.08.2018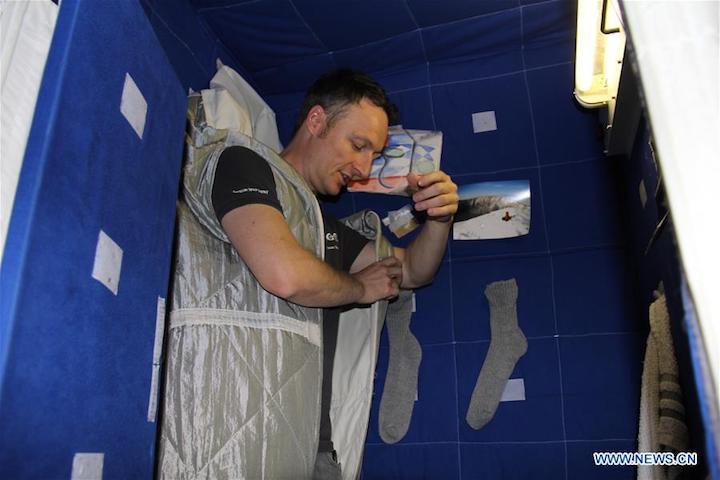 German astronaut Matthias Maurer shows the way to sleep in space station, in Cologne, Germany, July 18, 2018.
-
"I would expect to do any type of work and take the same responsibility as any Chinese astronaut in CSS (China Space Station)," said Matthias Maurer, a German astronaut.
Maurer wishes he could work in CSS one day.
At the European Astronaut Center (EAC) under European Space Agency (ESA), located near the West Germany's city of Cologne, Maurer told Xinhua about his expectations for CSS.
"I want to participate in both European and non-European experiments there. Also (to) build a live video connection so that the European public can talk with the European astronauts in the CSS and see inside," Maurer said.
Before joining the ESA in 2010, Maurer has already boasted rich international experience by studying and working in various countries including Germany, France, Spain and Britain.
In 2012, Maurer took part in the cooperation program between ESA and China and started to learn Chinese because he may need to use the language if he works in China's Shenzhou spacecraft one day.
Maurer said the cooperation is a "win-win."
"We discussed what we can contribute at first and understood each other's way of work by exchange visits. Now we try to exchange every year," he said.
He also proposed that bilingual manuals in the Chinese and English language be used in China's spacecraft and space station, "in case of emergencies like fire or toxic air."
Maurer once participated in a sea survival training in waters off the coast of Yantai in east China's Shandong Province, organized by the Astronaut Center of China (ACC) last year.
Maurer described the experience of training and living with another 16 Chinese astronauts as "like being in a family."
"The shared experience of knowing each other is very important, since you may need to stay with three to six astronauts for as long as six months in the space station," he recalled.
In 2016, Chinese astronaut Ye Guangfu also joined the ESA's caving course in Italy's Sardinia to experience extreme-environments as part of an international crew.
Both activities are part of an agreement to boost collaboration between ESA and China with the goal of flying European astronauts in the Chinese space station, according to ESA.
"ESA and China also have very close relations in the area of space science, like SMILE mission and Dragon program with our Chinese partners," said Anja Albermann-Bergener, communicator of ESA.
China announced this May that all member states of the United Nations are welcome to cooperate with China to jointly utilize its future CSS.
Mauerer said China has a lot of advantages such as its own rockets, capsules and a space station.
Europe, on the other hand, has abundant experience in long-duration missions in space "which can be brought into our cooperation to make it develop more efficiently," Mauerer said.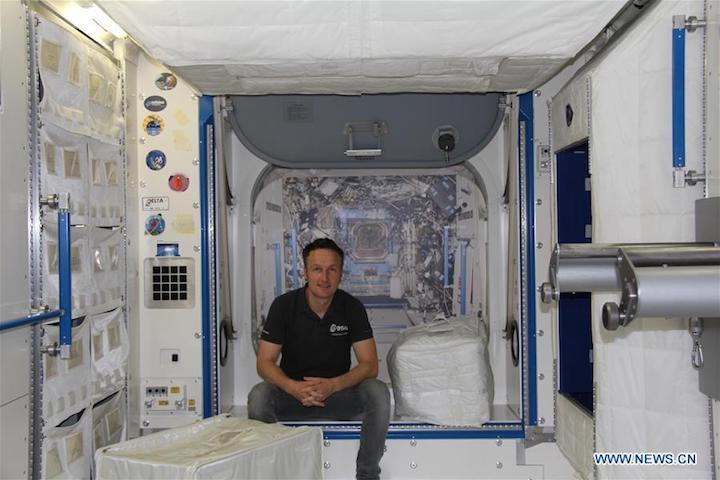 Photo taken on July 18, 2018 shows German astronaut Matthias Maurer at the European Astronaut Center (EAC) in Cologne, Germany. (Xinhua/Zhang Yirong)
Quelle: Xinhua
---
Update: 27.09.2018
.
Europe's newest astronaut, Matthias Maurer: 'The trainers really push you to your limit'
What does it mean to "graduate" from astronaut training? Matthias Maurer can tell you. The European astronaut of German descent also has some advice that might help failing students.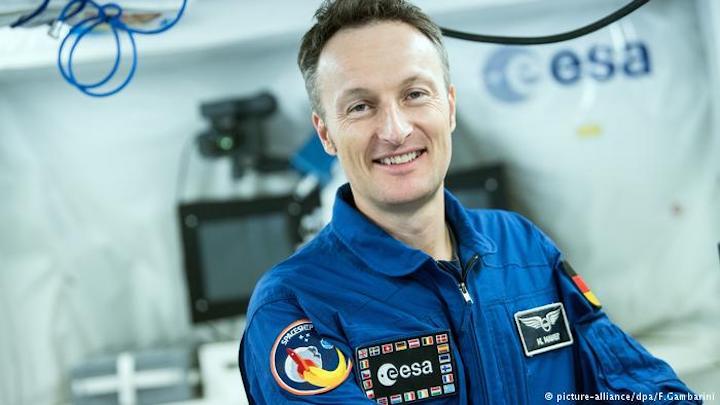 DW: So you're the newest European astronaut, is that accurate?
Matthias Maurer: The newest. Not the youngest, unfortunately. [Laughs].
You've just "graduated." And yet there's more training to come. So have you just finished the astronaut equivalent of elementary school, high school, or do you have a bachelor's or master's degree?
A bachelor's degree. Before I can fly to space, I need mission-specific training. And that will then lead to my "master's degree."
Read more: On the ISS, 'Astro Alex' says he's found he has space 'muscle memory'
What were three moments from your "bachelor's degree" training that will stay with you, crystal clear, for the rest of your life?
The NEEMO Mission. Living underwater, for 16 days. I lived on the bottom of the sea, and we practiced exploring Mars. That was really amazing. And it surprised me how quickly the brain adapts to the new environment … The second one was this winter survival training in Sweden. That was so tough. I had to survive two days without food, without any additional clothing. No sleeping bag, no tent. It was really cold. I had wet feet, and I was so surprised to find out how quickly you lose energy if you don't have food. And I'm lucky — I'm happy — that I actually experienced getting so close to a state of physical fatigue [as preparation for space exploration].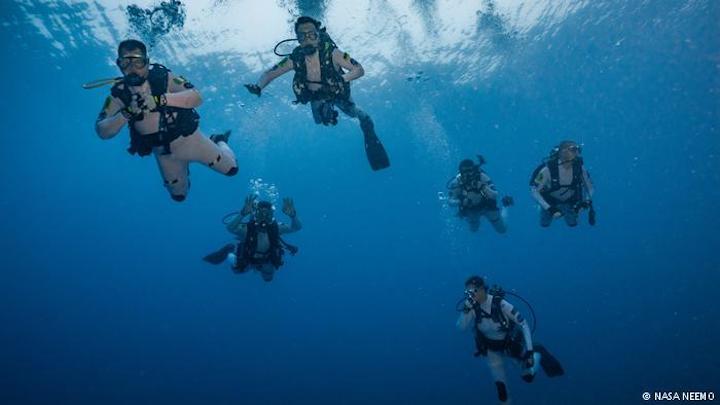 The NEEMO mission involved six 'aquanauts' near Florida at the Aquarius base reef
That was the part of the video we saw earlier where you had an ax in your hand, and you were chopping down a tree?
Exactly. The thought that crossed my mind was like, OK, I have no energy. But I need to chop down this tree. So be careful with the ax, [because] if I chop off my leg instead of the tree, it's the end of my astronaut career.
And the third moment?
Spacewalk training. That happened underwater as well, at NASA. We're in this heavy spacesuit, and you practice for six hours, and you learn all the different situations — what might go wrong on the outside of the station, if you need to repair it. The trainers really push you to your limit: six hours, fully concentrated. You work hard physically. Then, at the end of the six hours, there's a rescue scenario where you need to rescue your buddy and bring him in safely. And you always need to be mentally up to speed. It's completely fatiguing, mentally and physically.
When I went to university, I failed one of my courses because it was in a foreign language and it was just too much for me. And I had to go back and do it again, and then I succeeded. With all the training you did, was there a moment where you had to repeat something because you couldn't quite get it at first?
Let me tell you a secret: I really like the philosophy of how ESA astronauts get trained. If I failed an exam, it wasn't my fault, but the trainer's, because he or she didn't teach me well enough. So I tried not to end up in that situation, and we always managed. I passed my exams. Obviously, sometimes you need more training and then you get additional lessons. That's normal. I'm just human.
What's next?
Waiting. Waiting for the mission assignment phase, the mission-specific training. But in the meantime, I'll work on projects. We need to prepare for the future, and the future will lead us to the moon. We need to practice how to work on the moon, how to live there. So we'll test all these different tools and equipment, and we'll set up a lunar analog [a replica of the moon's surface] here, close to the European Astronaut Centre.
How will you personally — when no one's around, putting microphones in your face — celebrate the fact that you've graduated, that you're an astronaut?
I'll probably drink a nice glass of wine with my friends.
Matthias Maurer is a European astronaut of German descent. His first spaceflight is expected by 2022, with a future mission potentially involving a trip to the moon. The 48-year-old materials scientist joined ESA in 2010 and its astronaut corps in 2015.
Quelle: DW
1413 Views