20.02.2018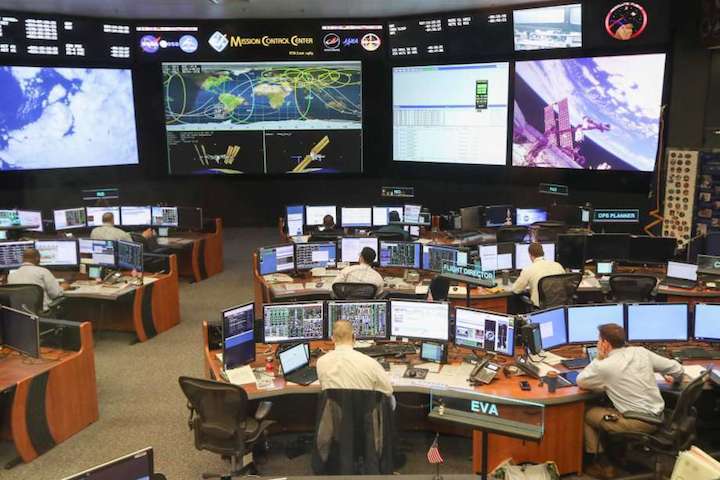 Longer space trips shift age makeup of ground crews
Ask Chris Kochling what inspired him to be a NASA flight controller and he'll point to the heroic ingenuity and quick thinking of the men on the Mission Control room floor during Apollo 13.
If it weren't for those men, the three astronauts on the 1970 mission likely would never have returned home after an oxygen tank explosion forced them to abort their trip to the moon.
But when Kochling describes this scene, he's not talking about listening with rapt attention to the NASA airwaves - he wasn't even alive then.
The 23-year-old is talking about watching the 1995 film "Apollo 13" starring Tom Hanks and Kevin Bacon.
Kochling was hired in 2016 to work in Mission Control for the International Space Station. He's been undergoing rigorous training since then, and in about six months he'll enter the control room floor rotation as a pilot of the space station at NASA's Johnson Space Center.
But in today's Mission Control, Kochling's youth does not set him apart from his colleagues.
NASA officials have found that younger flight controllers can better handle the unique demands of operating the space station, said Daryle Kuecker, who recruits and hires future flight controllers, because it requires 24/7 monitoring of both the station and its inhabitants 365 days a year.
"It's shift work, so, quite honestly, the shift work is easier for folks that are younger," Kuecker said. "It's difficult when you have young children and you have the midnight shift."
But recruiters look for the same attributes in young controllers as they would in those who are more experienced: a passion for spaceflight and, most importantly, a cool head under pressure.
"We're looking for people that are going to operate well under pressure in a stressful environment," he said. "You could be the person on console and there's been an accident and astronaut lives are depending on you."
Stiff competition
Kochling has loved airplanes for as long as he can remember, attaining a private pilot's license in high school and studying aerospace engineering in college.
So when he saw a job posting for a flight controller at Johnson flit across his computer screen in 2016, he immediately applied.
He started the certification process in July 2016 as a space station pilot, and is now about six months away from being certified.
"This is my first job out of college," Kochling said. "I have no complaints. So far, so good."
Garrett Hehn, now 26, discovered the possibility of a job in Mission Control just as Kochling did while searching the internet. But he had a two-year head start.
In 2014, Hehn was hired as a future flight controller and soon began studying to be on the team in charge of the space station's trajectory. Basically, they make sure the station doesn't run into any space debris and that the station is in the appropriate spot to meet and dock cargo suppliers and upcoming astronauts.
The training was rigorous, to say the least, he said. But incredibly necessary.
"At the start, it's a lot of book work … probably the first six months or so," Hehn said. "And then that's interwoven with … learning the day-to-day, the specifics … learning about the vehicle and how it's run."
And then, of course, he went through months of simulations.
The process took about two years, but in 2016 Hehn became certified to join the floor rotation.
He said he's been thankful ever since.
"Even in college I didn't dream of this being a possibility," Hehn said. "I really like the math side. … I liked the communicating, the working with a team."
The competition to land such a job is stiff. Only the best of the best are tapped to take a run at the sometimes yearslong certification process required to take a seat on the Mission Control room floor.
Recruiters like Kuecker look for upperclassman college students who are pursing a degree in a science, technology, engineering or math (STEM) field and have maintained a tip-top grade point average throughout their studies.
Individuals who fit that criteria sometimes apply online, but Kuecker said NASA actively recruits on campuses in Texas and across the United States. They also pull promising students from NASA's robust internship program, he added.
Disaster simulations
Sitting in an observation area above the Mission Control training room, Kochling ticked through the yellow warnings on a large screen at the front of the room.
Systems were failing. Astronauts were struggling. Disastrous scenarios were playing out faster than trainees could respond to them.
"If this were really happening on the space station, we'd be in trouble," Kochling said.
But walking trainees through worst-case scenarios - and making sure they can respond calmly and quickly - is necessary to make sure they're ready for prime time.
"We make sure they understand that this could be Apollo 13 and you could be the person on the console and there's an accident," Kuecker said. "You need to know what you're doing. You need to be able to handle that."
When flight controllers are first hired to work at Johnson, they go through a boot camp of sorts where they learn how the space station works. Then they get funneled into their areas of focus for more specialized training.
The space station is about the size of a five-bedroom house, and so requires many systems to continue functioning. There is a pilot team - which Kochling is studying to join, a robotics team, a power systems team and even a team that handles spacewalks.
Each team has different training requirements, but they all go through dozens of disaster simulations, Kochling said.
Kochling is on his 20th.
"Our job is software-heavy and so, essentially, we're managing the autopilot for the space station," he said. "So that requires that we have a feel for how it works and how it behaves."
The most difficult simulations so far, he added, are the ones that require all the flight controllers in the room to work together.
"The most difficult part isn't knowing the solution, it's seeing where the puzzle pieces fit together," he said. "The immediate fix for (pilots) might not be the best fix for everyone."
Long-duration missions
Today's Mission Control room is significantly different from the one so often captured during the Apollo lunar missions - and it's not just because the original room has been listed on the National Register of Historic Places since the 1980s and curently is being restored.
The sea foam green consoles so recognizable from the 1960s-era Mission Control have been replaced with free-standing computer monitors.
The countless switches and buttons that controlled the Apollo missions have been retired, replaced with mouse clicks and keyboard taps that control the space station.
And the experienced, gray-haired controllers pictured so frequently celebrating the lunar landing of 1969 have largely been replaced with fresh-faced, recent college graduates.
Kuecker suspects flight controllers are more youthful because space travel moved from dayslong trips to a steady stream of people calling space home for about 18 years: where astronaut missions once lasted three days with Apollo or 16 days with the space shuttle, they now live in space constantly.
"There's a difference between short-duration missions and long-duration missions," Kuecker said. "People with families could handle extreme hours for short missions, but it gets harder the longer they're required to do those hours. There was more of a mixture (of ages) when missions were not long-duration."
Not all system teams are required to have a person on the floor 24/7, but many do.
"We work to keep experience around, but that's part of the game," he said. "Flight controllers usually only stick around for seven years."
But the makeup of the Mission Control room floor could change again, he said, as America shifts its focus once again to human exploration of space.
President Donald Trump's $19.9 billion budget proposal for NASA next year includes $10.5 billion for human exploration, with a focus on returning to the moon as a steppingstone for a trip to Mars.
Depending on what those missions look like, Kuecker said the age mixture might shift again. NASA officials will just have to wait and see as the new directive plays out.
Quelle: Houston Chronicle
1217 Views