15.09.2017
First Ariane 6 contract: Arianespace to orbit four Galileo satellites on two Ariane 62 launches
Arianespace will launch four new satellites for the Galileo constellation, using two Ariane 62 versions of the next-generation Ariane 6 rocket from the Guiana Space Center in French Guiana.
The contract will be conducted by the European Space Agency (ESA) on behalf of the European Commission (DG Growth) and the European Union.
Stéphane Israël, Arianespace Chief Executive Officer, and Paul Verhoef, Director of Navigation at the European Space Agency (ESA), signed the launch contract for four new satellites to join the European satellite navigation system Galileo. The contract will be conducted by ESA on behalf of the European Commission (DG Growth).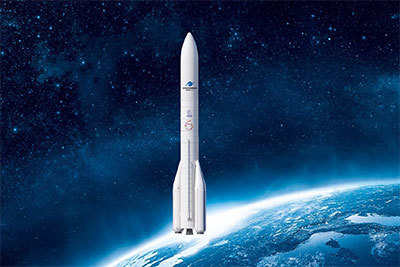 These launches are planned between the end of 2020 and mid-2021, using two Ariane 62 launchers – the configuration of Europe's new-generation launch vehicle that is best suited for the targeted orbit. The contract also provides for the possibility of using the Soyuz launch vehicle from the Guiana Space Center, if needed.
Both missions will carry a pair of Galileo spacecraft to continue the constellation deployment for Europe's satellite-based navigation system. The satellites, each weighing approximately 750 kg., will be placed in medium earth orbit (MEO) at an altitude of 23,222 kilometers and be part of the Galileo satellite navigation constellation.
Galileo is the first joint infrastructure financed by the European Union, which also will be the owner. The Galileo system incorporates innovative technologies developed in Europe for the greater benefit of citizens worldwide.
A total of 18 Galileo satellites already are in orbit. Fourteen of these satellites were launched two at a time by Soyuz launchers, with the last four orbited on a single Ariane 5 ES mission in November 2016. Two more Ariane 5 ES missions are planned on December 12, 2017 and in the summer of 2018.
Following the signature of this latest contract, Stéphane Israël, CEO of Arianespace, said: "Arianespace is especially proud to have won this first launch contract for the Ariane 6 from its loyal customers and partners, the European Commission (DG Growth) and ESA. We are very pleased to have earned this expression of trust from the European Commission; by choosing to continue the deployment of the Galileo constellation with two Ariane 62 launches, they become the first confirmed customer for our next-generation heavy launcher, which is slated to make its initial flight in the summer of 2020. Through this decision, which adds two additional launches to follow the already-scheduled Ariane 5 ES flights, the European Commission and ESA are clearly indicating a key commitment to Arianespace's next generation of launchers, which reaffirms more than ever its mission to ensure Europe's autonomous access to space."
About Arianespace
Arianespace uses space to make life better on Earth by providing launch services for all types of satellites into all orbits. It has orbited more than 550 satellites since 1980, using its family of three launchers, Ariane, Soyuz and Vega, from launch sites in French Guiana (South America) and Baikonur, Kazakhstan. Arianespace is headquartered in Evry, near Paris, and has a technical facility at the Guiana Space Center, Europe's Spaceport in French Guiana, plus local offices in Washington, D.C., Tokyo and Singapore. Arianespace is a subsidiary of ArianeGroup, which holds 74% of its share capital, with the balance held by 17 other shareholders from the European launcher industry.
Quelle: arianespace
---
Update: 17.09.2017
.
GALILEOS SET TO FLY ON ARIANE 6

Twin-booster Ariane 6
15 September 2017
Four of the latest set of Galileo navigation satellites will be launched on Ariane 6 rockets – ESA's first contract to use Europe's new vehicle.
The launches are scheduled between the end of 2020 and mid-2021, using two Ariane 62 rockets – the configuration of Europe's next-generation launch vehicle that is best suited to haul the two 750 kg navigation satellites into their orbits at 23 222 km altitude.
Under development, Ariane 6 is Europe's newest launcher, designed to extend guaranteed access to space for Europe at a competitive price. It will operate in two configurations, depending on customer needs: Ariane 62 is fitted with two strap-on boosters while Ariane 64 has four.
"Ariane 6 is not only in full development, but it will soon be put to use," notes Daniel Neuenschwander, ESA's Director of Space Transportation. "This contract is a key step in the upcoming ramp-up phase of Ariane 6."
The Galileos have so far either been launched in pairs by Soyuz from French Guiana or in fours by Ariane 5.
A new Ariane 5 flight is scheduled for the end of this year, to add four more satellites to the 18-strong constellation already in orbit. This month saw the arrival of the first elements of the rocket in French Guiana, transported aboard the MN Colibri roll-on/roll-off ship.
The contract specifies the decision to use Ariane 62 is subject to the vehicle's development schedule, with Soyuz available as an alternative. A final choice will be made at the end of 2018, two years before the first launch.
Galileo is Europe's own satellite navigation system, providing an array of positioning, navigation and timing services to Europe and the world.
A further eight Galileo 'Batch 3' satellites were ordered last June, to supplement the 26 built so far.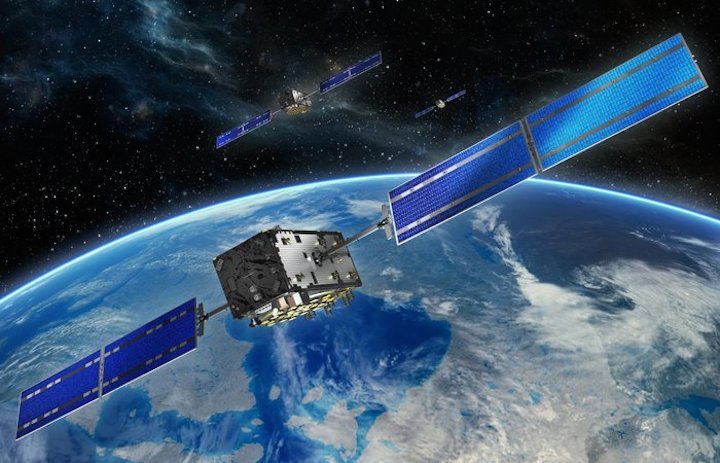 Galileo satellites
With 18 satellites now in orbit, Galileo began initial services on 15 December 2016, the first step towards full operations.
Further launches will continue to build the constellation, which will gradually improve system performance and availability worldwide.
The launch contract with Arianespace was signed by Paul Verhoef, ESA's Director of the Galileo Programme and Navigation-related Activities, and Stéphane Israel, Arianespace's Chief Executive Officer. ESA signed the contract on behalf of the EU represented by the European Commission – Galileo's owner. The Commission and ESA have a delegation agreement by which ESA acts as design and procurement agent on behalf of the Commission.
Quelle: ESA
---
Update: 15.10.2017
.
ROCKET MOTOR FOR ARIANE 6 AND VEGA-C IS CAST FOR TESTING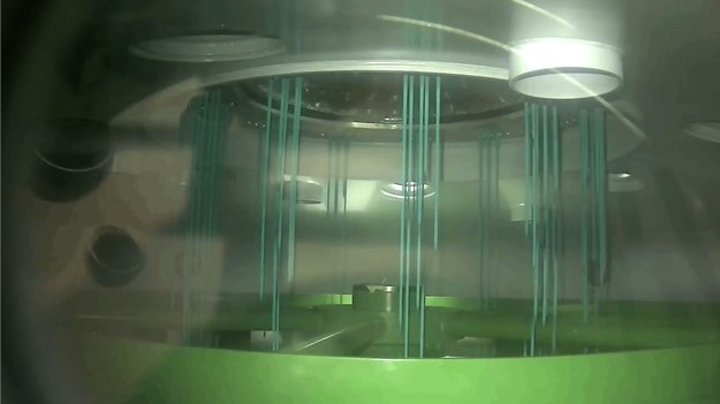 Inert propellant pours into P120C
-
The first full-scale model of the rocket motor that will propel Ariane 6 and Vega-C into orbit has been cast and filled with inert propellant for testing at Europe's Spaceport in French Guiana.
The P120C is the largest solid-propellant rocket motor ever built in one segment.
Each P120C will hold over 140 tonnes of propellant in a carbon fibre casing almost 11.5 m long and about 3.4 m in diameter. It is derived from Vega's current first stage motor, the P80, which holds 88 tonnes of propellant.
The design builds on existing expertise and lessons learned with Vega's P80, and it increases Vega performance with Vega-C. Two or four P120Cs will be strapped onto Ariane 6 as boosters for liftoff.
The model casing, shipped this summer from Avio in Italy, took about 36 hours to fill with inert propellant blended at Europe's launch base in Kourou.
Using non-ignitable fluid that has a similar density to the real propellant meant that engineers could safely test all the new equipment and procedures.
Filled and sealed, the fluid in the casing could stabilise, cool and harden – the curing process – which took 10 days.
Further tests on the motor, now horizontal, will confirm that it is ready to be integrated with other structures in January.
These tests are a step towards casting active propellant in November with a P120C development motor that will be static fired in April.
Vega-C is expected to debut in mid-2019, increasing performance from Vega's current 1.5 t to about 2.2 t in a reference 700 km polar orbit.
Ariane 6's maiden flight is planned for 2020. This new launch vehicle will be gradually phased in to succeed Ariane 5.
Quelle: ESA
---
Update: 4.12.2017
.
ARIANE 6 - A REALITY IN KOUROU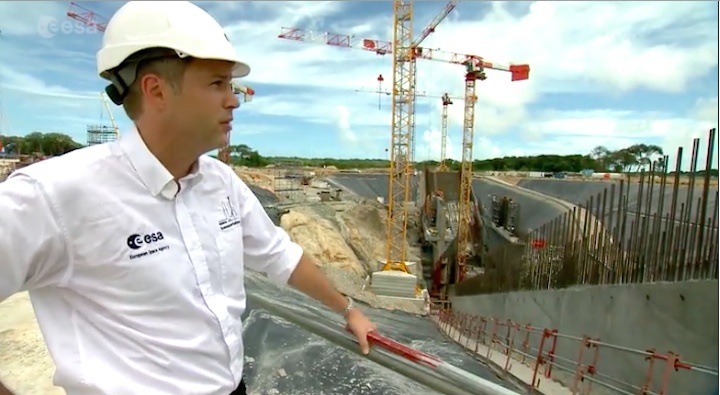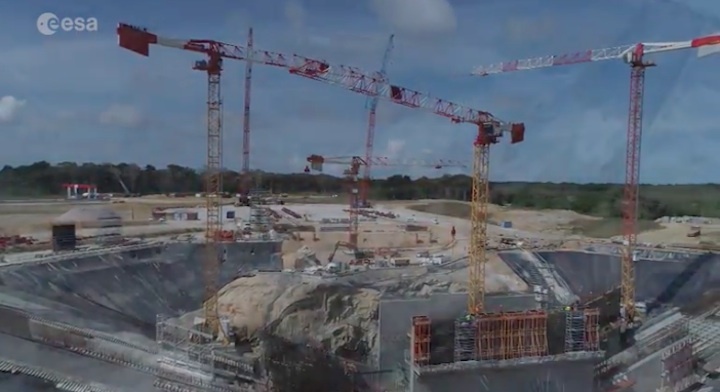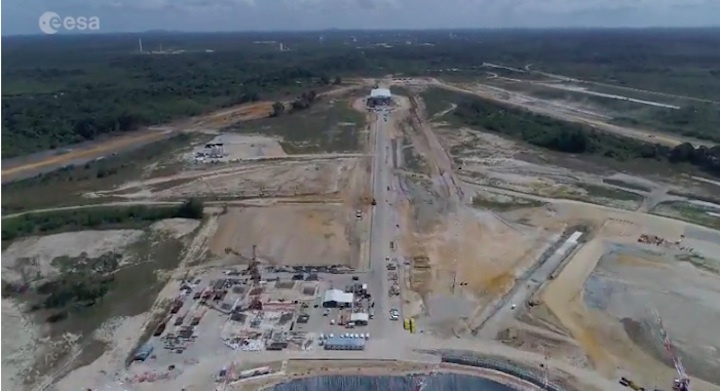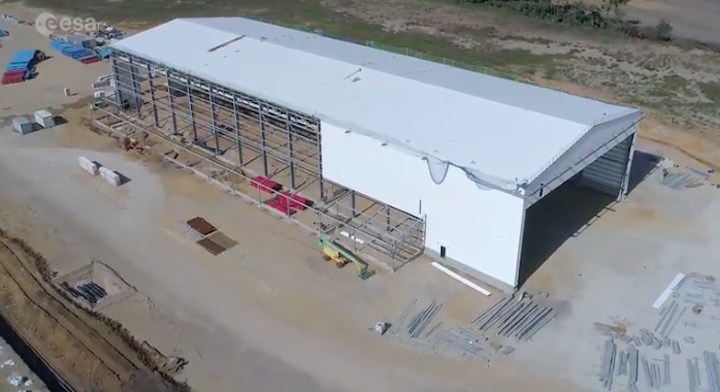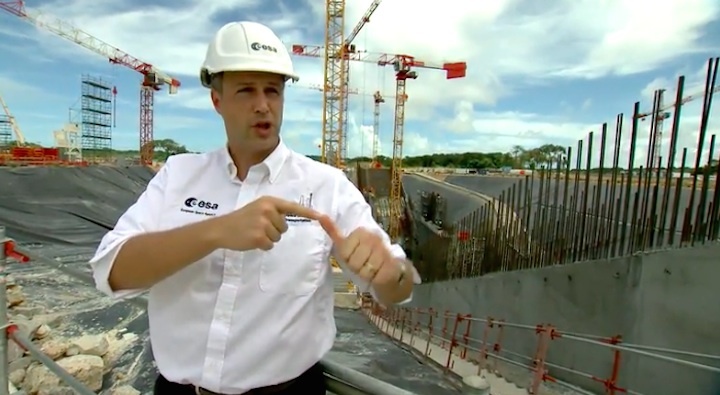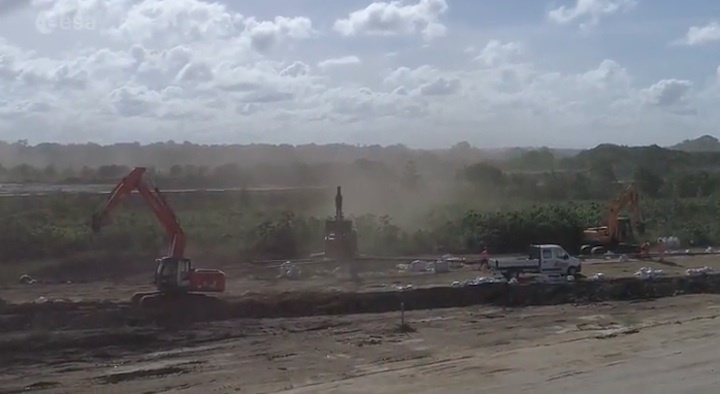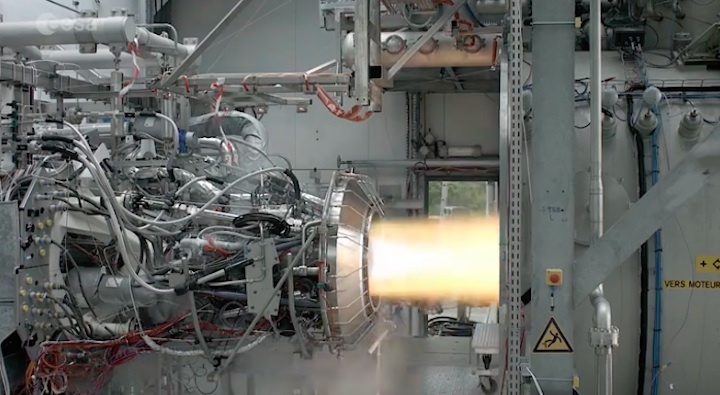 At Europe's Spaceport in French Guiana, Ariane 6 is now a reality with the launch zone taking shape.Indeed there is no time to lose for the future European launcher since its first launch is planned for July 2020.But the independent access to space for Europe is at stake along with its leading role on the launcher market.This A&B Roll shows the status of Ariane 6 launch zone in Kourou with latest drone images and an interview with Daniel Neuenschwander, Director of Space Transportation at ESA in English, German and French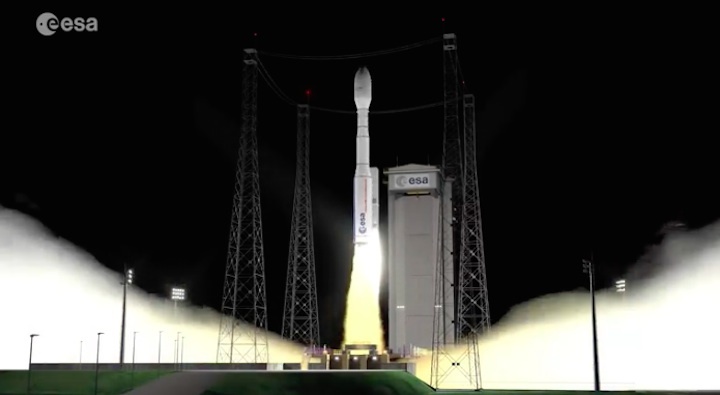 Quelle: ESA
---
Update: 19.12.2017
.
ArianeGroup to start production of the first Ariane 62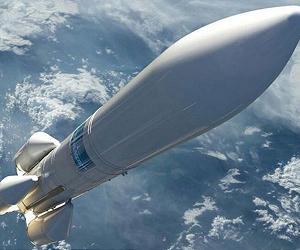 Paris, France (SPX) Dec 19, 2017

With the successful conclusion of Maturity Gate 6.2, ArianeGroup and its industrial partners are moving into an important new phase in the development of Ariane 6, a flagship European Space Agency (ESA) program. This review confirmed that the industrial process of Ariane 6 is mature enough to start construction of the first launcher, in line with the program's objectives.
Ariane 6 is specifically designed to be able to respond to evolving market demands. It will be a versatile, modular, competitive launcher, available in two versions, Ariane 62 and Ariane 64, in order to guarantee the continuity of European access to space.
"Starting the production of the first launcher just three years after the decision of ESA Member States to launch the Ariane 6 program in December 2014 is a major step forward," said Alain Charmeau, CEO of ArianeGroup.
"This once again demonstrates the efficiency of the industrial process put in place for the development, production and operation of Ariane 6. The industry is thus meeting its commitments to serve all future Ariane 6 customers, in ESA-coordinated national and European institutions, which are currently preparing the operational launch phase with our subsidiary, Arianespace".
This milestone follows on from Maturity Gate 6.1 last April, which validated the technical, industrial and programming characteristics of Ariane 6, enabling launcher development to continue at the anticipated rate. The positive conclusion of this milestone thus made it possible to launch the production of the Ariane 6 ground qualification models.
At the same time, the European Space Agency is preparing to put the launcher into operation. A review called "Exploitation Readiness Key Point" (ERKP) analyzes in detail all the aspects associated with the commercialization and mass production of Ariane 6 launchers. The conclusions are expected in March 2018.
As the industrial lead contractor for development and operation of the Ariane 5 and Ariane 6 launchers, ArianeGroup coordinates an industrial network of more than 600 companies in 13 European countries, including more than 350 Small and Medium Enterprises. The ArianeGroup subsidiary Arianespace is responsible for the commercialization of Ariane 6.
Quelle: SD
---
Update: 25.01.2018
.
SUCCESSFUL FIRST TEST FOR THE ARIANE 6 VULCAIN ENGINE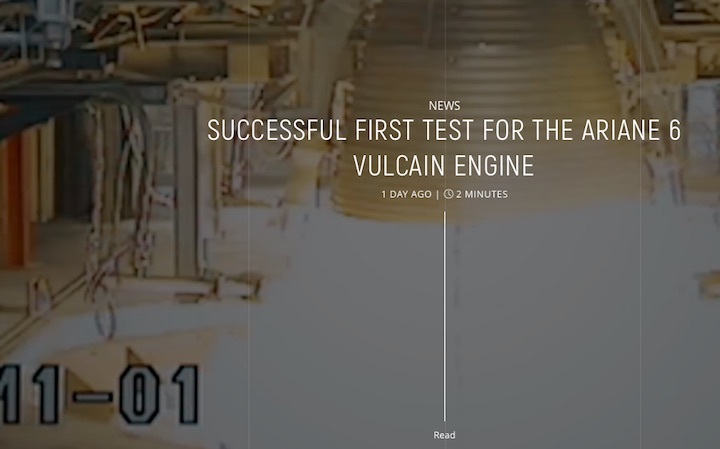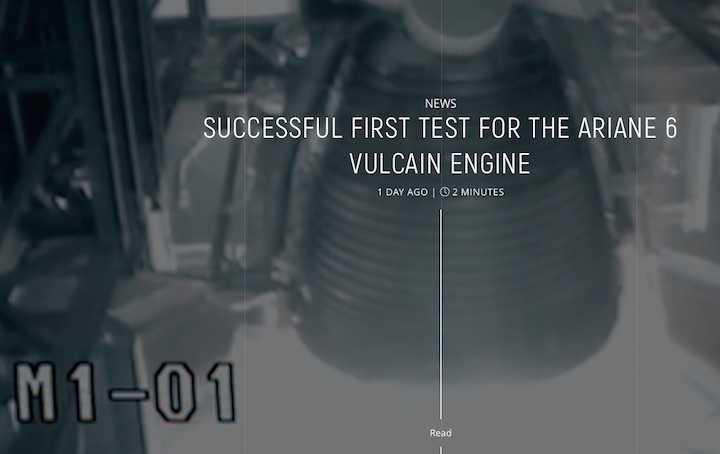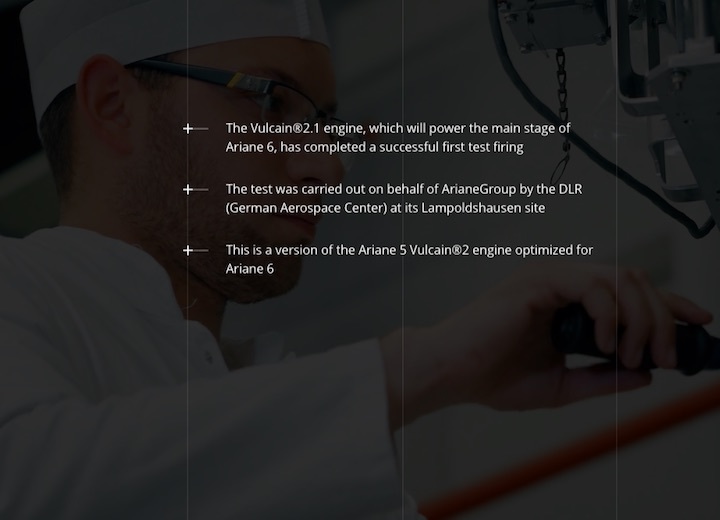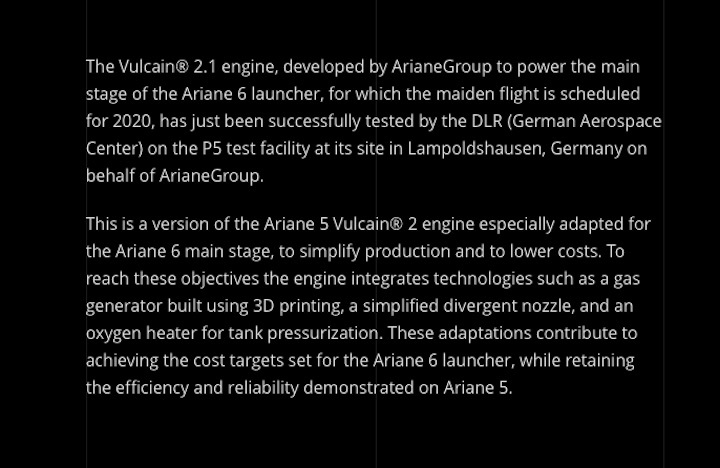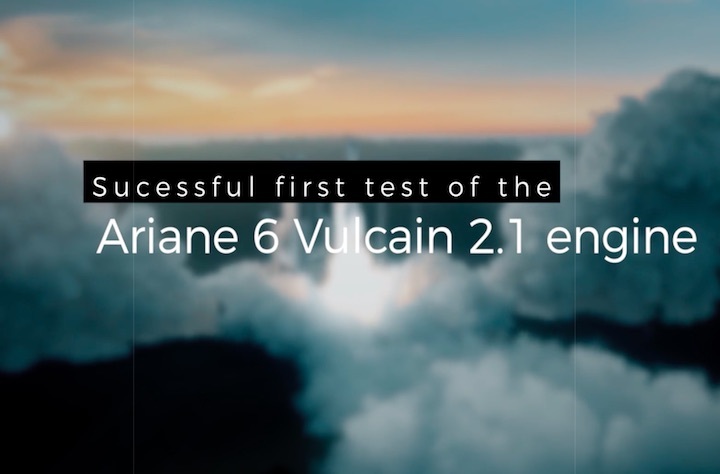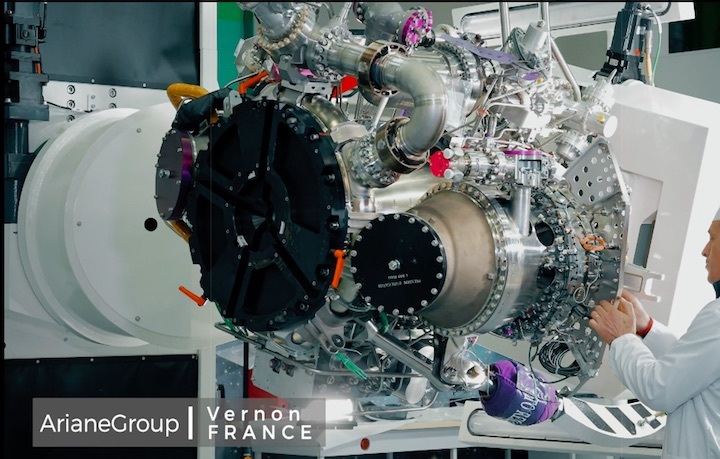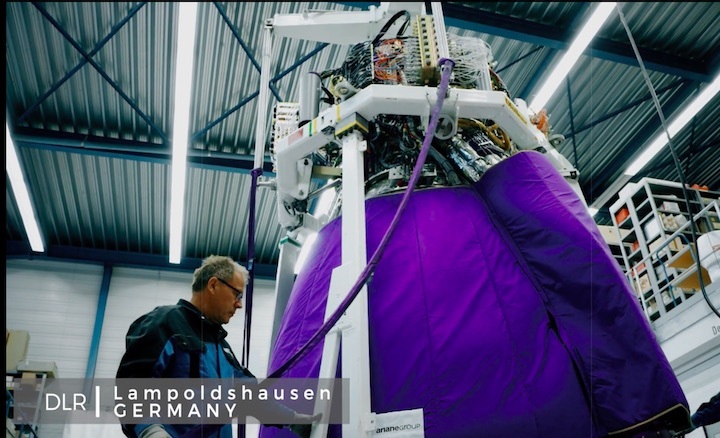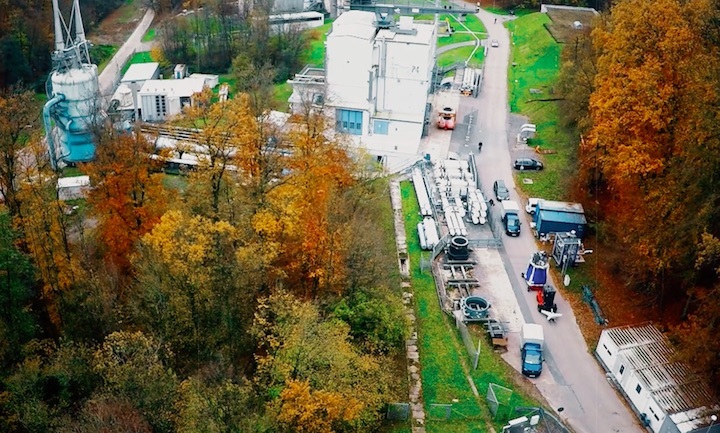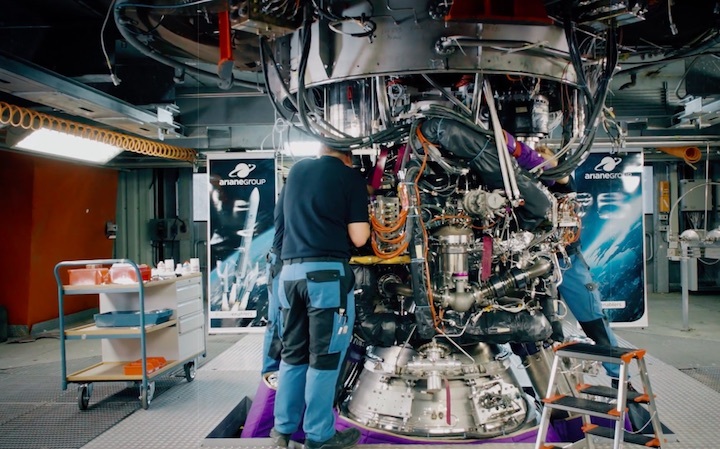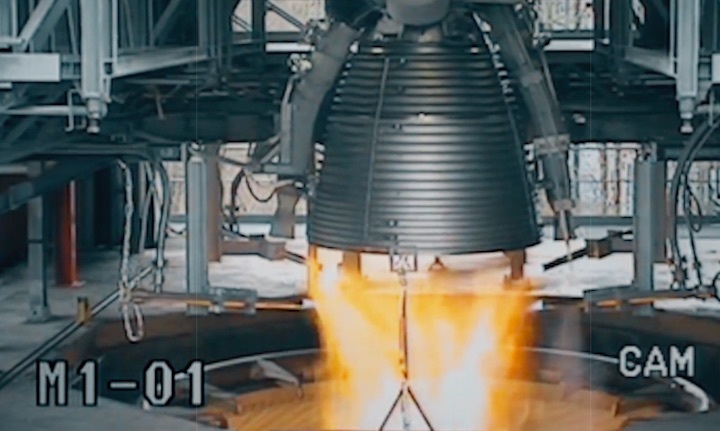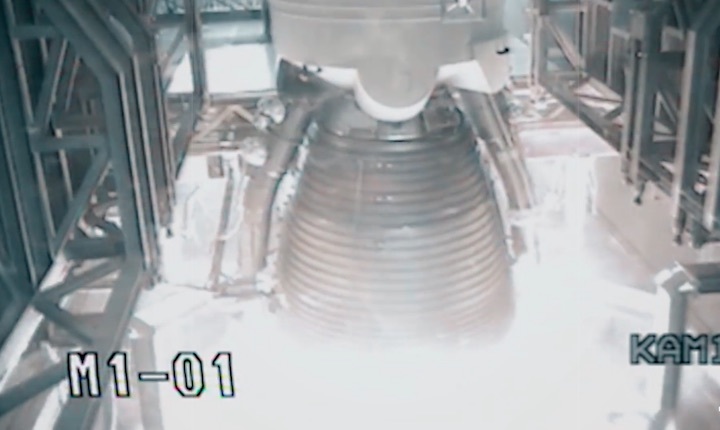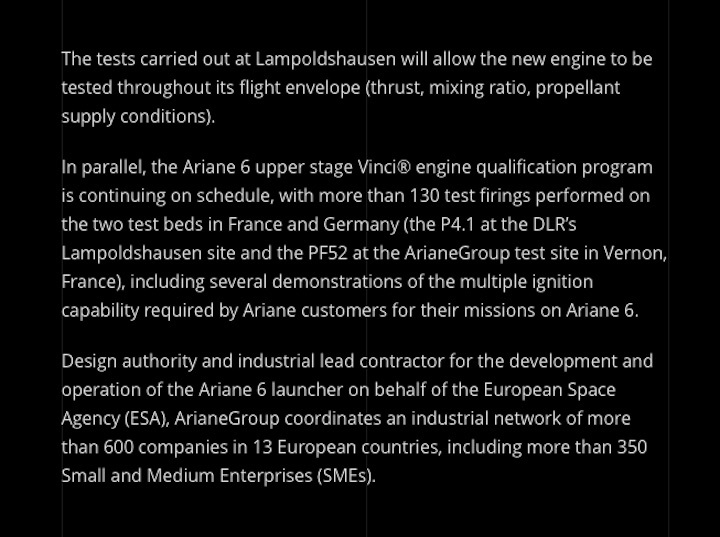 Quelle: arianegroup
---
Update: 18.02.2018
.
140 SUCCESSFUL TESTS AND SEVERAL "FIRSTS" FOR VINCI, THE ENGINE FOR ARIANE 6

2 DAYS AGO | 4 MINUTES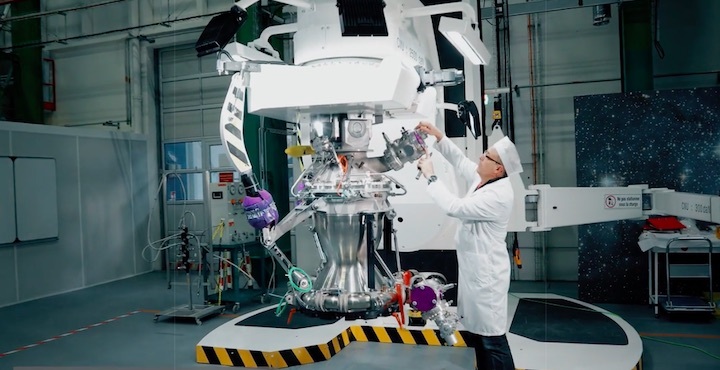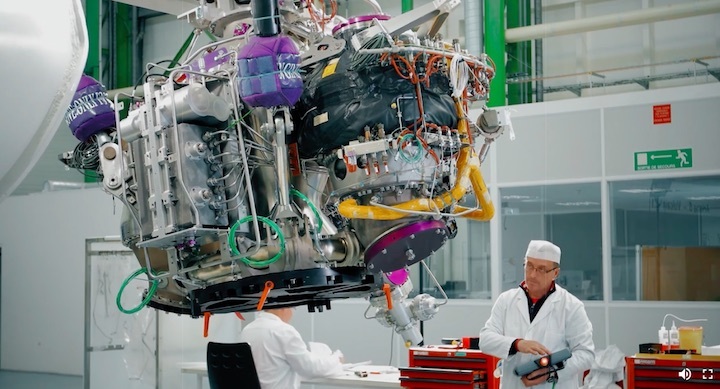 The re-ignitable Vinci® engine will power the upper stage of Ariane 6, whose first flight is scheduled for 2020
140 bench tests and major "firsts": 20 "boosts" accumulated in a single test of 300 seconds, 1,569 seconds of operation in a single test
Vinci's operational flexibility allows for a wide range of missions, including the deployment of satellite constellations
The re-ignitable Vinci®, engine, which will power the upper stage of the Ariane 6 launcher, has now successfully completed its last two subsystems qualification campaigns (M6 and M7) with 140 engine tests conducted. The tests in campaigns M6 and M7, vital for qualification of the engine subsystems, were carried out on the PF52 bench at the ArianeGroup site in Vernon, France, and on the German Aerospace Center DLR's P4.1 bench in Lampoldshausen, Germany.
A total of 25 tests (16 for M6 and 9 for M7) were carried out under nominal conditions, and include three major performance "firsts":
a test of 1,569 seconds – an unprecedented duration,
a series of 20 successful boosts (1 ignition followed by 19 engine re-ignitions), totaling an operating duration of 300 seconds,
a continuous burn of 800 seconds in "high operation", i.e. at the maximum thrust for which the engine is designed.
The purpose of these tests was also to test the Vinci® engine beyond its operational requirements, as it will only require ignition a maximum of 4 times during its missions, with a maximum burn time of 900 seconds in flight.
Valérie de Korver, Product Manager Vinci® Propulsion System at ArianeGroup, said: "These campaigns went particularly smoothly and we demonstrated considerable margins with respect to the flight requirements, in particular thanks to a new ignition system and we successfully achieved a number of firsts, such as performing 20 boosts in a single test. This is a major step in demonstrating the ability of the Vinci engine to meet the versatility demands of the Ariane 6 launcher. It is also a new and major milestone for the program and for the teams, who are well aware of the challenges faced in these campaigns and who are always intensely committed to ensuring their success."
+++
The Vinci® engine was developed by ArianeGroup for Ariane 6 and provides the future European launcher with extreme versatility.
Its main feature is its multiple ignition capability: Vinci® will be able to re-ignite in flight as many times as necessary, in order to place several payloads in orbit at different locations, according to the specific needs of the mission. This engine will enable Ariane 6 to carry out all types of missions, regardless of duration and target orbit, particularly the deployment of satellite constellations, for which demand will continue to grow.
Ariane 6 engine testing is continuing apace. This further success follows on from the first successful test on 13 January in Lampoldshausen, Germany, of the Vulcain 2.1® engine which will power the launcher's main stage. These tests enabled the engine to be tested throughout its flight envelope, whether in terms of thrust, mix ratio, or propellant supply conditions.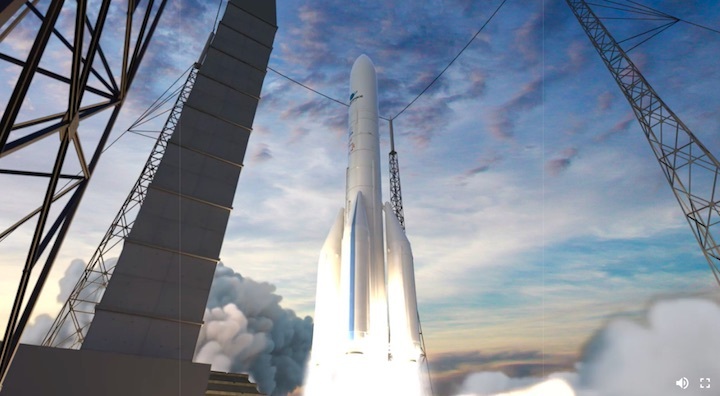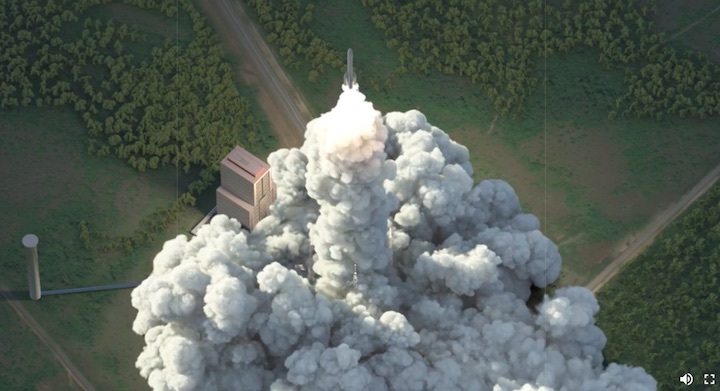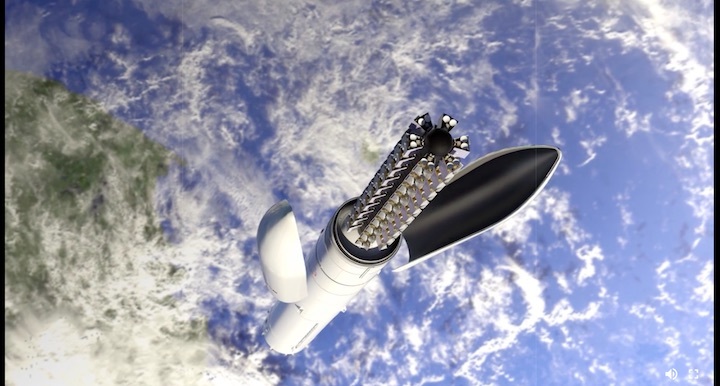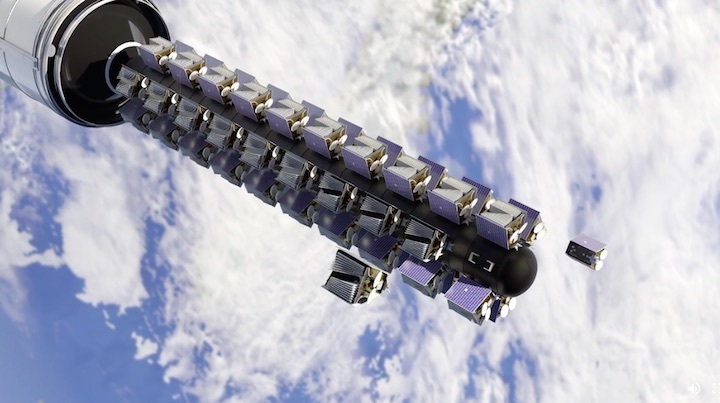 Quelle: arianegroup
3503 Views