In a program conducted between 1979 and 1982, the NASA Dryden (now Armstrong) Flight Research Center in Edwards, California, successfully demonstrated an aircraft wing that can be pivoted obliquely from zero to 60 degrees during flight.
The program demonstrated the unique wing on a small subsonic jet-powered research aircraft called the AD-1 (Ames Dryden -1). The aircraft flew a total of 79 times (including flights by guest pilots and those to air shows) in a research program that evaluated the basic pivot wing concept and gathered information on handling qualities and aerodynamics at various speeds and degrees of pivot.
Background
The oblique wing concept originated with Robert T. Jones, the distinguished aeronautical engineer at NASA's Ames Research Center in Moffett Field, California, who had been instrumental in developing swept and delta wings during and after World War II.
Jones initiated analytical and wind tunnel studies indicated that a transport-size aircraft with an oblique wing, flying at l,000 mph, might achieve twice the fuel economy of more conventional wings.
At high speeds, both subsonic and supersonic, the wing would be pivoted fore and aft at up to 60 degrees to the aircraft's fuselage to gain (essentially) the high-speed efficiency of the swept wing. The studies indicated that these angles would decrease aerodynamic drag, permitting increased speed and providing a longer range with the same fuel expenditure.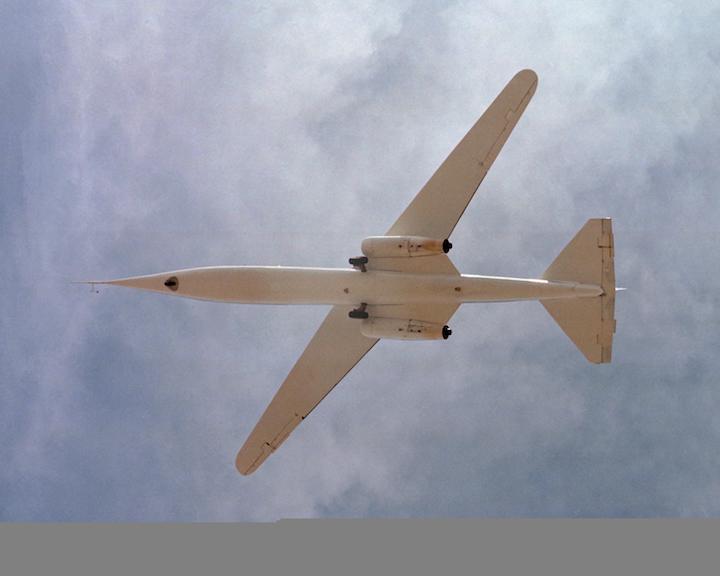 916 Views