27.01.2018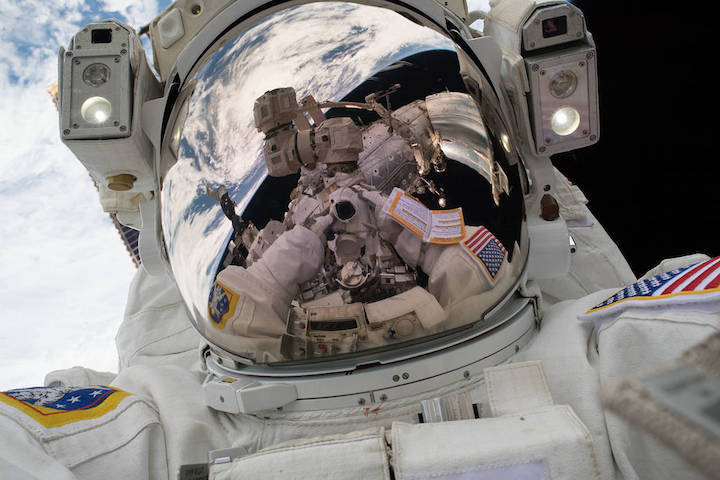 On Tuesday, Jan. 23, 2018, Mark Vande Hei snapped his own portrait, better known as a "space-selfie," during the first spacewalk of the year. NASA astronauts Vande Hei and crewmate Scott Tingle ventured outside the International Space Station to perform maintenance on the station's Canadarm2 robotic arm during a seven-hour and 24-minute spacewalk.
On Monday, Vande Hei will lead another spacewalk, this time with crewmate Norishige Kanai of the Japan Aerospace Exploration Agency (JAXA), to complete maintenance on the robotic hand of the Canadarm2's robotic arm. Monday's spacewalk begins at 7:10 a.m. EST with live NASA TV coverage beginning at 5:30 a.m.
Quelle: NASA
---
Update: 28.01.2018
.
An update on Canadarm2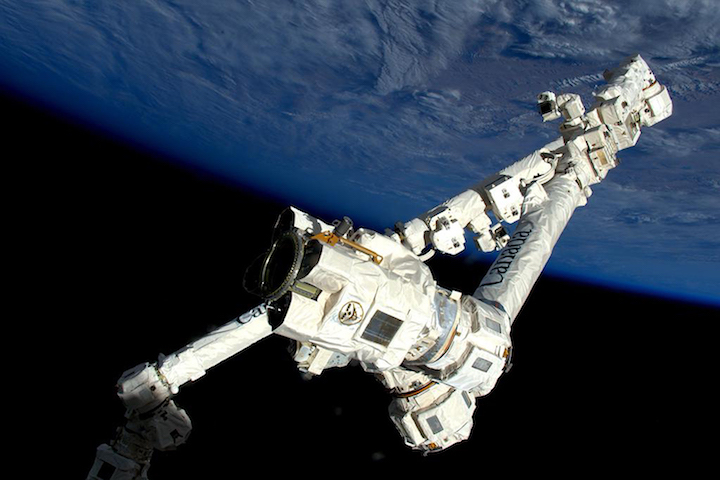 On January 23, 2018, two NASA astronauts successfully replaced Canadarm2's "hand," known as a latching end effector.
As the new hand was undergoing routine tests, an anomaly was detected in one of the two electronic systems that controls its mechanisms. Both systems need to be functional (one acting as a backup) for Canadarm2 to be fully capable of performing its tasks on the International Space Station.
Therefore, NASA and the Canadian Space Agency have agreed to reinstall the hand previously removed. Even though it is showing initial signs of wear and tear, both of this hand's systems are functional.
This operation is planned as part of an upcoming spacewalk on .
Canadarm2 gets a grip on wear and tear
Canadarm2 will be getting a new "hand" during a spacewalk scheduled for . NASA astronauts Mark Vande Hei and Scott Tingle will exchange the Latching End Effector (LEE) for a new one stored on the International Space Station (ISS).
On , Vande Hei will be joined for a second spacewalk by JAXA astronaut Norishige Kanai. They will attach the original LEE to the Mobile Base System.
Canadarm2's other hand was successfully replaced due to normal wear and tear during a similar procedure in . With its fresh pair of hands, the Station's robotic arm will be well equipped to continue its essential work for the ISS.
Canadarm2 is routinely used to perform maintenance tasks. It can move Dextre, equipment and even astronauts. It is also responsible for capturing and docking unpiloted spacecraft that carry everything from science payloads and critical spare parts to necessities for the crew on board the ISS.
Live coverage of the spacewalk will begin at 5:30 a.m. (EST) on NASA TV.
Quelle: Canadian Space Agency
---
Update: 29.01.2018
.
ASA Postpones Spacewalk at Space Station to Mid-February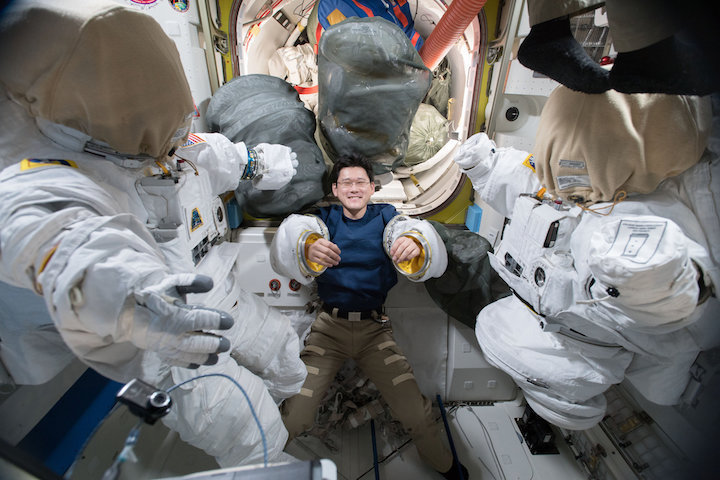 Astronaut Norishige Kanai of the Japan Aerospace Exploration Agency tries on a pair of spacesuit sleeves inside the Quest airlock of the International Space Station.
-
NASA officials on Saturday (Jan. 27) postponed a planned spacewalk at the International Space Station this week after developing a software patch for a glitch that two astronauts had expected to fix during the spacewalk.
Astronauts Mark Vande Hei of NASA and Norishige Kanai of the Japan Aerospace Exploration Agency were scheduled to spend more than six hours working outside the space station on Monday (Jan. 29). Their goal, NASA officials said, was to replace a latching end effector (LEE) that serves as the grappling end of the station's robotic arm.
The LEE in question was installed on the robotic arm during a spacewalk Tuesday (Jan. 23)by Vande Hei and NASA astronaut Scott Tingle. But when powered up, the LEE did not respond as expected on its main communications channel, but did respond on its backup.
To address the LEE glitch, NASA replanned Monday's spacewalk Vande Hei and Kanai (which was already scheduled) to replace the new LEE with the older one removed on Tuesday. But engineers with the Canadian Space Agency — which provided the station's robotic arm system — found a software patch to fix the LEE communications glitch.
That means Vande Hei and Kanai won't have to go outside and replace the LEE on the robotic arm, NASA officials said. Instead, the astronauts will venture outside in mid-February to perform the tasks that were originally scheduled for their spacewalk. They include installing LEE removed from the station's arm Tuesday to a new location on the outpost's railcar-like Mobile Transporter, and bringing a still-older LEE removed from the station's arm in October inside the station.
Quelle: SC
1520 Views