A far off view of the Xichang Satellite Launch Centre. expoon.com
-
The development of the Long March 7 rocket and a new launch complex at Wenchang means that eventually launches to geosynchronous orbits will move from Xichang to the more favourable southern site on Hainan island.
Other sites have also recently had panoramic treatment. Ahead of the launch of the Tiangong-2 space lab last year, a now-deleted webpage provided an explorable look at the Long March 2F-T2 at Jiuquan.
The launch of the second Long March 7, carrying China's first space freighter, Tianzhou-1, in April, also saw a 360-degree, close-up view of the launch at Wenchang.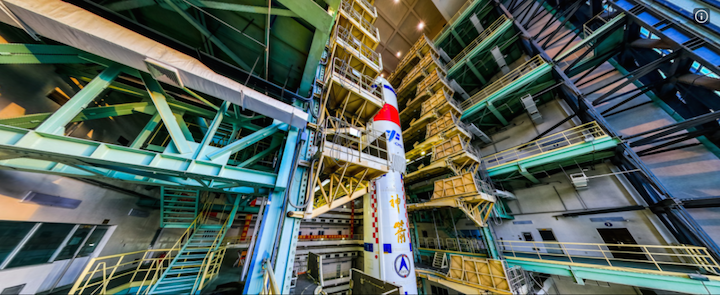 Screenshot from a 360-degree panorama of the Long March 2F-T2 carrying the Tiangong-2 space lab at Jiuquan in 2016.
Quelle: gbtimes