3.10.2017
SpaceX test fires Falcon 9 rocket at Kennedy Space Center ahead of Saturday launch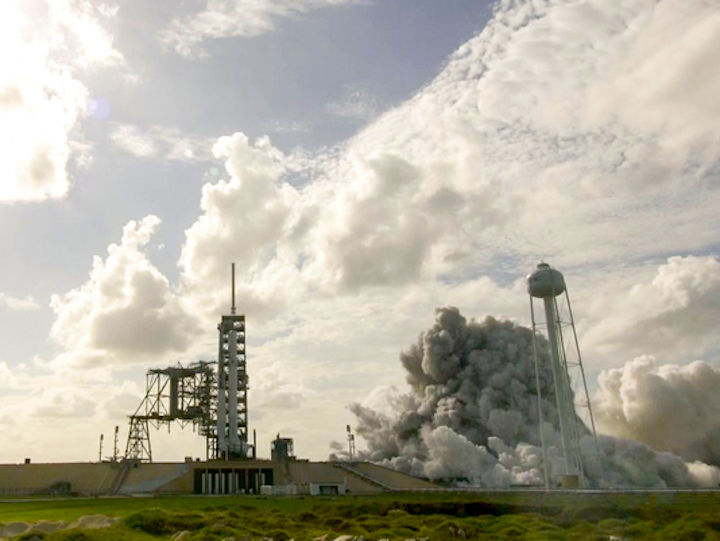 SpaceX on Monday fired the nine main engines of a previously flown Falcon 9 rocket at Kennedy Space Center ahead of a planned launch this weekend.
Known as a "static test fire," the rocket successfully completed a check of its countdown procedure, Merlin engine firing and subsequent shutdown at pad 39A around 4:30 p.m.
Teams will now attach the payload, a commercial communications satellite labeled EchoStar 105 / SES-11, atop the second stage of the rocket before Saturday's two-hour launch window opens at 6:53 p.m.
The 11,000-pound EchoStar 105 / SES-11 is a dual-mission spacecraft for Colorado-based EchoStar and Luxembourg-based SES. The communications satellite will cover a swath of North America, including all 50 U.S. states and parts of Mexico and the Caribbean.
Saturday's mission marks SpaceX's third attempt at flying a previously launched booster. SES was the first customer to fly on a recycled rocket when SpaceX made history and launched the SES-10 satellite, landing on the drone ship shortly after.
The Hawthorne, California-based company has so far successfully landed 16 of its first stages on both coasts.
Quelle: Florida Today
---
Update: 6.10.2017
.
SpaceX delays Falcon 9 launch of TV broadcast satellite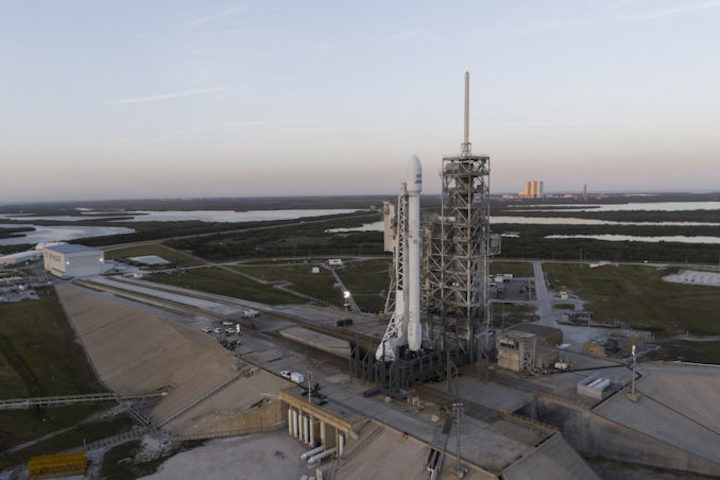 Liftoff of a previously-flown Falcon 9 rocket from NASA's Kennedy Space Center with a European-built television broadcast satellite has been pushed back from Saturday until at least next Wednesday night, officials said.
The Falcon 9 launcher was supposed to take off with the SES 11/EchoStar 105 communications satellite Saturday evening, but two SES officials said Thursday that the mission would be postponed. An SES official familiar with the launch campaign said liftoff from pad 39A was now expected no earlier than next Wednesday, Oct. 11.
SpaceX confirmed the delay in a tweet.
"The shift gives us extra time to complete final launch preps with the bonus of bypassing some bad weather headed for the Cape this weekend," a SpaceX spokesperson said.
The company did not disclose a reason for the four-day slip, but one source said SpaceX needed to conduct some "minor engine rework" on the Falcon 9.
Built by Airbus Defense and Space, the nearly 11,500-pound (5,200-kilogram) satellite carries a shared communications payload for SES and EchoStar.
SES and EchoStar announced their agreement to develop the SES 11/EchoStar 105 satellite in September 2014. The companies then said the launch was expected by the end of 2016.
EchoStar Satellite Services will employ 24 Ku-band transponders aboard the satellite to replace digital network capacity the Colorado-based company currently leases on the AMC 15 satellite owned by SES. For its half of the new satellite, SES intends to operate the craft's C-band transponders for video and data distribution services.
The Falcon 9 rocket will deploy the SES 11/EchoStar 105 satellite into an elliptical transfer orbit high above Earth, then the spacecraft's on-board thruster will steer it into a circular geostationary orbit along the equator. The spacecraft will begin service hovering over 105 degrees west longitude, giving its antennas coverage over the Americas.
The slip will move the launch of SES 11/EchoStar 105 after a Falcon 9 flight from Vandenberg Air Force Base in California set for Monday, Oct. 9. That mission, flying with a newly-built Falcon 9 rocket, will add 10 more satellites to Iridium's next-generation voice and data relay fleet.
Preparations for the Iridium launch from California's Central Coast are proceeding on schedule, Iridium said Wednesday. All 10 satellites, each about the size of a refrigerator, have been fueled and affixed to their two-tier mounting dispenser in readiness for encapsulation inside the Falcon 9's payload shroud.
Meanwhile, technicians prepared for a hold-down test-firing of the Falcon 9 rocket's Merlin 1D main engines at Vandenberg's Space Launch Complex 4-East as soon as Thursday.
The static fire test for the SES 11/EchoStar 105 flight was completed Monday at the Kennedy Space Center in Florida.
The back-to-back launches will mark the 14th and 15th SpaceX flights this year, the busiest flight rate in the history of the California-based company led by billionaire Elon Musk.
Quelle: SN
---
Update: 12.10.2017
.
Launch-Live-Frams: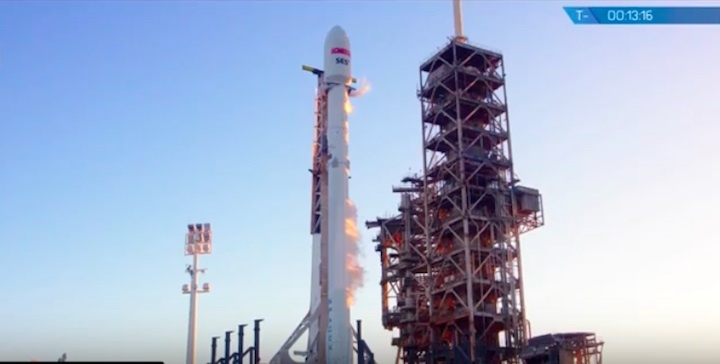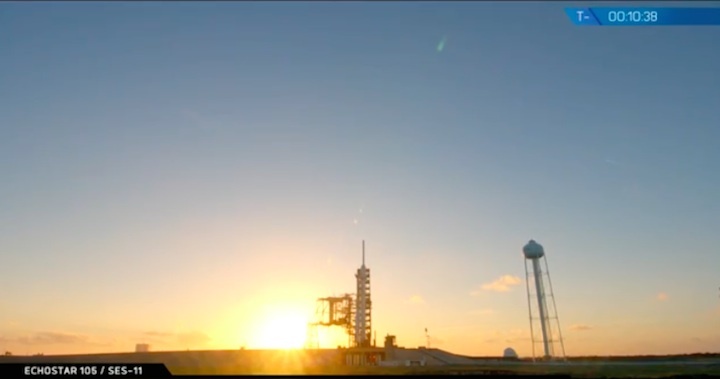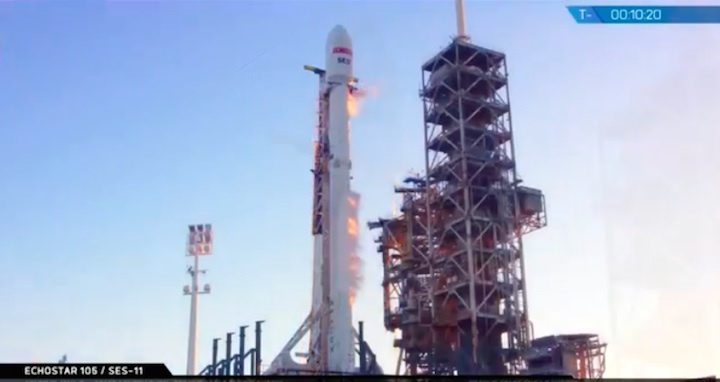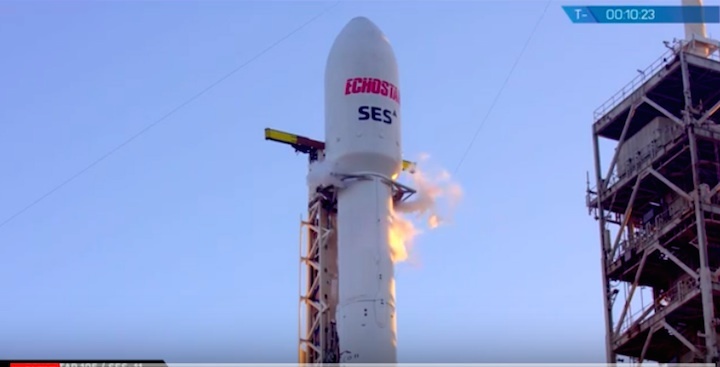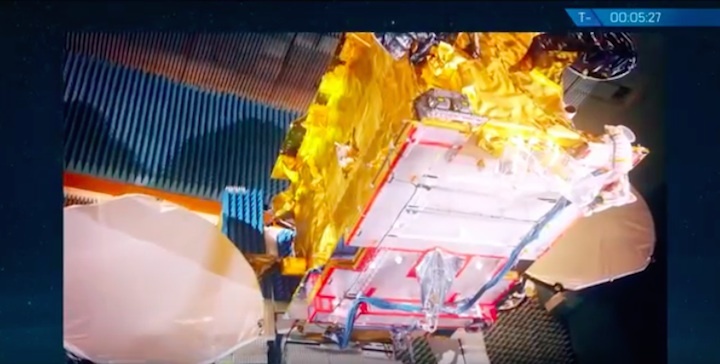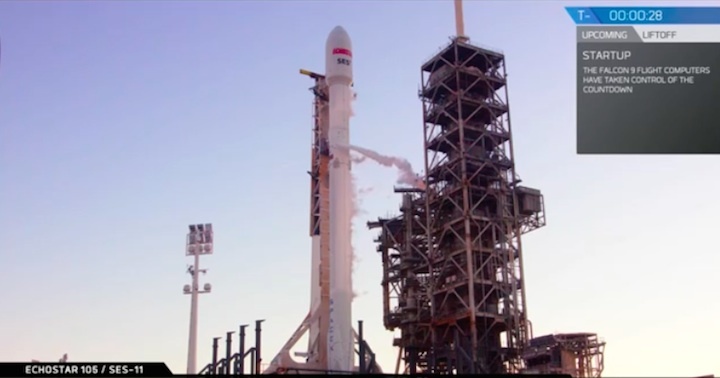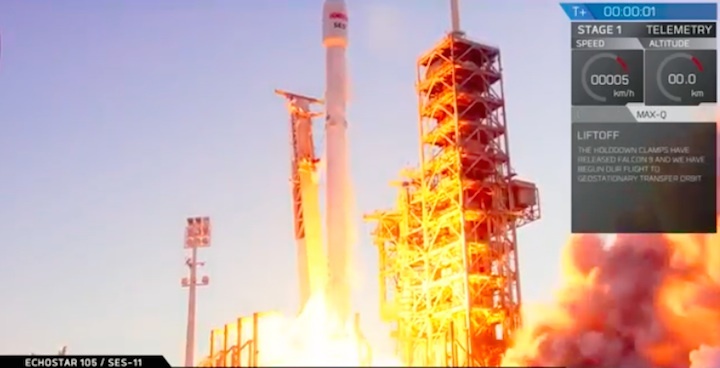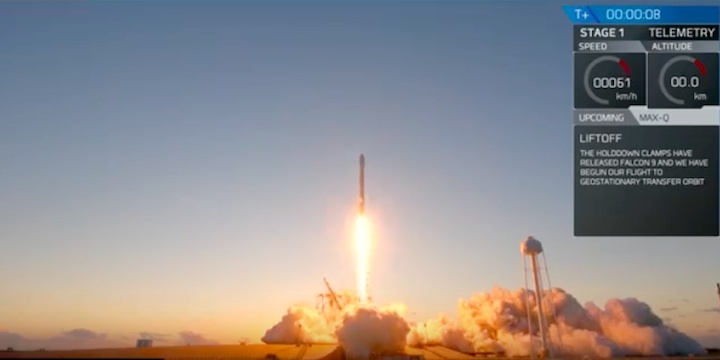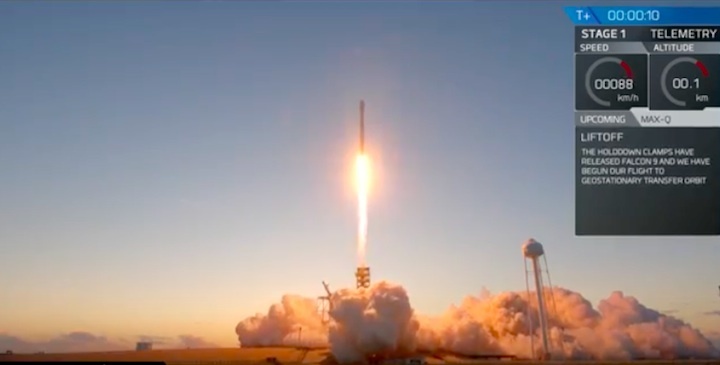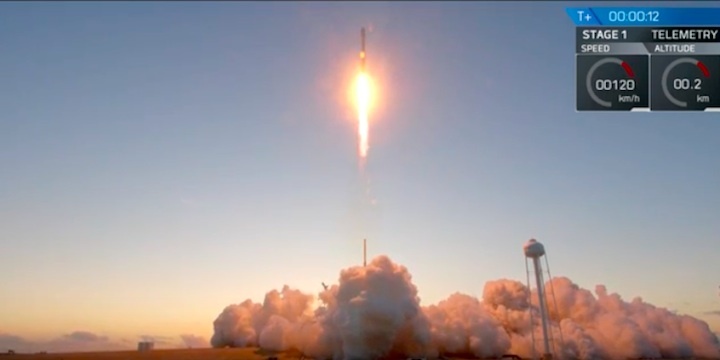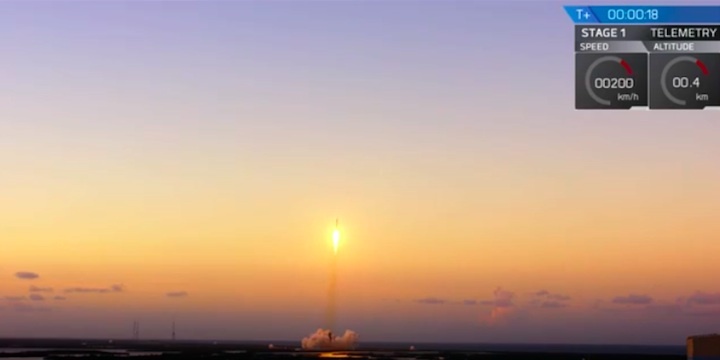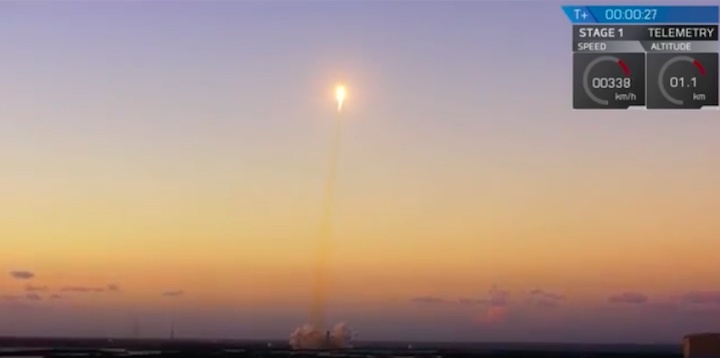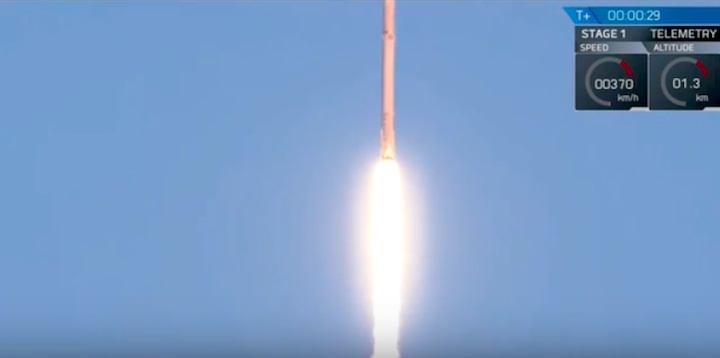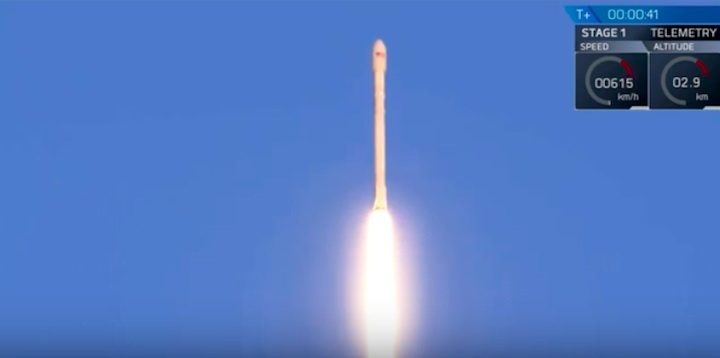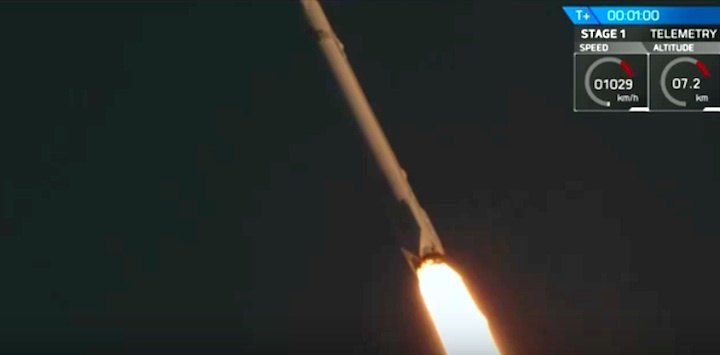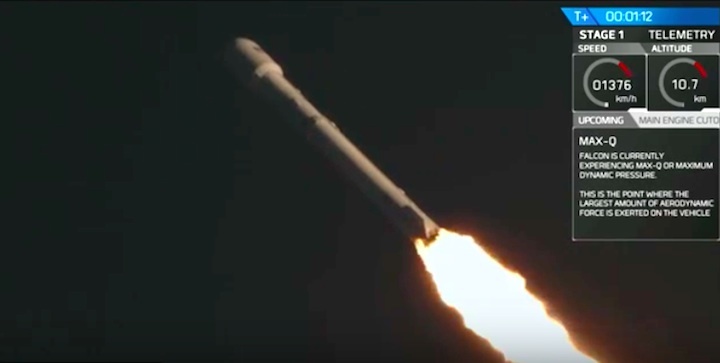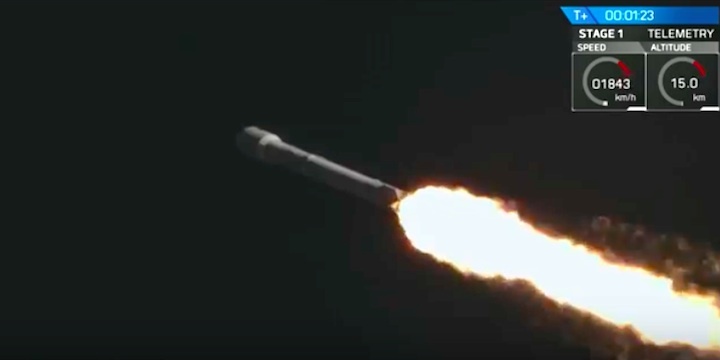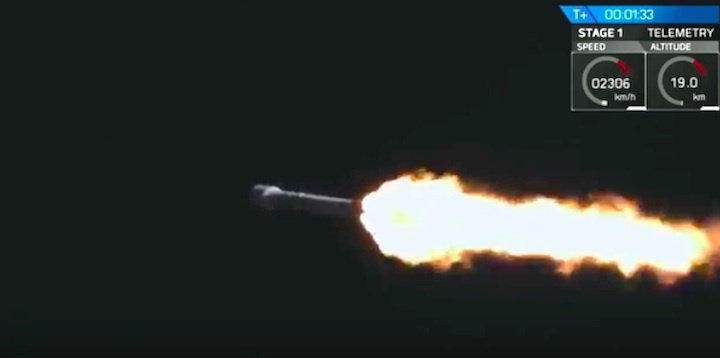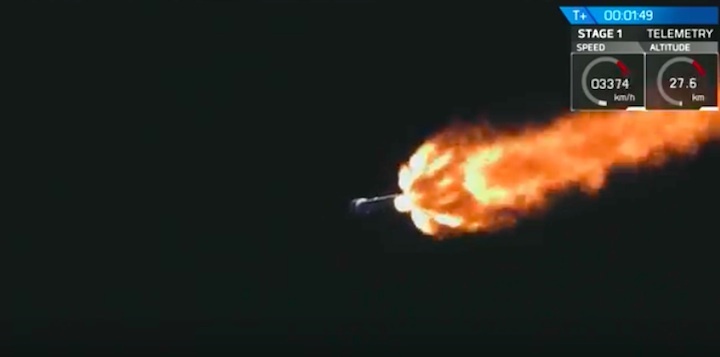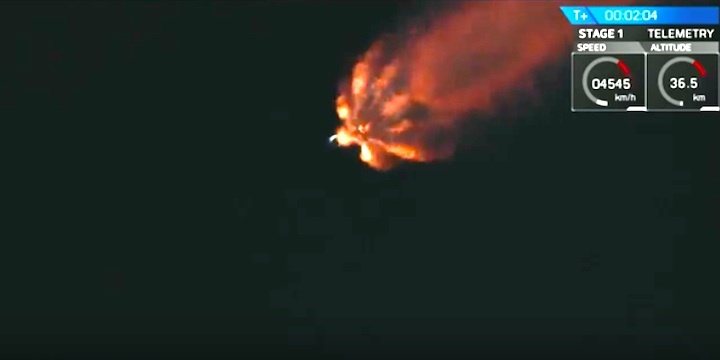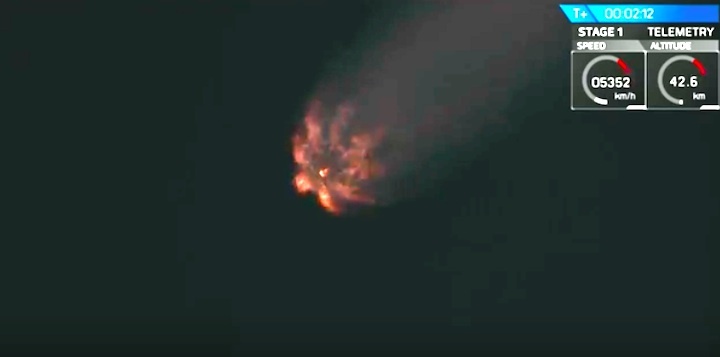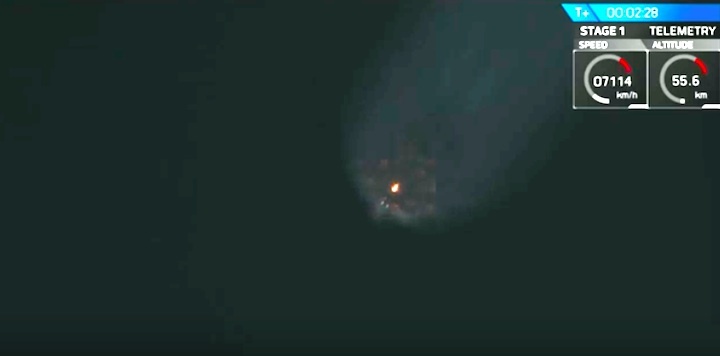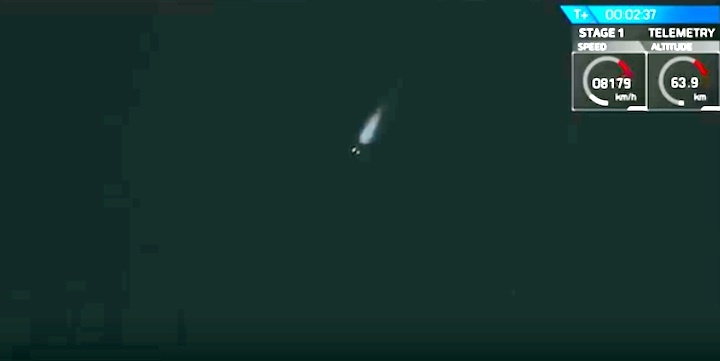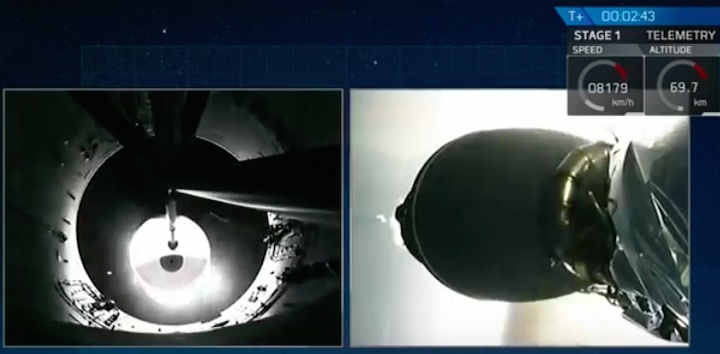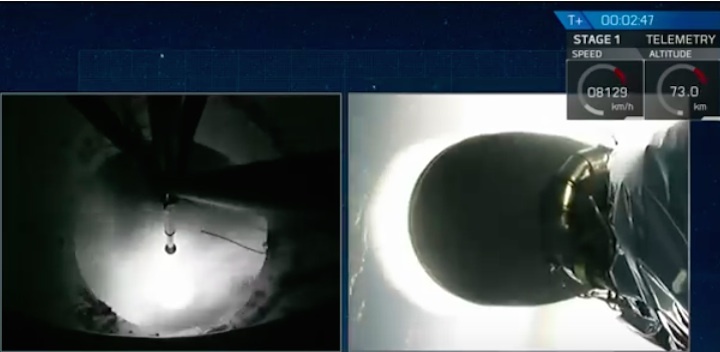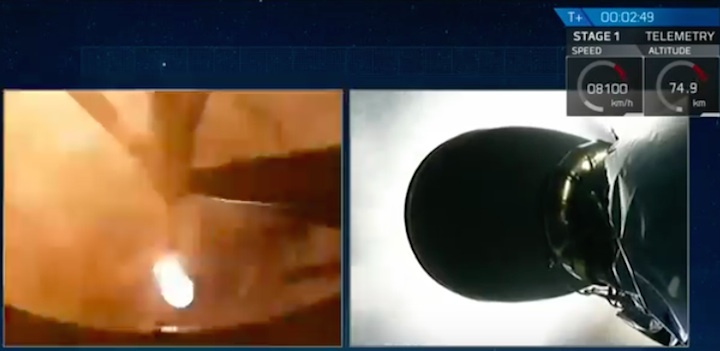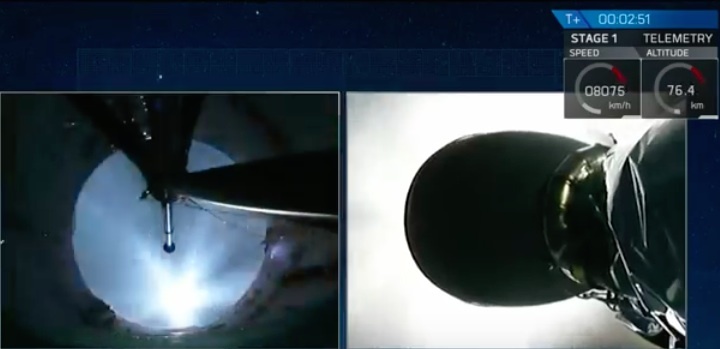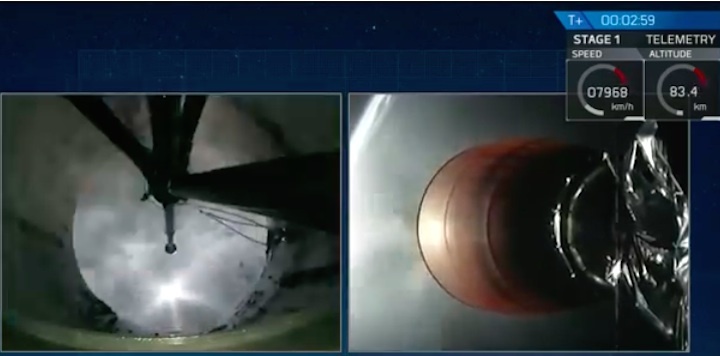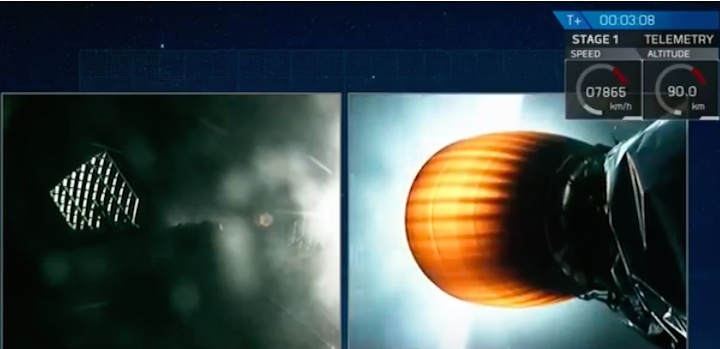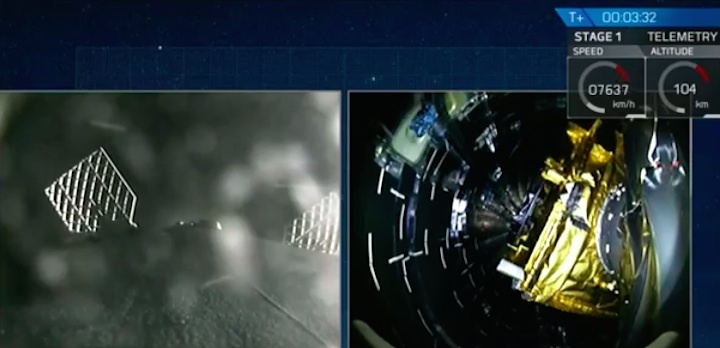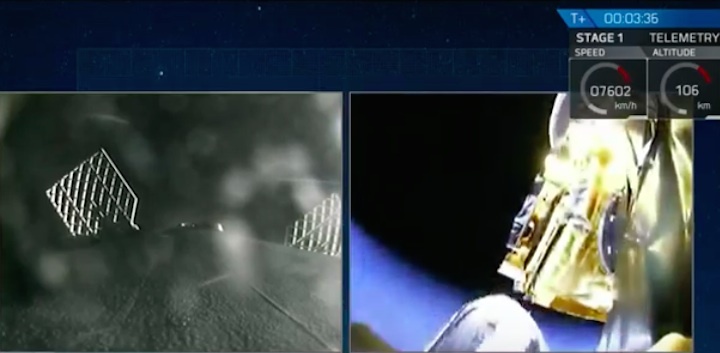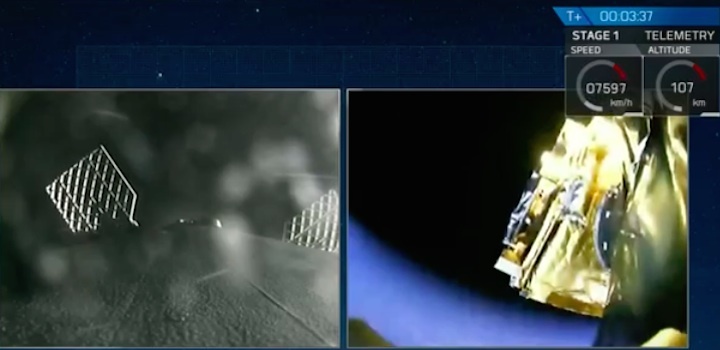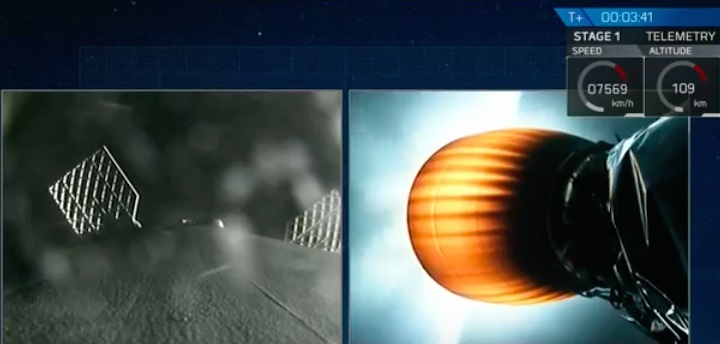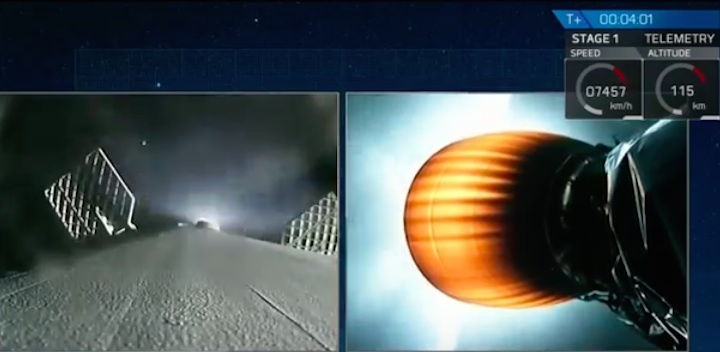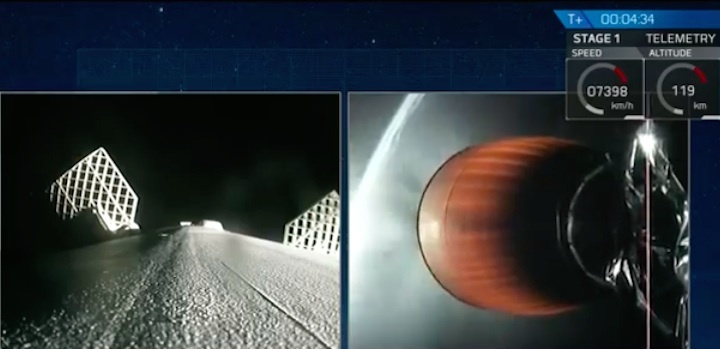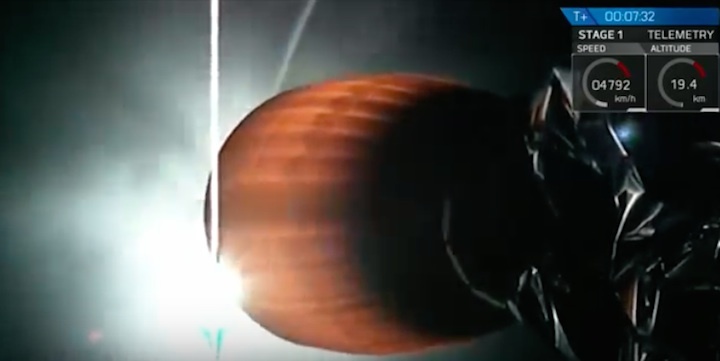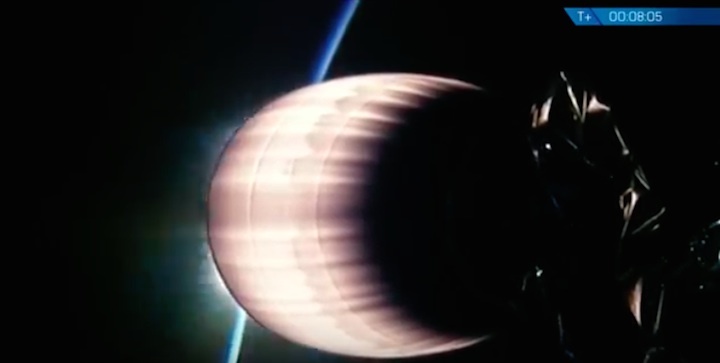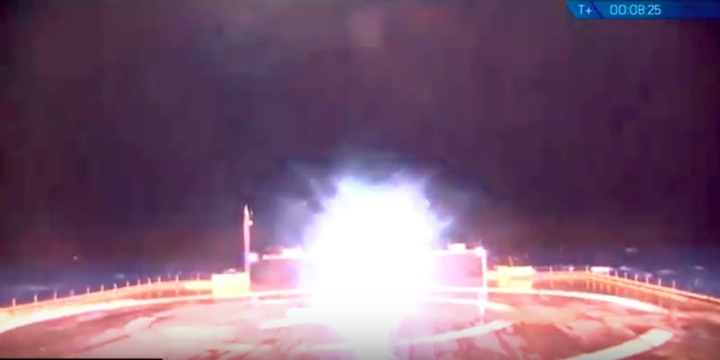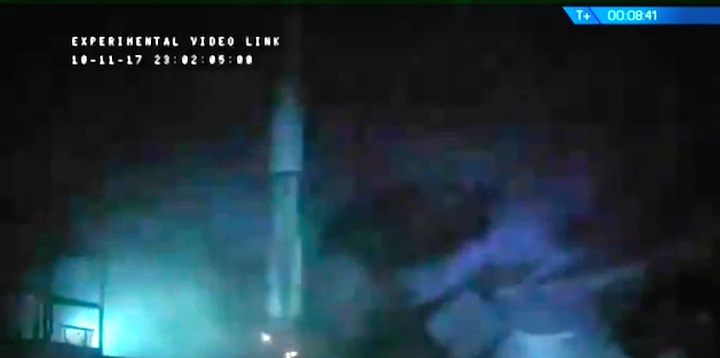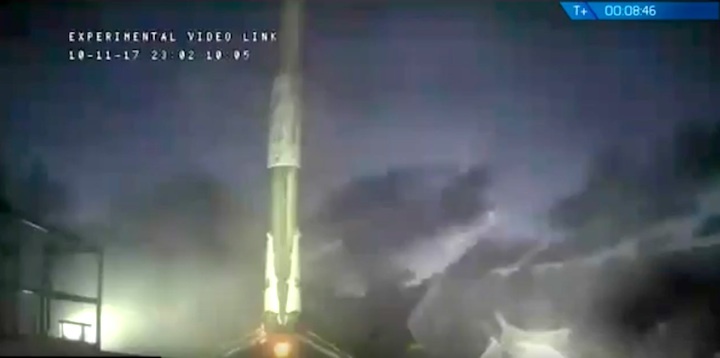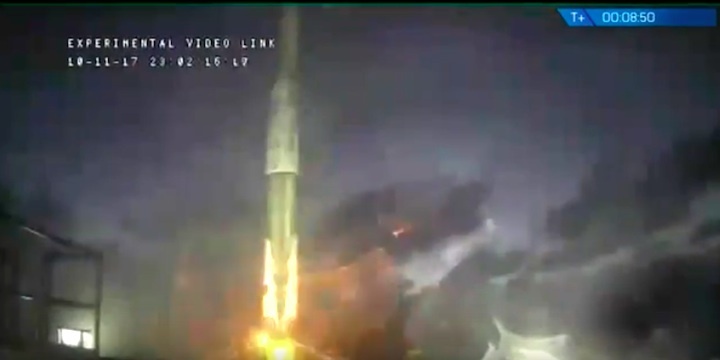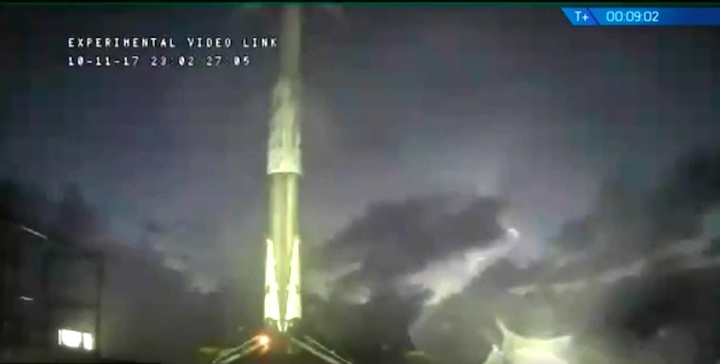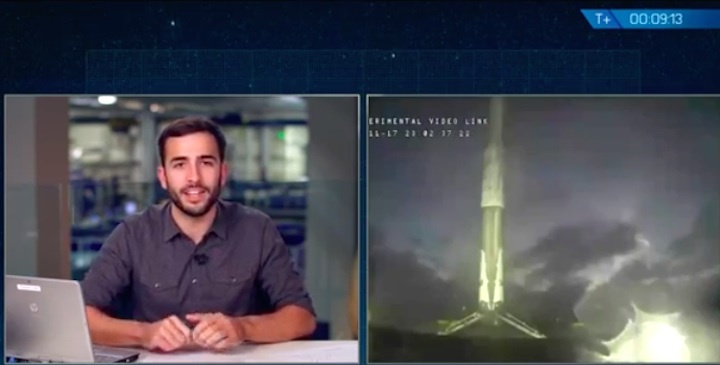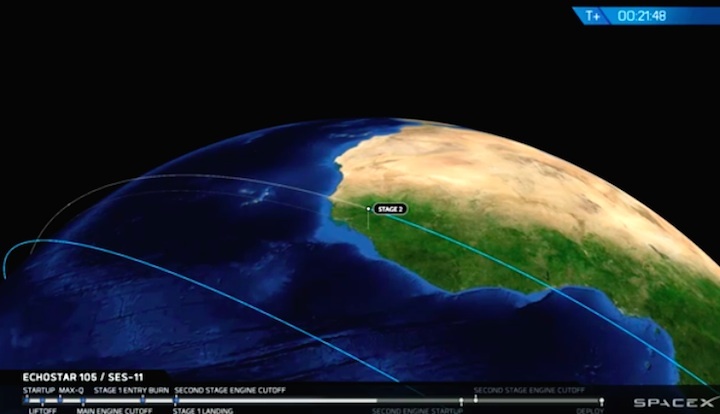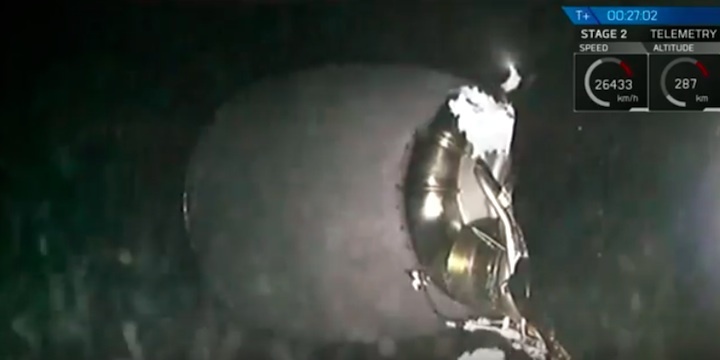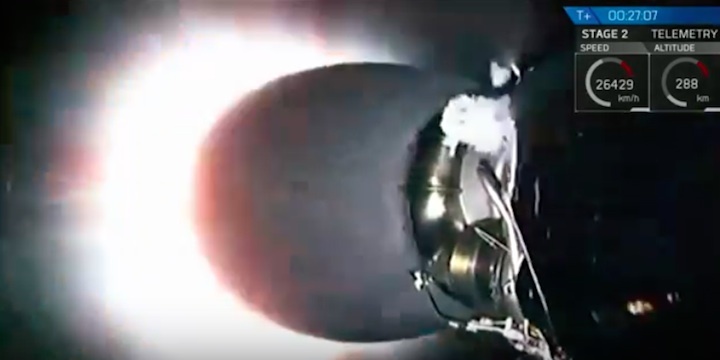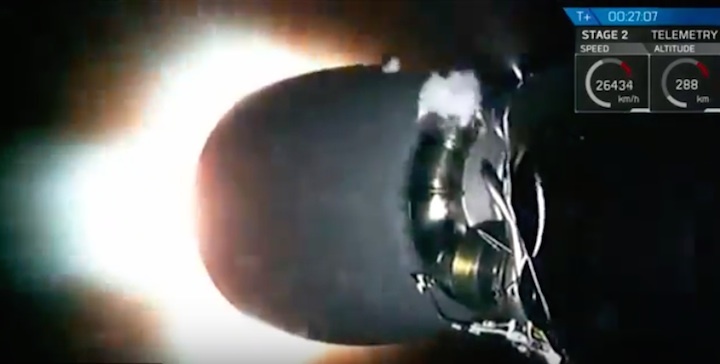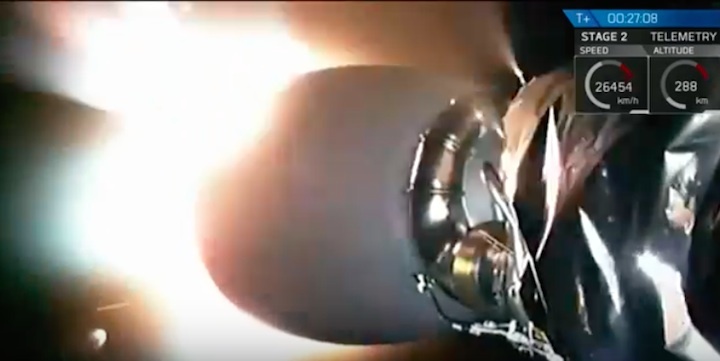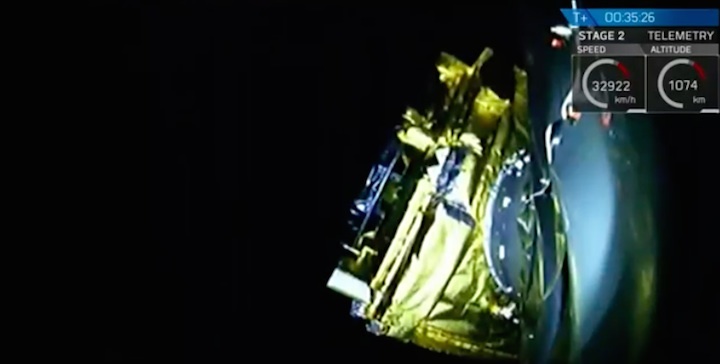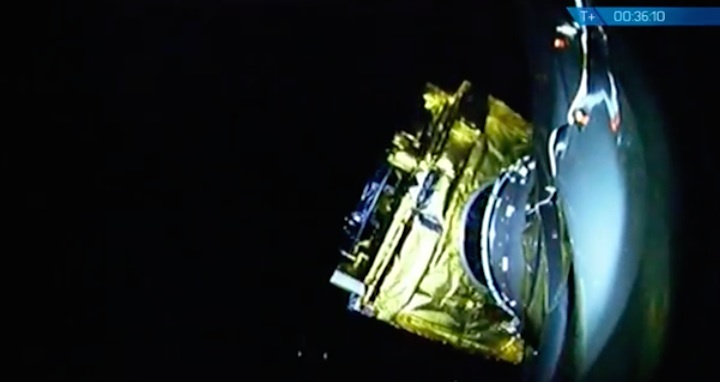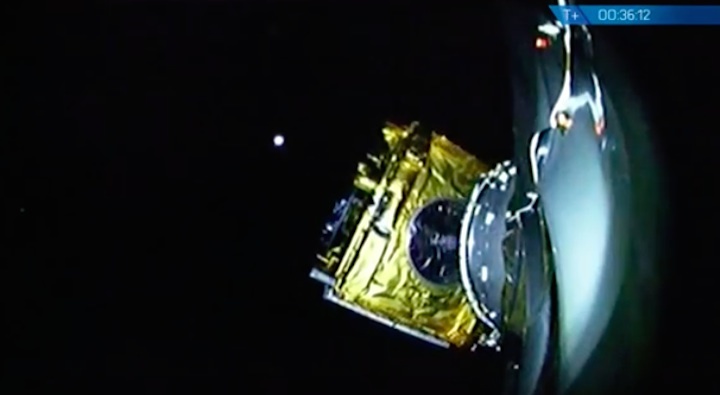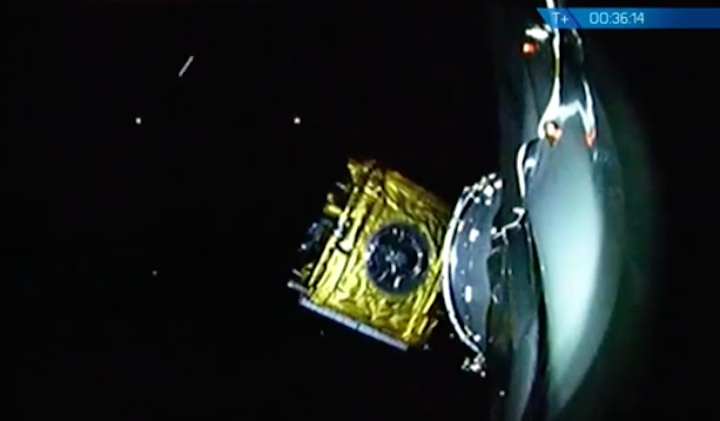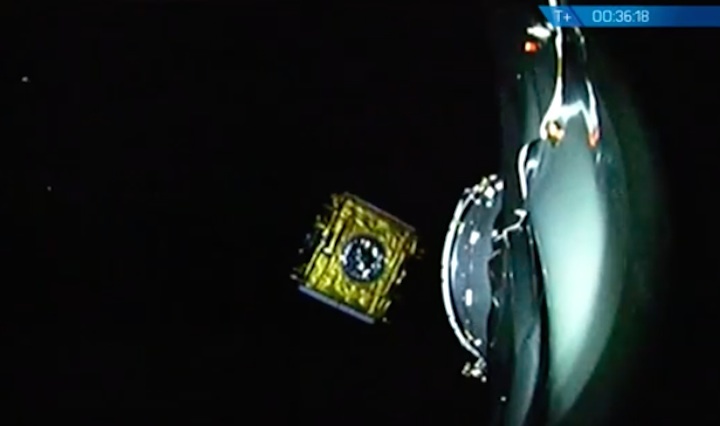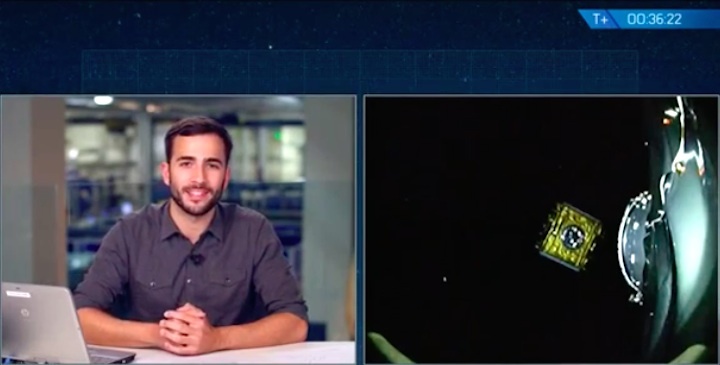 Quelle: SpaceX
+++
SpaceX successfully lands another reused Falcon 9 rocket
SpaceX successfully landed a reused Falcon 9 rocket on the company's droneship in the Atlantic

The Falcon 9 was taking the EchoStar 105/SES-11 satellite to space

It is the third time SpaceX has launched a reused booster
SpaceX has successfully landed another reused rocket, as billionaire Elon Musk's firm pushes forward to make space flight cheaper and more frequent.
Late on Wednesday, SpaceX's Falcon 9 rocket launched the EchoStar 105/SES-11 satellite, before returning back to earth and landing on the droneship station in the Atlantic. The rocket launched from NASA's Kennedy Space Center.
The Falcon 9 that was used for the launch was previously involved in a resupply mission to the International Space Station in February.
Tuesday's launch marked SpaceX's 15th launch of 2017, and was the second one this week. The portion of the rocket that lands on the droneship is called the booster. It's the third time that SpaceX has used one of its landed boosters for another flight.
This will give a lift to the company which is on a mission to make journeys to space cheaper and more frequent by reusing rockets.
Earlier this year, SpaceX President Gwynne Shotwell told Reuters in an interview that the company was aiming to launch missions every two-to-three weeks.
But Musk and SpaceX also have bigger ambitions to take people to Mars. The tech entrepreneur has previously laid out a vision to build a self-sustaining human colony on Mars. Last year, Musk laid out his plan to build a 42-engine rocket capable of holding around 100 people.
He said that Interplanetary Transport System will launch people to and from Mars. The booster system was referred to as the BFR.
Quelle: CNBC
1655 Views