3.09.2017
Soyuz MS-04 descent module lands in Kazakhstan
The spacecraft carries Russian cosmonaut Fyodor Yurchikhin and NASA astronauts Peggy Whitson and Jack Fischer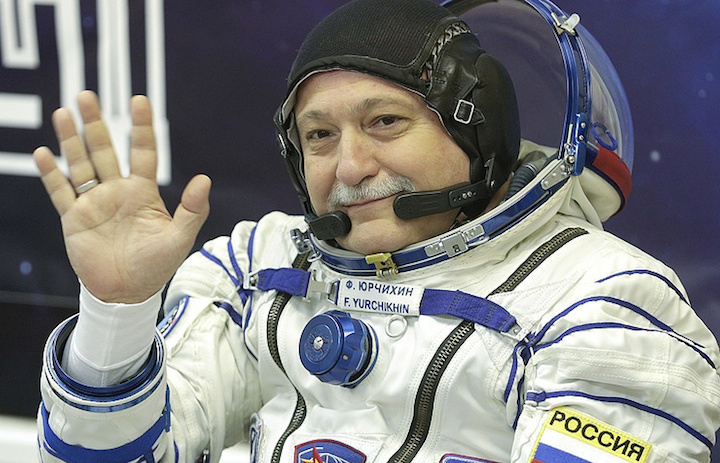 Russian cosmonaut Fyodor Yurchikhin
-
The descent module of Russia's Soyuz MS-04 spacecraft with three people on board landed in Kazakhstan early on Sunday, the Russian Mission Control center said.
"Landing done," a speaker of the Mission Control Center announced.
The three international crew members have been safely evacuated from the descent capsule minutes after the landing.
"All the three Soyuz MS-04 crew members have been successfully evacuated, they are in good health," the Russian Mission Control Center said.
Russia's Federal Aviation Agency deployed two An-12 and one An-26 planes and 12 Mi-8 helicopters, as well as six search and rescue vehicles and other auxiliary equipment to ensure safe landing.
The Soyuz MS-04 spacecraft with Russian cosmonaut Fyodor Yurchikhin and NASA astronauts Peggy Whitson and Jack Fischer on board undocked from the ISS at 00:58 Moscow time on Sunday.
Whitson arrived to the International Space Station on November 17, 2016 and spent nearly one year on the orbit. Yurchikhin and Fischer arrived to the ISS on April 20, 2017, and their mission lasted 135 days.
The ISS crew will comprise Russian cosmonaut Sergey Ryazansky, NASA astronaut Randolph Bresnik and ESA astronaut Paolo Nespoli. They are to be joined by Russia's Aleksandr Misurkin, and NASA's Mark Vande Hei and Joseph Acaba, whose Soyuz MS-06 is due to blast off on September 13.
Quelle: TASS
+++
Record-breaking U.S. astronaut and crew back on Earth
CAPE CANAVERAL, Fla (Reuters) - NASA astronaut Peggy Whitson and two crewmates made a parachute touchdown in Kazakhstan on Saturday, capping a career-total 665 days in orbit, a U.S. record.
Whitson, 57, ended an extended stay of more than nine months aboard the International Space Station, a $100 billion research laboratory that flies about 250 miles (400 km) above Earth.
"I feel great," the biochemist said during an inflight interview on Monday. "I love working up here. It's one of the most gratifying jobs I've ever had."
During her third mission aboard the station, Whitson spent much of her time on experiments, including studies of cancerous lung tissue and bone cells. She also completed four spacewalks, adding to her six previous outings, to set a record for the most time spent spacewalking by a woman.
Two crewmates who launched with Whitson in November returned to Earth three months ago. She stayed aboard to fill a vacancy after Russia scaled down its station staff from three to two cosmonauts.
Whitson returned to Earth with Jack Fischer, also with the National Aeronautics and Space Administration, and Russian cosmonaut Fyodor Yurchikhin, who had been aboard the station since June.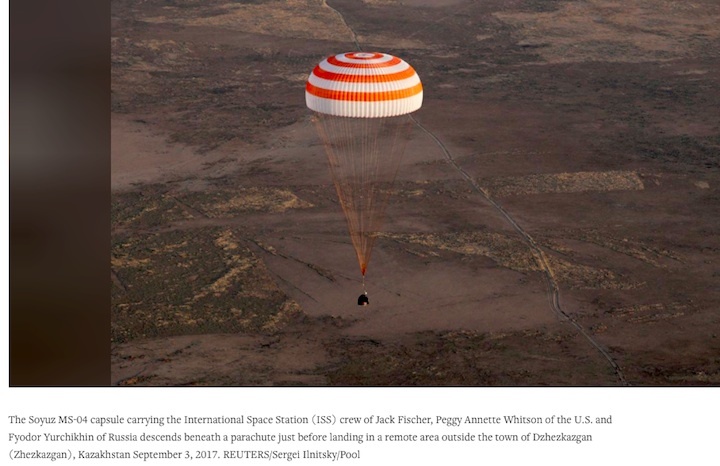 The crew's Russian Soyuz capsule touched down in Kazakhstan at 9:21 p.m. EDT Saturday.
"I'm looking forward to seeing friends and family," Whitson said during another interview.
"But the thing I've been thinking about the most, kind of been fantasizing about a little bit, are foods that I want to make, vegetables that I want to sauté, things that I've missed up here."
In April, Whitson broke the 534-day U.S. record for cumulative time in space. Only seven Russian men have logged more time, including Gennady Padalka, the world record-holder with 878 days in orbit.
Whitson, who grew up on a farm in Iowa, said she was inspired by the U.S. Apollo program that landed men on the moon, but it was not until later, when the first women become astronauts, that she set her sights on joining them.
Whitson, who became an astronaut in 1996, was the first woman to command the space station and also the first woman and first non-pilot to serve as chief of the NASA Astronaut Corps.
"I am working on paying forward some of the advice and mentoring that I received on my journey, in hopes that one day those young people will do the same and look back on a life in which they leapt at the opportunities and broke their own records," she said.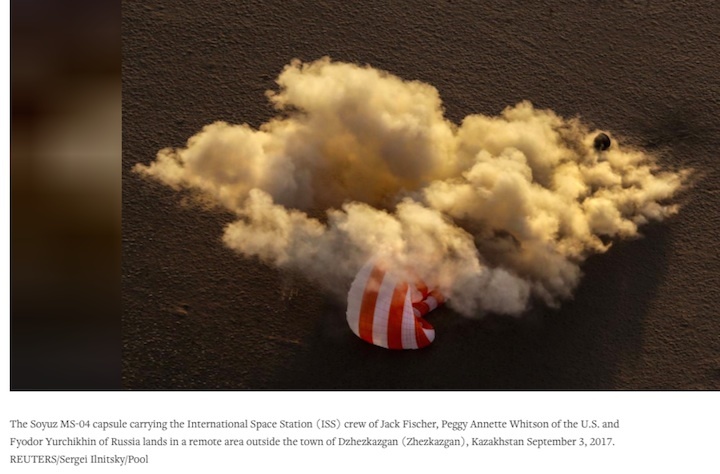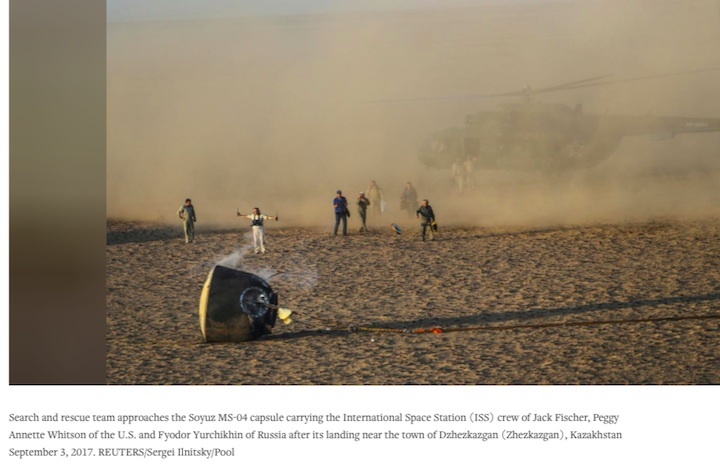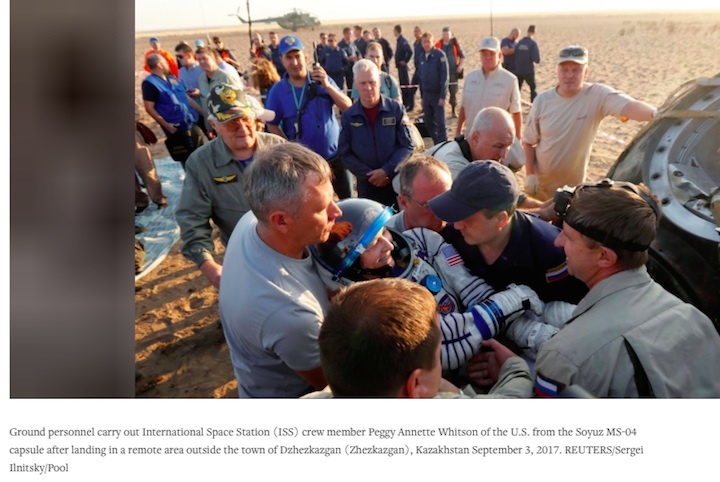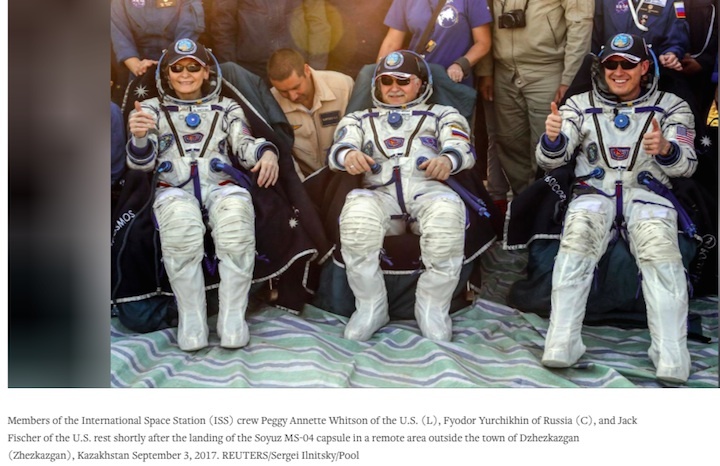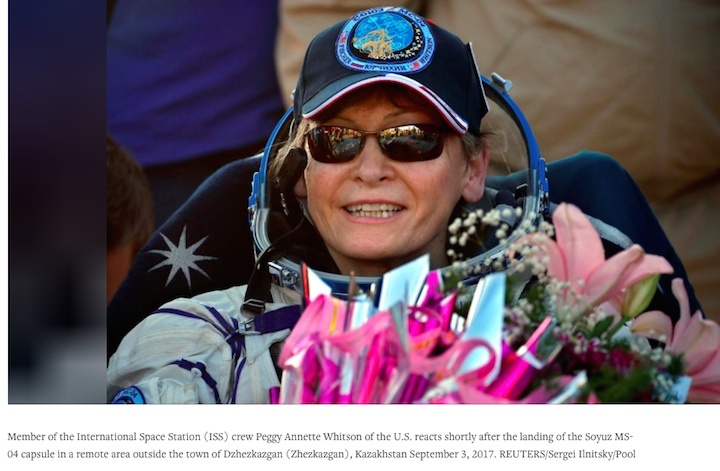 +++
Three International Space Station Crewmates Safely Return to Earth
NASA astronaut Peggy Whitson, who set multiple U.S. space records during her mission aboard the International Space Station, along with crewmates Jack Fischer of NASA and Commander Fyodor Yurchikhin of Roscosmos, safely landed on Earth at 9:21 p.m. EDT Saturday (7:21 a.m. Kazakhstan time, Sunday, Sept. 3), southeast of the remote town of Dzhezkazgan in Kazakhstan.
While living and working aboard the world's only orbiting laboratory, Whitson and Fischer contributed to hundreds of experiments in biology, biotechnology, physical science and Earth science, welcomed several cargo spacecraft delivering tons of supplies and research experiments, and conducted a combined six spacewalks to perform maintenance and upgrades to the station.
Among their scientific exploits, Whitson and Fischer supported research into the physical changes to astronaut's eyes caused by prolonged exposure to a microgravity environment. They also conducted a new lung tissue study that explored how stem cells work in the unique microgravity environment of the space station, which may pave the way for future stem cell research in space.
Additional research included an antibody investigation that could increase the effectiveness of chemotherapy drugs for cancer treatment, and the study of plant physiology and growth in space using an advanced plant habitat. NASA also attached the Cosmic Ray Energetics and Mass Investigation (ISS CREAM) on the outside of the space station in August, which is now observing cosmic rays coming from across the galaxy.
The crew members received a total of seven cargo deliveries during their mission. A Japanese H-II Transfer Vehicle launched to the space station in December 2016 delivering new lithium-ion batteries that were installed using a combination of robotics and spacewalks. Orbital ATK'sCygnus spacecraft arrived at the station in April on the company's seventh commercial resupply mission. Three SpaceX Dragon spacecraft completed commercial resupply missions to the station in February, June and August. And, Russian ISS Progress cargo spacecraft docked to the station in February and June.
Whitson's return marks the completion of a 288-day mission that began last November and spanned 122.2 million miles and 4,623 orbits of the Earth – her third long-duration mission on the station. During her latest mission, Whitson performed four spacewalks, bringing her career total to 10. With a total of 665 days in space, Whitson holds the U.S. record and places eighth on the all-time space endurance list.
Fischer, who launched in April, completed 136 days in space, during which he conducted the first and second spacewalks of his career. Yurchikhin, who launched with Fischer, now has a total of 673 days in space, putting him seventh place on the all-time endurance list.
Expedition 53 continues operating the station, with Randy Bresnik of NASA in command, and Sergey Ryazanskiy of Roscosmos and Paolo Nespoli of ESA (European Space Agency) serving as flight engineers. The three-person crew will operate the station until the arrival of NASA astronauts Mark Vande Hei and Joe Acaba, and Alexander Misurkin of Roscosmos. Vande Hei, Acaba and Misurkin are scheduled to launch Sept. 12 from Baikonur, Kazakhstan.
Quelle: NASA
1014 Views