HOUSTON - KHOU 11 News went offshore with NASA Thursday as it conducted the first major test of equipment meant to keep astronauts safe when they splash down on Earth.
Astronauts and others tested Orion spacecraft splashdown recovery about four miles off the coast of Galveston. The testing is the first series of evaluations in open water and is taking place with the assistance of the U.S. Coast Guard, Navy and Air Force.  
"We have new spacecraft, commercial spacecraft and Orion that may use this technique of landing in the water," explained NASA Astronaut Suni Williams. "A lot of Earth is water, and we have to know how to have the right equipment." 
NASA's Orion spacecraft is built to take humans farther than they've ever gone before.  
NASA is building a flexible, reusable and sustainable capability and infrastructure beyond the moon that will last multiple decades and support missions of increasing complexity.
NASA astronaut Dan Burbank said Thursday night after 12 hours on the water, the test "went great." He said the biggest challenge was getting the crew in and out of the Orion safely.
"I think the biggest challenge probably for us was getting the crew safely in the capsule and out of the capsule between the various events," Burbank said. "The sea state was, admittedly, wasn't terribly threatening -- it was maybe 2-foot, 3-foot tops at most. Even that gives enough extra realism over what we've done previously with the vehicle."
The astronauts planned to get the spacecraft out of the water around 7 p.m. Thursday, but Burbank says the crew had some trouble getting the capsule out of the water.
"It got a little heavier than we expected, gained a couple thousand pounds," Burbank said. "A little bit of water, some of it probably the result of us getting in and out of it...Getting it safely up back on the ship with that load, I think, was a bit of a challenge and doing it in such a way that we didn't damage the ship or -- in our case -- the capsule."
NASA's Orion and Ground Systems Development and Operations programs are collaborating with the U.S. Department of Defense to evaluate how to safely and effectively recover astronauts from Orion crew modules in a variety of scenarios after their missions end with ocean splashdowns.
The tests will continue through the week.
Quelle: KHOU
---
Update: 10.08.2017
.
South El Monte company unveils its parts to help Orion spacecraft reach deep space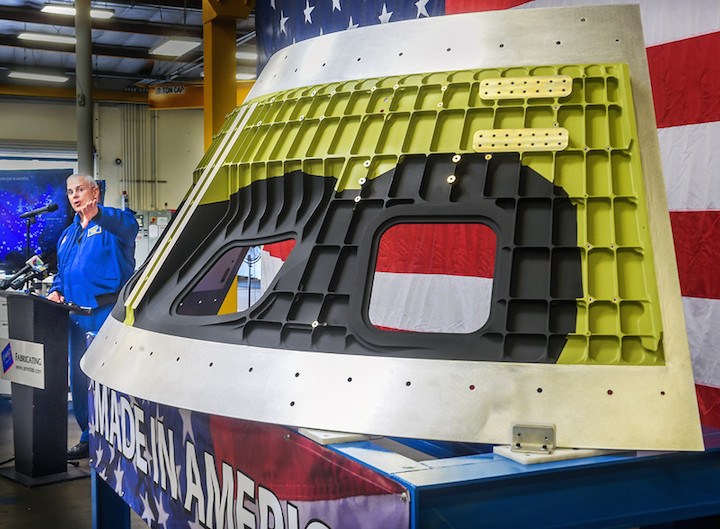 SOUTH EL MONTE >> AMRO Fabricating Corp. is about to provide NASA quite literally with a window into space.
The South El Monte company is constructing three structural segments that will comprise the astronaut module of NASA's Orion spacecraft, a vessel that's scheduled to send four astronauts beyond the moon and into deep space by the early 2020s. 
ONE SEGMENT COMPLETED
The first completed segment — which includes the frame for the windows through which the crew will view the moon and Earth — was unveiled Wednesday at the company's Adelia Avenue headquarters. Another unfinished segment for the back of the module was also on display, and AMRO is working on a third segment that will include a hatch.
The unveiling drew a large and diverse gathering, including NASA andLockheed Martin representatives who are involved in the development of Orion, and others representing area lawmakers, the city and the local business community.
• Photos: South El Monte company unveils spacecraft components
NASA astronaut Lee Morin was also on hand. He was selected as an astronaut in 1996 and flew aboard the STS-110 spacecraft where he performed two spacewalks, totaling 14 hours and 9 minutes.
Mike Riley, AMRO's chief executive officer, put his company's role in perspective.
"This is a historic day for AMRO, and this is a historic day for American space exploration, because in just a few short years, American astronauts will be looking through those windows as they journey into deep space," he said, pointing to the rounded segment. "Those astronauts will be riding on an American-made Orion spacecraft, which will be sitting atop an American-made rocket — the largest rocket the world has ever seen."
PANELS FOR ROCKET
Orion will be powered into space by NASA's Space Launch System or SLS, a rocket that stands taller than the Statue of Liberty and fires more than 8.4 million pounds of thrust. That's equal to the power generated by 135 Boeing 747 jet engines.
AMRO is providing structural panels for the entire core stage of the rocket.
"Both SLS and Orion have been very important programs for our company and have led to the creation of many jobs and new processes, technologies and capabilities for our country and for our nation," Riley said. 
Paul Marshall, assistant program manager for NASA's Orion mission, said the spacecraft's performance and reliability will serve as a springboard for human missions to Mars in the 2030s.
"All of it starts with parts built by AMRO," he said. "It's a remarkable thing. Today we also showcase some of the benefits of our national investment in American manufacturing. Before us are some the world's most complicated, most highly optimized parts that have ever been built."
AMRO's completed window panel will be shipped in the coming weeks to NASA's Michoud Assembly Facility in New Orleans in preparation for welding to other sections.
Orion is the first spacecraft built for astronauts destined for deep space since the Apollo missions of the 1960s and '70s. It's designed to go farther than humans have ever traveled, well beyond the moon, pushing the boundaries of spaceflight.
COMPANY HISTORY
Founded in August 1977 by Michael K. and Thora A. Riley, AMRO was initially conducted out of the family's home until later that year when it was moved into an 8,000-square-foot building.
During that time, the company supported metal fabricating for such companies as Hepa Corp., Ryerson Steel and Calavar Corp. AMRO began venturing into the aerospace industry in late 1979, and today the family-owned business has about 200 employees and seven buildings with more than 300,000 square feet, including a facility on March Air Reserve Base in Riverside County that has a 14,000-square-foot runway.
The couple's son, Steven, formerly served as the company's CEO and is now a director. Their daughter, Aquilina Hutton, formerly served as president and is also a director.
AMRO specializes in the manufacturing of lightweight metallic structures for demanding environments on missiles, launch vehicles and spacecraft. The company's annual sales exceed $70 million.
Quelle: Los Angeles Daily News