A Mars rover built by a concept vehicle company for NASA's Kennedy Space Center. Shanon Parker/Parker Brothers Concepts
For months, NASA's Kennedy Space Center has worked with a concept car company and a TV network to design and build a Mars rover.
The unnamed vehicle was built for the site's visitor complex and debuted in early May.
Though it's a demonstration vehicle for educational use, it was designed to be as realistic as possible.
Since late 2016, NASA's Kennedy Space Center Visitor Complex, an unnamed cable television network, and a company that builds concept vehicles have been quietly collaborating to build a full-size rover for exploring Mars.
Video and images of the completed vehicle started appearing on social media sites on May 9, following an official unveiling of the unnamed rover in Florida that day.
One clip shared on Instagram shows the rover, which resembles the Batmobile from the movie "Batman Begins," slowly idling around a road in front of the complex: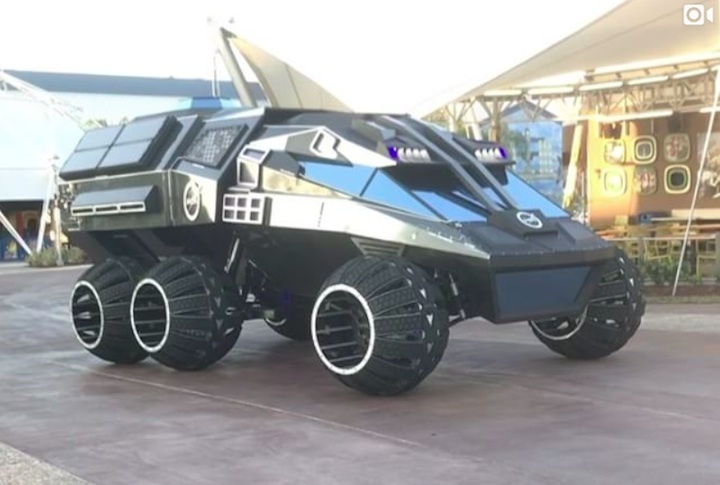 Business Insider first learned about the rover via a Reddit post titled "What is this beast?!"
So what is it?
Marc Parker, a designer and builder of the new rover, told Business Insider that it's a six-wheeled, all-electric vehicle that was created "with every intention" of overcoming obstacles on the sandy, rocky red planet.
However, the unnamed rover will never roll across Mars. According to Parker, NASA instead plans to take it on a cross-country tour of the US for the space agency's upcoming "Summer of Mars" — an educational event designed to inspire the public about space exploration and interplanetary travel.
Marc and his brother, Shanon Parker, began building the rover around November 2016, after NASA approached their company, Parker Brothers Concepts, with the idea. Marc says that he and Shanon launched their business about five years ago to build "outlandish" vehicles for television and movie productions. ("We're the guys they call when everyone else says 'it can't be done,'" Marc says.)
But Marc says NASA didn't fund the rover, whose cost he wouldn't provide, and that it was bankrolled by a private company involved in the project.
"We're also filming for a reality television series that's going to be coming out about this build," Marc told Business Insider. While he's under a non-disclosure agreement with the TV network, Marc says it's "one of the bigger cable networks." (An Instagram photo shared on Shanon's account shows members of the "Mythbusters" TV shows, which airs on the Discovery Channel.)
Inside the Mars rover prototype


Parker Brother Concepts made the rover from scratch from about November 2016 through early April 2017.
The two owners and a few of their employees, plus a number of suppliers they deal with, worked tirelessly on its construction for those few months.
"Me and the guys, we averaged about 80 to 100 hours a week, each. We worked 10-, 12-, 14-hour days, seven days a week since late last year," Marc says. "If I thought about how many hours we put into this thing, I'd probably cry. It's way too many."
Marc said a formal announcement of the rover and TV show is forthcoming. However, he and Shanon have posted several teaser images and videos on their Instagram accounts.
The above clip, posted to Instagram by SeaDek (a marine product supplier that worked on the rover with Parker Brother Concepts), shows the interior of the vehicle. A second video provides a view of the rover lit up in the dark:

Other images posted by those involved reveal other features.
For instance, below is a photo of the six 50-inch-tall, 30-inch-wide wheels, which Marc said are designed to let the fine sands of Mars slip through:

A Facebook post by the company shows the same wheels under construction:
Parker Brothers Concepts/Facebook
Another photo shows the window of the rover with carbon-fiber accents and a NASA logo:


And this image gives a front view of the vehicle inside the fabrication shop of Parker Brothers Concepts:
A faux research rover build for Mars
A NASA spokesperson told Business Insider that the project "is not really a NASA-affiliated thing" and is run by its independently operated Kennedy Space Center Visitor Complex. (Representatives at the visitor complex did not immediately return our calls.)
However, Marc Parker said NASA introduced his company to engineers and scientists at Kennedy Space Center who are actively working on the space agency's new legal mandate to reach Mars by 2033.
According to Marc, NASA gave his company a few parameters for the vehicle and had two schools of thought for it: either a small scout vehicle "for four astronauts to investigate, explore, and get test samples" or a "full research laboratory".
The company started with an electric motor, solar panels, and a 700-volt battery and built the vehicle around that, Marc says, "since there's no gas stations up there" — and decided to tackle both concepts at once.
"What we actually came up with was a dual-purpose vehicle. It actually separates in the middle. The rear section is a full lab, the front area is a cockpit for going out and doing scouting," he says. "The lab section can actually disconnect ... and be left on its own to do autonomous research. That way the scout vehicle can go out to do its thing without the fuel consumption and extra weight, then come back later."
A view of Mount Sharp on Mars. NASA/JPL-Caltech/MSSS
While the cab is lined with earthly "creature comforts" such as GPS, air conditioning, and radio, Marc says the body is made entirely out of aluminum and carbon-fiber to keep the weight down. He says it hasn't been officially weighed, but estimated the rover — which is 28 feet long, 13 feet wide, and 11 feet tall — will come in at about 5,000 pounds.
"A Honda Civic weighs about 3,500 to 4,000 pounds, and a 5,000 pounds is about the weight of a pickup truck," he said, emphasizing that the concept vehicle is very light given its size and capabilities.
Marc says that while the rover could drive as fast as 60-70 mph, it's designed to roll along at 10-15 mph or less, since it'd be used to methodically roll over dunes, rocks, craters, hills, and more. He added that each wheel has an independent suspension to overcome such obstacles with ease.
Of all the projects that Marc says he and his brother have worked on, he said "this one has blown us away the most." He hopes it inspires NASA and the public alike to dream big about the future of space exploration.
"Movies are cool, TV is cool, but it's something else to be part of a thing that could inspire kids to go Mars and live in outer space," he says.
Quelle: Business Insider
---
Update: 17.05.2017
.
This Futuristic Mars Rover Looks Like an Awesome NASA Tank
There's off-roading, and then there's off-roading on Mars. And from the looks of this concept rover, it's a vehicle that can handle any terrain on Earth (and beyond).
This sleek, black, monster of a Mars rover is a concept design of a vehicle that might one day transport astronauts across the Red Planet. To me, it looks like "The Martian" met a tank with a "Knight Rider" obsession and spawned a Mars car that runs on awesome.
The rover was built for the Kennedy Space Center Visitor Complex — a space museum center near the NASA spaceport in Cape Canaveral, Florida — as part of its Summer of Mars program this summer. It will be used "for the purposes of education and inspiration," Complex representatives explained in an email alert Friday (May 12).
"As with all 'secret missions,' we are limited at this point as to what we can reveal about it," they wrote. "We will share the exciting updates and information very soon."
According to Business Insider, the concept rover was designed by Marc Parker of Parker Brothers Concepts. It's 23 feet long (7 meters), 13 feet wide (4 m), 11 feet tall (3.3 m) and weighs an estimated 5,000 lbs. (2,268 kilograms), Business Insider reported.
A quick look at the Visitor Complex's Summer of Mars website revealed a tantalizing clue. The rover is part of the complex's new Astronaut Training Experience attraction that's opening in the fall. And the rover is not staying in Florida this summer! Like any good rover, it's hitting the open road.

"Check back here for cities and dates of the rover's East Coast tour this summer!" the website reads.
So, if you live on the East Coast, keep an eye out for this concept Mars rover's road show this summer!
Quelle: SC
---
Update: 8.06.2017
.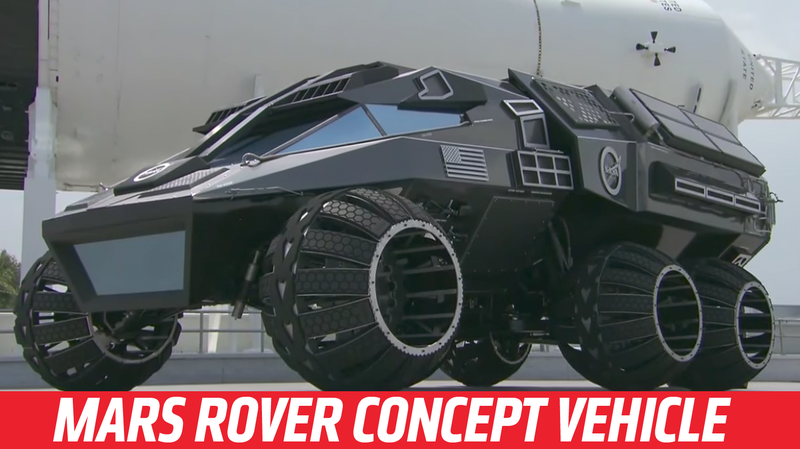 Concept cars are fun, but they're not really meant to be taken as something that will actually be produced. They exist to get attention, push a new design direction and act as a vanguard for new ideas. They're exciting. That's pretty much what was shown at the Kennedy Space Center yesterday: a concept car for Mars.
The concept is called the Mars Rover Concept Vehicle, and it's huge and flashy and looks more like a movie prop than actual, working space hardware, which tends to be very utilitarian and closer aesthetically to the inside of a water purification plant than something like this, which feels more like Batman's Tumbler.
If you're thinking that this feels a bit to slick for something NASA would actually do, you're right. The Mars Rover Concept Vehicle wasn't funded or designed by NASA, but rather was built by Parker Brothers—not the sadistic bastards who inflicted the game Sorry! onto an unsuspecting humanity, but the noted team of custom car builders.
Parker Brothers (in cooperation with SeaDek, somehow) have built a replica of Batman's Tumbler in the past, and while that one was determined to be too crappy to run the Gumball Rally, it sure looked good. Similarily, the Mars Rover Concept Vehicle isn't going to Mars, and it's unlikely anything that really looks like it will.
The concept is 28 feet long, and the builders claim it'll do 60 to 70 MPH. It was built in under five months, and has an interior outfitted with all manner of displays and controls. It's not specified what's driving it, but it appears to be some sort of electric drivetrain.
The Mars Rover Concept Vehicle is clearly designed with a certain futuristic aesthetic in mind, and for purposes of promotion and getting people excited about going to Mars, it's fantastic. It's not entirely unrealistic, either, with large, airless springy, almost spherical wheels, tons of ground clearance, good approach and departure angles, and a large enough internal volume to make sense as a long-term excursion vehicle.
There's plenty that's all theater, though: the wedgy, highly-raked look of the front end wouldn't make any sense, since aerodynamics aren't a huge concern on a planet with an atmospheric density of 0.6 percent of Earth's at sea level. It would make much more sense to maximize the interior volume for the length of the wheelbase, which is exactly what NASA did when they made their prototype Mars rover a few years back:
That's a lot less sleek. In fact, it sort of looks like a colossal grasshopper corpse re-animated as a cyborg.
The Mars Rover Concept Vehicle may not be the most accurate depiction of what we'll be driving around on Mars in a couple decades, shooting huge red rooster tails of Mars dust as we tear ass away from the Boss Waterbear, Martian Sheriff, who's been on us for running Phobosshine from our secret still to the New Tuscaloosa colony over by Hellas Planitia County.
Even if it's not accurate, it's a great way to get people excited about space travel and a trip to Mars, which they should be, anyway, because, come on, we're going to Mars.
Quelle: JALOPNIK
---
Update: 21.07.2017
.
Batmobile for Mars to Be Displayed at National Air and Space Museum Museum
The Mars Rover Concept Vehicle weights 5,500 pounds and is nearly 11 feet tall