International Space Station
, targeted for November 11, 2017, from Wallops Flight Facility in Virginia. Cygnus will launch on an Antares rocket carrying crew supplies, equipment and scientific research to crewmembers aboard the station. The spacecraft, named the 
S.S. Gene Cernan
 after former NASA astronaut Eugene "Gene" Cernan, who is the last person to have walked on the moon, will deliver scientific investigations including those that will study communication and navigation, microbiology, animal biology and plant biology.
Here are some highlights of research that will be delivered to the station:
Investigation tests bacterial antibiotic resistance in microgravity 
Antibiotic resistance could pose a danger to astronauts, especially since microgravity has been shown to weaken human immune response. E. coli AntiMicrobial Satellite (
EcAMSat
) will study microgravity's effect on bacterial antibiotic resistance. The experiment will expose two strains of E. coli, one with a resistance gene, the other without, to three different doses of antibiotics, then examine the viability of each group. Results from this investigation could contribute to determining appropriate antibiotic dosages to protect astronaut health during long-duration human spaceflight and help us understand how antibiotic effectiveness may change as a function of stress on Earth.
CubeSat used as a laser communication technology testbed 
Traditional laser communication systems use transmitters that are far too large for small spacecraft. The Optical Communication Sensor Demonstration (
OCSD
) tests the functionality of laser-based communications using CubeSats that provide a compact version of the technology. Results from OCSD could lead to significantly enhanced communication speeds between space and Earth and a better understanding of laser communication between small satellites in low-Earth orbit.
Hybrid solar antenna seeks solution to long distance communications in space 
As space exploration increases, so will the need for improved power and communication technologies. The Integrated Solar Array and Reflectarray Antenna (
ISARA
), a hybrid solar power panel and communication solar antenna that can send and receive messages, tests the use of this technology in CubeSat-based environmental monitoring. ISARA may provide a solution for sending and receiving information to and from faraway destinations, both on Earth and in space.
Nitrogen fixation process tested in microgravity environment 
The Biological Nitrogen Fixation in Microgravity via Rhizobium-Legume Symbiosis (
Biological Nitrogen Fixation
) investigation examines how low-gravity conditions affect the nitrogen fixation process of Microclover, a resilient and drought tolerant legume. The nitrogen fixation process, a process by which nitrogen in the atmosphere is converted into a usable form for living organisms, is a crucial element of any ecosystem necessary for most types of plant growth. This investigation could provide information on the space viability of the legume's ability to use and recycle nutrients and give researchers a better understanding of this plant's potential uses on Earth.
Life cycle of alternative protein source studied 
Mealworms are high in nutrients and one of the most common sources of alternative protein in developing countries. The Effects of Microgravity on the Life Cycle of Tenebrio Molitor (
Tenebrio Molitor
) investigation studies how the microgravity environment affects the mealworm life cycle. In addition to alternative protein research, this investigation will provide information about animal growth under unique conditions.
Investigation studies advances in plant and crop growth in space 
The 
Life Cycle of Arabidopsis thaliana in Microgravity
 investigation studies the formation and functionality of the Arabidopsis thaliana, a mustard plant with a well-known genome that makes it ideal for research, in microgravity conditions. The results from this investigation will contribute to an understanding of plant and crop growth in space, a vital aspect to long-term spaceflight missions.
The Biological Nitrogen Fixation and Tenebrio Molitor are student investigations in the 
Go for Launch! - Higher Orbits program
 and sponsored by 
Space Tango
 and the ISS National Lab, which is managed by the Center for the Advancement of Science in Space (
CASIS
). The Arabidopsis thaliana investigation, also a student investigation, is a part of the 
Magnitude.io
 program, sponsored by Space Tango and CASIS. 
OA-8 marks Orbital ATK's eighth cargo delivery mission to the space station, and the research on board will join many other investigations currently happening aboard the orbiting laboratory. Follow 
@ISS_Research
 for more information about the science happening on station. 
Quelle: NASA
---
Update: 7.11.2017
.
NASA TV Coverage Set for Next Resupply Mission to International Space Station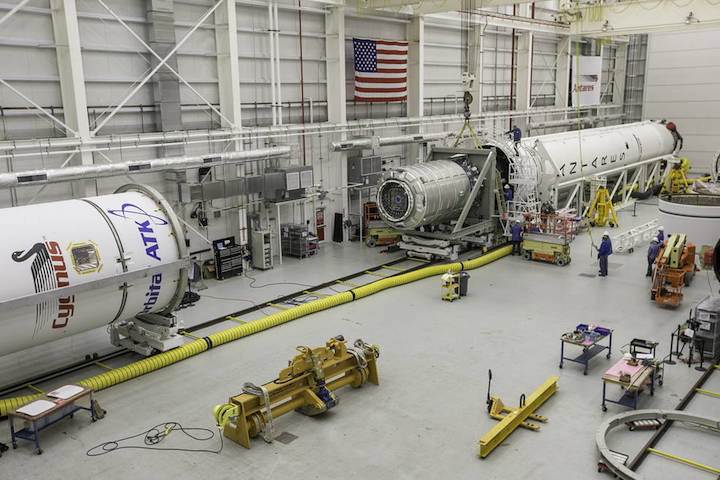 NASA commercial cargo provider Orbital ATK is scheduled to launch its eighth mission to the International Space Station at 7:37 a.m. EST Saturday, Nov. 11 NASA's Wallops Flight Facility in Virginia. Live launch coverage will begin at 7 a.m. on NASA Television and the agency's website.
NASA TV also will air two prelaunch briefings Friday, Nov. 10. At 11 a.m. mission managers will provide an overview and status of launch operations, and at 3 p.m. scientists and researchers will discuss some of the investigations and technology demonstrations to be delivered to the station.
The Cygnus cargo spacecraft will launch on Orbital ATK's upgraded Antares rocket from Pad 0A of Virginia Space's Mid-Atlantic Regional Spaceport, located at Wallops. Following launch on Nov. 11, NASA TV coverage of the spacecraft's solar array deployment will begin at 9 a.m. and a post-launch news briefing will held at approximately 10 a.m.
Under NASA's Commercial Resupply Services contract, Cygnus will carry about 7,400 pounds of crew supplies and hardware to the space station, including science and research in support of dozens of research investigations that will occur during Expeditions 53 and 54.
Cygnus will carry several CubeSats that will conduct a variety of missions, from technology demonstrations of laser communication and increased data downlink rates to an investigation to study spaceflight effects on bacterial antibiotic resistance. Other experiments will advance biological monitoring aboard the station and look at various elements of plant growth in microgravity that may help inform plant cultivation strategies for future long-term space missions. The spacecraft will also transport a virtual reality camera to record a National Geographic educational special on Earth as a natural life-support system.  
Cygnus will arrive at the station on Monday, Nov. 13. Expedition 53 Flight Engineers Paolo Nespoli of ESA (European Space Agency) and Randy Bresnik of NASA will use the space station's robotic arm to capture Cygnus at about 5:40 a.m. NASA TV coverage of rendezvous and capture will begin at 4:15 a.m.
After Canadarm2 captures Cygnus, ground commands will be sent to guide the station's robotic arm as it rotates and attaches the spacecraft to the bottom of the station's Unity module. Coverage of installation will begin at 7 a.m.
Cygnus will remain at the space station until Dec. 4, when the spacecraft will depart the station and deploy several CubeSate before its fiery reentry into Earth's atmosphere as it disposes of several tons of trash.
This Cygnus spacecraft is named in honor of the former astronaut Eugene "Gene" Cernan, the last human to step foot on the Moon during the Apollo 17 mission. Cernan set records for both lunar surface extravehicular activities and longest time in lunar orbit. He died in January 2017.
Quelle: NASA
---
Update: 10.11.2017
.
Antares rocket rolled to Virginia launch pad for station cargo run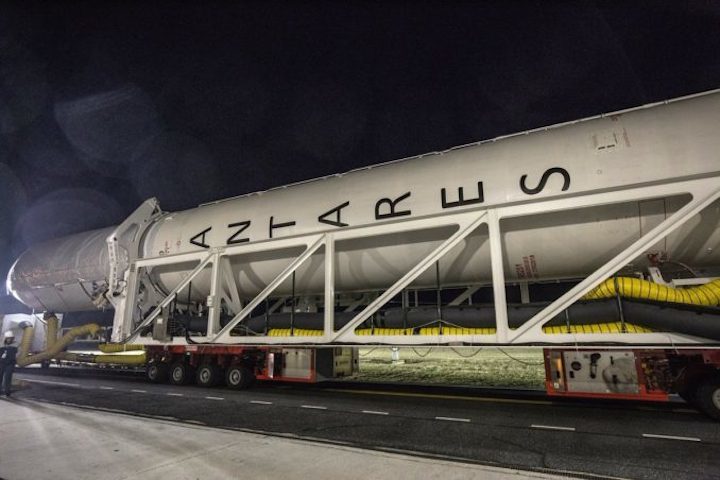 A commercial Antares rocket rolled out of a hangar on a one-mile trip to its launch pad on Virginia's Eastern Shore on Thursday, ready for final countdown preparations ahead of liftoff Saturday morning on a cargo delivery flight to the International Space Station.
The two-stage Antares launcher, assembled and operated by Orbital ATK, emerged from its horizontal integration building at NASA's Wallops Flight Facility in the predawn hours Thursday. A self-propelled transporter carried the rocket on a mile-long trip south to launch pad 0A, a complex owned by the Virginia Commercial Space Flight Authority, a state agency chartered to attract commercial space business to the region.
The rocket rolled out in steady rain at the spaceport, and the Antares second stage and payload shroud were protected by a weather shield for the approximately two-hour transfer.
Ground crews engaged hydraulic cylinders to lift the 139-foot-tall (42.5-meter) rocket vertical at pad 0A later Thursday. Technicians then began connecting propellant and other fluid lines between the launch pad and the Antares booster.
Orbital ATK's automated Cygnus spaceship, christened the S.S. Gene Cernan after the late moonwalker, is fastened on top of the Antares rocket with approximately 7,385 pounds (3,350 kilograms) of cargo and supplies for the space station and its six-person crew.
There is a 95 percent chance of favorable weather for Saturday's launch attempt, and officials said sub-freezing temperatures expected overnight before launch should not be a problem.
Temperatures are forecast to be between 25 and 30 degrees Fahrenheit at launch time Saturday, above the 20-degree limit for an Antares launch.
Climate-controlled air routed through ducts leading into the Antares rocket will ensure the Cygnus spacecraft, its engines and avionics remain within acceptable temperature and humidity constraints. Three environmental control umbilicals will blow air into the Antares payload fairing, the intertank section between the first stage's liquid oxygen and kerosene tanks, and into the booster's aft bay.
"Those three volumes, we keep them nice and cozy in cold weather, and we keep them cool in hot weather, and that enables us to launch in a variety of conditions," said Kurt Eberly, Orbital ATK's Antares program manager, in a Facebook Live event Thursday previewing the flight.
"Aside from those cold temperatures … the rest of the key conditions look really excellent," Eberly said. "The winds are benign, they're from a good direction coming from the north. Upper level winds look pretty calm as well."
The launch team will load around 41,000 gallons (155,000 liters) of liquid oxygen and 21,000 gallons (79,000 liters) of rocket-grade kerosene into the Antares first stage beginning around 1 hour, 35 minutes before liftoff.
Saturday's blastoff will be the eighth time Orbital ATK has launched a resupply mission to the space station. Orbital ATK has used its own Antares rocket launched from Virginia four times — with one launch failure in 2014 — and contracted with United Launch Alliance for three Atlas 5 flights from Cape Canaveral.
Liftoff of the commercial resupply mission, named OA-8, scheduled for 7:37:25 a.m. EST (1237:25 GMT) Saturday to begin the Antares rocket's seven-minute climb into orbit, kicking off its pursuit of the space station. There's a five-minute launch window available Saturday.
Two kerosene-fueled RD-181 engines, made in Russia and derived from engines used on Zenit and Atlas 5 rockets, will power the Antares' Ukrainian-built first stage booster, combining to generate around 864,000 pounds of thrust. Shutdown of the RD-181 engines is planned for T+plus 3 minutes, 34 seconds, followed by first stage separation around six seconds later.
The launch Saturday will be the second Antares mission using RD-181 engines, which Orbital ATK ordered from the Russian engine-builder NPO Energomash to replace decades-old Russian-built AJ26 engines blamed for an Antares rocket crash seconds after liftoff in October 2014.
The RD-181 engines performed better than predicted on an Antares launch in October 2016, giving engineers confidence to loosen performance limits for the OA-8 launch. The engines produce more thrust than the AJ26s, and they will be programmed to fire around five seconds longer on Saturday's launch than on the last Antares flight.
"We flew to a delta velocity threshold," Eberly said in a press briefing earlier this year. "When we hit that, we shut down the engines. We had a lot of fuel left in the tanks. Now, we're just going to move that threshold a little higher and burn more of the fuel in the first stage. At that point in the flight regime, the acceleration is pretty high because the stage is pretty light. Most of the propellant is gone, so you actually pick up quite a bit of performance by burning just a few more seconds into that propellant residual in the tanks."
With the higher performance, the upgraded Antares can carry approximately 300 pounds more cargo than managers initially expected. The lifting of additional conservative flight constraints, coupled with further minor changes to the vehicle, will further raise the Antares rocket's payload capacity another 300 pounds in the coming years.
Once the first stage finished its job on Saturday's launch the Antares rocket's payload shroud will jettison in two halves at T+plus 4 minutes, 11 seconds. The launcher's Castor 30XL solid-fueled upper stage will ignite at T+plus 4 minutes, 23 seconds, and burn out at T+plus 7 minutes, 6 seconds, delivering the Cygnus cargo ship to an elliptical orbit less than 200 miles (300 kilometers) above Earth.
Deployment of the Cygnus supply carrier is set for T+plus 9 minutes, 3 seconds.
The spacecraft's two cymbal-shaped electricity-generating solar arrays will unfurl in a fan-like motion around 90 minutes into the mission, and the ship's thrusters will begin fine-tuning its approach to the space station with a series of course-correction burns Saturday and Sunday.
The Cygnus spacecraft will make a laser-guided final approach to the orbiting research lab Monday, closing to a distance of around 30 feet (10 meters) from the station. European Space Agency astronaut Paolo Nespoli, assisted by station commander Randy Bresnik, will take control of the lab's Canadian-built robotic arm to capture the Cygnus.
The arm will attach it to a port on the station's Unity module, where it will stay until around Dec. 4. Astronauts will unpack experiments and supplies hauled inside the Cygnus' pressurized module, made by Thales Alenia Space in Italy, then load it with trash and other items marked for disposal.
Payloads slated for delivery to the station on the OA-8 mission include food, clothing and a multitude of research experiments.
The Cygnus spacecraft will raise its orbit to around 300 miles (500 kilometers) after departing the station in early December to release a slew of commercial and NASA-developed CubeSats, then the ship will brake out of orbit with the help of thrusters for a destructive re-entry over the South Pacific Ocean.
Quelle: SN
+++
Wallops Launch Visibility Map - Orbital ATK CRS-8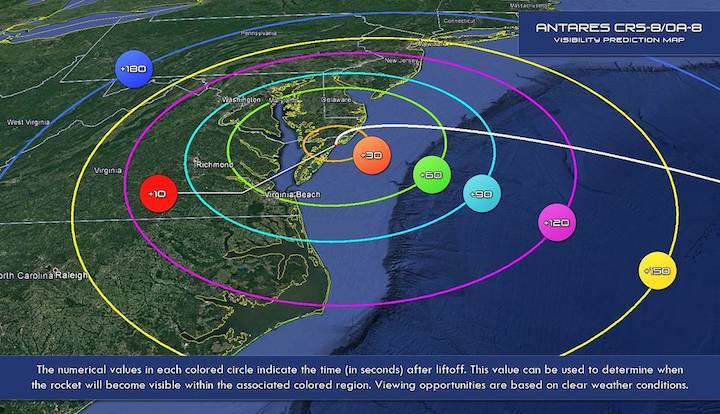 This map shows the visibility of the upcoming launch of Orbital ATK's CRS-8 mission from Wallops Flight Facility in Virginia, with numeric values indicating the time (in seconds) after liftoff the Antares rocket and Cygnus spacecraft may be visible.
Quelle: NASA
---
Update: 11.11.2017 / 8.45 MEZ
.
Launch-Day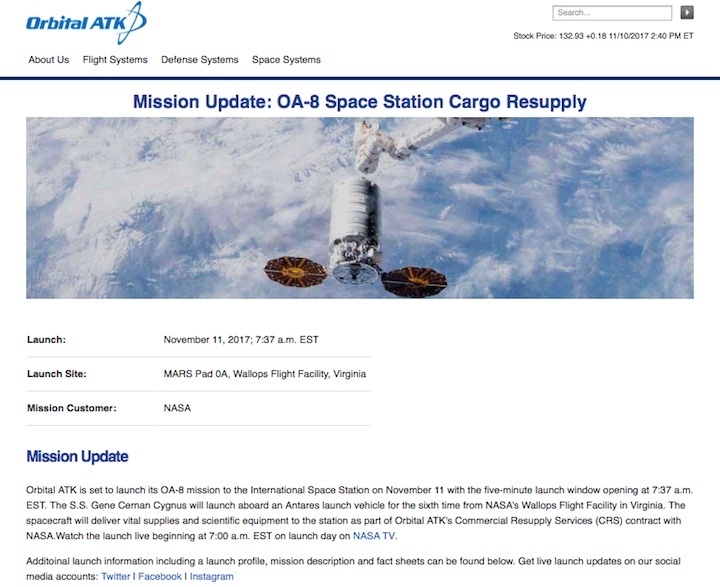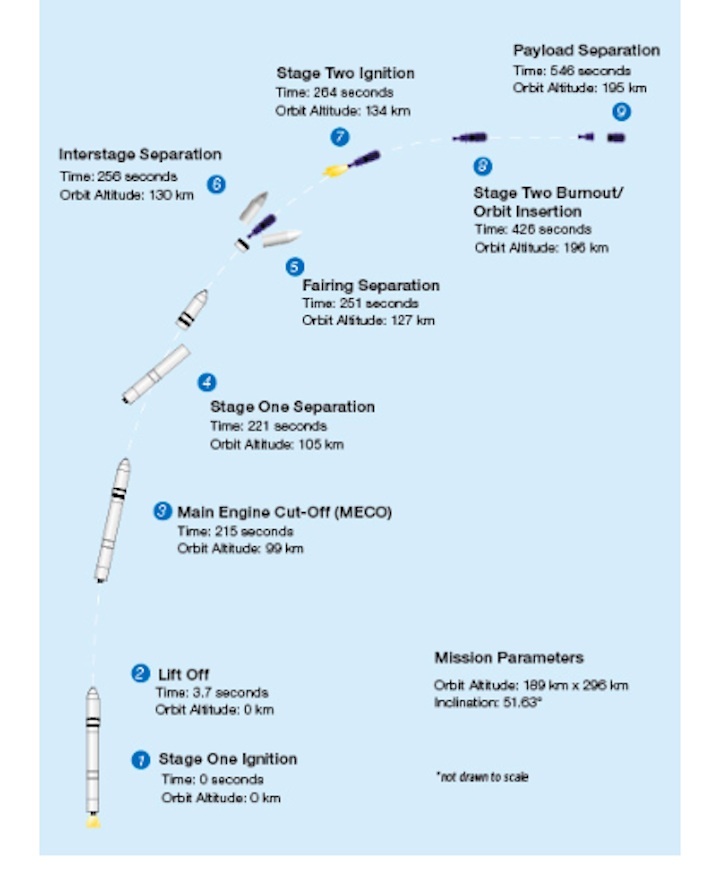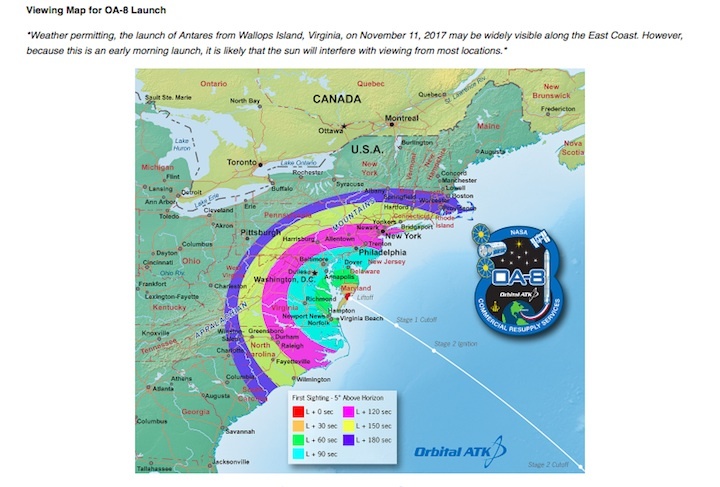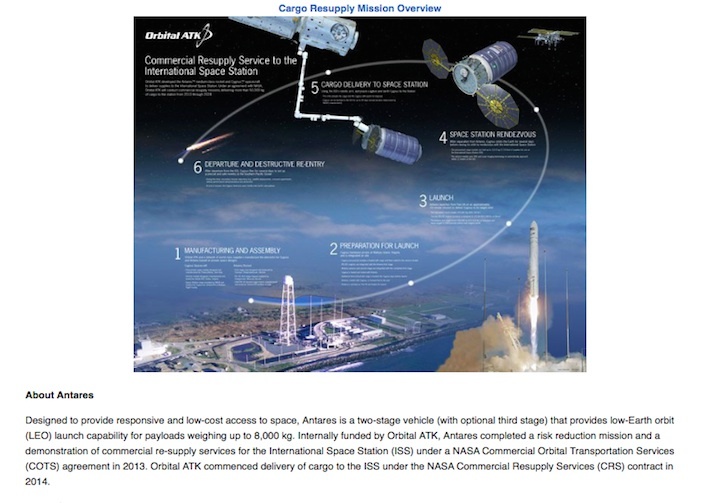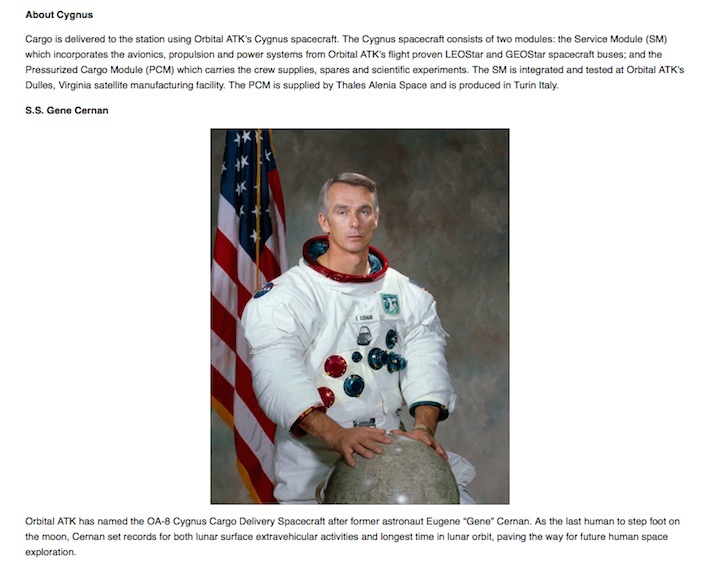 Quelle: Orbital ATK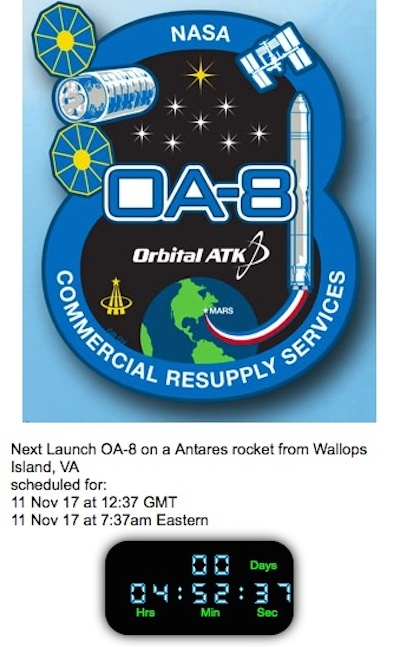 +++
Update: 13.45 MEZ - Startabbruch wegen Flugzeug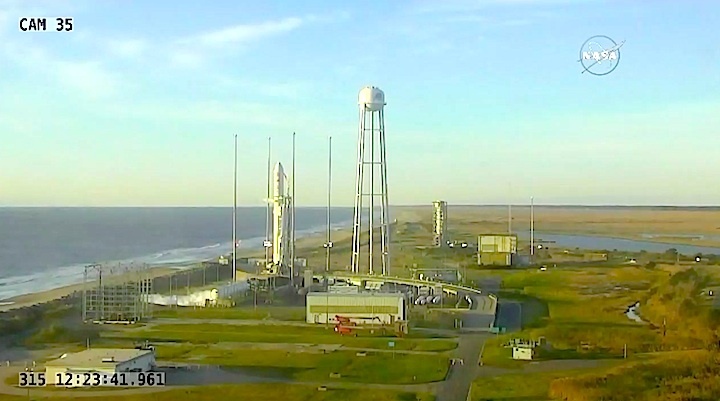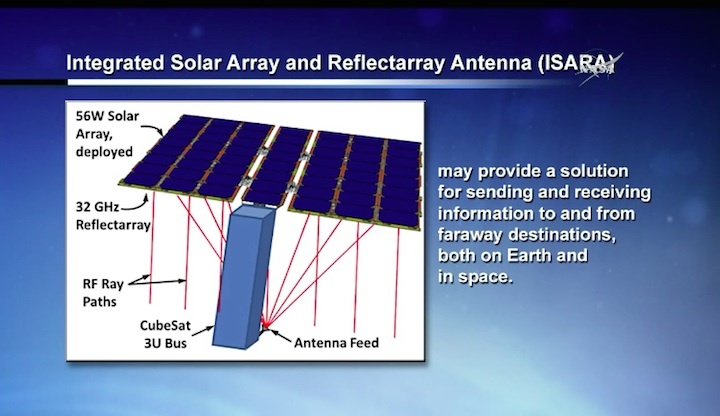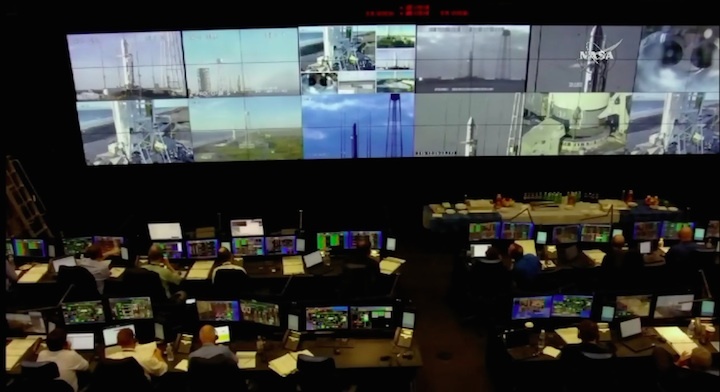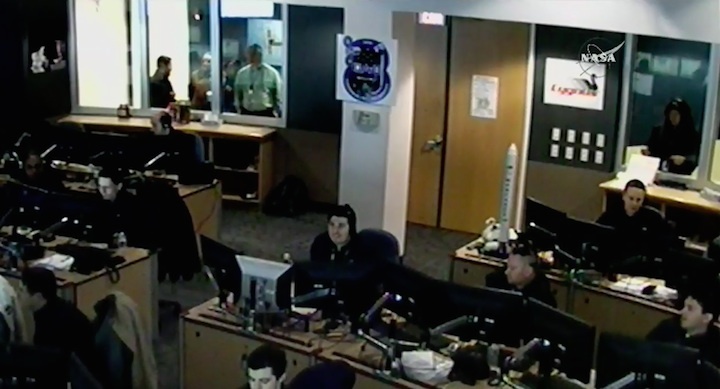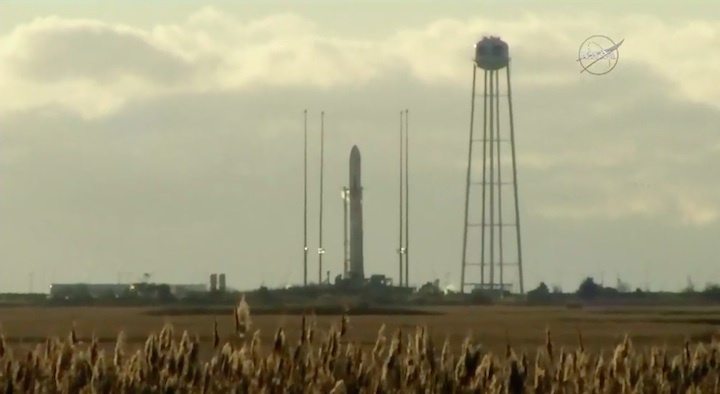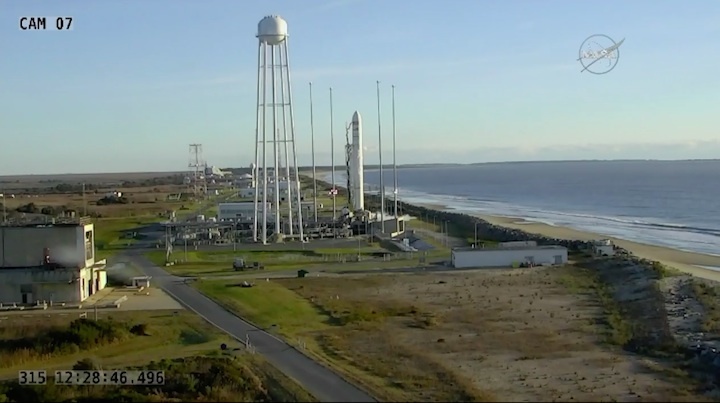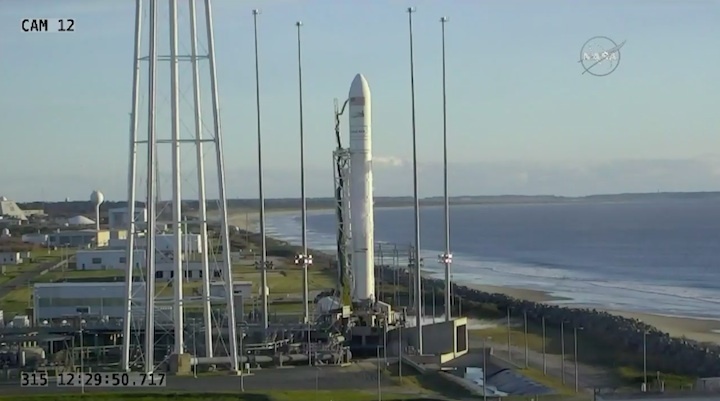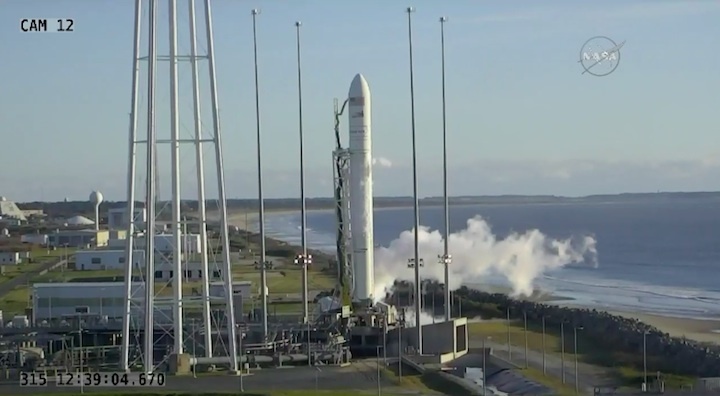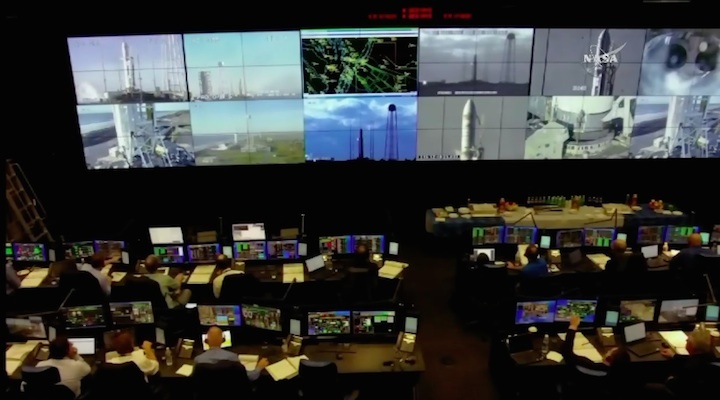 The launch of @OrbitalATK's #Antares rocket carrying the #Cygnus cargo spacecraft has scrubbed for Saturday after an aircraft was detected in the vicinity of the launch pad. The next launch attempt is set for Sunday, Nov. 12 at 7:14am ET. Details: https://www.nasa.gov/orbital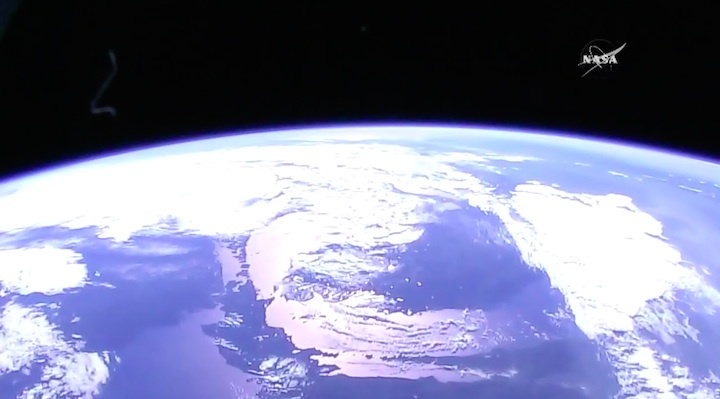 Quelle: NASA
+++
Mission Update: OA-8 Space Station Cargo Resupply
| | |
| --- | --- |
| Launch: | November 12, 2017; 7:14:52 a.m. EST |
| Launch Site: | MARS Pad 0A, Wallops Flight Facility, Virginia |
| Mission Customer: | NASA |
Quelle: Orbital ATK 
---
Update: 12.11.2017
.
Erfolgreicher Start von OA-8 Cygnus Cargo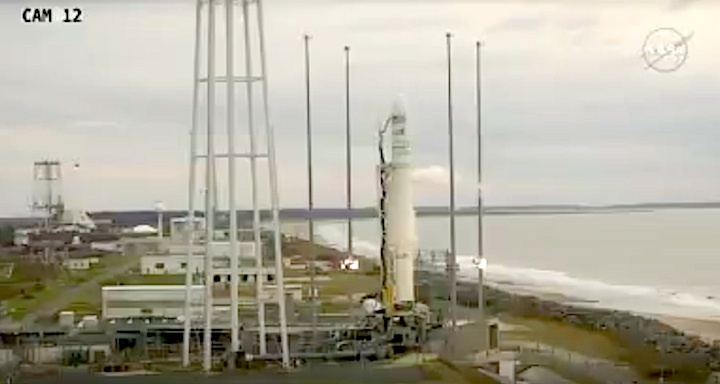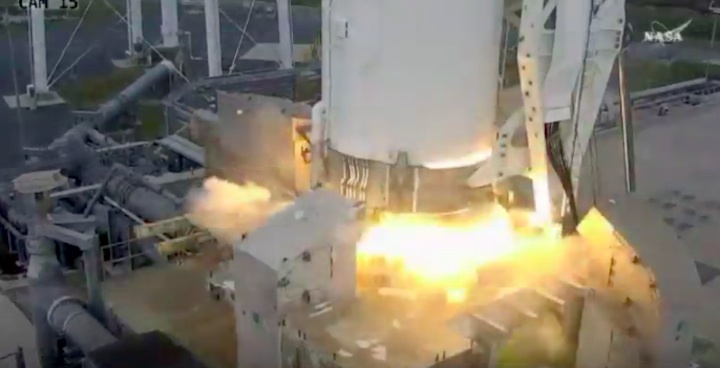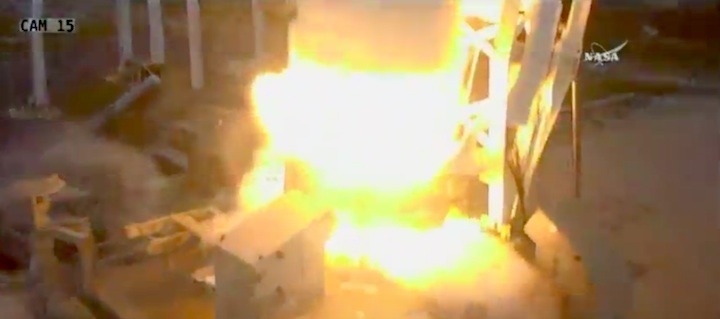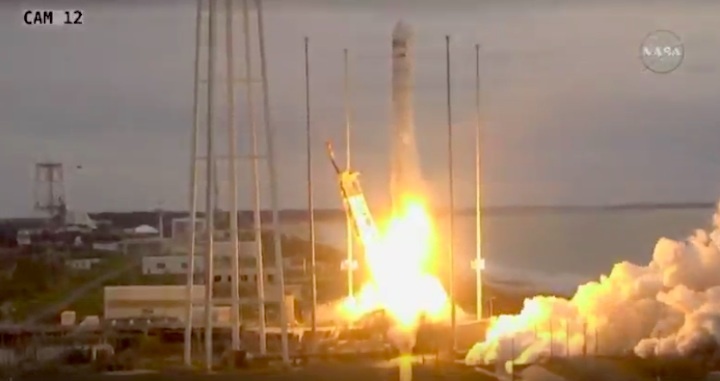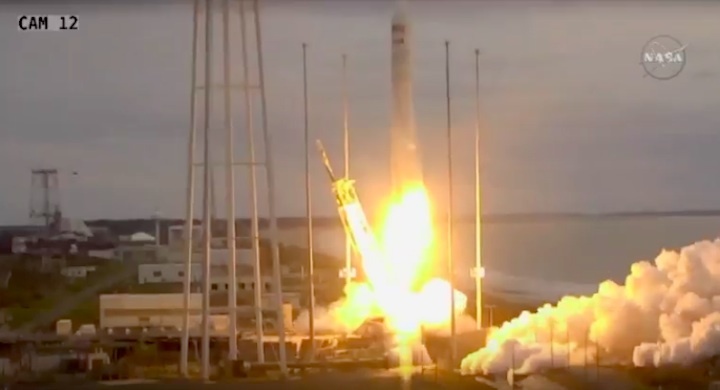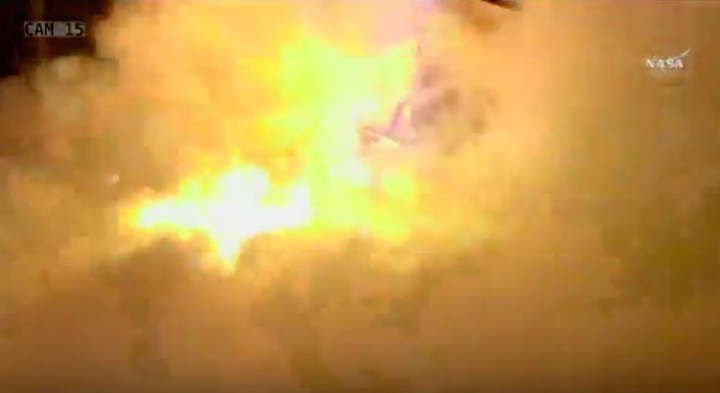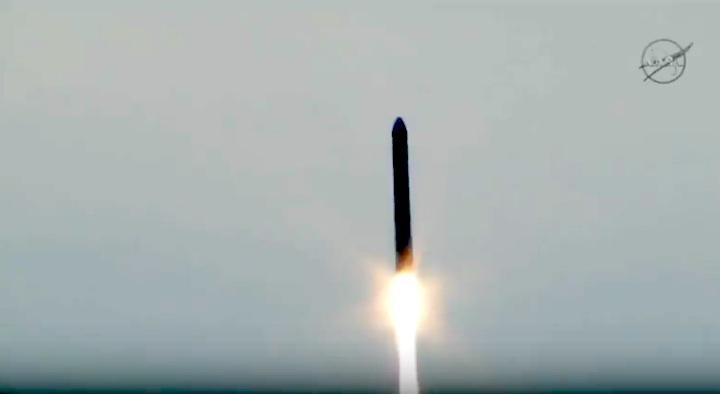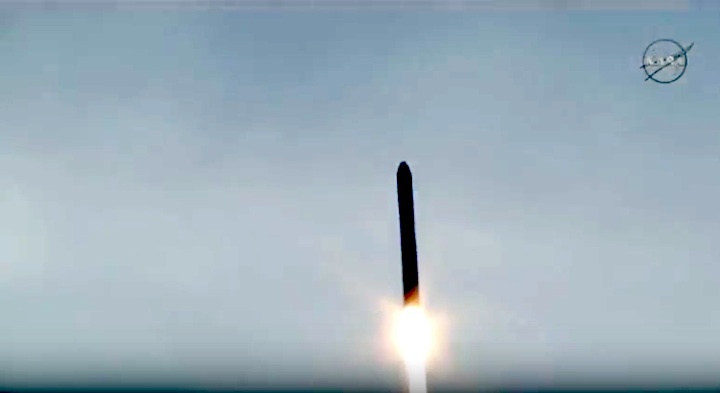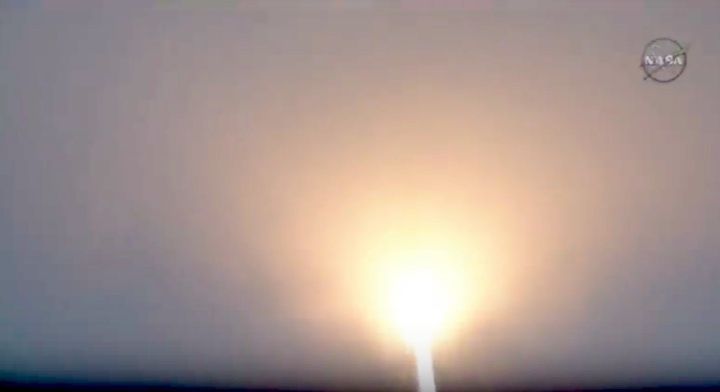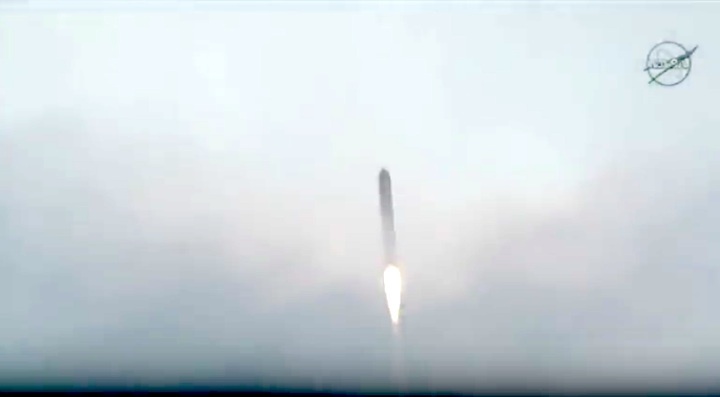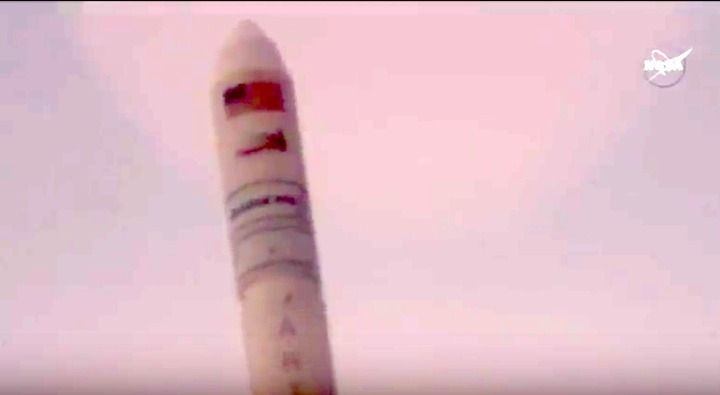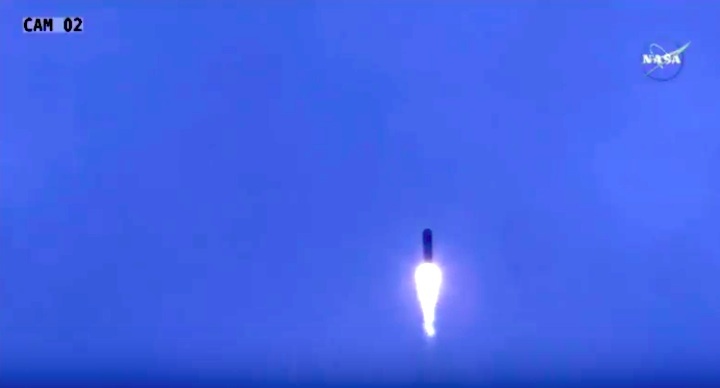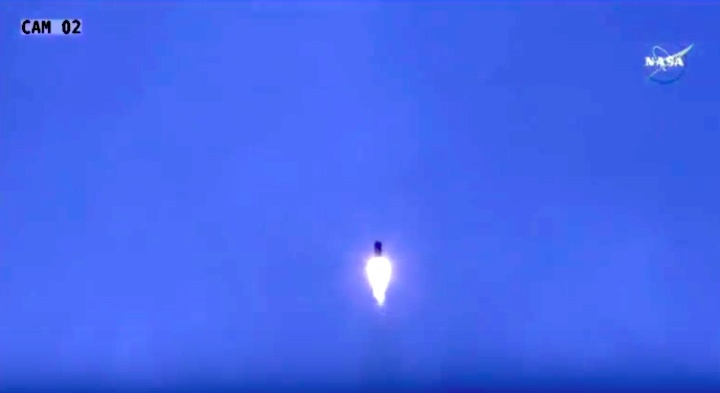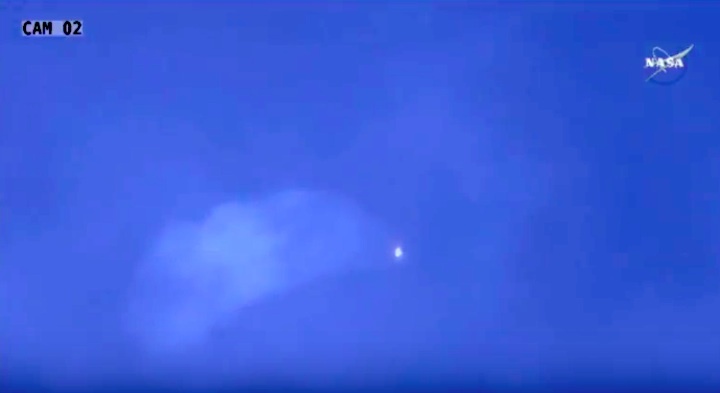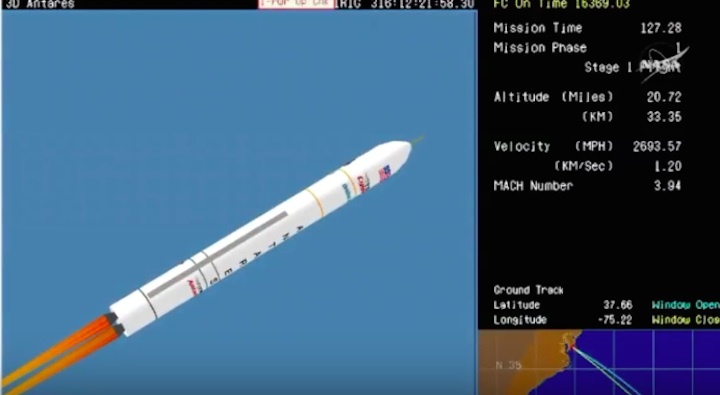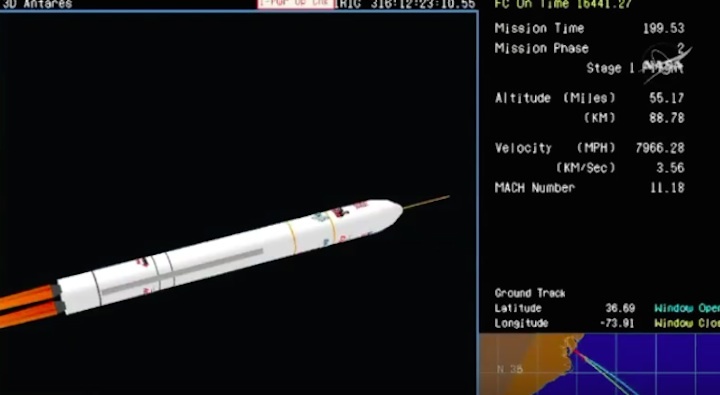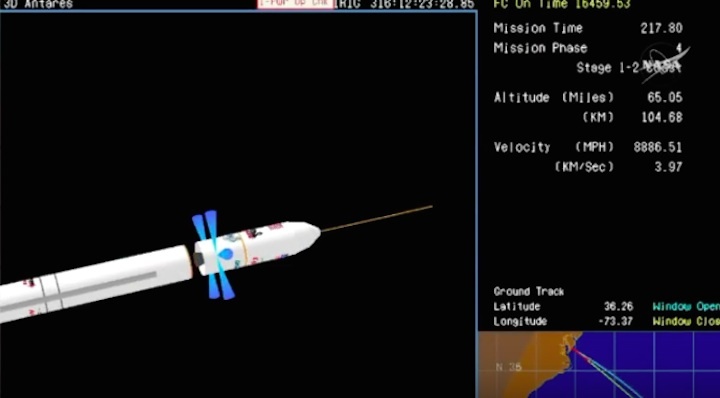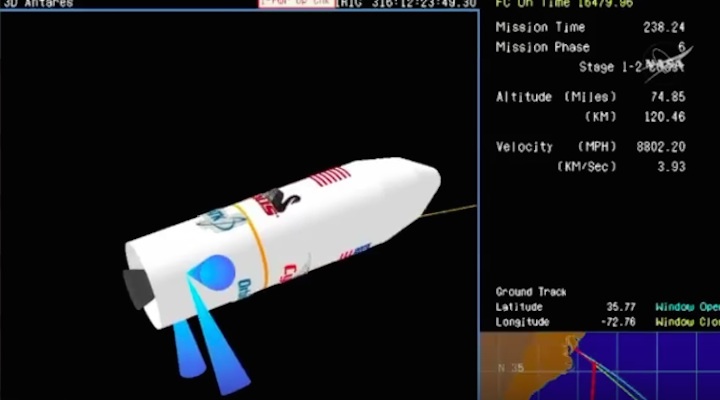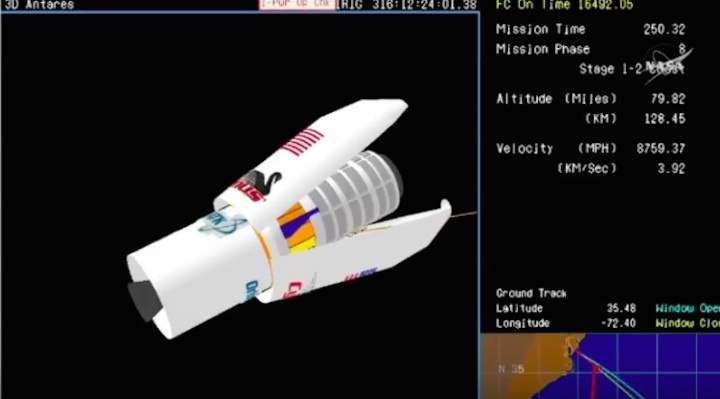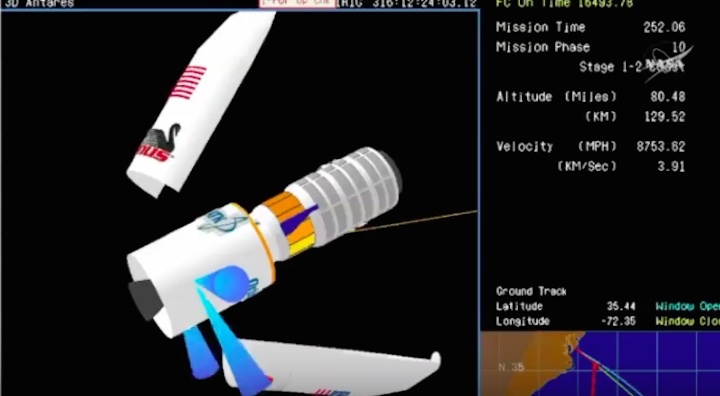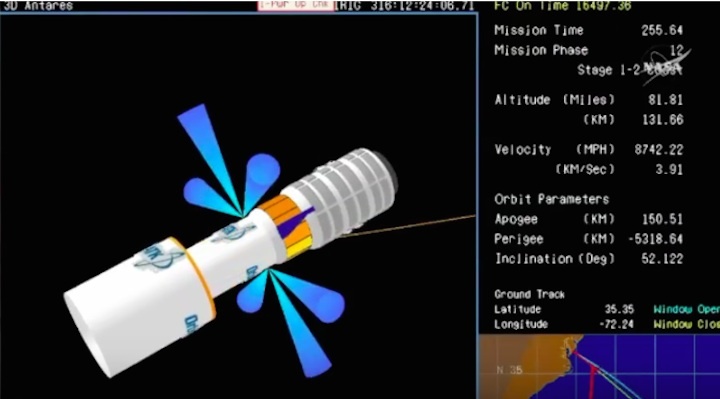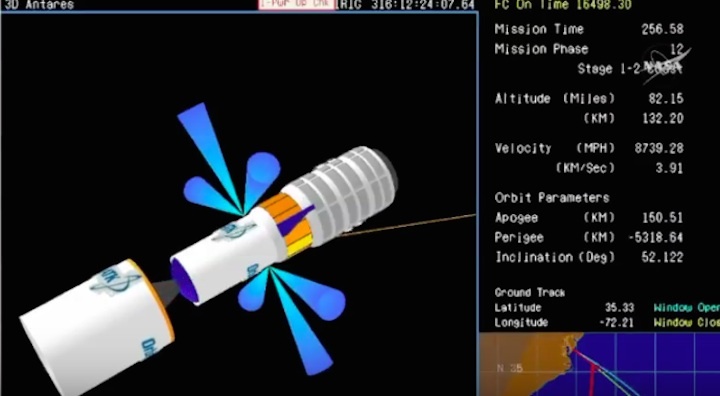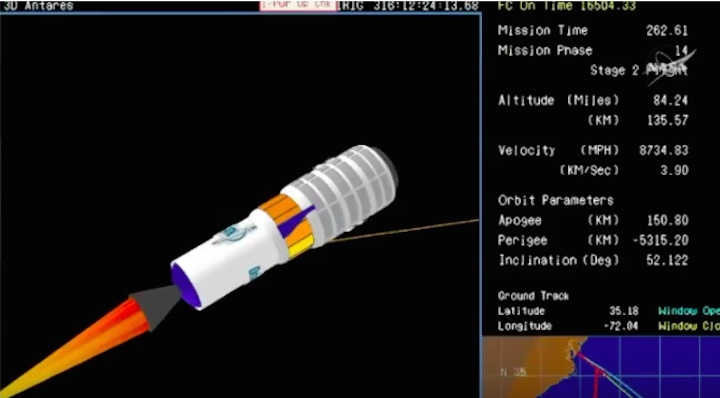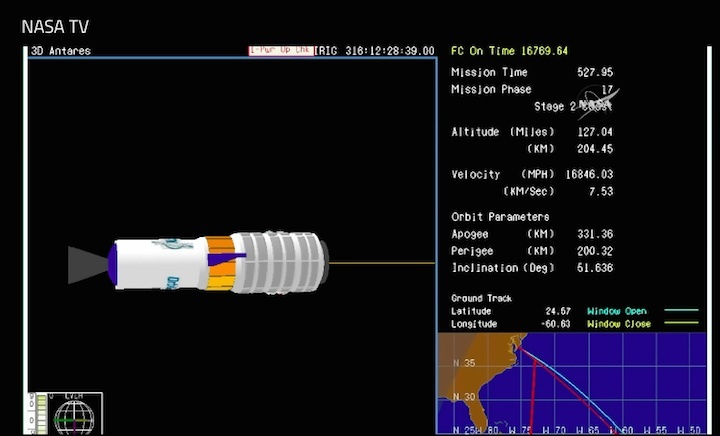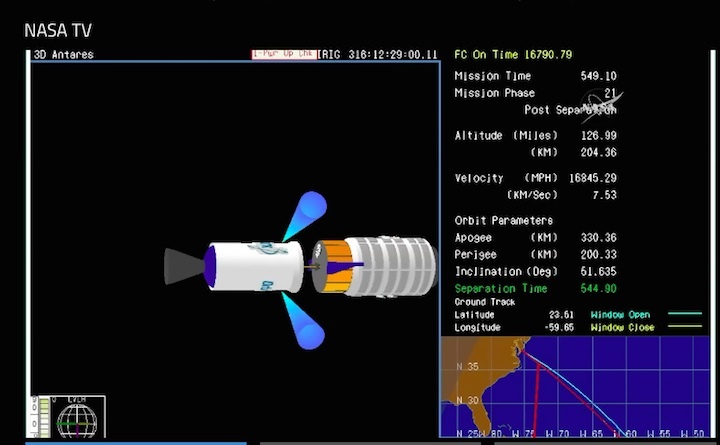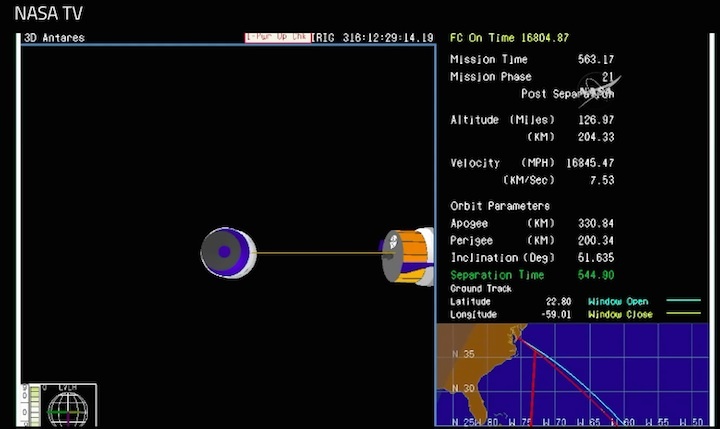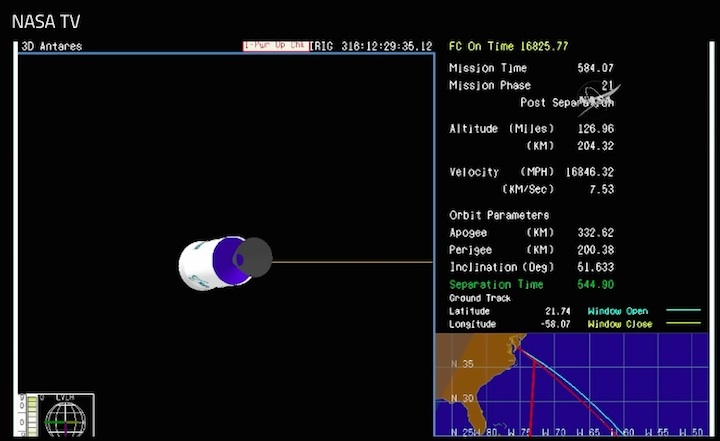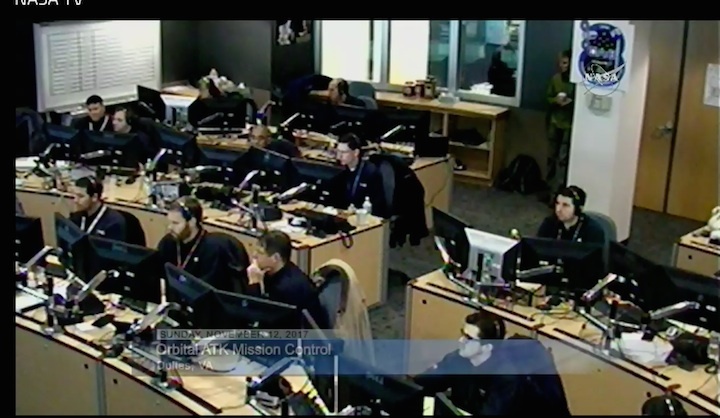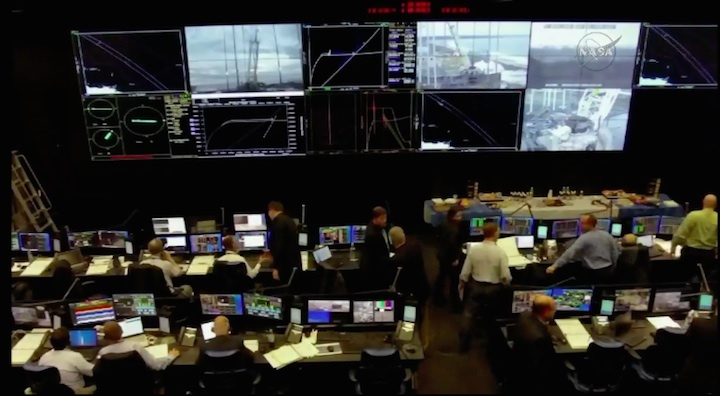 Quelle: NASA