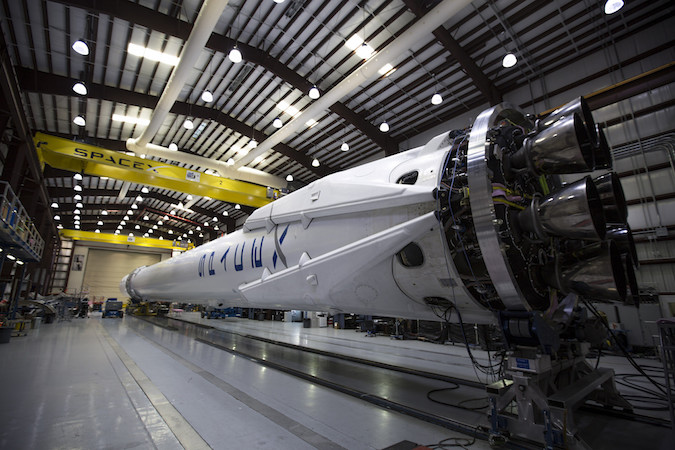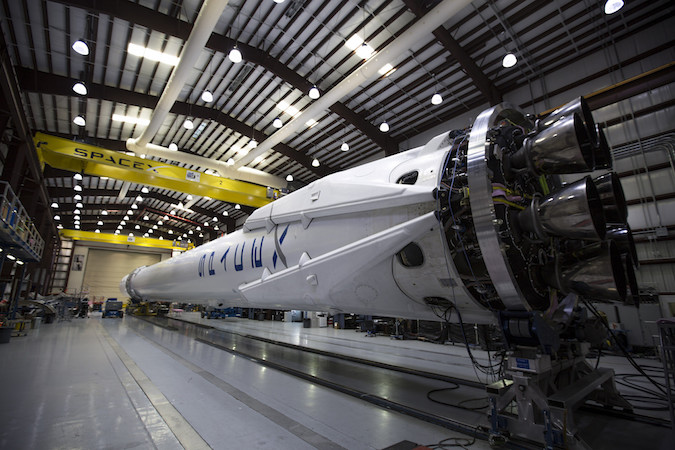 Rainy weather expected across Central Florida this weekend has a 50-50 chance of preventing the launch of a SpaceX Falcon 9 rocket Saturday on a resupply mission to the International Space Station, U.S. Air Force forecasters said Wednesday.
The official weather outlook issued by the Air Force's 45th Weather Squadron calls for thick clouds and isolated rain showers at Cape Canaveral during Saturday's launch countdown.
Liftoff is timed for 10:01 a.m. EST (1501 GMT), roughly the moment the space station's orbital path is positioned above Florida's Space Coast.
But meteorologists are tracking a upper-level trough expected to strengthen over the Gulf of Mexico on Friday.
"On Saturday, this upper-level trough will migrate east, bringing the clouds and rain over the Florida peninsula," the Air Force weather team wrote in Wednesday's forecast. "The clouds and rain will gradually increase through the countdown and be entrenched over the spaceport by midday. The primary weather concern for launch Saturday is the thick cloud cover and rain showers associated with the upper-level trough."
There is a 50 percent chance the weather conditions will violate one of the Falcon 9's launch rules.
The outlook calls for mostly cloudy skies, isolated rain showers, southeast winds of 10 to 15 mph, and a temperature of 70 degrees Fahrenheit.
If the launch is delayed to Sunday, the weather should improve, with a 70 percent chance of acceptable conditions.
"On Sunday, the cloudiness and rain associated with the upper-level trough will continue to slowly move east, diminishing through the countdown," forecasters wrote. "The main weather concern will be cumulus clouds associated with lingering instability."
The 213-foot-tall Falcon 9 rocket will take off from launch pad 39A at NASA's Kennedy Space Center, a complex just inland from the beach originally constructed for Saturn 5 moon rockets in the 1960s and modified in the late 1970s to support space shuttle flights.
SpaceX signed a 20-year lease for the launch pad in 2014, and the company has temporarily transferred all of its Florida launches to pad 39A while workers repair damage to nearby pad 40 after a rocket exploded there in September.
Crews finished modifications and testing of the historic Apollo-era launch pad with a fueling and hotfire test of the Falcon 9's first stage engines Sunday. The successful test verified the new RP-1 and liquid oxygen fueling system installed by SpaceX at pad 39A.
Technicians rolled the rocket back inside SpaceX's hangar at the southern perimeter of the launch facility for attachment of the Dragon cargo capsule loaded with supplies for the space station and its six-person crew, including a lightning imager and an instrument to monitor the health of the atmosphere's ozone layer.
The Dragon supply ship will carry 5,266 pounds (2,389 kilograms) of cargo on SpaceX's 10th logistics launch to the orbiting research outpost. If the mission takes off as scheduled Saturday, the cargo carrier will reach the space station Monday, with grapple by the robotic arm expected around 9 a.m. EST (1400 GMT).
SpaceX has two cargo transportation contracts with NASA for at least 26 space station supply shipments through 2024.
The rocket is expected to return to the pad this week, riding a new transporter-erector that will hoist the Falcon 9 vertical on the launch mount over the flame trench.
After liftoff, the Falcon 9's first stage will return to Cape Canaveral from the edge of space, targeting a rocket-assisted vertical touchdown at SpaceX's Landing Zone 1 about 9 miles (15 kilometers) south of pad 39A. The recovery would mark the third time a Falcon 9 booster stage has landed at Cape Canaveral
Quelle: AS
---
Update: 27.05.2017
.
NASA to Air Launch of Next International Space Station Resupply Mission
NASA commercial cargo provider SpaceX is targeting its eleventh commercial resupply services mission to the International Space Station for 5:55 p.m. EDT Thursday, June 1. Launch coverage will begin on NASA Television and the agency's website at 5:15 p.m., followed by the post-launch news conference at 7:30 p.m.
The SpaceX Dragon spacecraft will liftoff on the company's Falcon 9 rocket from Launch Complex 39A at NASA's Kennedy Space Center in Florida, carrying almost 6,000 pounds of science research, crew supplies and hardware to the orbiting laboratory in support of Expedition 52 and 53 crew members. The unpressurized trunk of the spacecraft also will transport solar panels, tools for Earth-observation and equipment to study neutron stars.
About 10 minutes after launch, Dragon will reach its preliminary orbit. It then will deploy its solar arrays and begin a carefully choreographed series of thruster firings to reach the space station. When it arrives to the space station, Expedition 52 Flight Engineers Jack Fischer and Peggy Whitson of NASA will grapple Dragon.
Live coverage of the rendezvous and capture will begin at 8:30 a.m. Sunday, June 4, on NASA TV, with installation coverage set to begin at 11:30 a.m. If the launch does not occur on June 1, the next launch opportunity is 5:07 p.m. Saturday, June 3, with NASA TV coverage starting at 4:30 p.m.
The Dragon spacecraft will remain at the space station until approximately July 2, when it will return to Earth with research and return cargo in a splashdown in the Pacific Ocean, off the coast of Baja California.
Media at Kennedy will have the opportunity to participate in special tours and briefings May 31 and June 1, as well as view the launch. The deadline for media to apply for accreditation for this launch has passed, but for more information about media accreditation, contact Jennifer Horner at 321-867-6598 or jennifer.p.horner@nasa.gov.
This will be the 100th launch, and sixth SpaceX launch, from this pad. Previous launches include 11 Apollo flights, the launch of the unmanned Skylab in 1973, 82 shuttle flights and five SpaceX launches.
For an updated schedule of prelaunch briefings, events and NASA TV coverage, visit:
https://www.nasa.gov/press-release/spacex-crs-11-briefings-and-events
Quelle: NASA
---
Update: 29.05.2017
.
SpaceX static fires CRS-11 Falcon 9 Sunday ahead of ISS mission
SpaceX has static fired their Falcon 9 rocket tasked with lofting the CRS-11/SPX-11 Dragon resupply mission to the International Space Station on Sunday ahead of a planned launch on Thursday afternoon at 17:55 EDT (21:55 UTC). The company had intended to conduct the static fire on Saturday before remarkably advancing that forward to Friday. Technical obstacles then prevented the Friday test and ultimately moved the event to Sunday.
Advanced static fire – a testament to the teams and pad:
Rarely does one get to boast about the advancement of a major milestone in spaceflight; but that's exactly what SpaceX had aimed to do with the static fire of the Falcon 9 rocket tasked with launching the CRS-11/SPX-11 Dragon resupply mission to the International Space Station.
The mission was already notable for being the first to reuse a Dragon spacecraft for an uncrewed resupply flight to the Station, but SpaceX also aimed to gain bragging rights of advancing their static fire by a day.
In large part, the advancement was possible due to the amazing work of the dedicated SpaceX team at the Kennedy Space Center, tasked with preparing each Falcon 9 for flight.
Since the commencement of Falcon 9 operations from LC-39A earlier this year, the SpaceX team has proven time and again their capability to maintain a relatively smooth flow for their Falcon 9 rockets – with payload customers themselves (notably the National Reconnaissance Office) largely responsible for gaps longer than two or two and a half weeks in the launch manifest.
Moreover, a great deal of credit for the possibility of a static fire advancement belongs with the engineers overseeing historic pad 39A – who have done a tremendous job of maintaining the pad in excellent condition such that the last two missions from the pad have resulted in no major issues of note and no waivers for pad systems that SpaceX has needed to accept prior to the next flight.
In fact, in the final day of the Inmarsat-5 4F launch campaignearlier this month, workers at the Kennedy Space Center noted in documentation available on L2 that the Inmarsat-5 4F flow was the smoothest flow to launch they'd experienced, with no line items, no waiver requests, and no action items in the Launch Readiness Review (LRR).
That same type of report post-Inmarsat-5 4F noted that Pad-A came through launch "without major issue" – which is truly the best post-launch pad report one can hope for a given that there will always be minor things that need to be repaired or refurbished after millions of pounds of thrust inundate the launch pad surfaces.
Following the Inmarsat-5 4F launch, the AECOM ISC (Institutional Support Contract) support plan flight sheet for the Kennedy Space Center and the Cape Canaveral Air Force Station listed the static fire for CRS-11 – the next mission in the flight manifest – as scheduled for Saturday, 27 May with a T0 of 12:00 EDT at the opening of a six-hour static fire window that extended to 18:00 EDT.
The same AECOM ISC support plan also noted that "Readiness has been requested and is due Wednesday, 5/24" – a readiness summary that surprisingly indicated that not only was everything on track from a mission integration standpoint with the Falcon 9, its Dragon spacecraft, and the assortment of internal and external cargo supplies for the Space Station, but also that the static fire could be advanced by one day to Friday.
So subdued was the announcement of the advancement that NASASpaceflight.com learned of it not through SpaceX but from a standard advisory sent to all Kennedy Space Center employees Thursday afternoon announcing that "SpaceX will be conducting a static fire test of their Falcon 9 rocket at LC-39A on Friday, May 26."
Unlike the originally planned Saturday test, which carried an entire test window of six hours, Friday's static fire would have been contained to a four-hour window opening at 16:00 EDT and closing at 20:00 EDT.
Furthermore, unlike some previous – though not all – static fires, SpaceX would not have had the ability to extend beyond the 20:00 EDT end of the static fire window, with Friday morning documentation from Kennedy noting "Planned T-0 1600L, with a four hour duration (hard cut-off for T-0 at 2000L)."
However, by early afternoon Friday, an issue with an umbilical between the rocket and the TEL (Transporter/Erector/Launcher) forced the static fire back to Saturday before eventually pushing the crucial pre-flight test to Sunday.
Static Fire milestone, launch plan:
As with all SpaceX missions, the journey of the core stage – Core 1035 – began with construction in Hawthorne, California, before shipment to the company's McGregor, Texas, test site.
Core 1035 arrived at McGregor on 17 March and was spotted on the S1 (Stage 1) test stand on 20 March (L2 McGregor Photos).
The hot fire test at McGregor is a critical step for all Falcon 9 core stages – new or flight-proven – to confirm that every element of their avionics, electrics, engines, and Main Propulsion Systems are in perfect working order before they are shipped to the Kennedy Space Center (or Vandenberg), where they are then brought inside the Horizontal Integration Facility (HIF) for final preparations for flight.
By 5 April, the S1 test stand at McGregor was empty, and on 22 April, Core 1035 was seen arriving at the LC-39A HIF.
Since its arrival, Core 1035 has undergone receiving inspections and final checkouts ahead of mating to its second stage a few days ago.
Per the static fire timeline, SpaceX anticipated having the Falcon 9 vertical atop LC-39A in time to allow engineers to target the opening of Sunday's window – which opened at 12:00 EDT and stretched for six hours.
Prior to the static fire, Kennedy Space Center security establish roadblocks to LC-39A three hours before the opening of the static fire window, thereby blocking access to Pad-A while allowing any work that might be taking place this weekend at Pad-B to continue.
An hour and a half before the opening of the static fire window, the Kennedy Space Center Emergency Operations Center (KSC EOC) activated to monitor the static fire and – in the unlikely event of an anomaly – "assist in the response and communicate any necessary actions to the appropriate personnel."
A now-standard statement from KSC EOC reads that "even if there were a catastrophic anomaly at LC39-A, it would pose no danger or threat to KSC Spaceport personnel."
The static fire itself allows the launch teams to practice every single aspect of the countdown as it will occur on launch day, culminating with a 3.5 second run of all 9 Merlin 1D engines at the base of the Falcon 9 core stage.
After this run, the engines are shut down and the vehicle and pad safed – giving the launch team a chance to practice this type of scenario in real-time should it occur on launch day.
After a successful static fire, the vehicle will be detanked, lowered to horizontal, and taken back into the HIF where final preparations will continue for the launch of CRS-11.
These final preparations include mating of the Dragon spacecraft to the top of the second stage of the Falcon 9 as well as the critical LRR two days before launch.
The LRR will review every piece of data gathered during the static fire, and the various teams (including NASA) will provide final recommendations regarding the vehicle and launch windows before granting final engineering approval to proceed toward launch.
The LRR is also the meeting during which any waivers – if they exist – will be discussed and either accepted or a forward plan developed.
Current timelines show that all elements for the mission – including the rocket, the Dragon capsule itself, and all of the various supplies, experiments, and equipment – are on track to meet the 1 June launch target, even taking into consideration the prolonged three-day holiday weekend in the United States for Memorial Day.
Despite the delay of the static fire by one day, there are no plans at this time to delay the launch, which is carefully choreographed around the U.S. federal holiday on Monday and the scheduled Friday, 2 June undocking of the Soyuz MS-03 vehicle.
Launch on 1 June of CRS-11 to the ISS is targeted for an instantaneous time of 17:55 EDT (21:55 UTC), the exact center of a five-minute launch window opportunity that day.
Unique to this resupply mission – though something which hopefully will not be unique in the future – is the fact that this Dragon capsule has already been mated into a Falcon 9 rocket and launched into space before.
While it has long been confirmed that CRS-11 will be the first commercial resupply mission by SpaceX to reuse a Dragon capsule, it is now understood that CRS-11 is using Capsule C106, which flew the CRS-4 mission back in September/October 2014.
The reuse of this particular capsule marks an important step in SpaceX's stated goal to develop reusable technology not just for its rockets but for its spacecraft as well.
The mission will mark the first time that a commercial resupply vehicle to the International Space Station is reused and the first time that a previously flown spacecraft will arrive at the ISS since the final arrival of the Space Shuttle Atlantis in July 2011.
Quelle: NS
---
Update: 30.05.2017
.
Brush fire breaks out after SpaceX static test
CAPE CANAVERAL, Fla. - Smoke and a loud bang arose from Kennedy Space Center, as SpaceX performed a test to prepare for a launch later this week.
Kennedy Space Center confirmed that on Sunday morning, they performed a SpaceX static test fire.
Smoke filled the air because of the engines being turned on. There was no explosion, fire, or injuries.
However, The Southeast Region of the US Fish and Wildlife Service Fire Management Division have reported via Twitter that they did respond to a wildfire at Merritt Island that begun because of the static rocket test earlier this morning.
The fire is now 100% contained and out.
The test was completed in preparation for a June 1st launch from historic Pad 39A. The Falcon 9 rocket will ascend into space for the next resupply mission to the International Space Station.
Quelle: FOX 35
---
Update: 31.05.2017 / 23.00 MESZ
.
SpaceX Cargo Mission to Space Station Set for Thursday Launch
Liftoff of a SpaceX Falcon 9 rocket and Dragon spacecraft on a supply mission to the International Space Station is targeted for 5:55 p.m. EDT, Thursday, June 1, from Launch Complex 39A at NASA's Kennedy Space Center in Florida. Dragon will carry crew supplies, equipment and scientific research including NASA's NICER mission to the station. The weather forecast is currently 70 percent "go" for launch.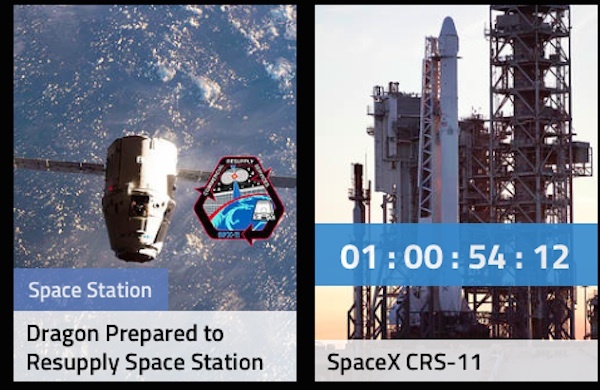 Quelle: NASA
---
Update: 1.06.2017
.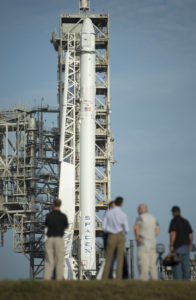 A SpaceX Falcon 9 rocket and Dragon spacecraft have taken their positions ahead of this afternoon's launch from Launch Complex 39A at NASA's Kennedy Space Center in Florida. Liftoff is scheduled for 5:55:53 p.m. eastern time. Our continuous countdown coverage will begin here on NASA's Launch Blog and on NASA TV at 5:15 p.m. You can watch the NASA TV stream on the blog or streaming at www.nasa.gov/nasatv
The forecast continues to call for a 70 percent chance of acceptable conditions at launch time. The primary concerns are clouds building up late in the afternoon.
The mission, which carries no crew, is the 11th cargo flight to the International Space Station for SpaceX. Inside Dragon are about 6,000 pounds of research and equipment, supplies for the station's resident crew and other hardware necessary for the operation of the orbiting laboratory.
Quelle: NASA
+++
Update: 23.55 MESZ
DRAGON RESUPPLY MISSION (CRS-11)
Today's launch attempt of the eleventh Commercial Resupply Services mission (CRS-11) for NASA from Launch Complex 39A is scrubbed due to weather. The next launch opportunity is Saturday, June 3 at 5:07 p.m. EDT or 21:07 UTC.
The CRS-11 mission will be the first reflight of a Dragon spacecraft and will mark the 100th launch from historic LC-39A at Kennedy Space Center. Following stage separation, the first stage of Falcon 9 will attempt to land at SpaceX's Landing Zone 1 (LZ-1) at Cape Canaveral Air Force Station, Florida.
Today's launch attempt of the eleventh Commercial Resupply Services mission (CRS-11) for NASA from Launch Complex 39A is scrubbed due to weather. The next launch opportunity is Saturday, June 3 at 5:07 p.m. EDT or 21:07 UTC.
The CRS-11 mission will be the first reflight of a Dragon spacecraft and will mark the 100th launch from historic LC-39A at Kennedy Space Center. Following stage separation, the first stage of Falcon 9 will attempt to land at SpaceX's Landing Zone 1 (LZ-1) at Cape Canaveral Air Force Station, Florida.
Quelle: SpaceX
Update: 2.06.2017
Watch SpaceX Relaunch a Commercial Cargo Capsule for the First Time
UPDATE: SPACEX'S ISS resupply mission was scrubbed due to weather on June 1. The next launch window is Saturday, June 3, at 5:07 pm EST.
SpaceX wants to do it again. All of it: rocket boosters, fairings, payloads. The commercial space company has built its business model on reusability, and it has already proven its thrift with rockets: In March, Musk's moonshot marauders relaunched the first previously-used rocket … and re-landed it! Now, in a resupply launch destined for the International Space Station, it wants to send a (gently used) Dragon capsule back to space.
This capsule—originally launched in 2014—will carry about two and a half tons of gear, science, and personal effects to the astronauts and cosmonauts on the ISS. The mission's liftoff window opens at 5:55pm ET, and you can watch the livestream around 4:30pm ET. If SpaceX retrieves this capsule—it'll detach from the ISS in about a month, once the astronauts are done unloading it—it will do a lot to prove Musk's case that he can make a fully recyclable rocket.
Recycling is all about money. For most of us, that's money for beer at the end of the month. For Musk, it's money he saves every launch, which he uses to undersell his competitors, launch more rockets, and eke his way towards his goal of sending missions to Mars. Every Falcon 9 first stage he reuses saves him about $60 million. The Dragon capsules are probably worth less—but still, that's a lot of cases of beer.
Recovering a spent Falcon 9 rocket is tricky business. You have to save enough fuel to flip and reorient the booster, keep it steady as it falls through the atmosphere, and slow it to a dead stop so it lands perfectly upright on a motorized barge.
Dragon cargo capsule recovery is a bit more straightforward. After the ISS crew members remove all the gear from a docked vessel, they load it up with completed experiments, trash, and other Earthbound detritus. Then the capsule unlocks from its mounting point and fires several small positioning burns to move away from the ISS. One more set of engine burns slow the capsule way down, such that it falls from orbit—and after freefalling through the upper atmosphere, the Dragon deploys its parachutes so it can safely plop down in the ocean.
The ocean provides the Dragon with a soft landing, but has the potential to damage the capsule through salt water incursion. Besides the sealing, the biggest chores are refitting the Dragon with new solar panels, and rebuilding the capsule's unpressurized aft end. And if that all sounds easy enough—well, easy enough for a gaggle of engineers capable of landing a rocket—remember that SpaceX also had to get NASA's approval on the whole refurbishing process before the space agency would let them send a used capsule back to the ISS.
If this launch goes off as planned, SpaceX will make history once again—the first private company to re-fly a space capsule. It also frees up more of the company's brainpower and money to put towards other tasks. Of which it has many: Falcon Heavy, crewed Dragon 2 capsules, Raptor engines, moon tourism, and of course the Mars mission. SpaceX has a long way to go, but it's also come so far.
Quelle: WIRED
---
Update: 3.06.2017
.
LIVE-Frams von Start: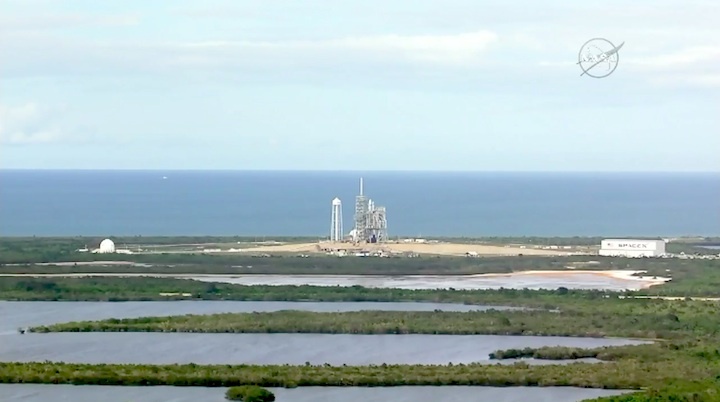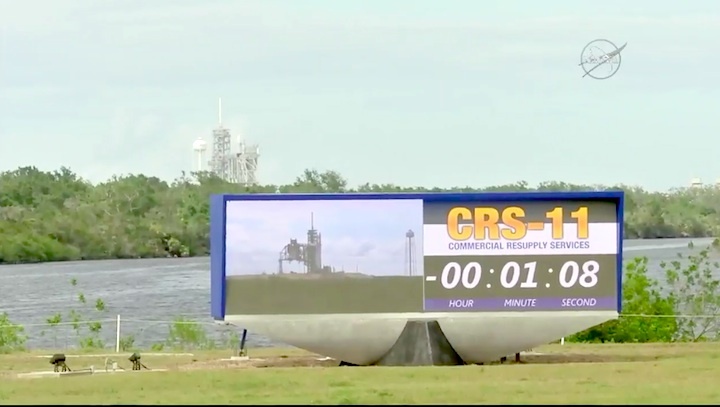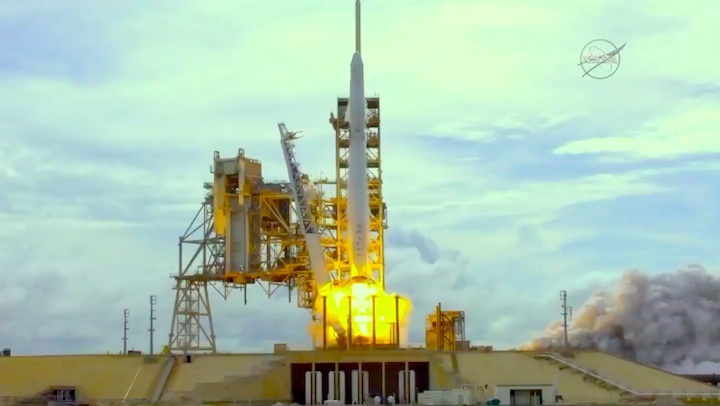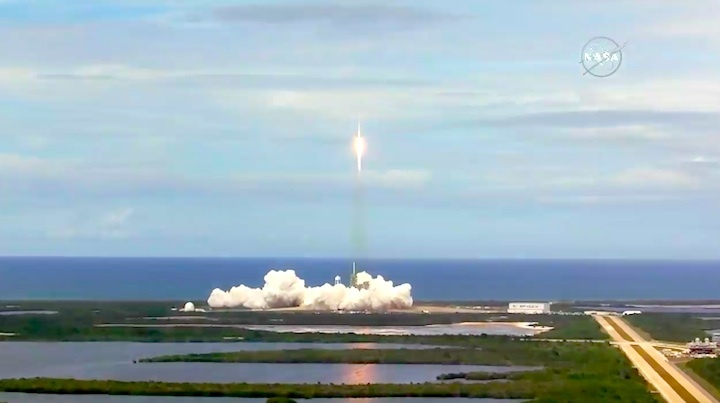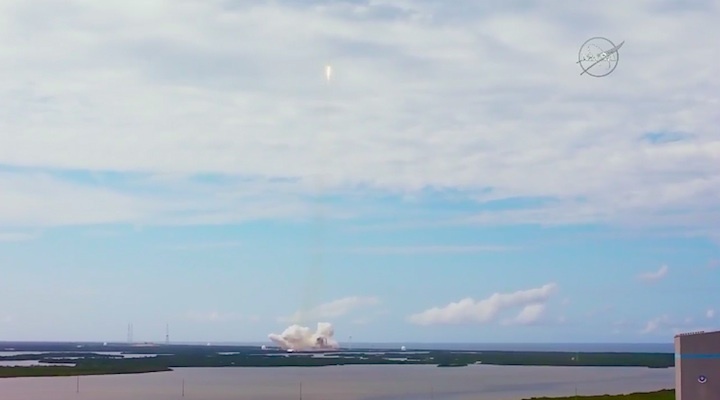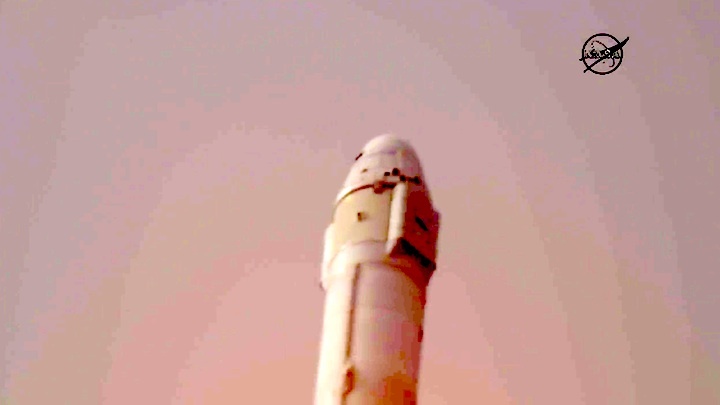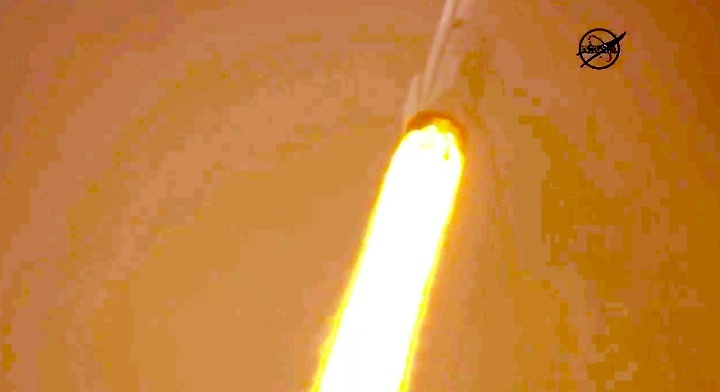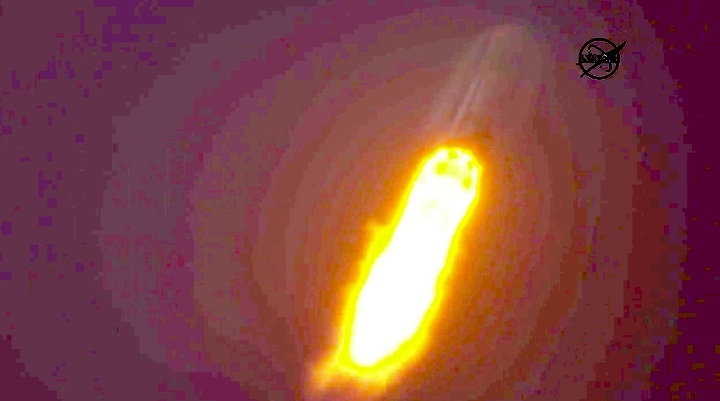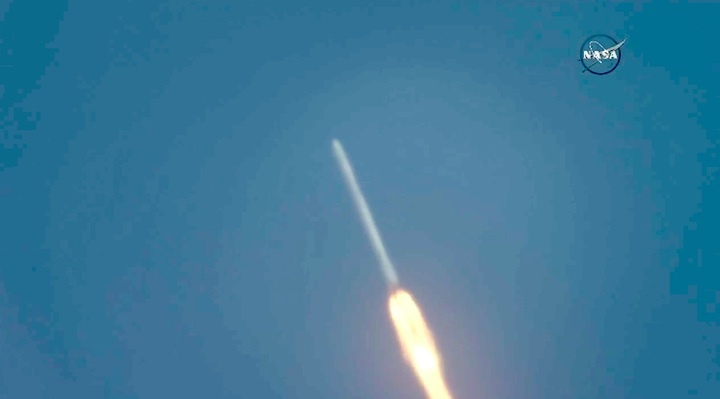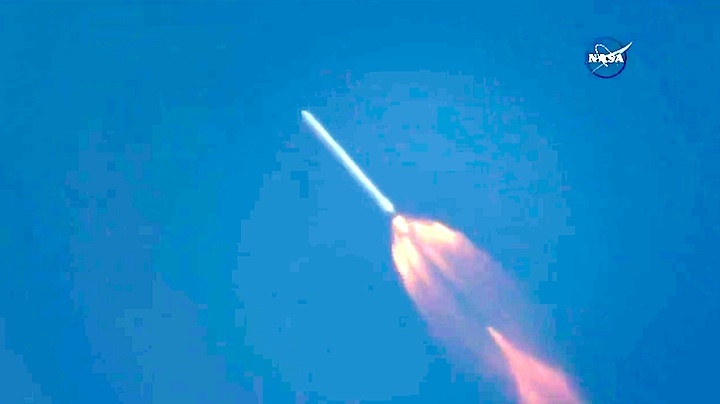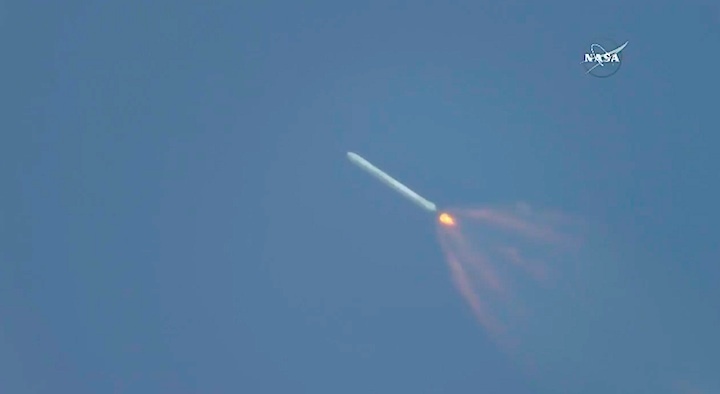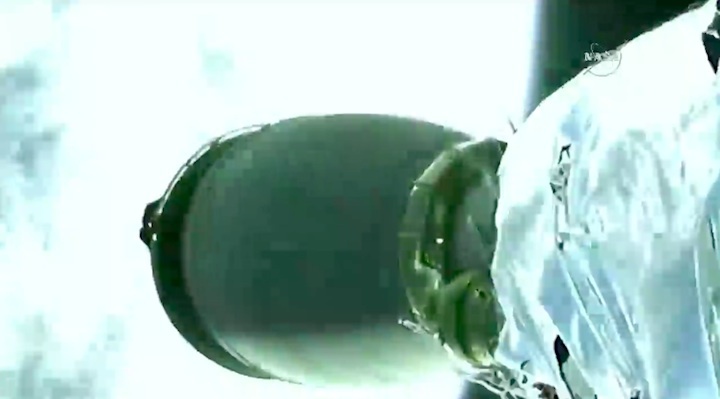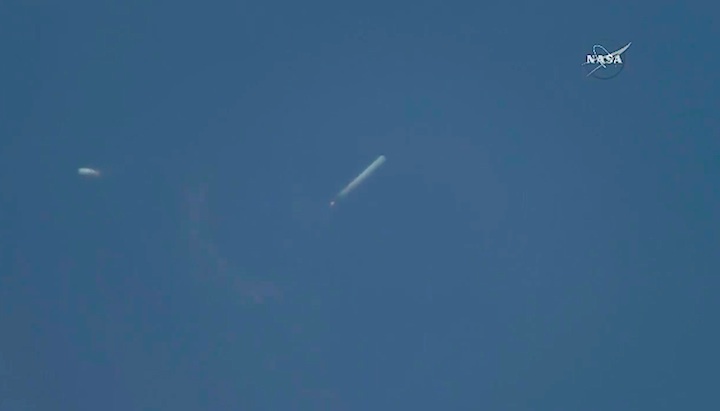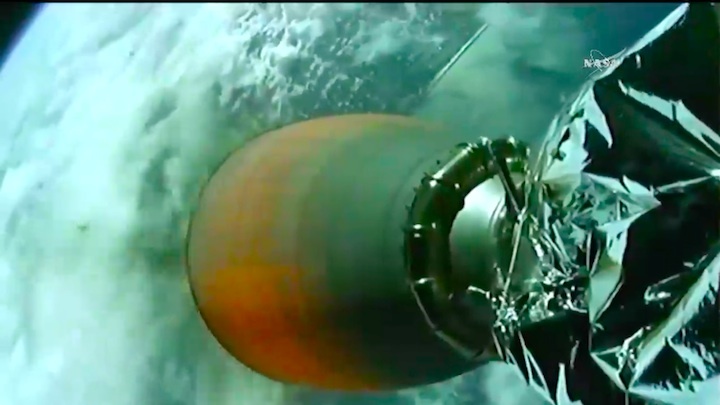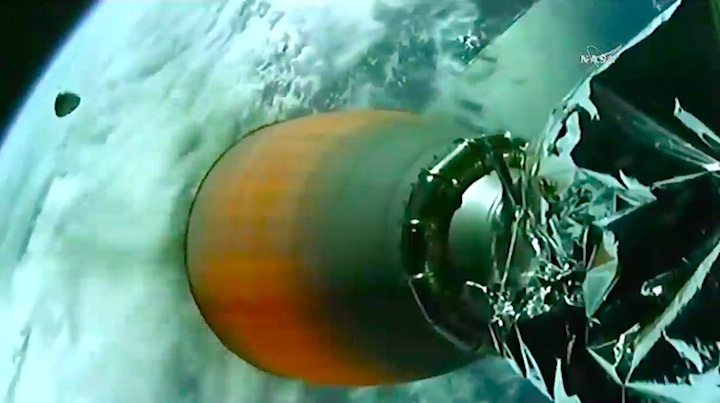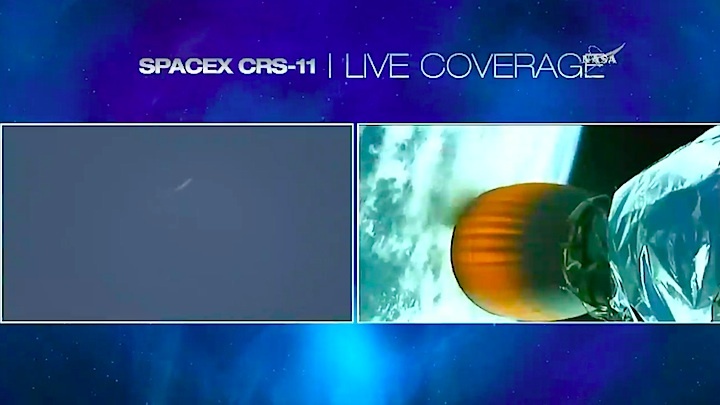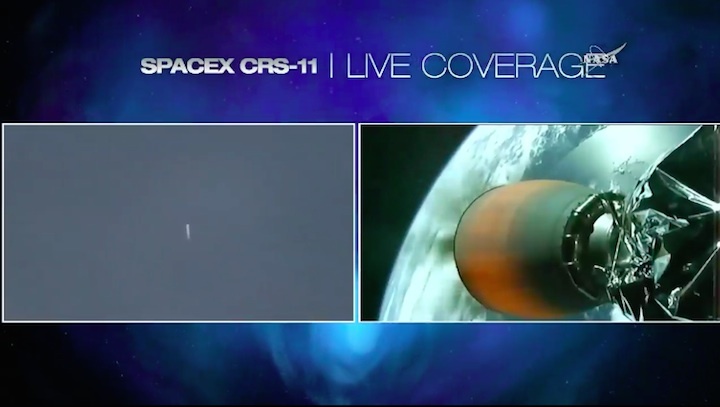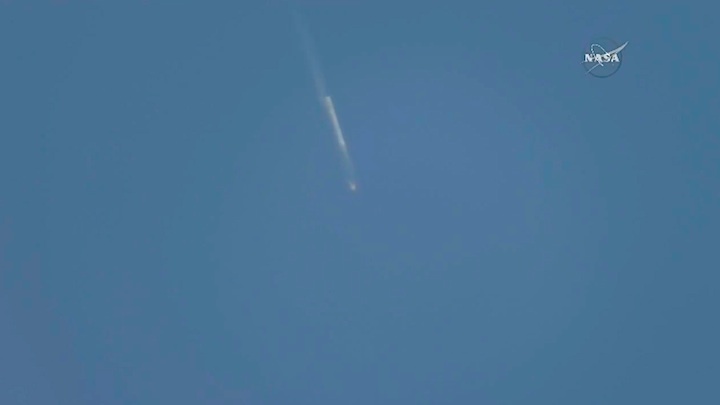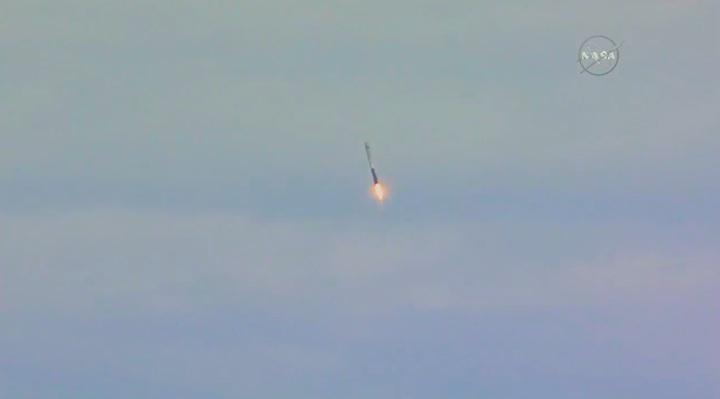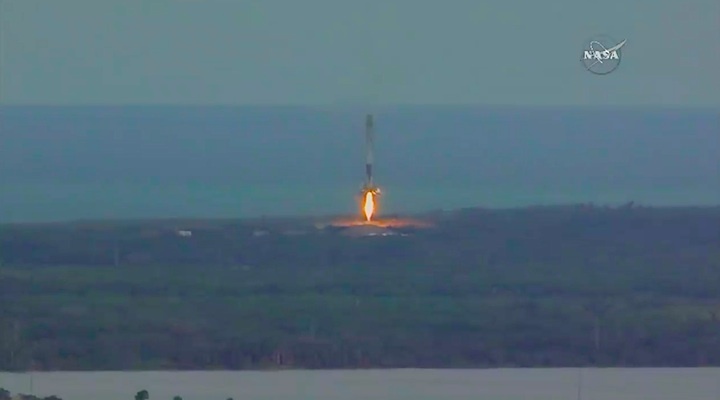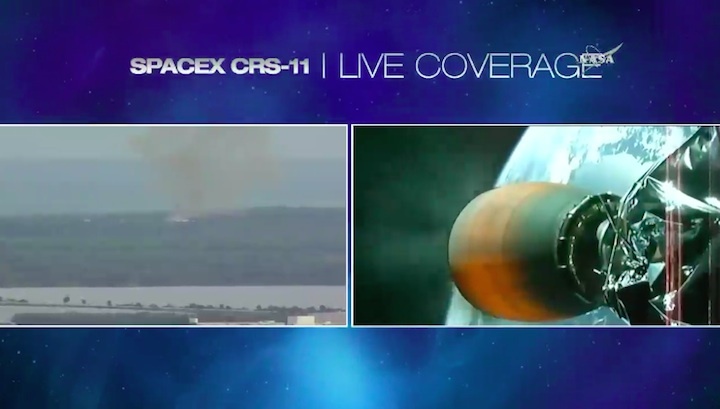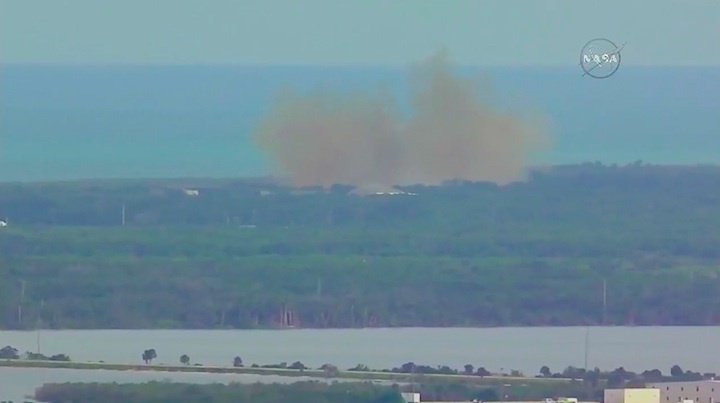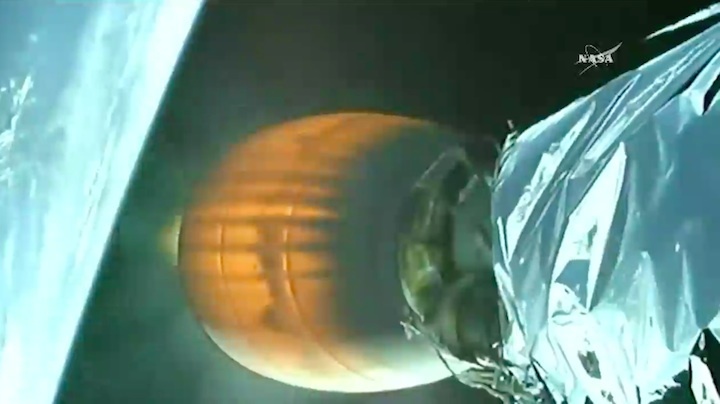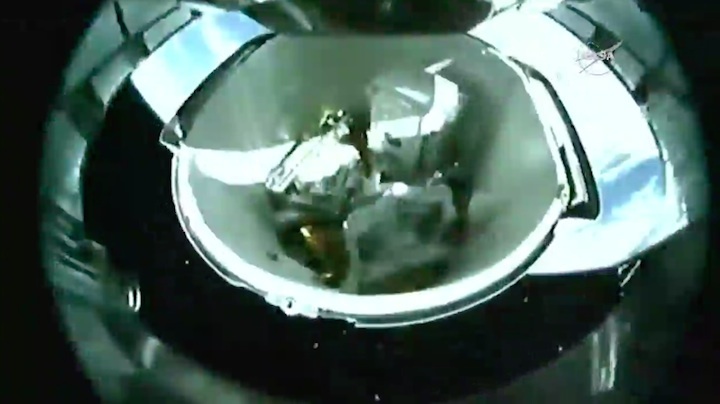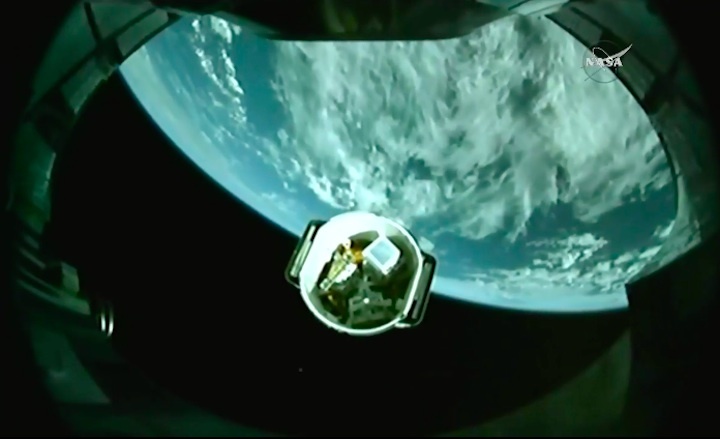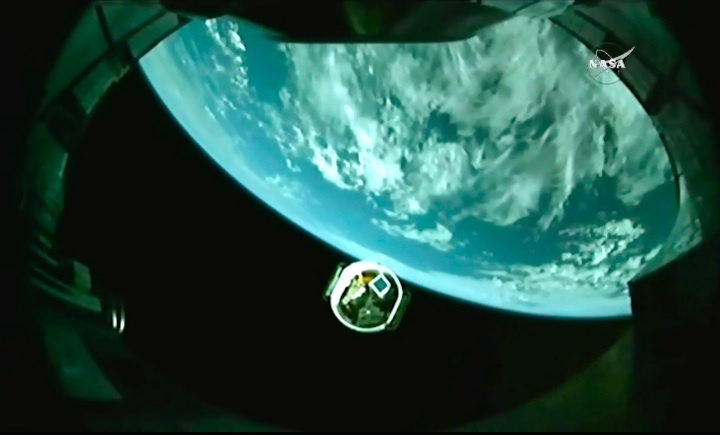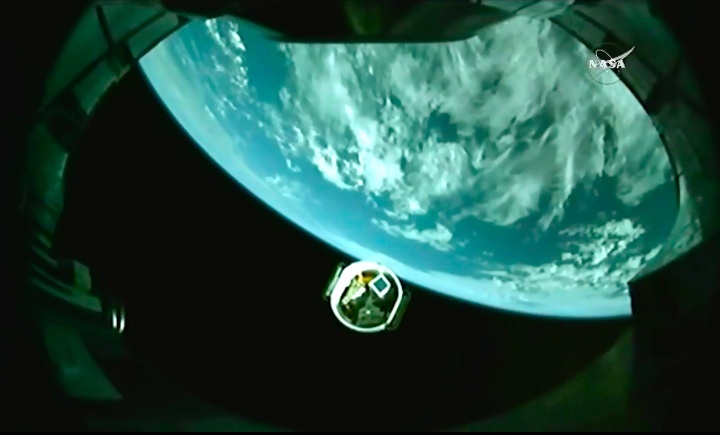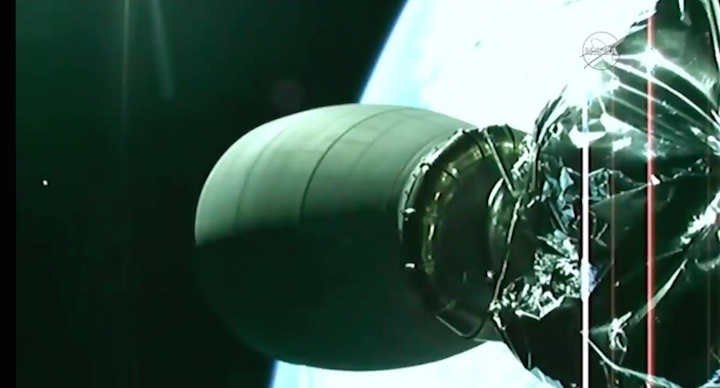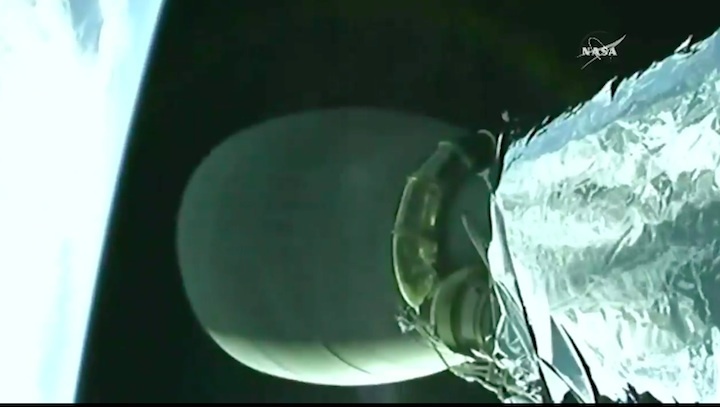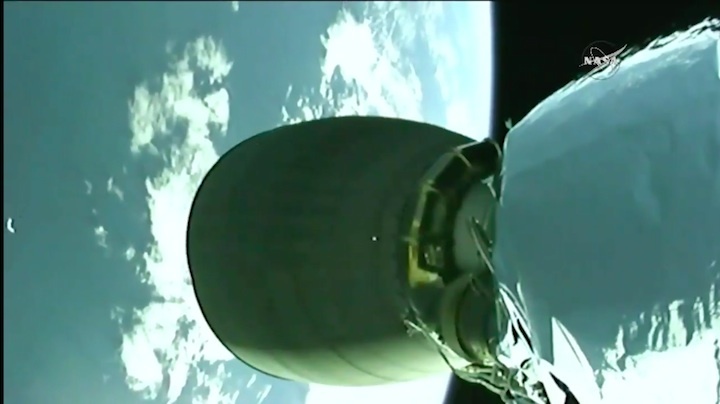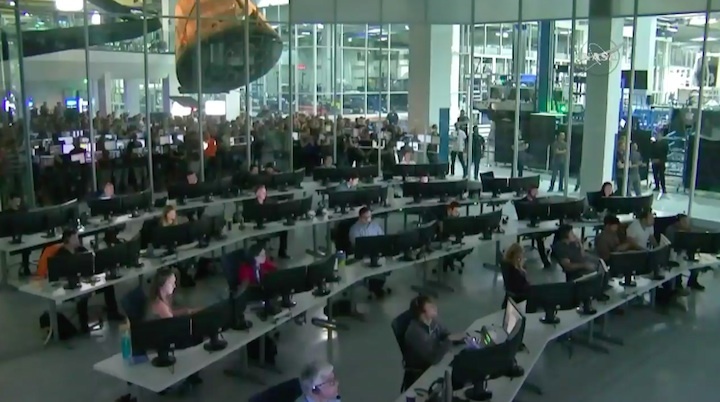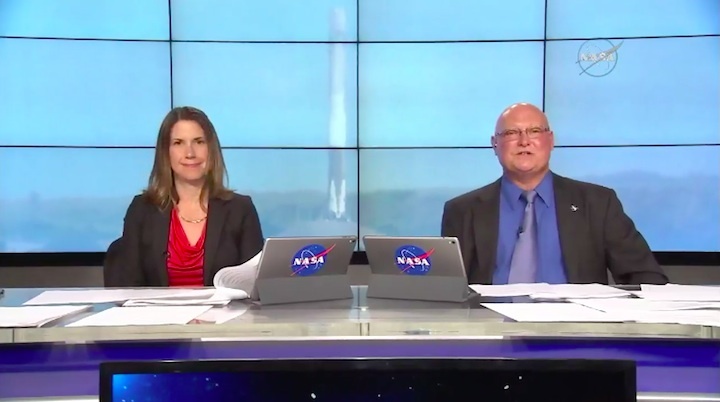 Quelle: NASA