EUTELSAT SIGNS NEW LAUNCH CONTRACT WITH ARIANESPACE
With this latest contract, Arianespace now has three further satellites to launch for Eutelsat 
Kourou, Paris, 2 June 2017 –Following the launch earlier today of the EUTELSAT 172B satellite, Eutelsat Communications (NYSE Euronext Paris: ETL) announces a new launch services contract with Arianespace.
The Arianespace order book now includes three future launches for Eutelsat in addition to the 32 Eutelsat satellites already launched by the European launch services provider over more than 30 years for one of the world's leading satellite operators. 
Of the three satellites to be launched, EUTELSAT 7C (built by SSL) will be orbited in 2018, followed in 2019 by Eutelsat Quantum built by Airbus and the high throughput satellite built by Thales.
Commenting on this latest contract, Rodolphe Belmer, Chief Executive Officer of Eutelsat, said: "Following today's historic Ariane launch of Europe's first high-power all-electric satellite, we are proud to once again team up with Arianespace, a long-standing partner and a leader in Europe's vibrant space industry. The technological diversity of the three new satellites entrusted to Arianespace is a compelling reflection of our commitment to innovation for the greater benefit of our customers, and to maintaining our competitiveness."
Stéphane Israël, Chief Executive Officer of Arianespace, added: "This latest contract bolsters Eutelsat's position as a benchmark customer of Europe's heavy launcher, since Ariane 5 will launch three satellites for the European operator in 2018 and 2019. Our hope is that Ariane 6 will subsequently take over so that we can help Eutelsat meet its objectives even more efficiently."
Quelle: Eutelsat
+++
ARIANE 5 LAUNCHES ITS HEAVIEST TELECOM PAYLOAD 
2 June 2017
The Ariane 5 rocket, operated by Arianespace, has carried its heaviest telecommunications payload ever to deliver the ViaSat-2 and Eutelsat-172B satellites into their planned orbits. 
Liftoff came at 23:45 GMT (20:45 local time, 01:45 CEST on 2 June) last night from Europe's Spaceport in Kourou, French Guiana on a mission lasting about 41 minutes.
ViaSat-2, with a launch mass of 6418 kg, was the first to be released after about 29 minutes. The 3551 kg Eutelsat-172B was released 12 minutes later.
ViaSat-2, owned and operated by ViaSat, will provide extended broadband coverage to North and Central America, the Caribbean, northern South America, and the aeronautical and maritime routes in the Atlantic Ocean between North America and Europe. The satellite has a design life of more than 14 years.
Eutelsat-172B, an all-electric satellite built in Europe for Eutelsat, will provide telecommunications and broadcasting services as well as inflight broadband and maritime connectivity to the Asia–Pacific region. The satellite has a design life of more than 15 years.
The payload mass for this launch was 10 865 kg. The satellites totalled about 9969 kg, with payload adapters and carrying structures making up the rest.
Flight VA237 was the 93rd Ariane 5 mission.
Quelle: ESA
---
Frams von Start VA-237: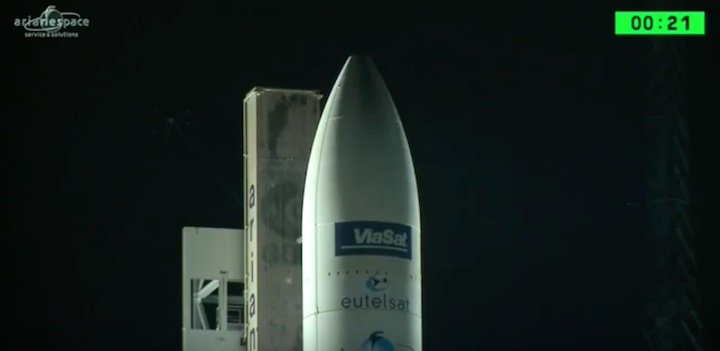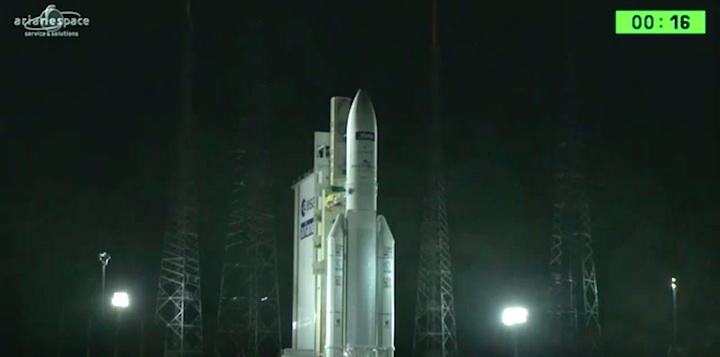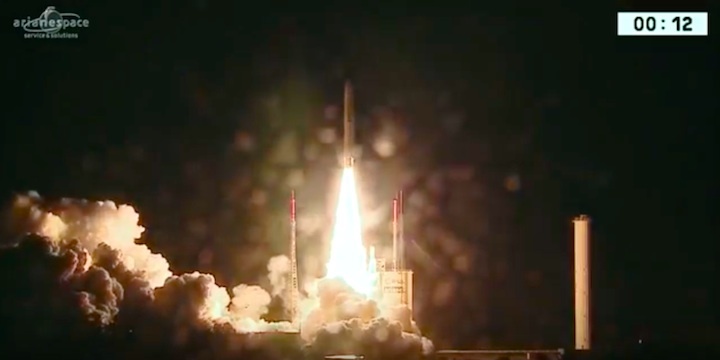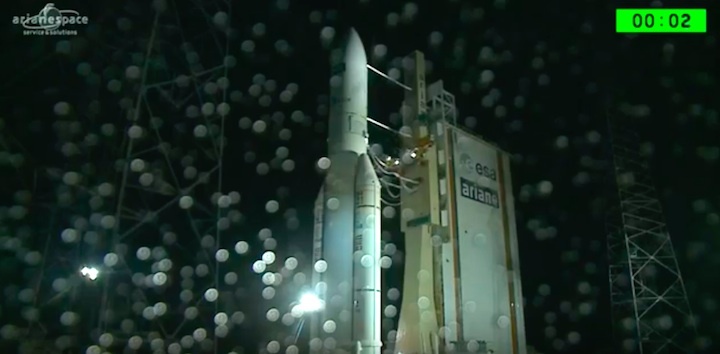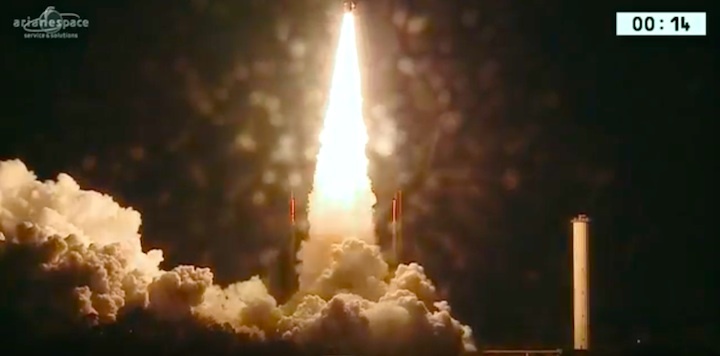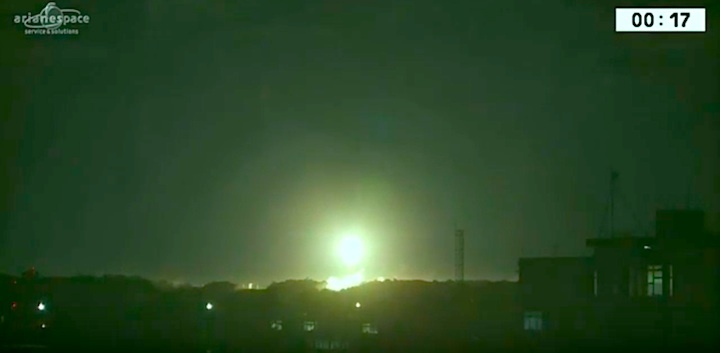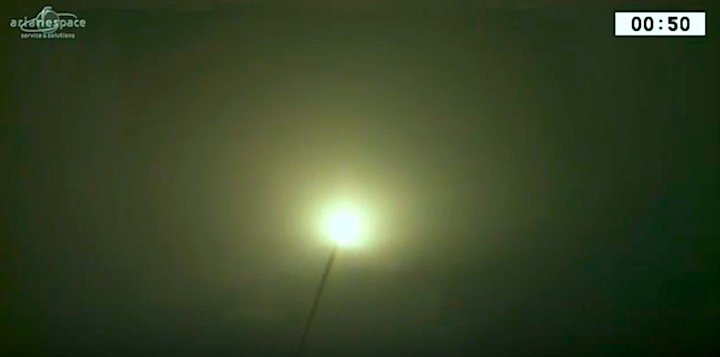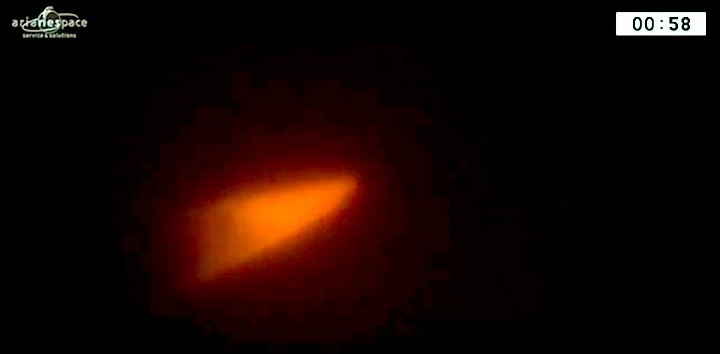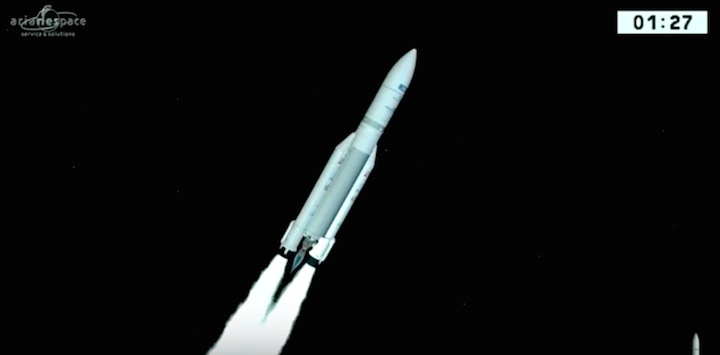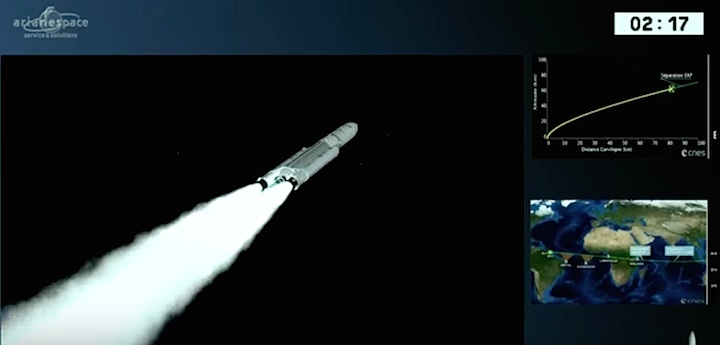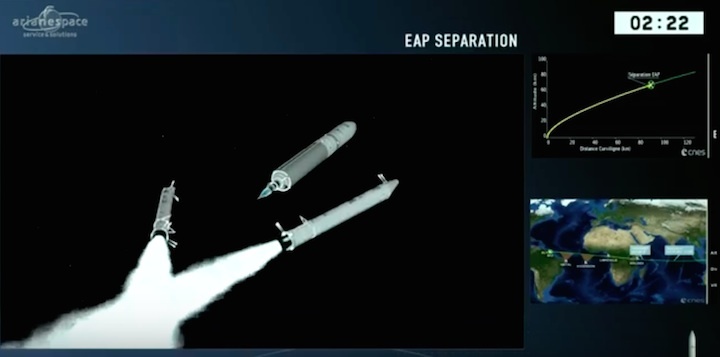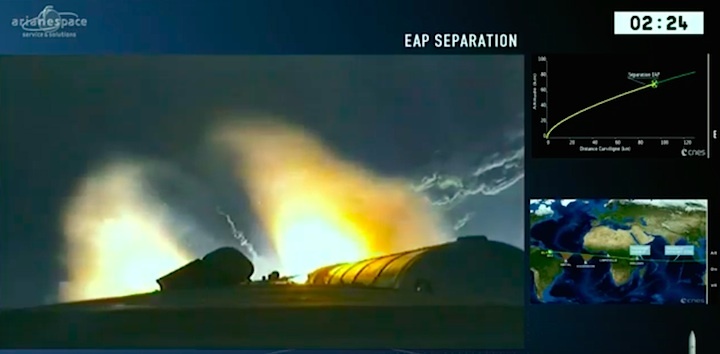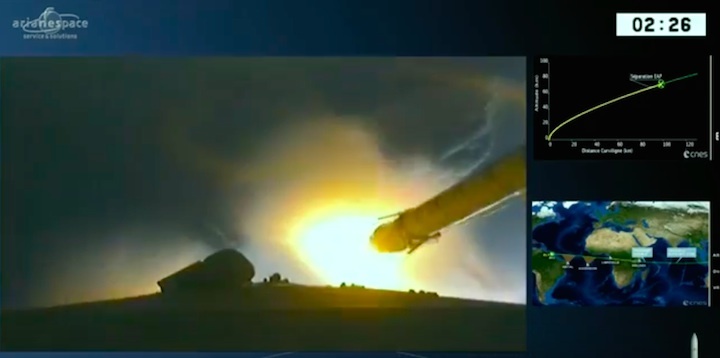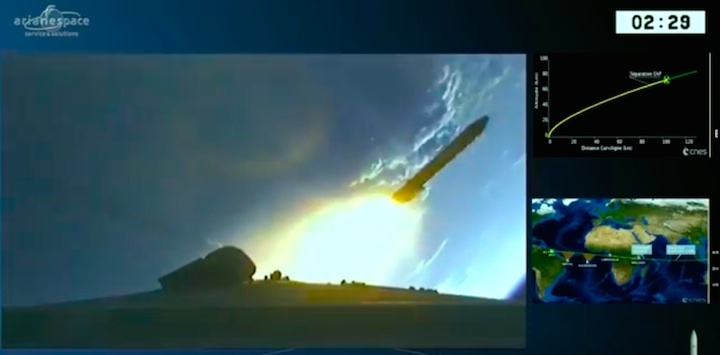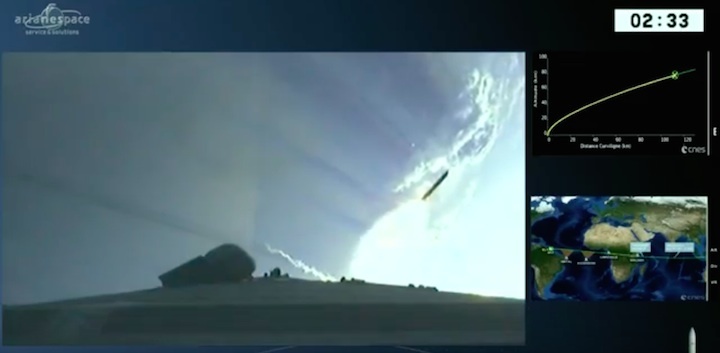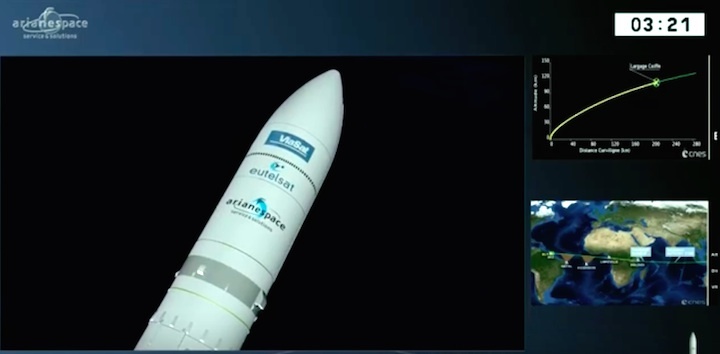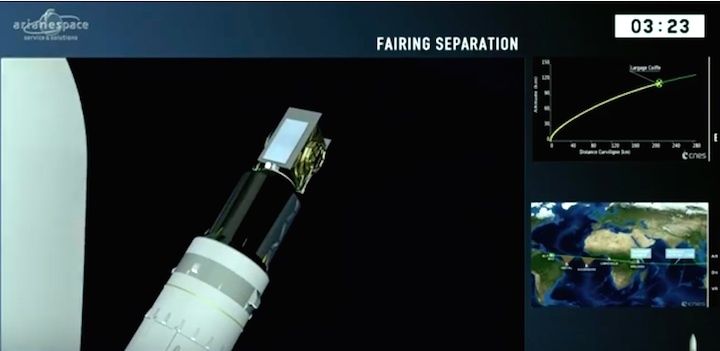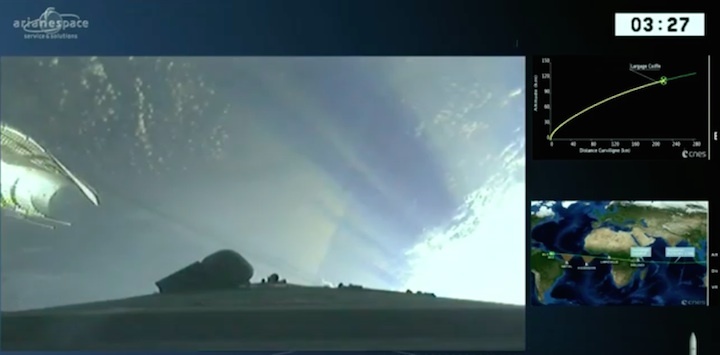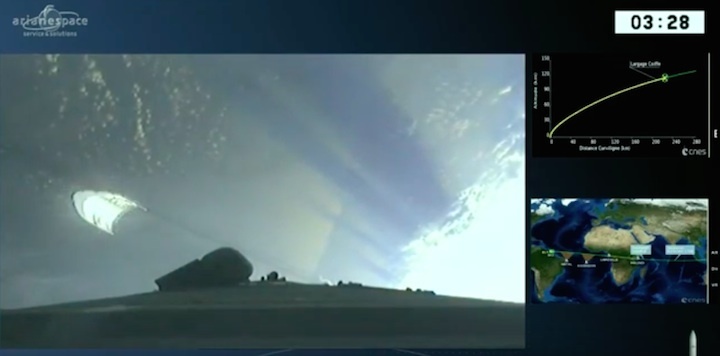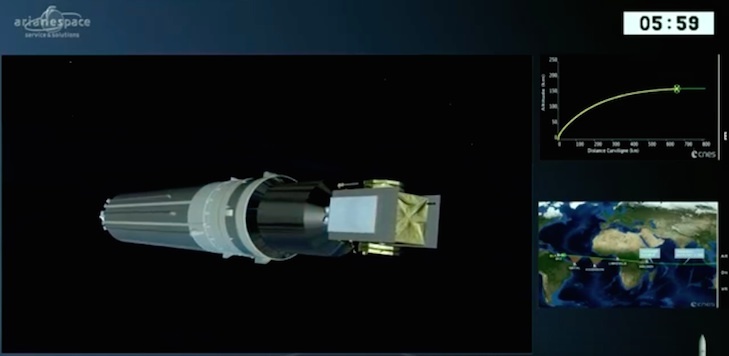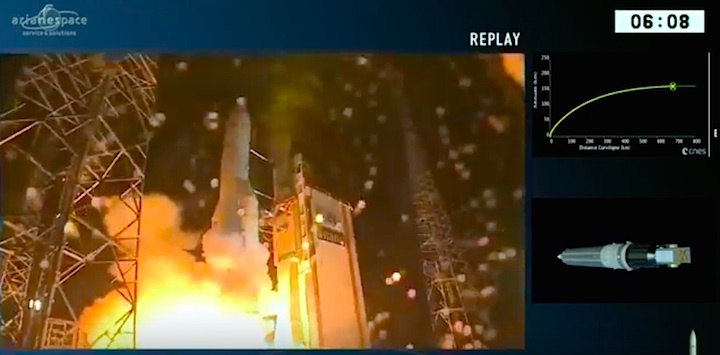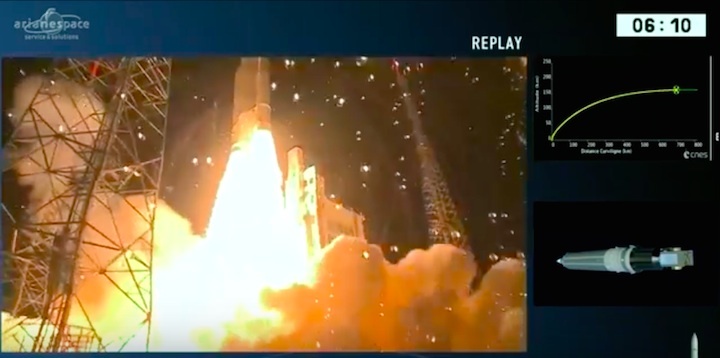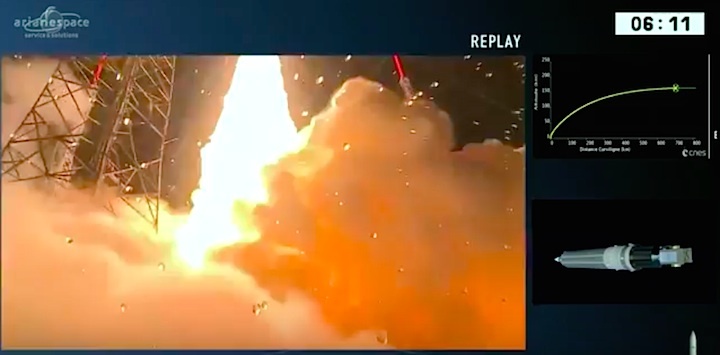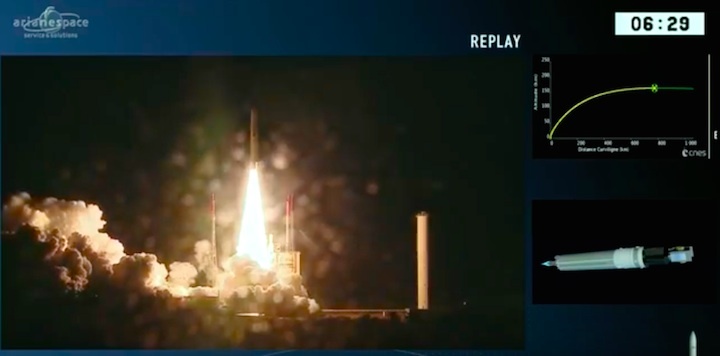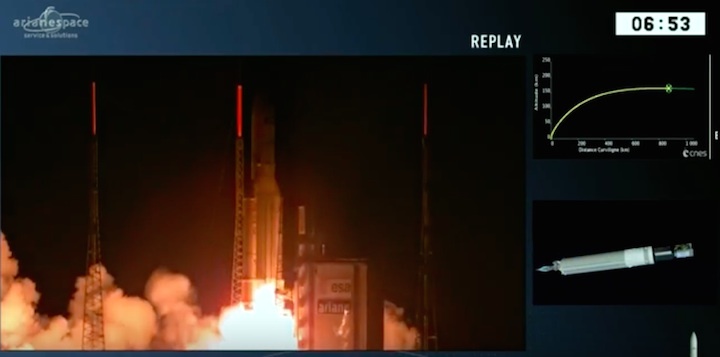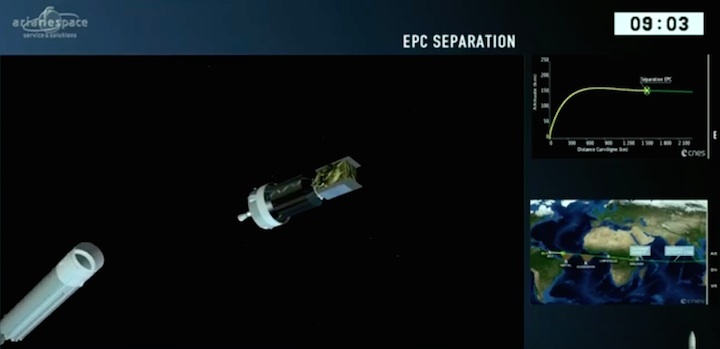 Quelle: arianespace