29.12.2016
NASA Preps for Space Station Power Upgrade Spacewalks; Live NASA TV Coverage
Expedition 50 astronauts will venture outside the International Space Station at 7 a.m. EST Jan. 6 and 13 to perform a complex upgrade to the orbital outpost's power system. Coverage of the spacewalks will begin at 5:30 a.m. on NASA Television and the agency's website.
On Wednesday, Jan. 4, NASA TV will air a briefing at 2 p.m. from the agency's Johnson Space Center in Houston to preview the spacewalk activities. The briefing participants are:
Kenneth Todd, International Space Station Operations Integration Manager

Jud Frieling, flight director for Jan. 6 spacewalk

Gary Horlacher, flight director for Jan. 13 spacewalk

Troy McCracken, lead battery replacement robotics officer

Kieth Johnson, lead spacewalk officer
Media may attend the briefing at Johnson or ask questions by calling the Johnson newsroom at 281-483-5111 no later than 1:45 p.m. Jan. 4.
Working on the right side truss of the space station, the crew members will install adapter plates and hook up electrical connections for six new lithium-ion batteries that were delivered to the station in December.
Expedition 50 Commander Shane Kimbrough and Flight Engineer Peggy Whitson of NASA will perform the first spacewalk Jan. 6. The work will continue Jan. 13 during the second spacewalk, which will be conducted by Kimbrough and Flight Engineer Thomas Pesquet of ESA (European Space Agency).
Prior to each spacewalk, the new batteries will be robotically extracted from a pallet to replace 12 older nickel-hydrogen batteries through a series of robotic operations. Nine of the older batteries will be stowed in a cargo resupply craft for later disposal, while three will remain on the station's truss, disconnected from the power grid. The robotic operations will not air on NASA TV.
This will be the 196th and 197th spacewalks in support of space station assembly and maintenance. Kimbrough will be designated extravehicular crew member 1 (EV 1), wearing the suit bearing red stripes for both spacewalks, the third and fourth of his career.
Whitson will be making the seventh spacewalk of her career and match the record of NASA's Suni Williams, for most spacewalks by a woman. She will be designated extravehicular crew member 2 (EV 2), wearing the suit with no stripes for the first spacewalk.
Pesquet, who will be making the first spacewalk of his career, will be extravehicular crew member 2 for the second spacewalk, also wearing a suit with no stripes.
Quelle: NASA
-
Update: 8.01.2017
.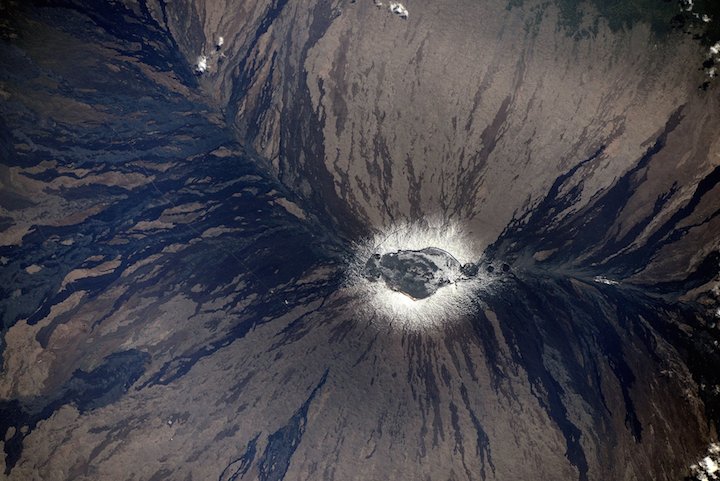 Ever looked straight into a volcano… from space? #Hawaii's Mauna-Loa volcano with snow on top & lava flow patterns on its slopes. #Proxima
-
Update: 9.01.2016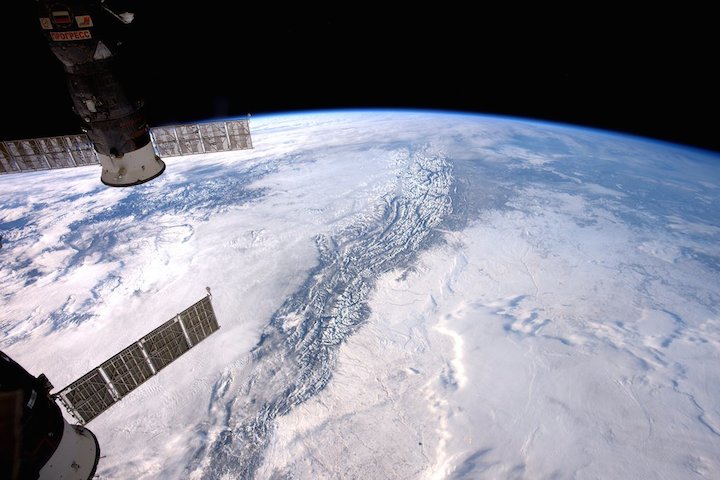 The Rocky mountains are a step too high – even for the clouds to cross
-
Update: 12.01.2017
.
Expedition 50 Astronauten Shane Kimbrough und Thomas Pesquet sind bereit für den zweiten Spacewalk ihrer Mission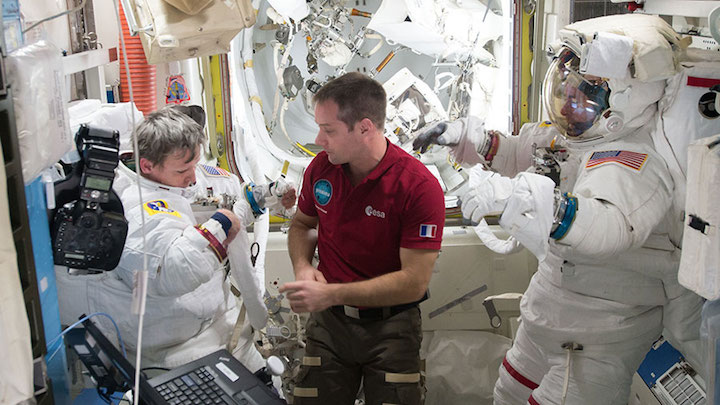 Expedition 50 astronauts Shane Kimbrough and Thomas Pesquet are ready for their mission's second spacewalk that starts Friday at 7 a.m. EST. The duo will wrap up power maintenance work to connect new lithium-ion batteries and install adapter plates. Kimbrough and NASA astronaut Peggy Whitson started that work last Friday during a six-hour, 32-minute spacewalk.
Both spacewalks complement the ongoing robotics work that started at the end of December. Ground controllers have been remotely-operating the Canadarm2 robotic arm and Dextre robotic hand to remove and stow the old nickel-hydrogen batteries and the install the new batteries.
The three cosmonauts have been staying focused on their set of Russian space research and lab maintenance. Station veterans Andrey Borisenko and Oleg Novitskiy collected blood samples for a pair human research studies looking at bone loss and stress responses caused by living in space. First-time station resident Sergy Ryzhikov explored chemical reactions caused by jet engine exhaust in the Earth's upper atmosphere.
Quelle: NASA
-
Update: 13.01.2017
.
Frams von NASA-TV LIVE von EVA / 13.30 MEZ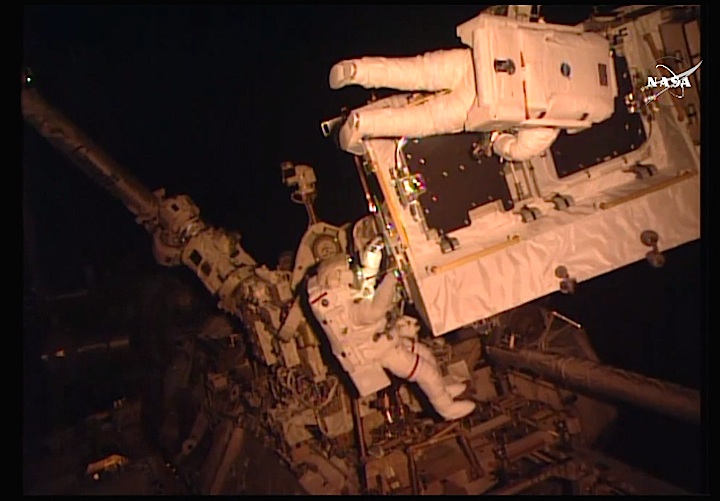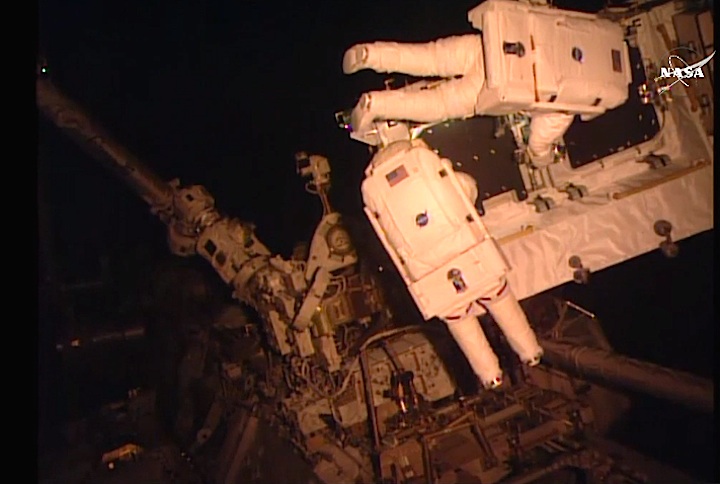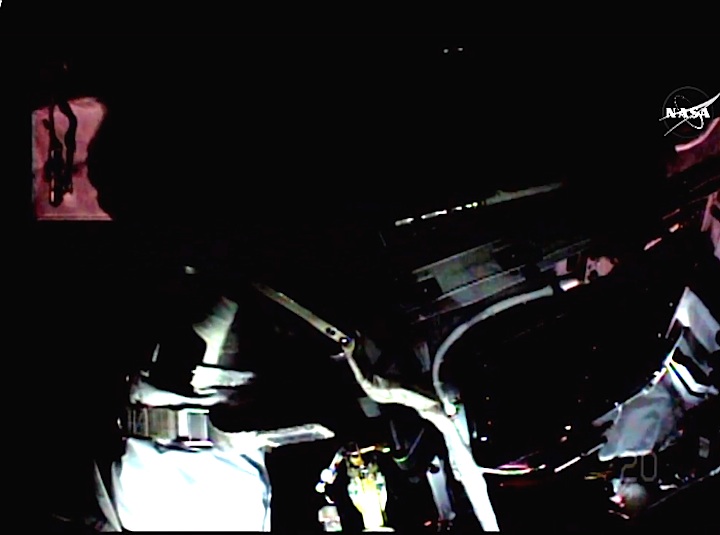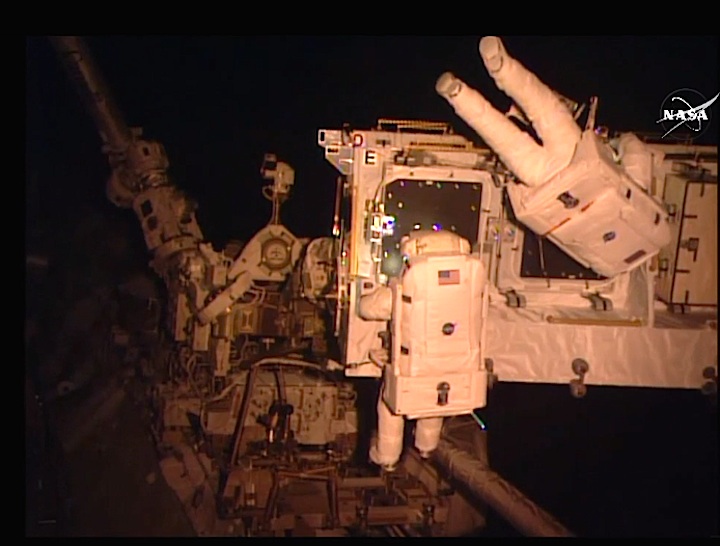 ...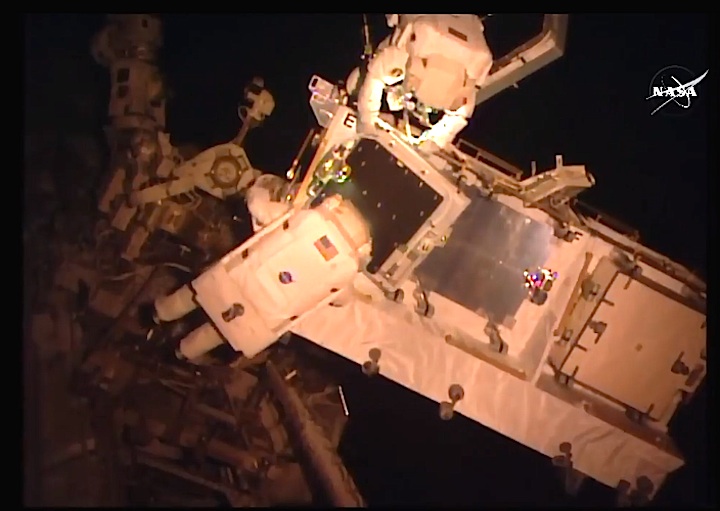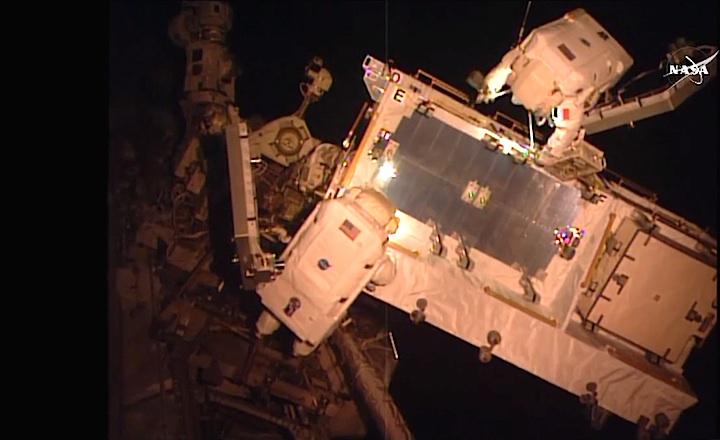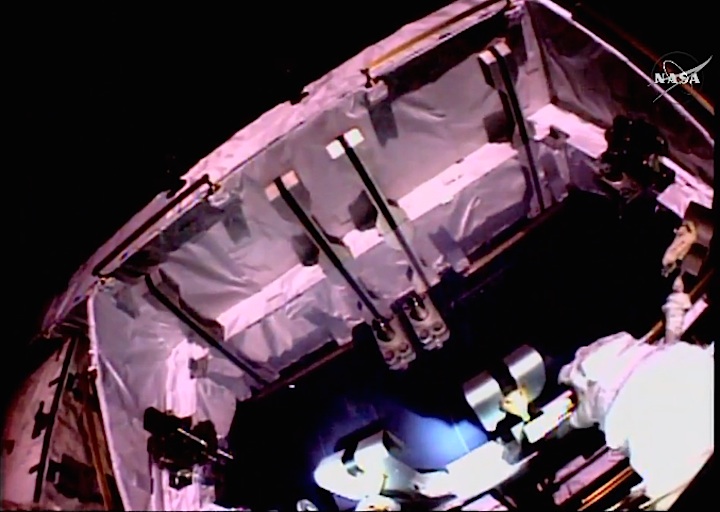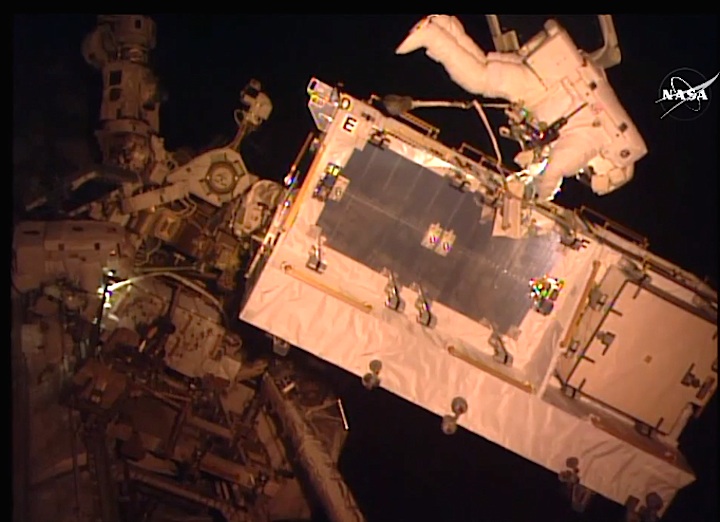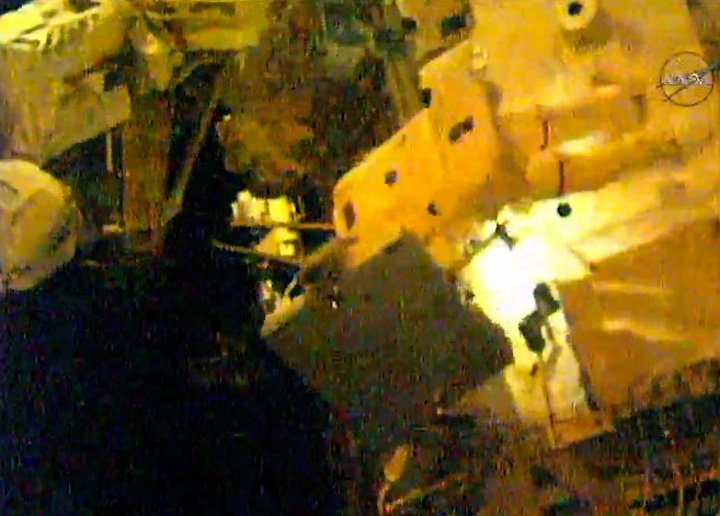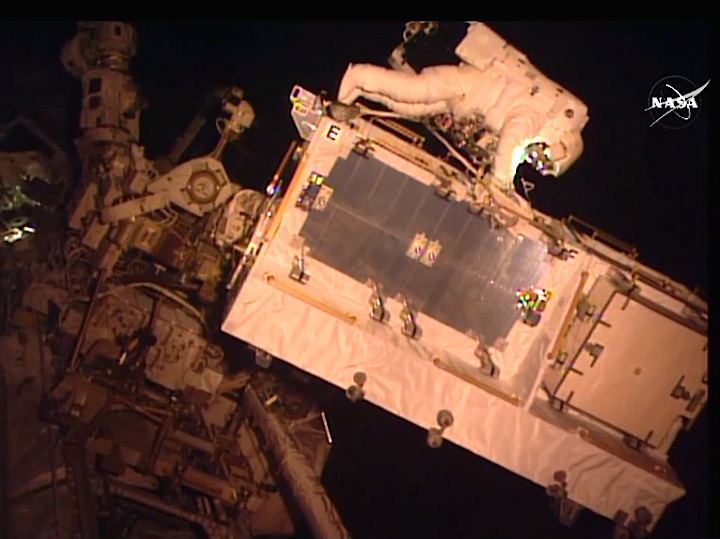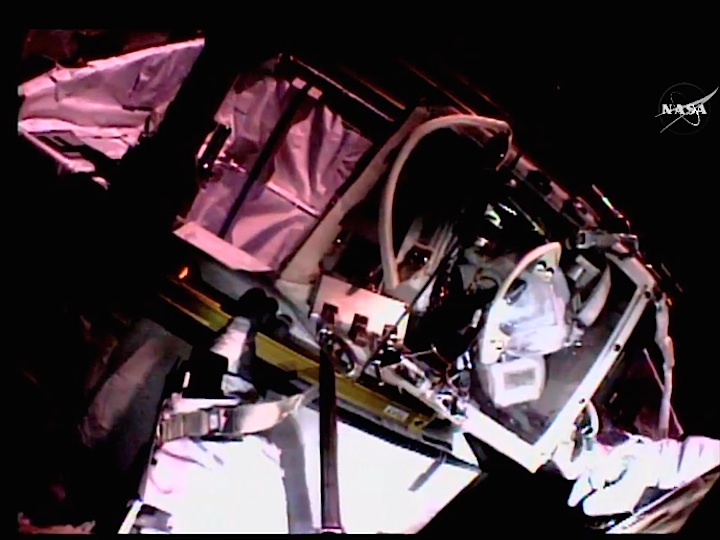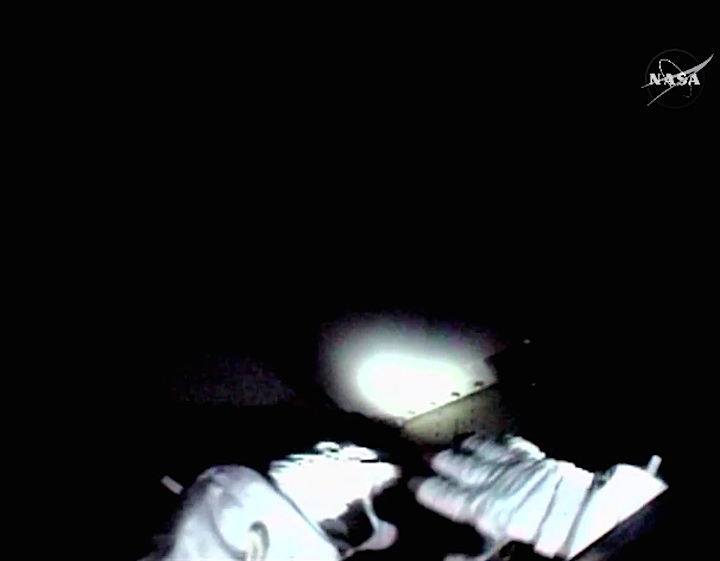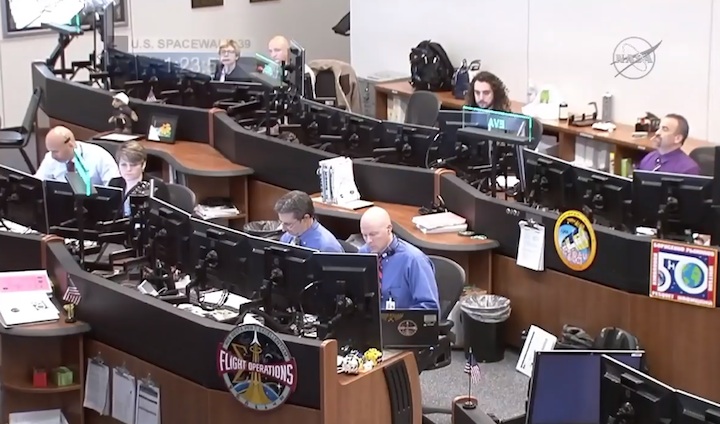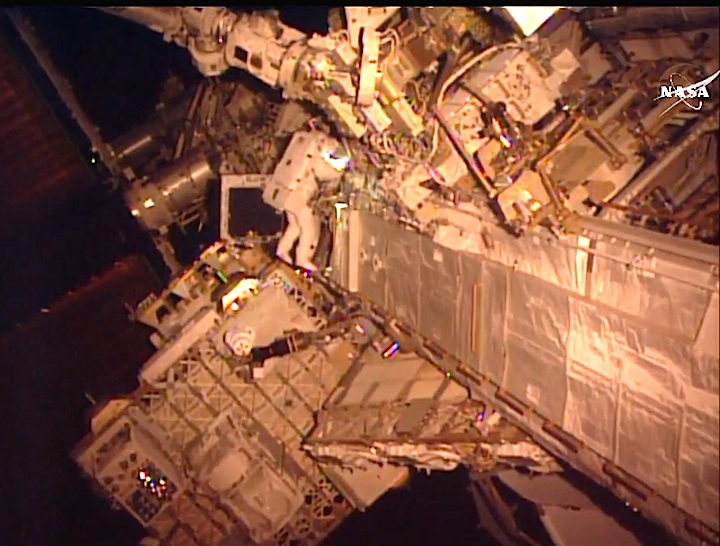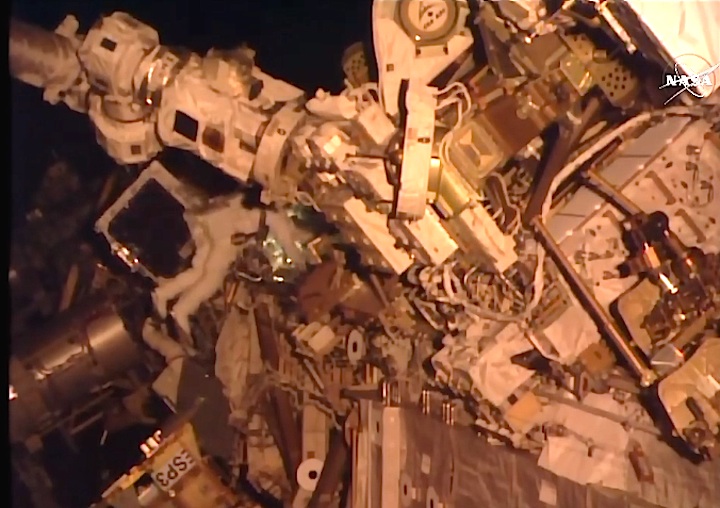 ...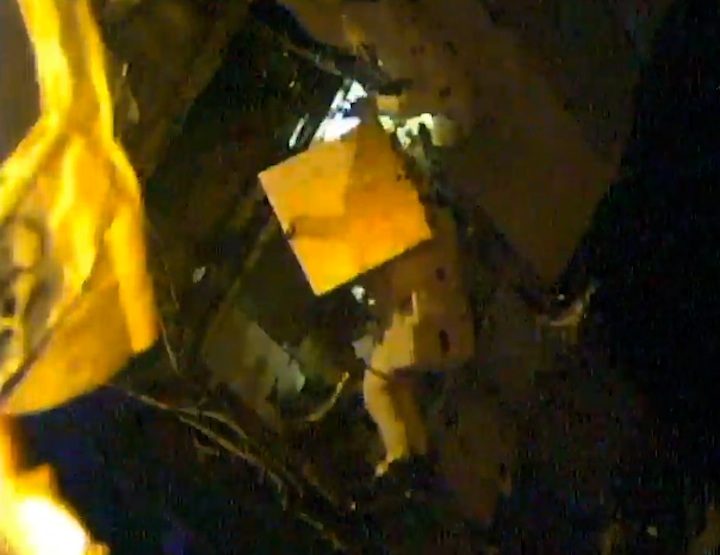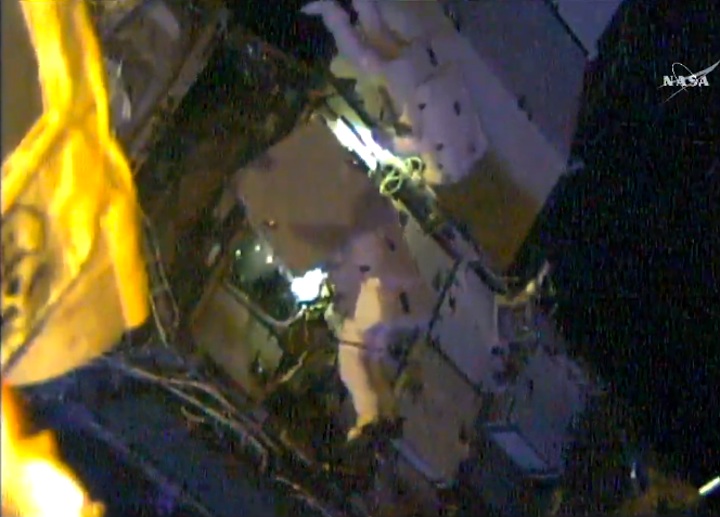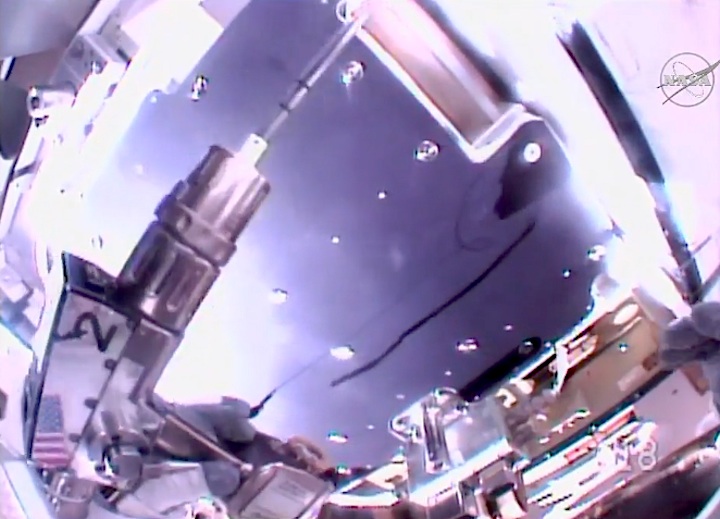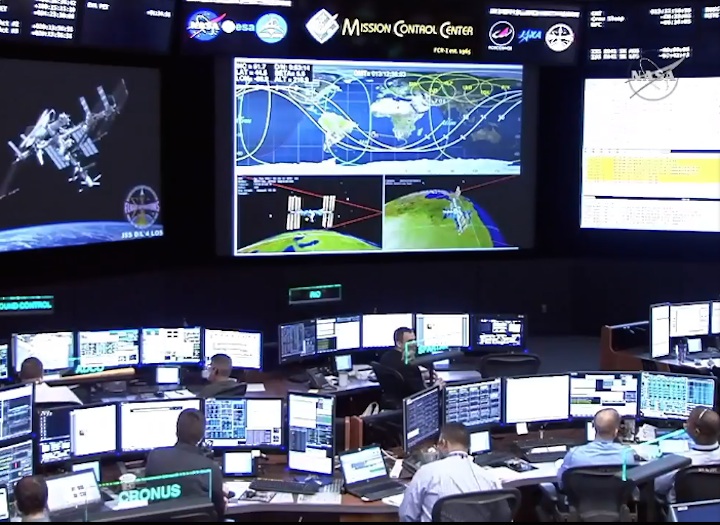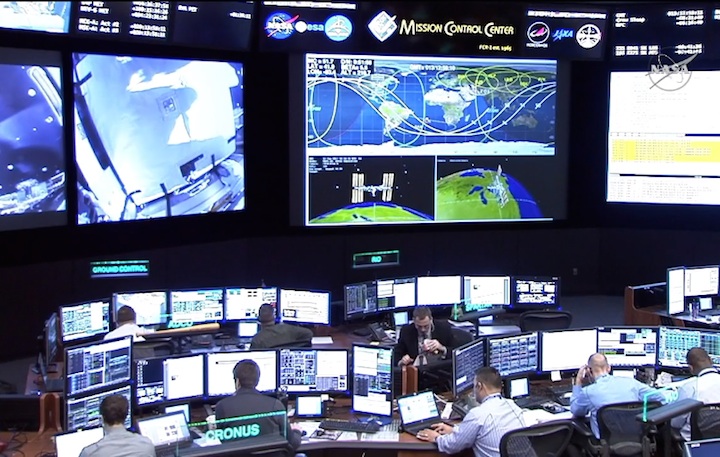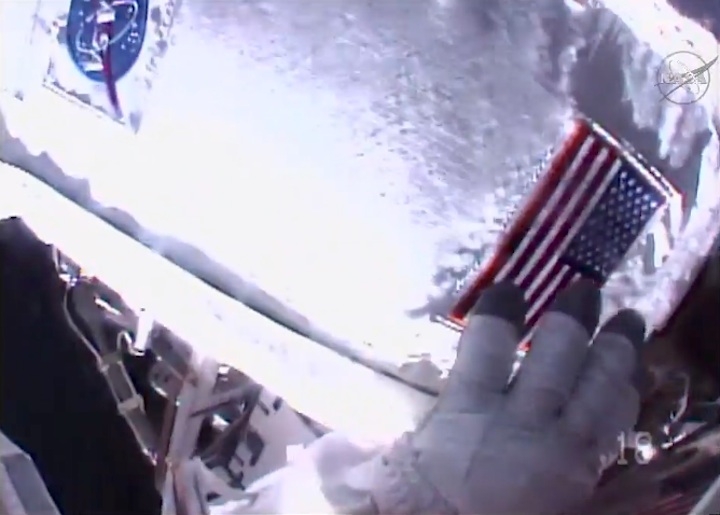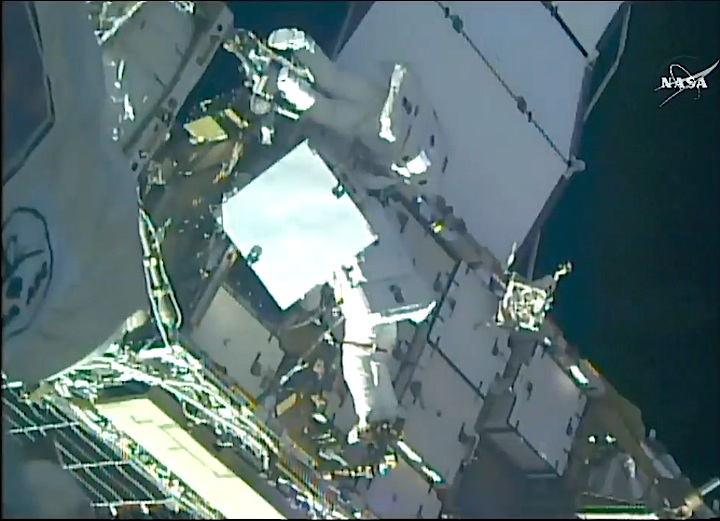 ...14.30 MEZ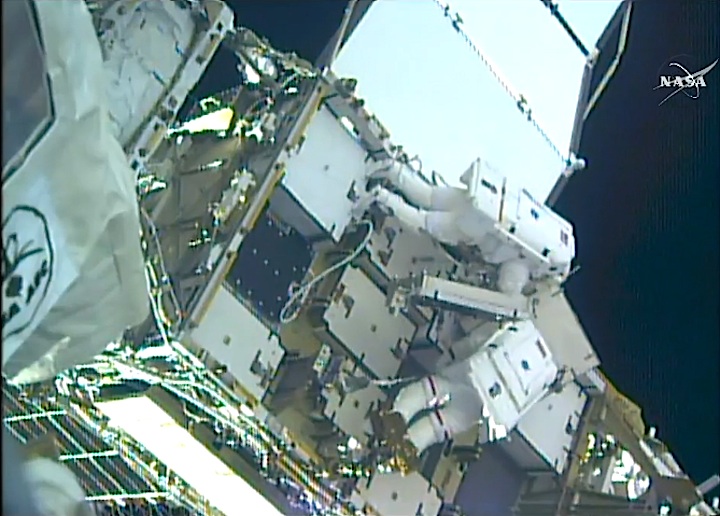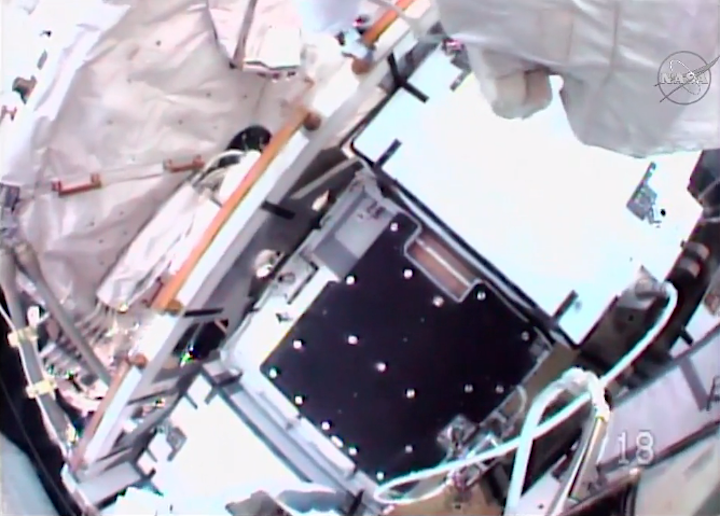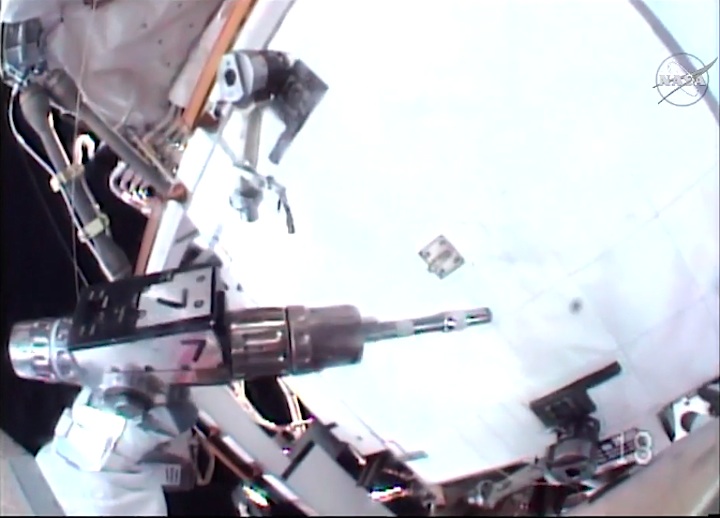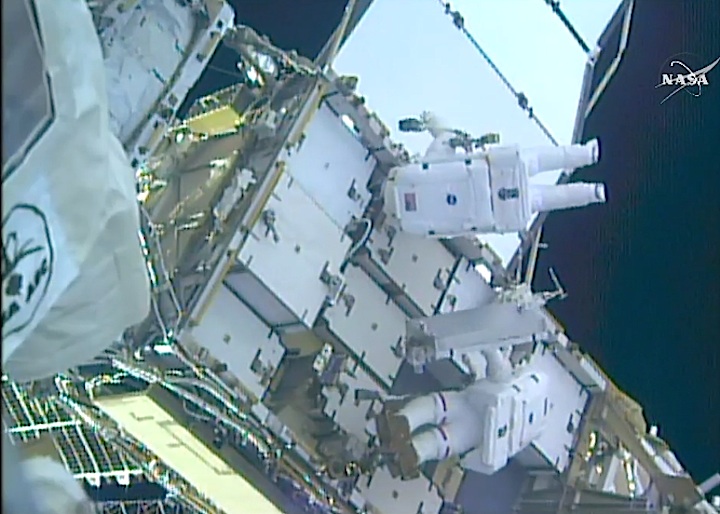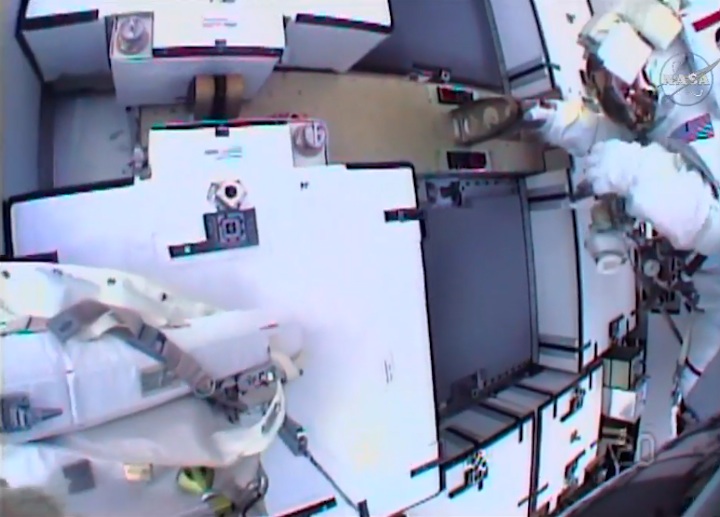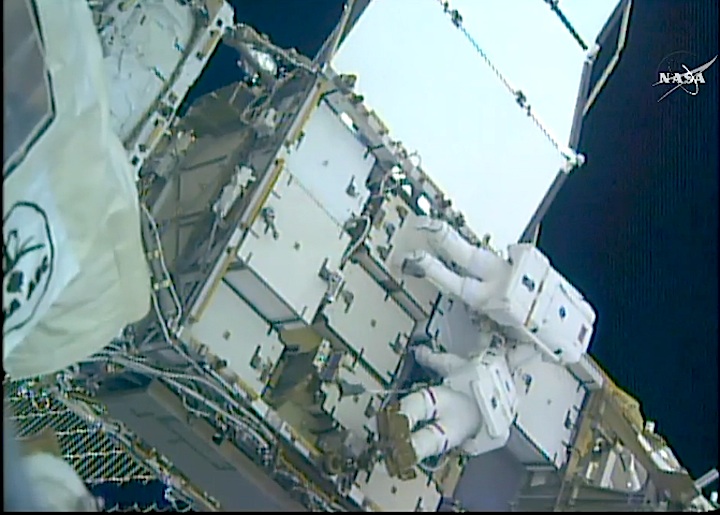 ...14.40 MEZ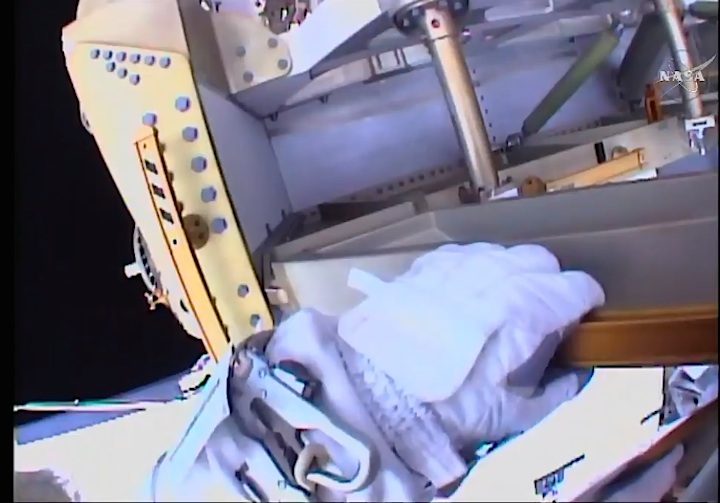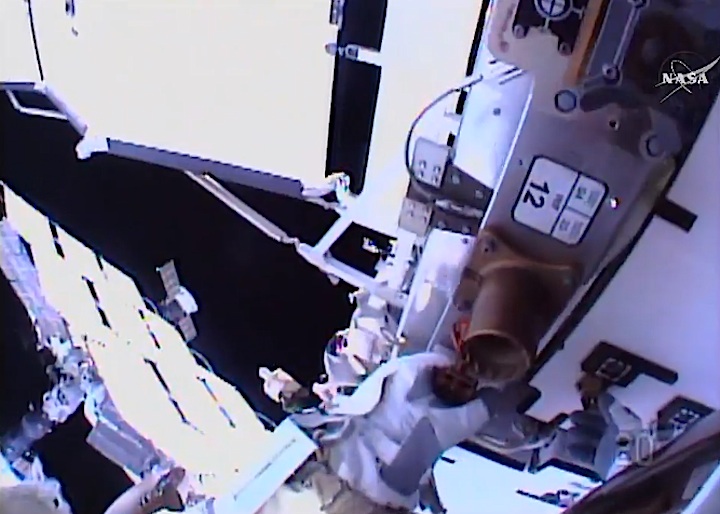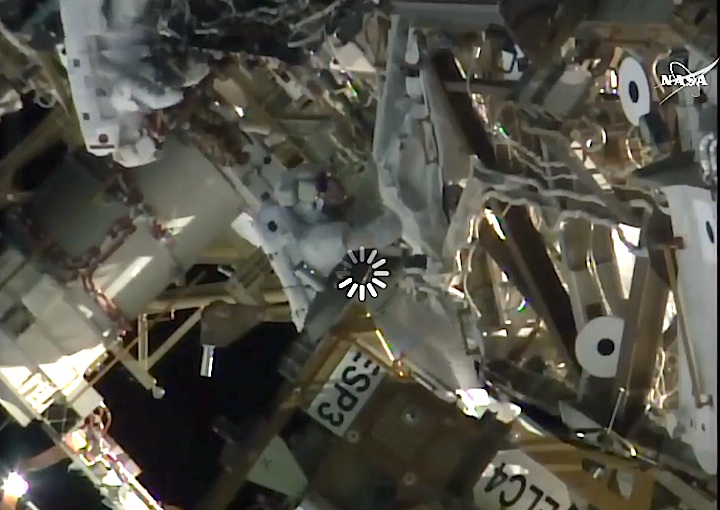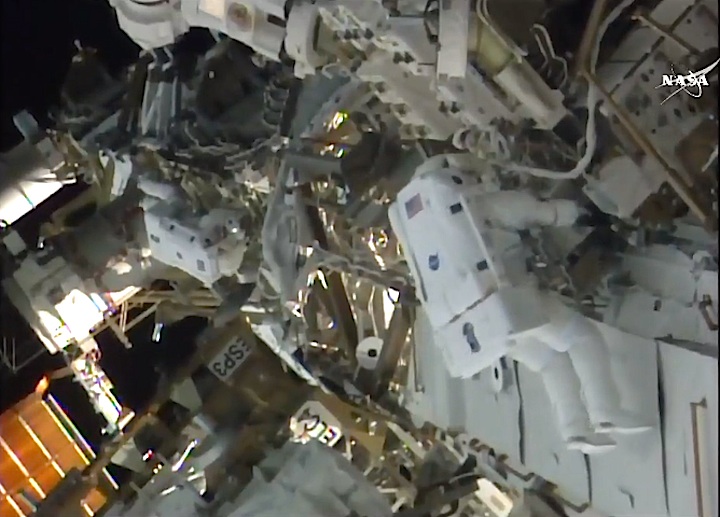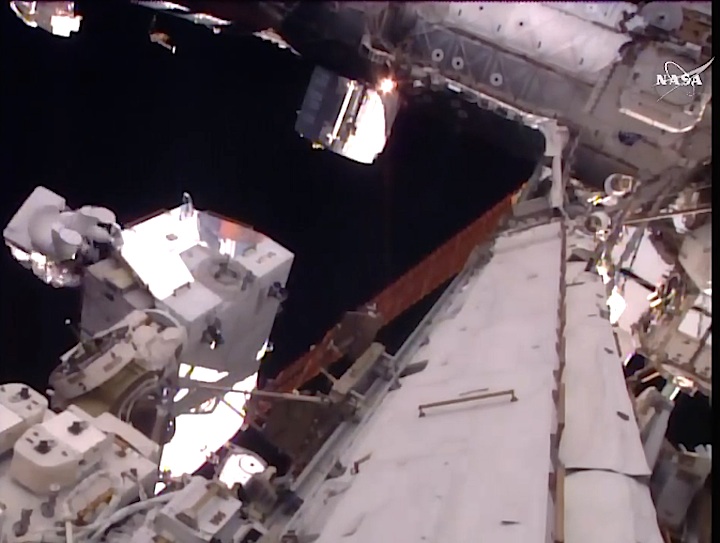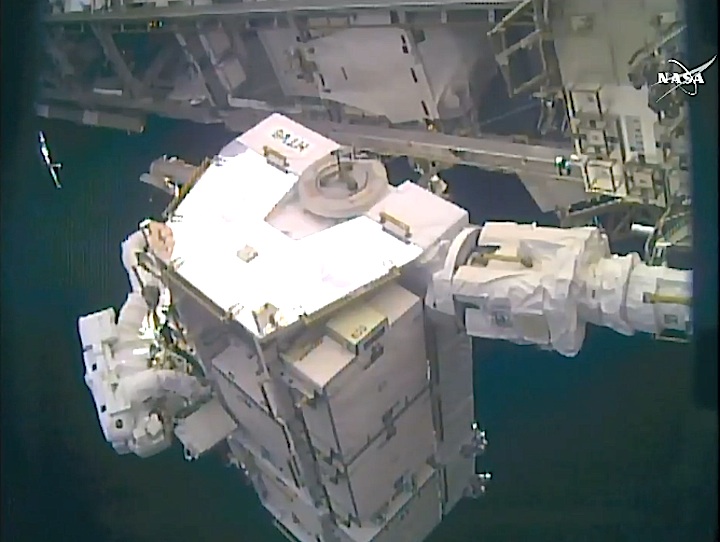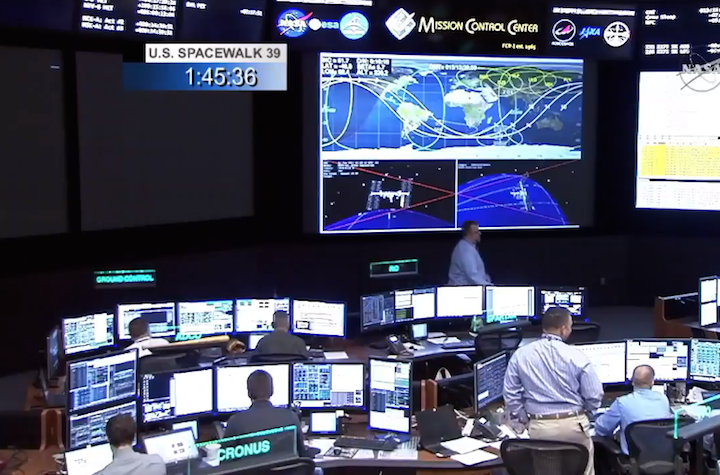 ...15.00 MEZ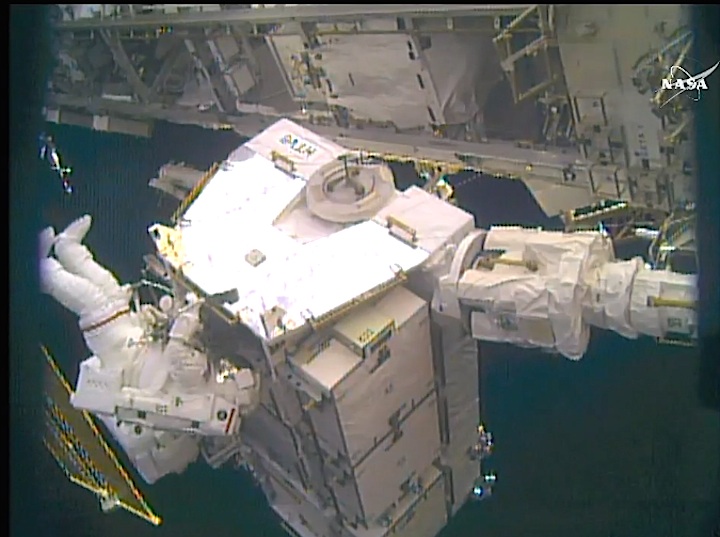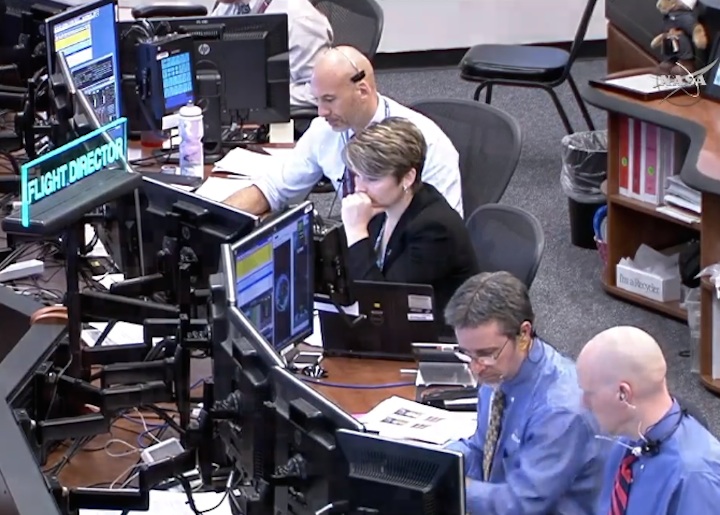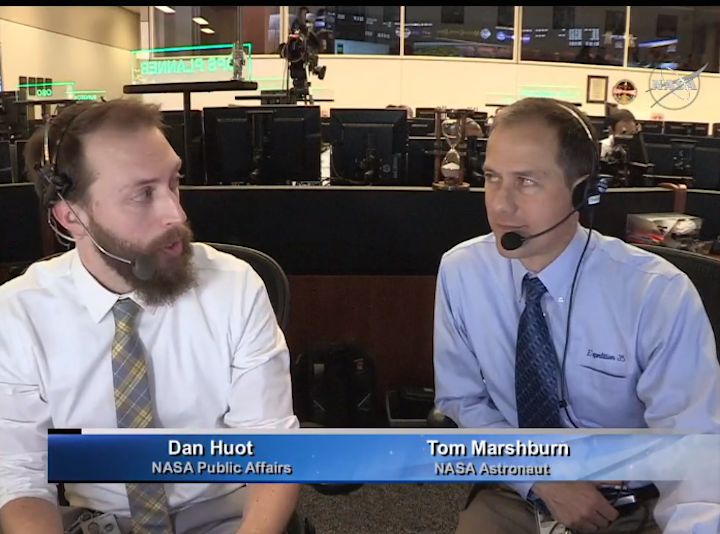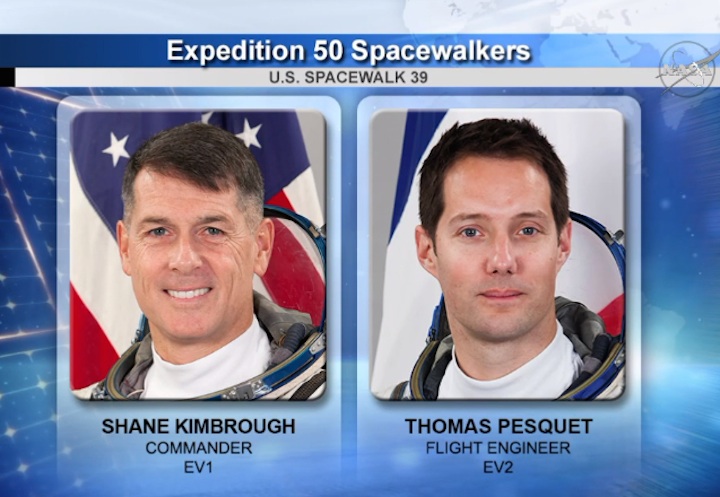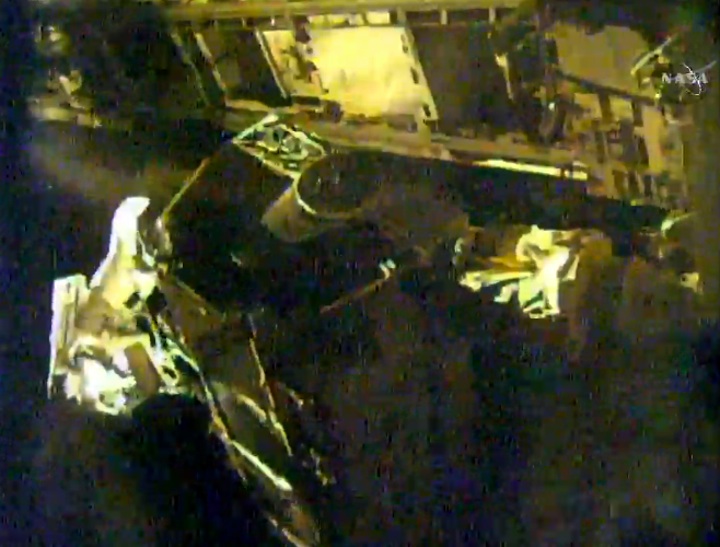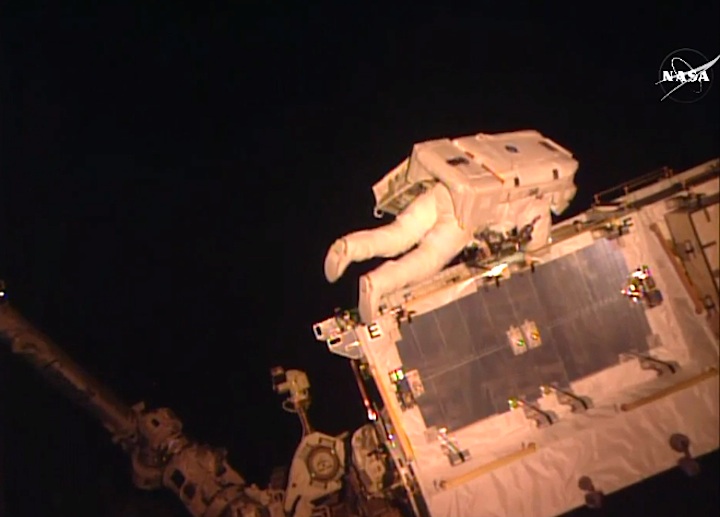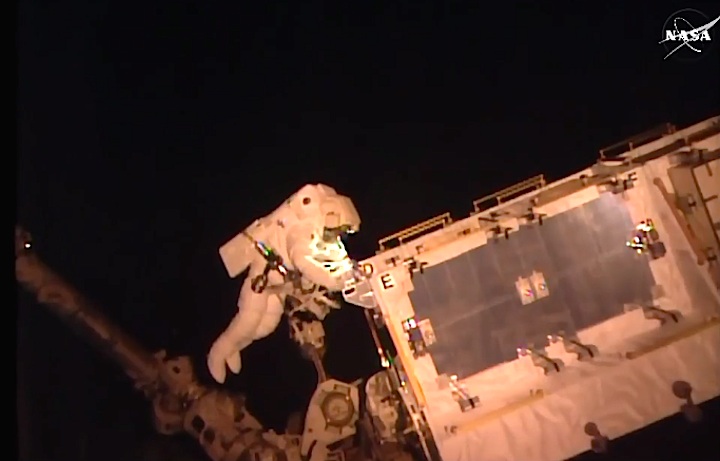 ...16.10 MEZ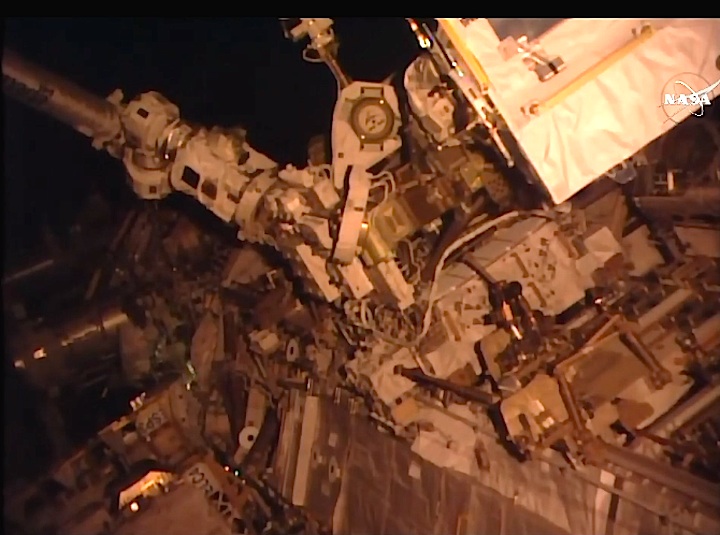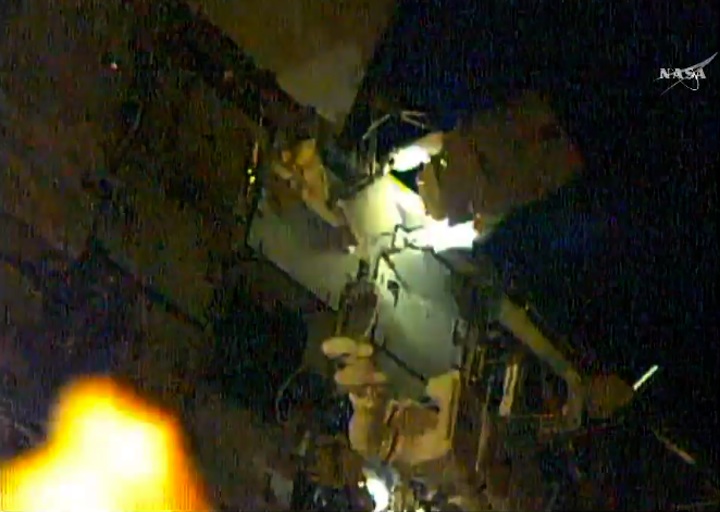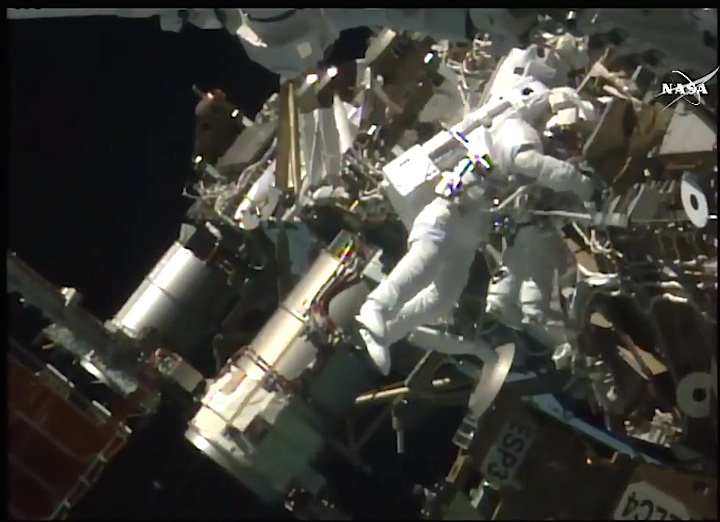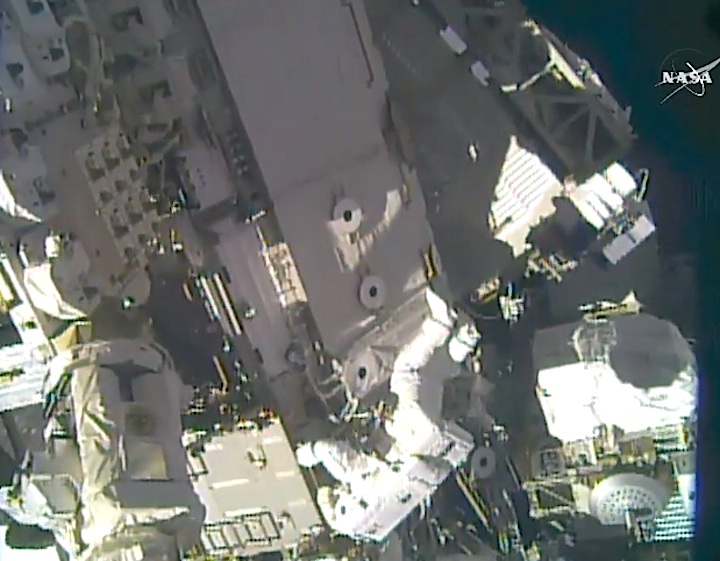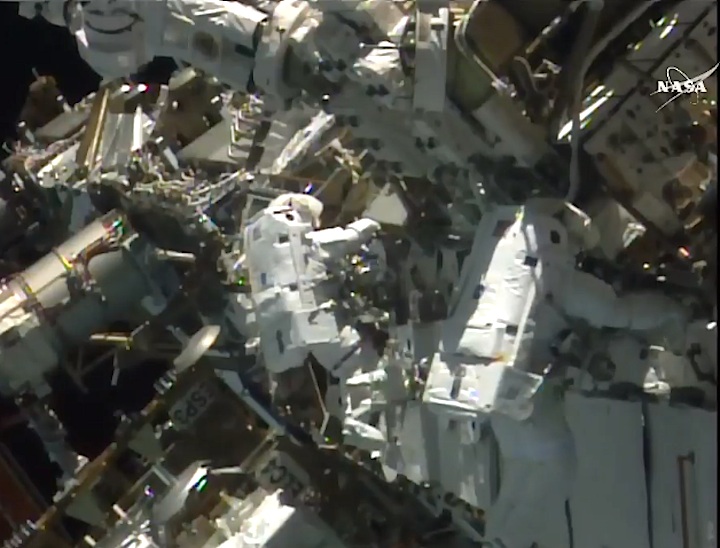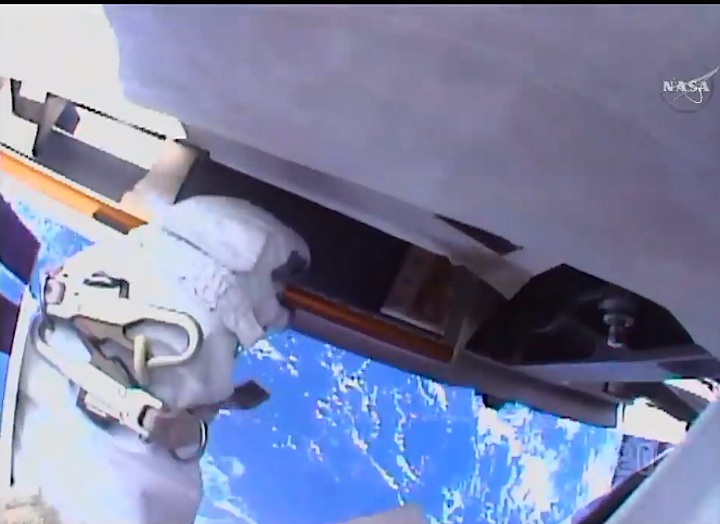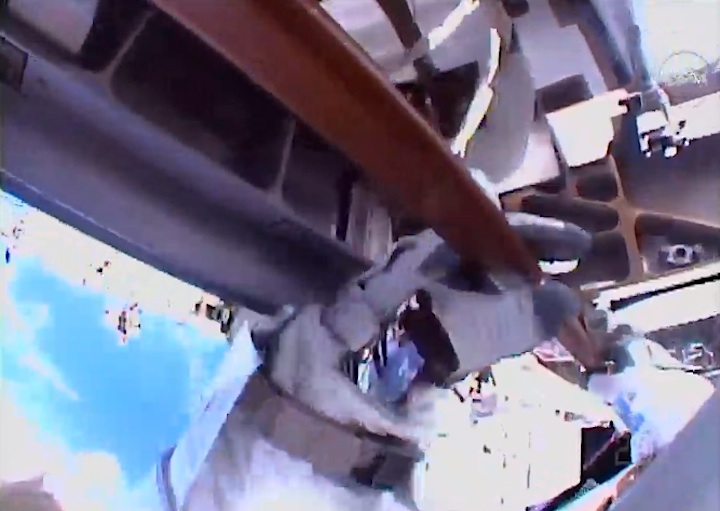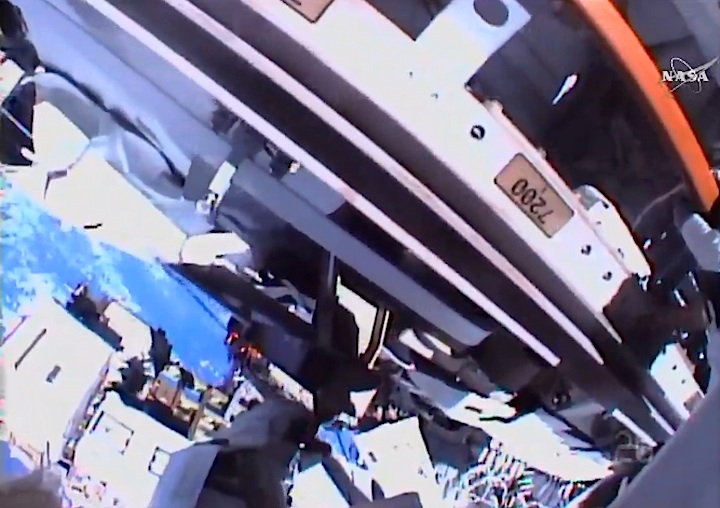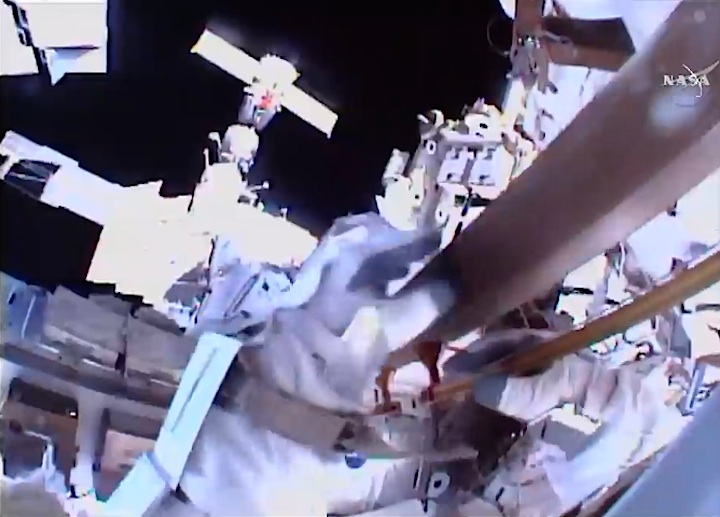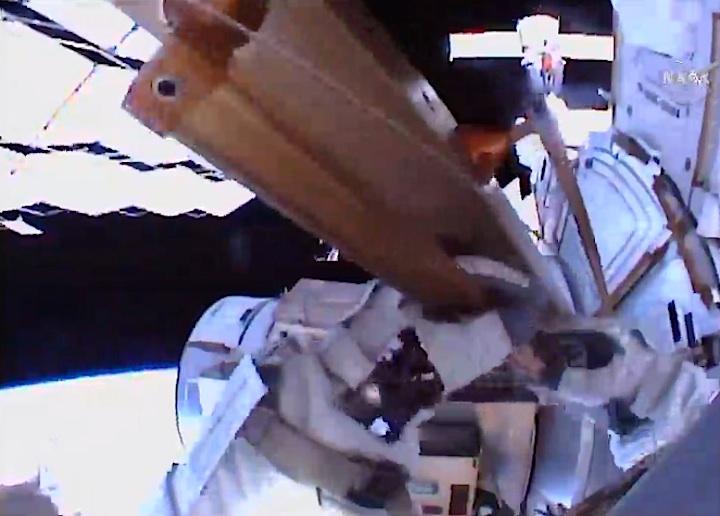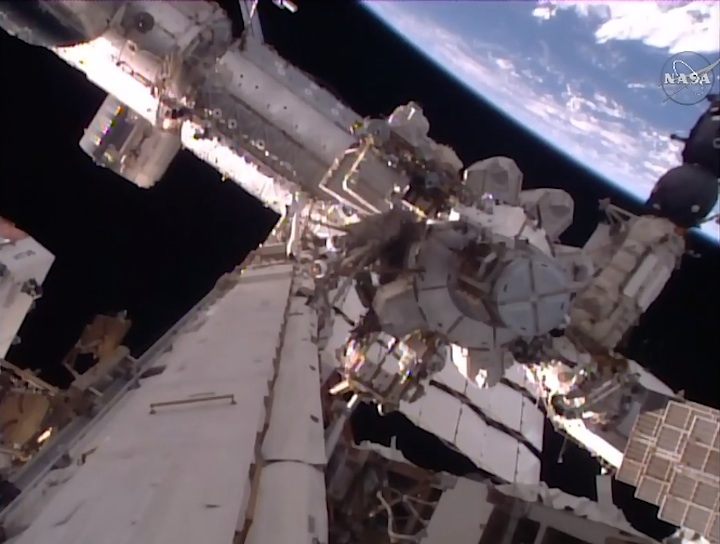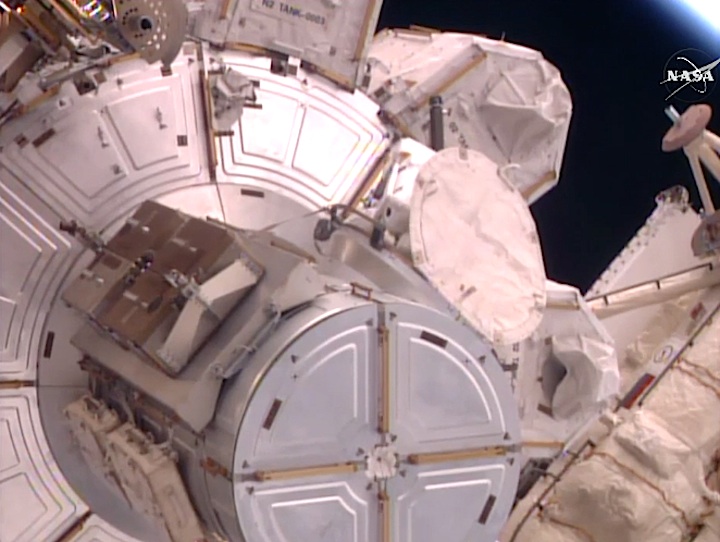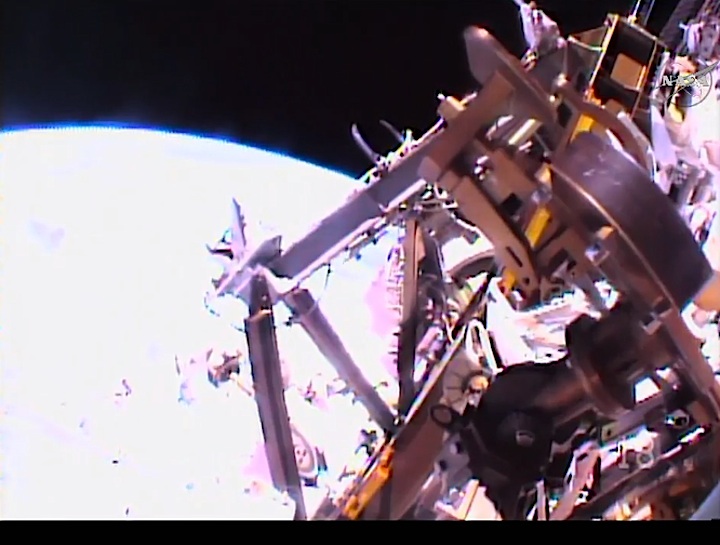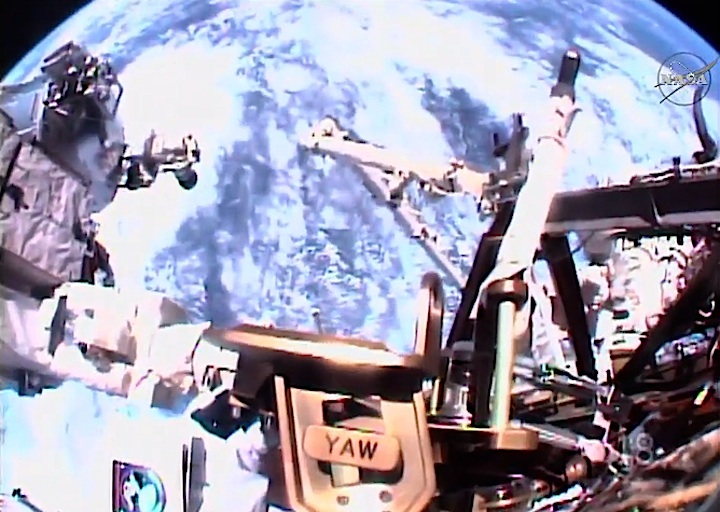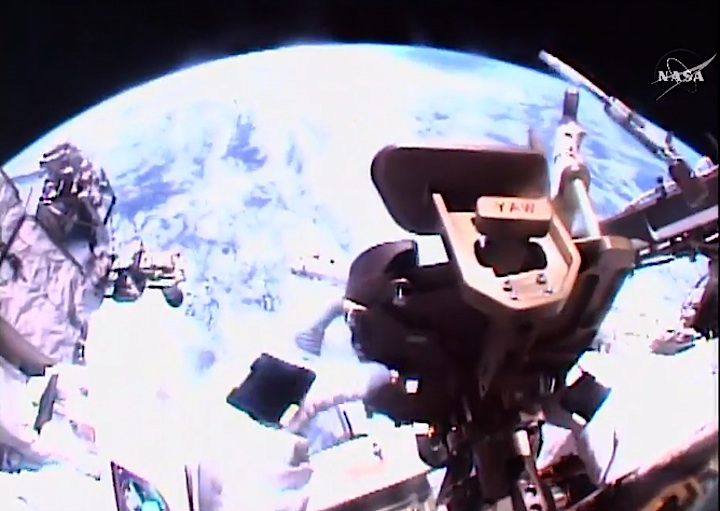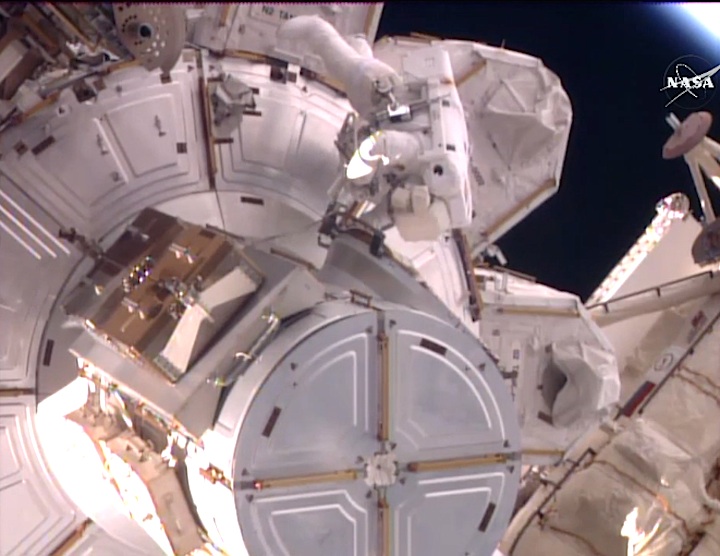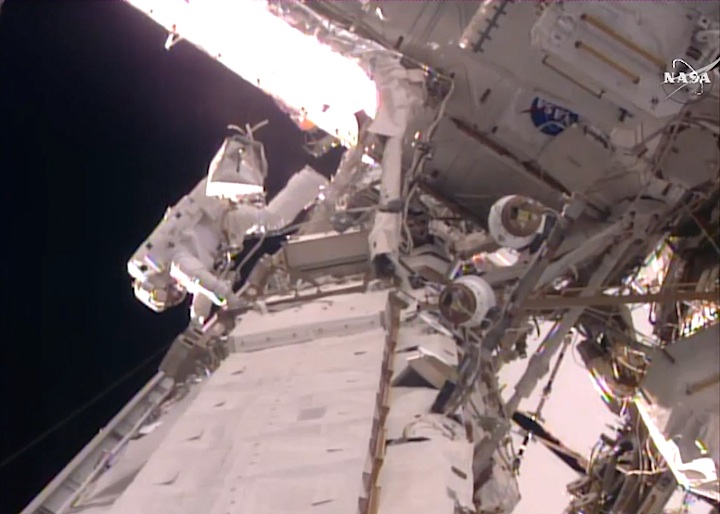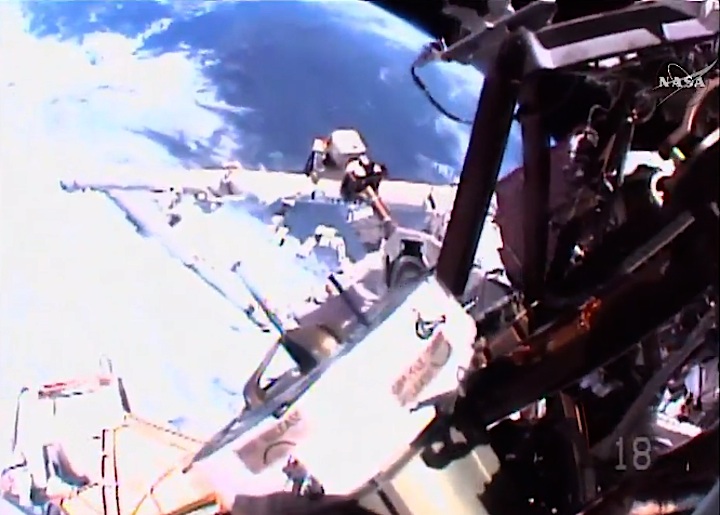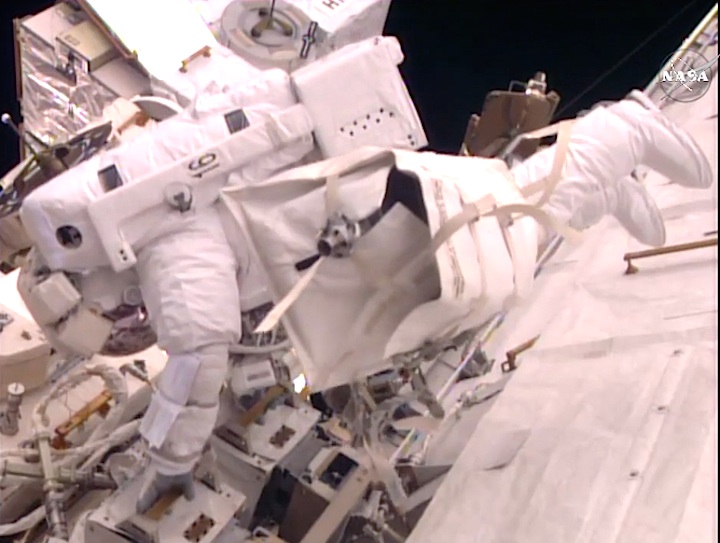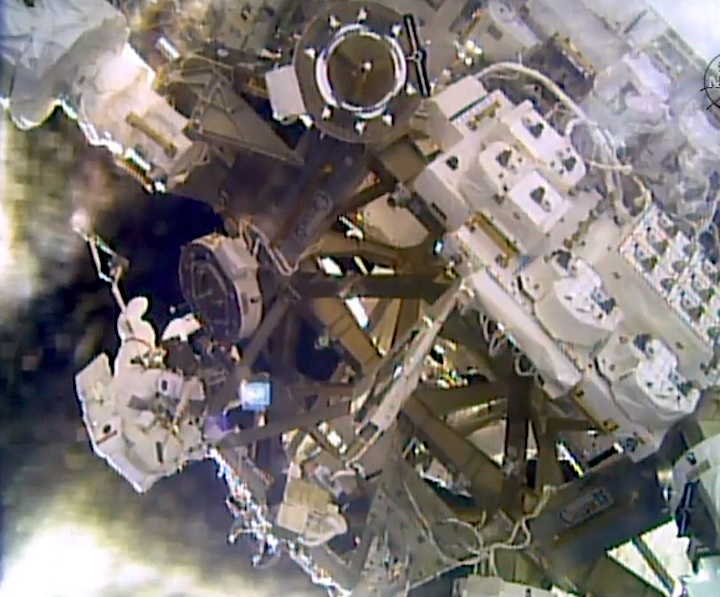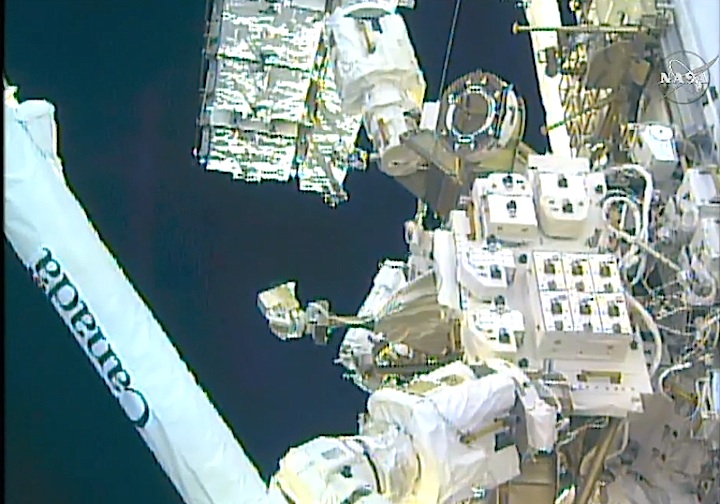 ...18.15 MEZ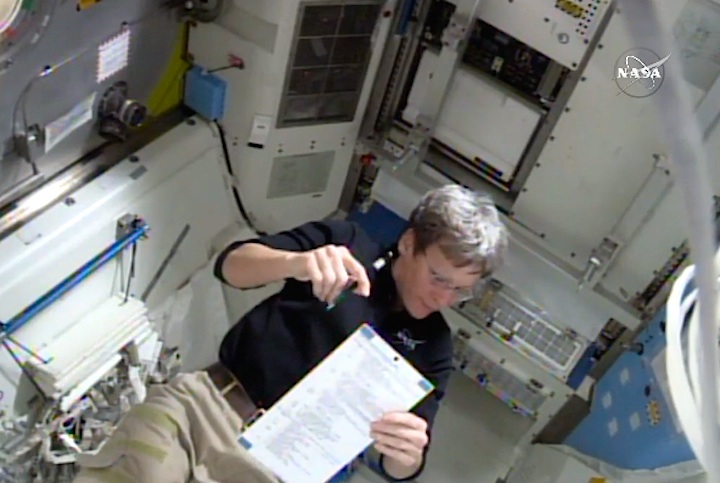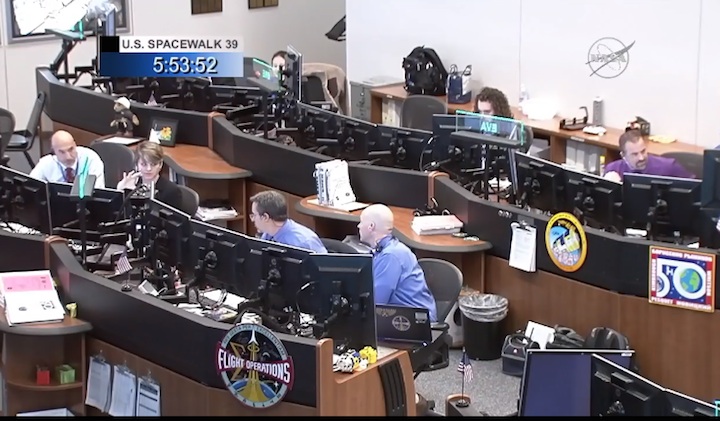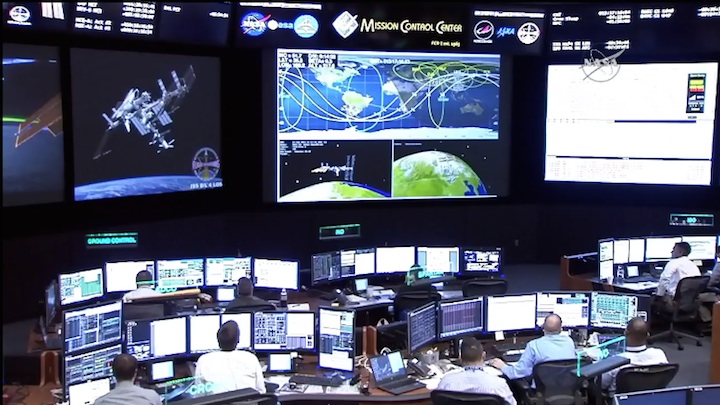 ...18.45 MEZ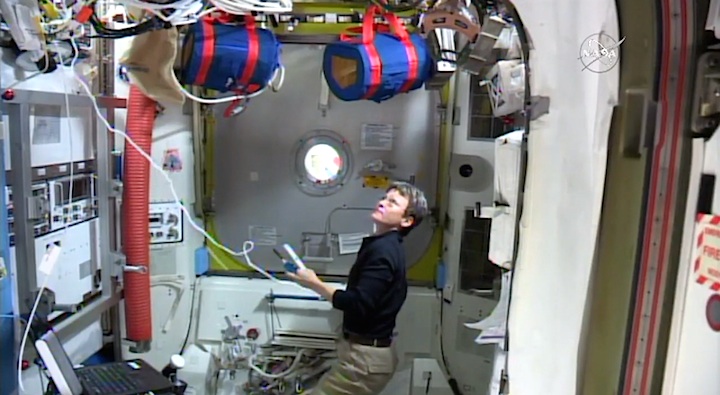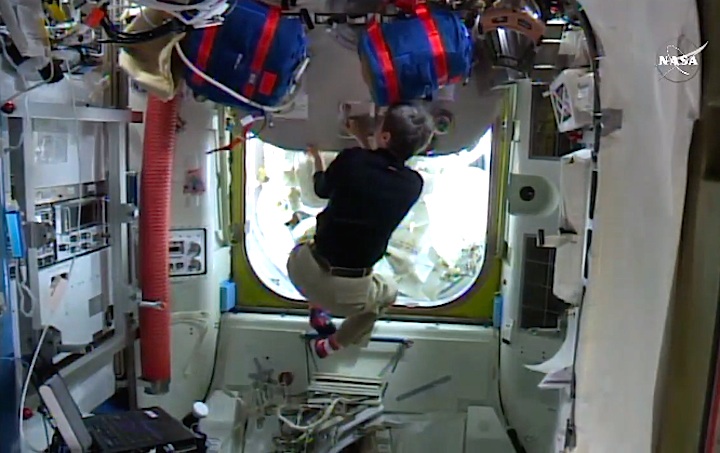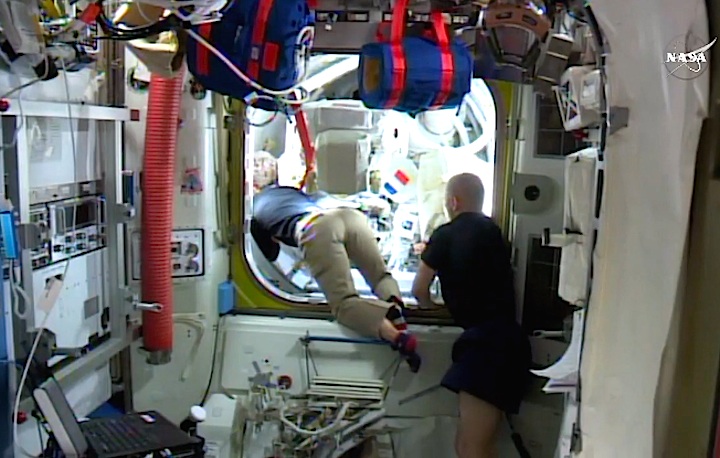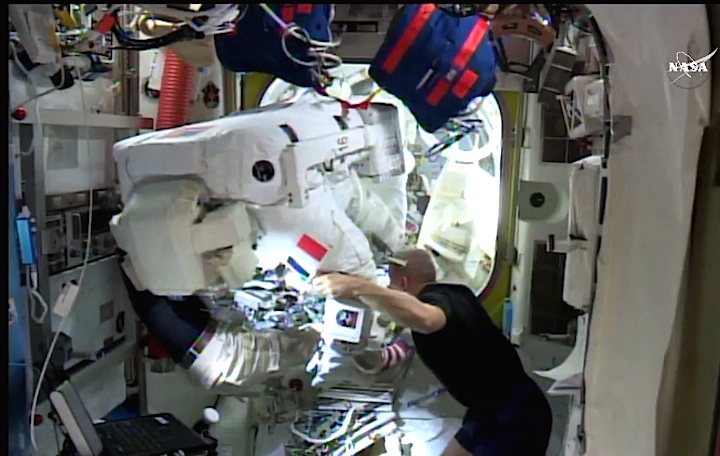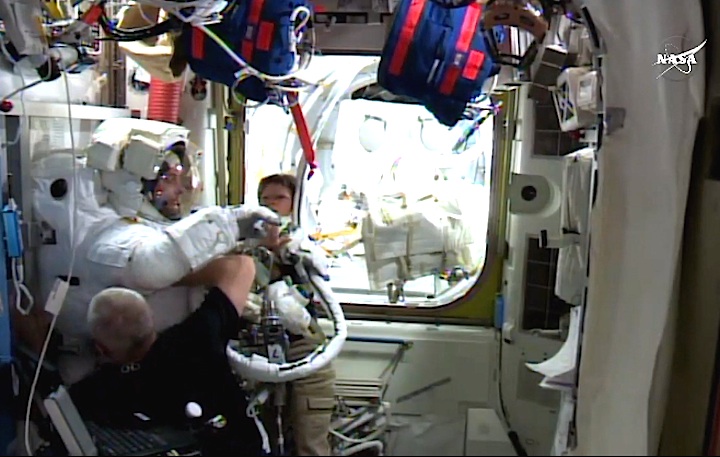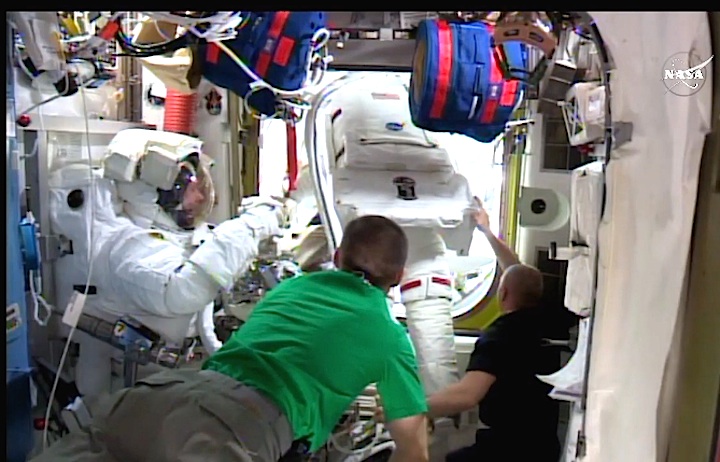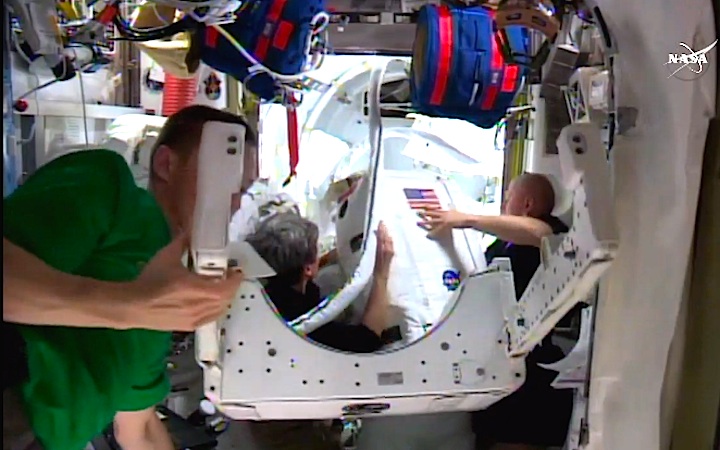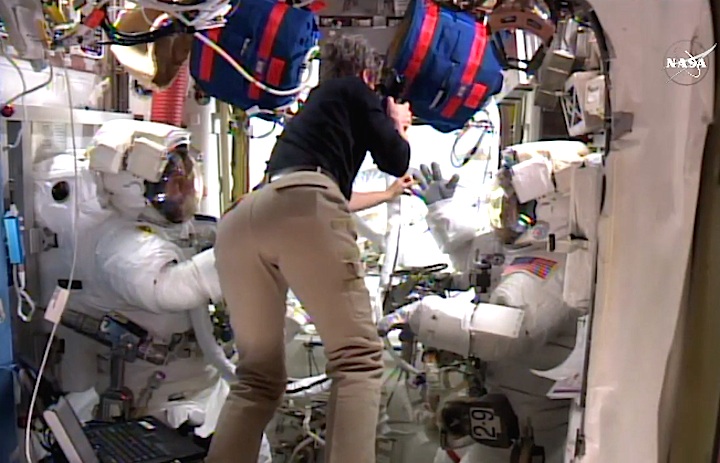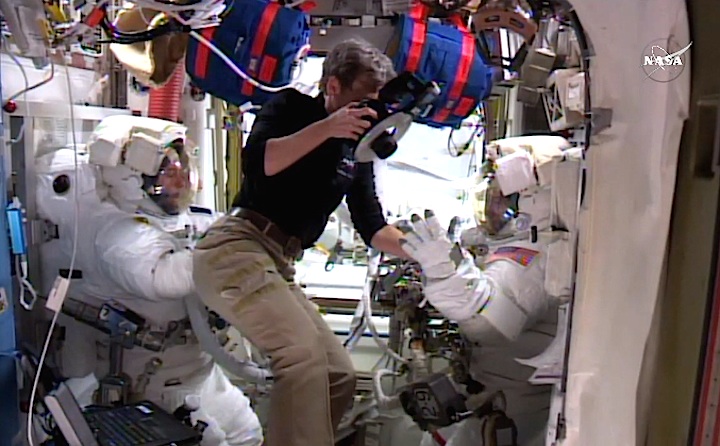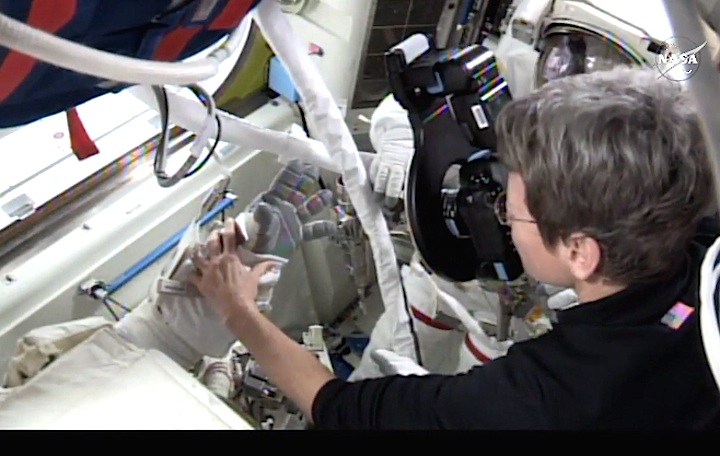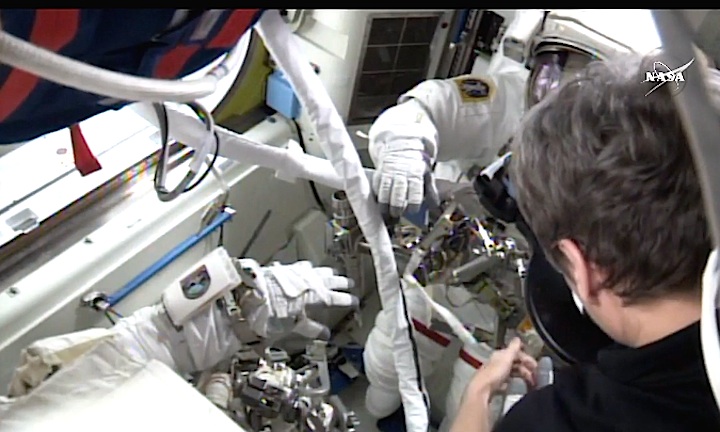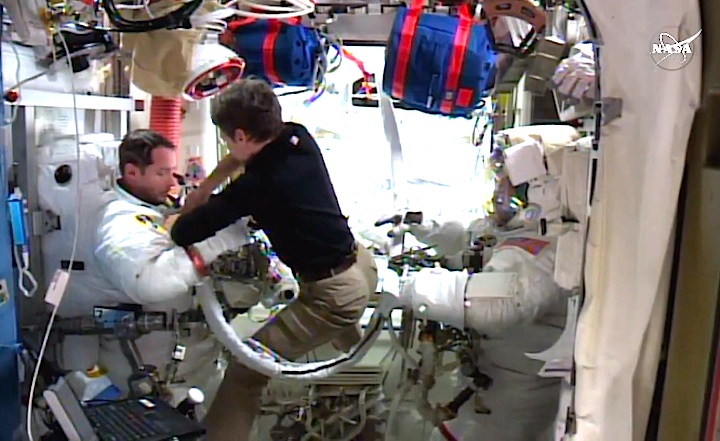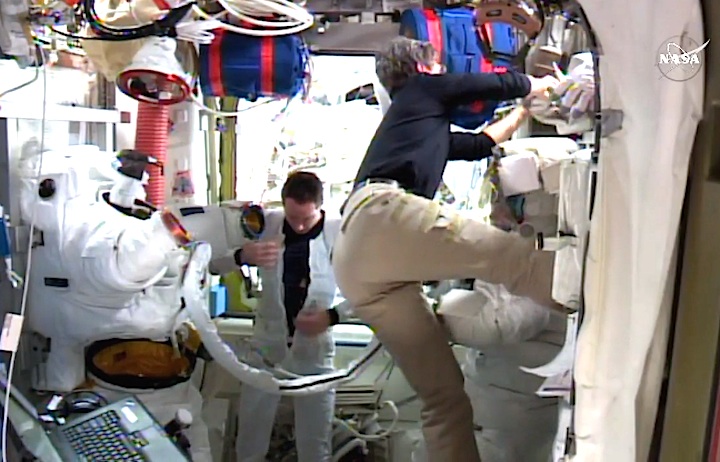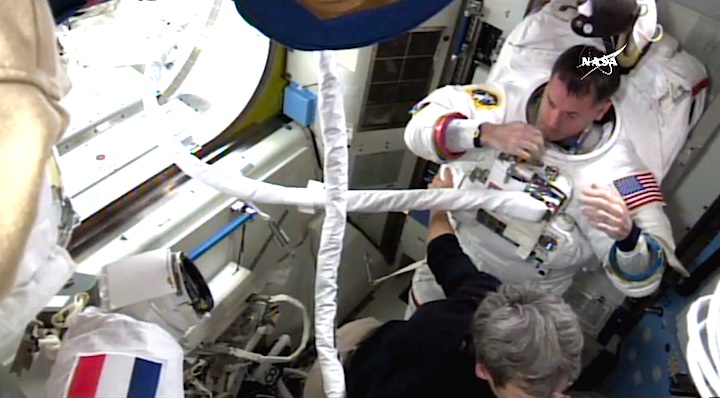 Quelle: NASA
-
Update: 14.01.2017
The requisite space selfie! Nice reflection of Earth in the helmet. Unbelievable feeling to be your own space vehicle… #Proxima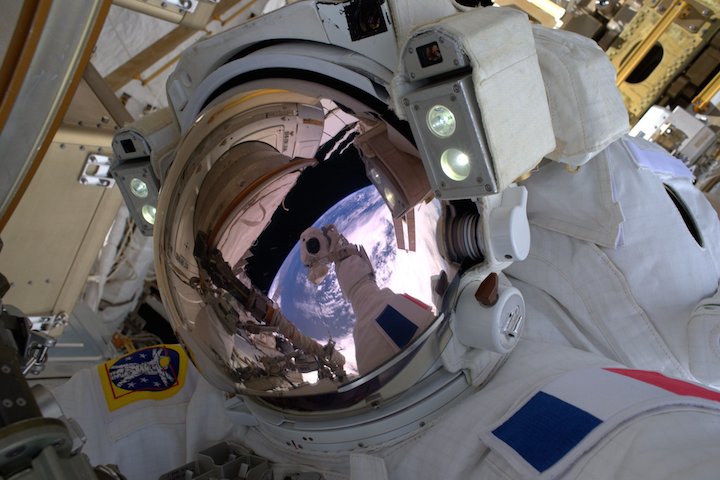 Quelle: ESA
1871 Views