That mysterious "alien megastructure" star is still a mystery, but the most plausible explanations appear to be dense patches of interstellar gas or dust that just happened to pass in front of the star.
That's the upshot of analyses conducted by the astronomer who first raised the idea of an extraterrestrial construction project a year ago.
In the Astrophysical Journal Letters, Penn State's Jason Wright and a co-author, Steinn Sigurdsson, run through a wide range of hypotheses for the behavior of a star called KIC 8462852, also known as Boyajian's Star or Tabby's Star.
Not even the alien hypothesis is ignored.
The mystery has to do with a strange pattern of erratic dimming and brightening that was observed by NASA's Kepler space telescope. That pattern was noted last September in a study with Yale astronomer Tabetha Boyajian as principal author. (Hence the star's nickname.)
Wright suggested that the dimming could theoretically be caused by shifts in an alien megastructure surrounding the star – perhaps a giant energy-generating Dyson sphere built by an advanced civilization.
Later studies reported that the star, which is located 1,500 light-years from Earth in the constellation Cygnus, had undergone other long-term dips in brightness.
Is it aliens? Wright says the idea is "not completely ruled out, yet" but "very unlikely." In their latest study, Wright and Sigurdsson say stellar observations from the European Space Agency's Gaia satellite could definitively rule out the alien hypothesis or keep it alive.
Many other explanations have been proposed for the observations of Boyajian's Star, including variability in the star, or swarms of comets passing in front of it. But Wright and Sigurdsson favor a scenario in which small-scale density variations crop up in the interstellar medium between us and the star.
Those types of variations – for example, short-lived patches of gas and dust, or small molecular clouds – would have to be rare. "But it turns out rare dense patches are a thing!" Wright says.
Future observations, either of repeated dimming patterns at Boyajian's Star or of similar dimming by other stars, would lend additional support to this hypothesis. The comet swarm hypothesis is also still in the running, plausibility-wise.
For what it's worth, there's talk about even more dramatic patterns of irregular dimming that have been observed in a star called EPIC 204278916.
The observations from Kepler's K2 mission were reported in a paper published last month in the Monthly Notices of the Royal Astronomical Society. The study could bring additional perspective to the debate over Boyajian's Star.
To get the rundown on the full range of hypotheses for Boyajian's Star, including black holes, check out the research paper as well as the AAS Nova update and Wright's analysis on his AstroWright blog.
Quelle: GeekWire
-
Update: 4.09.2016
-
Our galaxy's most-mysterious star is even stranger than astronomers thought
Credit: Image is courtesy of NASA/JPL-Caltech
A star known by the unassuming name of KIC 8462852 in the constellation Cygnus has been raising eyebrows both in and outside of the scientific community for the past year. In 2015 a team of astronomers announced that the star underwent a series of very brief, non-periodic dimming events while it was being monitored by NASA's Kepler space telescope, and no one could quite figure out what caused them. A new study from Carnegie's Josh Simon and Caltech's Ben Montet has deepened the mystery.
Simon and Montet's findings have been accepted for publication by The Astrophysical Journal.
The researchers analyzed further Kepler observations of the puzzling star and showed that in addition to its rapid unexplained brightness changes, the star also faded slowly and steadily during the four years it was watched by Kepler.
Speculation to explain KIC 8462852's dips in brightness has ranged from an unusually large group of comets orbiting the star to an alien megastructure. In general, stars can appear to dim because a solid object like a planet or a cloud of dust and gas passes between it and the observer, eclipsing and effectively dimming its brightness for a time. But the erratic pattern of abrupt fading and re-brightening in KIC 8462852 is unlike that seen for any other star.
Spurred by a controversial claim that the star's brightness gradually decreased by 14 percent from 1890 to 1989, Montet and Simon decided to investigate its behavior in a series of Kepler calibration images that had not previously been used for scientific measurements.
"We thought that these data could confirm or refute the star's long-term fading, and hopefully clarify what was causing the extraordinary dimming events observed in KIC 8462852," explained Simon.
Simon and Montet found that, over the first three years of the Kepler mission, KIC 8462852 dimmed by almost 1 percent. Its brightness then dropped by an extraordinary 2 percent over just six months, remaining at about that level for the final six months of the mission.
The pair then compared this with more than 500 similar stars observed by Kepler and found thata small fraction of them showed fading similar to that seen in KIC 8462852 over the first three years of Kepler images. However, none exhibited such a dramatic dimming in just six months, or a total change in brightness of 3 percent.
"The steady brightness change in KIC 8462852 is pretty astounding," said Montet. "Our highly accurate measurements over four years demonstrate that the star really is getting fainter with time. It is unprecedented for this type of star to slowly fade for years, and we don't see anything else like it in the Kepler data."
"This star was already completely unique because of its sporadic dimming episodes. But now we see that it has other features that are just as strange, both slowly dimming for almost three years and then suddenly getting fainter much more rapidly," Simon added.
Astronomers were already running short of good ideas to account for the dips in KIC 8462852's brightness, and the new results will make that task even harder. Simon and Montet think that the best proposal so far for explaining the star's drastic six month dimming might be a collision or breakup of a planet or comet in the star's system, creating a short-term cloud of dust and debris that blocks some starlight. However, this wouldn't explain the longer-term dimming observed during the first three years of Kepler and suggested by measurements of the star dating back to the nineteenth century.
"It's a big challenge to come up with a good explanation for a star doing three different things that have never been seen before," Montet said. "But these observations will provide an important clue to solving the mystery of KIC 8462852."
---
Quelle: SD
-
Update: 27.10.2016
Dish to listen for ET around strange star
Image copyright

NRAO
A $100m initiative to listen for signals from alien life is targeting a star with an unusual dimming pattern.
The Breakthrough Initiative, backed by Prof Stephen Hawking and Facebook's Mark Zuckerberg, will train a US radio telescope on a target called Tabby's Star.
Tabby's Star has been a subject of attention and controversy over its irregular dimming pattern.
Some scientists have been puzzled by large dips in the star's brightness.
Hawking backs new search for aliens
One of the most favoured explanations for this behaviour is that a swarm of comet fragments is periodically blocking light from the star, which also known by its official designation - KIC 8462852.
One very remote and speculative idea - yet one that has attracted much attention in the media - is that the pattern is caused by some kind of artificial structure, or a collection of structures, around the star.
The co-director of the Breakthrough Listen programme, Dr Andrew Siemion, said he was sceptical of explanations that involved intelligent life.
He added: "The Breakthrough Listen programme has the most powerful SETI equipment on the planet, and access to the largest telescopes on the planet.
"We can look at it with greater sensitivity and for a wider range of signal types than any other experiment in the world."
The team plans to use the 100m Green Bank Telescope in West Virginia, US, to observe the star, which is named after the leader of the team that discovered it - Tabetha Boyajian, assistant professor at Louisiana State University.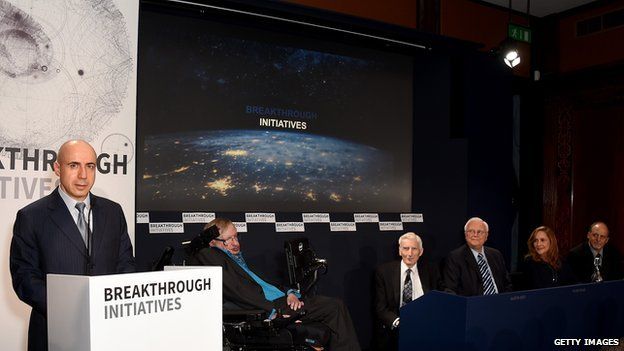 Previous searches, using the Hubble Space Telescope and the Keck Observatory, have failed to find any unusual signals around the star.
But Dr Siemion explained: "The Green Bank Telescope is the largest fully steerable radio telescope on the planet, and it's the largest, most sensitive telescope that's capable of looking at Tabby's star given its position in the sky."
The unusual behaviour around Tabby's star was first reported in September 2015 by Dr Boyajian, who was then a postdoctoral student at Yale University. The findings were published in the Monthly Notices of the Royal Astronomical Society.
The team was actually looking for evidence of planets orbiting stars other than our own.
While most such dimming by transiting planets is brief, regular and blocks just 1 or 2% of the light of the star, Tabby's star dims for days at a time, by as much as 22%, and at irregular intervals.
Speculation that the phenomenon could be caused by a "megastructure" built by an intelligent civilisation, has been dismissed by most scientists. But it has propelled the stellar object to prominence in the popular media.
"I don't think it's very likely - a one in a billion chance or something like that - but nevertheless, we're going to check it out," said Dan Werthimer, chief scientist at Berkeley SETI, based at the University of California, Berkeley.
Yet Tabby's Star remains a fascinating conundrum for astronomers. Some observations show that the dips in brightness are more irregular than a comet swarm would produce. And another study suggested that it had been dimming at a steady rate for the past century.
The Breakthrough Listen initiative was launched in 2015 at an event in London. It is backed by Prof Hawking, Mr Zuckerberg and Russian entrepreneur Yuri Milner - who also supports the Breakthrough Prizes for science and maths.
Quelle: BBC
---
Kepler's 'Alien Megastructure' Star to Spill SETI Secrets?
The Breakthrough Listen SETI project will aim one of the worlds most powerful radio telescopes at Tabby's Star for three nights in the hope of detecting an alien civilization.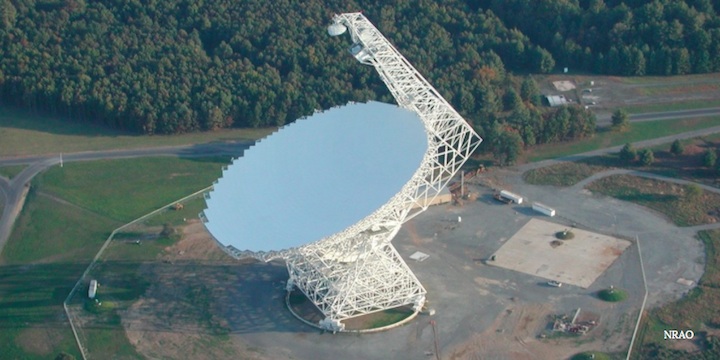 The star KIC 8462852 — informally known as Tabby's Star — has been the focus of the worlds' attention for months now, and for good reason. Its strange behavior could be a sign that there's a super-advanced alien civilization carrying out the mother of all engineering projects in orbit. But the mysterious dips in observed light from the star could alternatively just be a huge swarm of comets or some other as-yet-to-be-understood stellar phenomenon.
Although astronomers are generally skeptical that there really is an extraterrestrial civilization constructing a starlight-blocking megastructure only 1,480 light-years from Earth, the Breakthrough Listen SETI (Search for Extraterrestrial Intelligence) project is committing radio telescope time of one of the most powerful observatories on the planet to at least test the intelligent alien hypothesis.
The project is a part of the $100 million Breakthrough Prize Foundation that's funded by Russian entrepreneur Yuri Milner and backed by British theoretical physicist Stephen Hawking and Facebook founder Mark Zuckerberg.
Starting Wednesday (Oct. 26), a team of astronomers will use the renowned 100-meter Green Bank Telescope (pictured above) that is located deep in a radio-silent corner of West Virginia to study Tabby's Star. For eight hours per night for three nights over the next two months, a special instrument attached to the huge radio telescope will be used to carry out an unprecedented observation campaign of the star.
"The Breakthrough Listen program has the most powerful SETI equipment on the planet, and access to the largest telescopes on the planet," said Andrew Siemion, director of the Berkeley SETI Research Center and co-director of Breakthrough Listen, in a statement. "We can look at it with greater sensitivity and for a wider range of signal types than any other experiment in the world."
Although other projects have tried to eavesdrop on the star before, SETI campaigns have typically been limited by the number of radio frequencies that can be recorded simultaneously and the amount of time committed to just one star in the sky. This new instrument is able to record a huge amount of data across a range of frequencies at the same time, potentially allowing us to detect the radio transmissions from any transmitting intelligent aliens at Tabby's Star.
"The Green Bank Telescope is the largest fully steerable radio telescope on the planet, and it's the largest, most sensitive telescope that's capable of looking at Tabby's star given its position in the sky," said Siemion. "We've deployed a fantastic new SETI instrument that connects to that telescope, that can look at many gigahertz of bandwidth simultaneously and many, many billions of different radio channels all at the same time so we can explore the radio spectrum very, very quickly."
It's estimated that up to one petabyte of data may be collected over the observing run — that's enough data to fill a thousand computer hard drives (assuming each can store one terabyte). The researchers say that it could be over a month before we know whether or not a signal was detected because it will take a long time to process all the observations.
With Siemion, Tabetha Boyajian, from Louisiana State University, and visiting UC Berkeley astronomer Jason Wright will be heading the study. Boyajian was the first to report on KIC 8462852's peculiar light-curve in September 2015, which was initially flagged by citizen scientists participating in the Planet Hunters project. Tabby's Star is so-named in honor of Boyajian.
The project asks for the help of the public to look at candidate exoplanet transits from NASA's Kepler Space Telescope. Kepler has confirmed hundreds of worlds orbiting other stars by detecting the dip in brightness of a star (described by the star's "light-curve") by an exoplanet passing in front — an event known as a "transit." And the transit signal produced by Tabby's star was as dramatic as it was bizarre.
Typically, an exoplanet signal might dim a star's light by around 2%. But several of the irregular transits of Tabby's Star caused the starlight to drop by up to 22%. This means that something very big must be passing in front. What's more, it seems the star's brightness has been dimming for hundreds of years according to historical astronomical records, only adding to the intrigue. Although several ideas have been put forward to explain the signal, the key one being the possibility of a huge cloud of comets drifting in front of the star, all have fallen short of fully explaining the Kepler observation.
After the weirdness of Tabby's Star was known, Jason Wright discussed the possibility of Tabby's Star's dimming not being caused by natural phenomena; could the dimming be caused by an advanced alien intelligence creating a "megastructure" around the star? Could this be the first observational evidence of a huge solar array (like a Dyson Sphere) being built?
For now, this is pure speculation, but Breakthrough Listen hopes to investigate further. If this hypothetical alien civilization is transmitting powerful radio signals into space, perhaps we'll detect it. Though it is highly unlikely an artificial radio signal will be detected, the mere chance Tabby's Star might spill its secrets in the form of transmissions from an advanced alien race is enough for us to at least try.
WATCH VIDEO: We're Not Saying The Kepler Discovery Is Aliens, But...
Quelle: Seeker
-
Update: 10.01.2017
.
Alien megastructure' signal may be due to star eating a planet
Orbiting debris could be making Tabby's star blink
When you are a messy eater, it can take a long time to clean up after a meal. The slow dimming of Tabby's star and the sudden dips in its light may be caused by an orbiting cloud of debris left over from when it partially gobbled a planet.
The star KIC 8462852 rose to prominence in 2015, when a team of astronomers led by Yale's Tabetha Boyajian (after whom the star is nicknamed) observed a series of abrupt dips in its brightness, in which it dimmed by up to 22 per cent before going back to normal.
There are many ideas about what causes the star's sporadic blinking, from internal stellar dynamics to swarms of orbiting comets to an enormous alien megastructure.
Things got more complicated in January 2016, when a review of old photographic plates revealed that Tabby's star dimmed by 14 per cent between 1890 and 1989. It faded by another 3 per cent over the four years it was observed by the Kepler space observatory.
Now Brian Metzger at Columbia University in New York and his colleagues have a theory that could explain both the brief dips in light and the gradual dimming. The group thinks Tabby's star is just returning to its natural state – after a large, messy meal.
Planetary crumbs
If Tabby's star devoured a planet in the past, the planet's energy would have made the star temporarily brighten, then gradually dim to its original state. The bigger the planet was, the longer the star would take to dim. Depending on the size of the planet, this event could have happened anywhere between 200 and 10,000 years ago.
As the planet fell into its star, it could have been ripped apart or had its moons stripped away, leaving clouds of debris orbiting the star in eccentric orbits. Every time the debris passes between us and the star, it would block some light, making the star seem to blink.
If this is true, these sorts of collisions might be much more common than we expected. "We estimated that if Tabby's star were representative, something like 10 Jupiters would have to fall into a typical star over its lifetime, or maybe even more," says Metzger – and that number grows into the thousands if the objects are smaller.
Next time we see the light from Tabby's star dip, Metzger hopes that astronomers will be able to see signatures of planetary debris passing close to the star. "These transits only last a few days, so when we see one, we have to alert all the telescopes and basically point every telescope we have at Tabby's star," he says.
A collision of star and planet explains the behaviour of Tabby's star well, says Jason Wright at Penn State University in University Park. "This paper puts a merger scenario on the table in a credible way," he says. "I think this moves it into the top tier of explanations."
Quelle: NewScientist