Expedition 50 robotic arm operators Shane Kimbrough of NASA and Thomas Pesquet of ESA (European Space Agency) commanded the International Space Station's Candadarm2 robotic arm to release the Cygnus spacecraft at 8:22 a.m. EST while the space station was flying 251 miles over the Pacific Ocean, off the west cost of Columbia. Earlier, ground controllers detached Cygnus from the station and maneuvered it into place for its departure.
Once Cygnus is a safe distance away from the station, ground controllers at Glenn Research Center in Cleveland, Ohio and at Orbital ATK in Dulles, Virginia, will activate the Saffire-II experiment.
Cygnus also will release four LEMUR CubeSats from an external deployer on Friday, Nov. 25, sending them to join a remote sensing satellite constellation that provides global ship tracking and weather monitoring.
The spacecraft will remain in orbit until Sunday, Nov. 27, when its engines will fire twice, pushing it into Earth's atmosphere, where it will burn up over the Pacific Ocean.
The Cygnus resupply craft launched Oct. 17 on an Antares rocket from the Mid-Atlantic Regional Spaceport at NASA's Wallops Flight Facility in Virginia, for the company's sixth NASA-contracted commercial resupply mission. The company's seventh contracted resupply mission is targeted for spring 2017 on an Atlas V rocket from Cape Canaveral Air Force Station in Florida.
Quelle: NASA
-
Update: 22.11.2016
.
Cygnus cargo freighter leaves station, but its mission is not over
A commercial Cygnus supply ship left the International Space Station on Monday after delivering more than 5,000 pounds of cargo and experiments, ready to start a week of standalone operations to include a groundbreaking microgravity fire experiment and deployment of four commercial weather-monitoring CubeSats in orbit.
The Orbital ATK-owned spacecraft was released from the station's Canadian-built robotic arm at 8:22 a.m. EST (1322 GMT) Monday, completing a 29-day stay at the research lab.
Astronauts Shane Kimbrough and Thomas Pesquet managed the departure procedures from a robotics work station inside the cupola module.
Three minutes later, the Cygnus spaceship fired thrusters to expedite its departure from the space station's vicinity, and the cargo craft quickly faded from view of station-mounted cameras to become a dot backdropped by the blackness of space.
Astronauts replaced the supplies delivered inside the Cygnus spacecraft's pressurized module with more than 2,469 pounds (1,120 kilograms) of trash and other unneeded items, according to Orbital ATK.
Kimbrough radioed his thanks to NASA and Orbital ATK ground teams for the successful cargo delivery mission once Cygnus was safely away from the outpost.
"ISS received more than 5,000 pounds of equipment, supplies and payloads, which put the station in great shape," Kimbrough said. "It was an honor to work on this Cygnus flight, especially since it was dedicated to our colleague Alan Poindexter. From the Expedition 50 crew, thank you again to all the people who made this flight such a huge success."
Orbital ATK nicknamed the Cygnus spacecraft the S.S. Alan Poindexter after a former space shuttle pilot and commander who died in a water sports accident in 2012.
The Cygnus spacecraft launched Oct. 17 atop an Antares rocket from the Mid-Atlantic Regional Spaceport at Wallops Island, Virginia, and reached the station Oct. 23. The launch marked the first flight of Orbital ATK's upgraded Antares rocket, powered by new engines to replace the type blamed for a catastrophic launch failure moments after a liftoff in October 2014.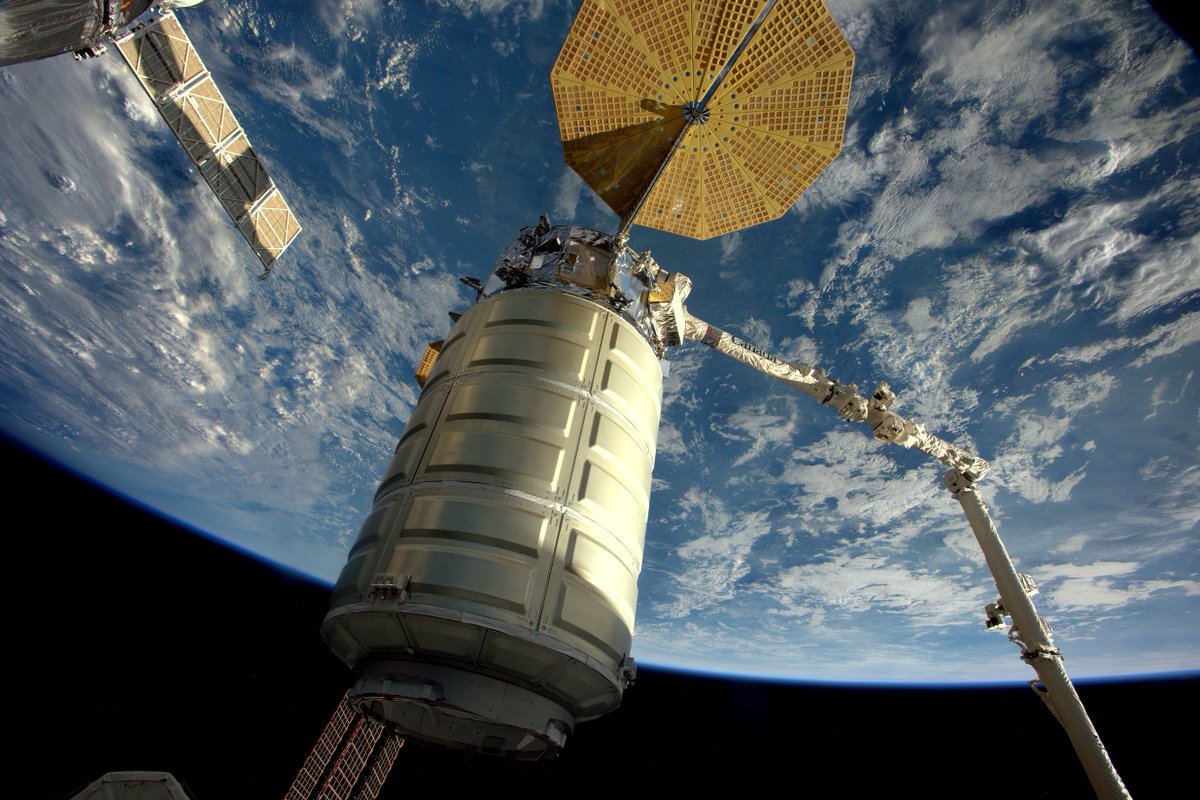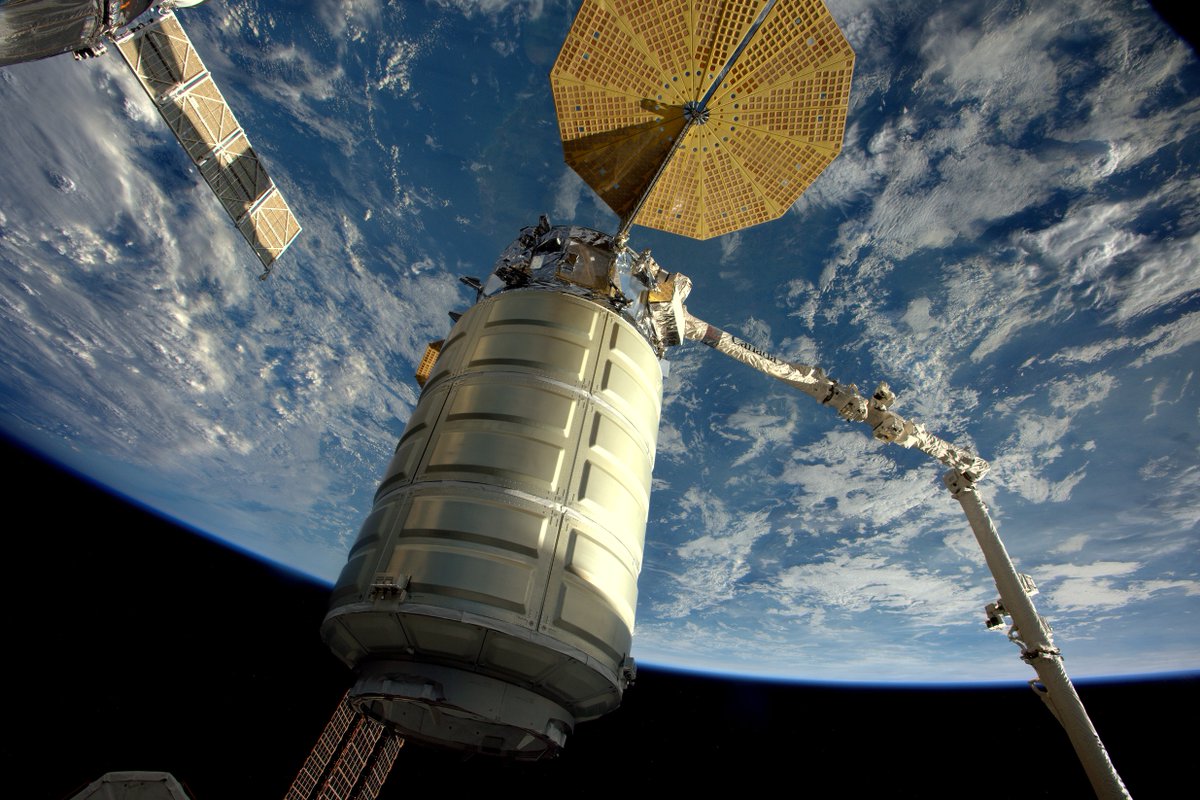 Orbital ATK has at least 17 operational Cygnus missions on the books under contract to NASA, and Monday's departure was the start of the final chapter of the sixth such flight.
Three more major tasks remain for the Cygnus spacecraft this week.
The supply ship was to begin raising its orbit later Monday to set up for the deployment of four commercial CubeSats later this week.
Soon after the first orbit-raising maneuver, around 1:30 p.m. EST (1830 GMT) Monday, an innovative combustion experiment inside the Cygnus's internal cabin will activate for an investigation into how flames grow and fuels burn in microgravity.
Ground controllers plan to switch on the Saffire 2 payload and ignite nine experimental samples inside a self-contained enclosure measuring 3 feet by 3 feet by 5 feet (0.9 meters by 0.9 meters by 1.5 meters).
"One of the least understood risks in space is how fire propagates (and) starts," said Jitendra Joshi, technology integration lead for NASA's advanced exploration systems division. "How do you control the fire? How do you detect the fire? All these things. You can't call 911 like on Earth to come help you."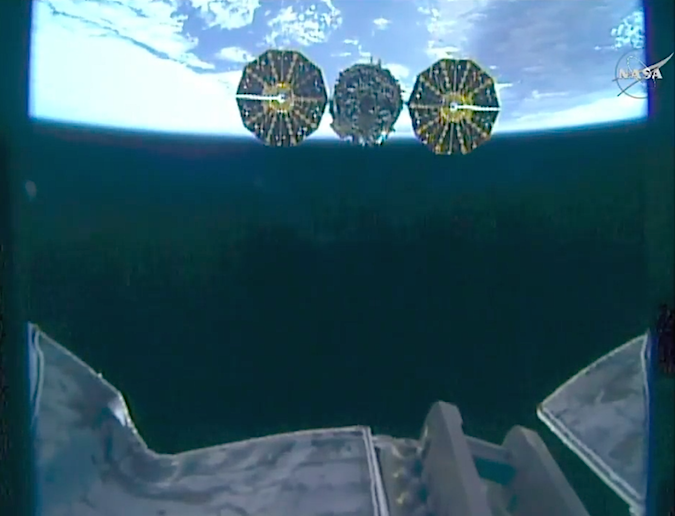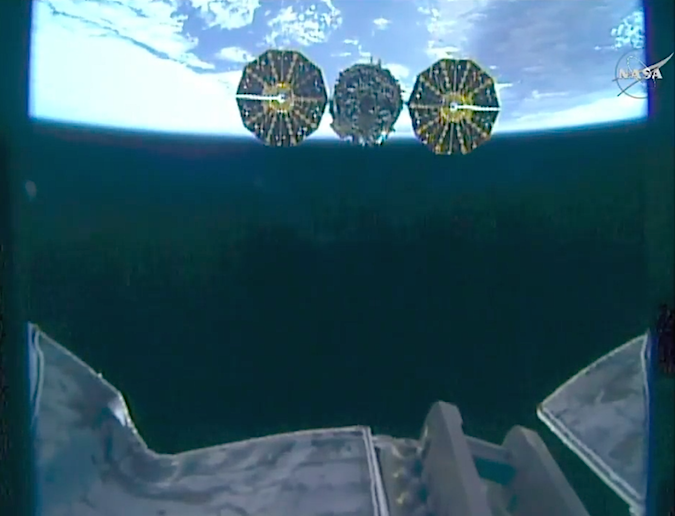 Saffire 2 — short for Spacecraft Fire Experiment 2 — carries nine specimens to be set on fire Monday. It is a follow-up to the Saffire 1 experiment conducted in June after the last Cygnus mission left the space station, when a single 16-inch by 37-inch (0.4-meter by 0.94-meter) cotton fiber cloth was ignited.
Once surprise from the Saffire 1 experience was that the cotton material burned slower than predicted, Joshi said.
Each of the nine samples on Saffire 2 measure 2 inches by 10 inches (5 centimeters by 25 centimeters), and scientists will use the specimens to assess the response of each material and oxygen flammability limits, according to NASA.
Four of the materials to be burned Monday are made of silicon, and each of the samples has a different thickness, Joshi said.
"Thickness affects how fire happens, how well a material burns," Joshi said. "This is one of the most prevalent materials used (on spacecraft) which is flammable."
Saffire 2 also carries a sample of Nomex, a commercial fire retardant, plus smaller specimens of the cotton fiber cloth burned on the first Saffire experiment in June, which was the first time scientists ever conducted such a large-scale flame investigation in space.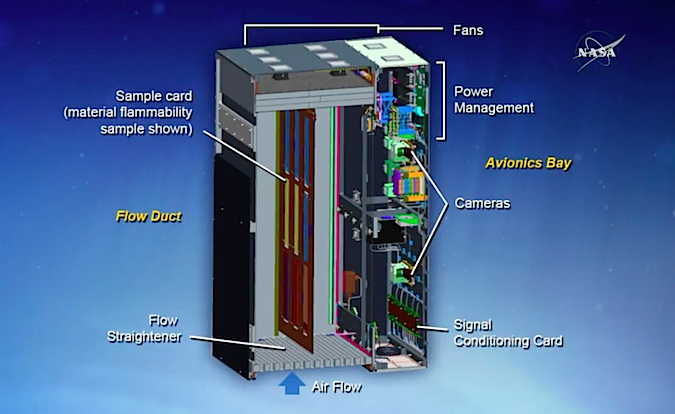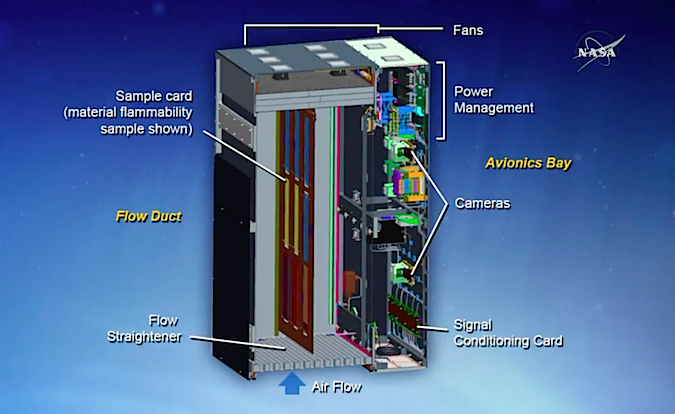 Previous fire experiments in space were limited to items no larger than an index card, and the uninhabited, but pressurized volume inside the Cygnus spacecraft offers a suitable host for more ambitious flammability investigations.
"Cygnus had a successful, month-long stay at the International Space Station, delivering critical cargo to the astronauts," said Frank Culbertson, president of Orbital ATK's space systems group. "Now, we get another opportunity to showcase this unique spacecraft's expanded capabilities beyond its core cargo delivery function. To use Cygnus yet again as a research platform demonstrates a versatility and flexibility that we are proud to offer to our customers."
A third Saffire experiment is planned on the next Cygnus flight set for launch in March, and Joshi said scientists are working on more Saffire payloads that could fly in the coming years.
Joshi said the results of the Saffire experiments, developed by a team based at NASA's Glenn Research Center in Ohio, will help engineers select safer materials for use inside future piloted spacecraft.
"All these things need qualification, so to build more reliable missions (and) to build more self-sustaining missions as we move farther from low Earth orbit, Saffire will go a long way," Joshi said.
Data collected by Saffire 2's sensors will be downlinked to the ground Tuesday and Wednesday.
By Friday, the Cygnus spaceship will be flying at an altitude of more than 300 miles, or around 500 kilometers. That is more than 60 miles (100 kilometers) higher than the space station's orbit.
Four Lemur 2 CubeSats owned by Spire Global will eject from a NanoRacks deployer mounted outside the Cygnus spacecraft in two pairs Friday at 4:05 p.m. EST (2105 GMT) and 7:10 p.m. EST (0010 GMT).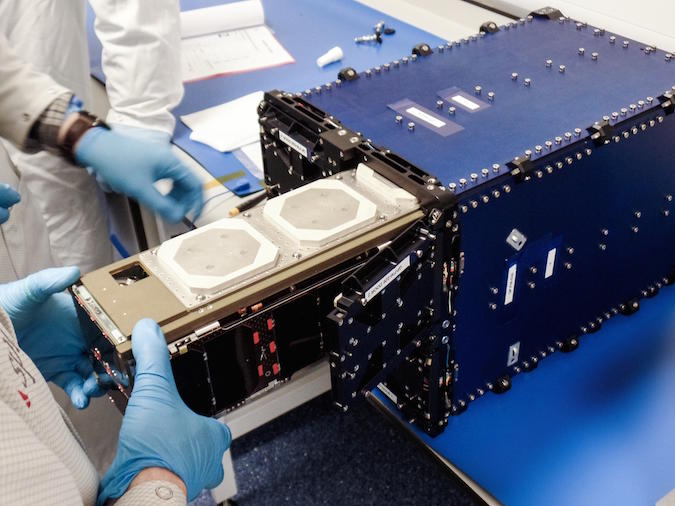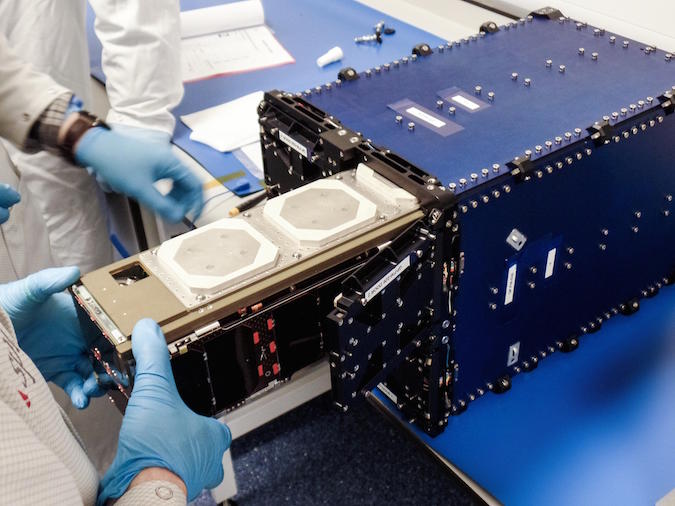 Spire's satellites are about the size of a shoebox and each weigh around 11 pounds, or 5 kilograms, according to information provided by the company to federal regulatory authorities.
The Lemur 2 CubeSats will deploy an antenna soon after deployment and begin dual missions tracking global maritime traffic and collecting weather data.
The San Francisco-based company already has about a dozen Lemur 2 satellites in orbit, with dozens more under construction and awaiting launch.
Spire won a $370,000 contract from NOAA in September to supply pilot data for the weather agency to determine the information's usefulness. If the pilot program proves fruitful, NOAA could place an order for more weather data from Spire and other commercial satellite startups to supplement measurements from government-owned satellites.
The Lemur 2 satellites carry GPS radio occultation antennas, using satellite navigation signals passed through Earth's atmosphere to derive temperature and humidity profiles that can be fed into numerical forecast models.
The Cygnus spacecraft is heading to a higher orbit for the CubeSat deployments to allow the Lemur 2 satellites to have longer lifetimes without being pulled down as quickly by atmospheric drag.
With its duties complete, the Cygnus supply ship is scheduled to conduct a deorbit burn Sunday to steer for a controlled destructive re-entry over the South Pacific Ocean.
Orbital ATK is readying its next Cygnus spacecraft for launch to the space station in March on top of a United Launch Alliance Atlas 5 rocket. The company announced earlier this month that its next cargo mission would launch from Cape Canaveral on an Atlas 5, rather than from Virginia on an Antares, as officials originally planned.
Frank DeMauro, vice president of Orbital ATK's human space systems division, said NASA approached the company in recent weeks seeking a way to carry more supplies and experiments to the space station next year.
The station's other U.S. cargo service — SpaceX's Dragon capsule — is grounded as engineers investigate a Falcon 9 rocket explosion on a launch pad in Florida in September. NASA officials do not expect Dragon deliveries to the research complex to resume until some time in early 2017.
Flying the Cygnus spacecraft on an Atlas 5 rocket should allow the mission to carry more than 660 pounds (300 kilograms) more cargo than if the supply ship launched on an Antares, DeMauro said.
The pressurized cargo module for the next flight, dubbed OA-7, should arrive at NASA's Kennedy Space Center from Thales Alenia Space in Italy in early December, DeMauro said. The Orbital ATK-made service and propulsion module will ship to Florida from Dulles, Virginia, in January.
The launch is scheduled for no earlier than mid-March.
Orbital ATK officials said the OA-7 launch in March will be the first of four Cygnus supply missions to the station in a 12-month period through early 2018. The subsequent three are slated to launch aboard Orbital ATK's own Antares rockets.
Quelle: SN
-
Update: 23.11.2016
.
NASA Sets Space Fire in Second Round of Fire Safety Experiments

Fire safety is a crucial component of space living. As we partner with industry and international space agencies to develop deep space habitation capabilities, we are leveraging every opportunity to validate important habitation-related systems and operations in low-Earth orbit. The second Spacecraft Fire Safety experiment, or Saffire-II, is a fire experiment with nine material swatches that will be ignited in a cargo ship as it orbits Earth. Saffire-II is the second in a series of three fire safety experiments, and builds on the data captured during Saffire-I with an expanded test portfolio of new materials.
Saffire-II launched on OA-5 in October 2016. The nine samples in the experiment kit aboard the Cygnus cargo vehicle include a cotton-fiberglass blend, Nomex, and the same acrylic glass that is used for spacecraft windows. After the spacecraft departs the station, and before its destructive reentry to Earth, mission controllers on the ground will remotely ignite the samples.
Saffire-II mission updates will be added below as data and imagery are returned from the orbiting Cygnus vehicle.
---
Tuesday, Nov. 22, 2106
All updates are posted in Eastern Standard Time
6:00 p.m: The Saffire team has successfully downlinked images from the nine samples tested in Saffire-II. The first sample has a thin sheet of poly(methyl methacrylate) (PMMA), also known as plexiglass, that is being used to ignite Nomex, a commercially available, flame-resistant material that is used on spacecraft for cargo storage bags and as a fire barrier. The second sample is a plexiglass sheet (5 cm wide x 29 cm long x 10 cm wide), a material that is used for spacecraft windows. The Saffire investigators will continue to downlink data and images on Tuesday and Wednesday nights and provide additional updates as they are available.
Monday, Nov. 21, 2016
All updates are posted in Eastern Standard Time
9:30 p.m.: All nine samples have burned and preliminary telemetry indicate that data and images were recorded as expected for all 9 samples and flow visualization. The Saffire-II hardware performed very well and there were no issues. The team will spend tonight downlinking the sensor and image data and begin analysis of the dataset tomorrow morning. Updates on Tuesday will include preliminary sensor data and images from the burns.
8:04 p.m.: Samples 1-6 have been ignited and we've captured more than 106,000 images. Samples 1-4 were a silicon material at different thicknesses. Samples 5 and 6 were the same cotton-fiberglass blend that was burned on Saffire-I; one was at the same flow speed as Saffire-I and the other was at the flow speed planned for Saffire-III. Samples 7-9 up next! The images will be downlinked to Orbital ATK overnight and transferred to researchers at NASA-GRC for analysis tomorrow. Initial images will be released as they are available.
7:14 p.m.: We've received confirmation that the first Saffire-II test sample has been ignited.
6:04 p.m.: Orbital ATK has confirmed that the Saffire-II experiment is powered and we are receiving telemetry. We remain on track for a 7:00 p.m. sample ignition.
8:22 a.m.: Shane Kimbrough of NASA and Thomas Pesquet of the European Space Agency commanded the International Space Station's Candadarm2 robotic arm to release the Cygnus spacecraft.
Quelle: NASA
-
Update: 27.11.2016
.
Spire deploys four satellites from Cygnus
WASHINGTON — An Orbital ATK Cygnus cargo spacecraft deployed four small satellites for Spire Global Nov. 25, the first time a cargo vessel deployed satellites above the orbit of the International Space Station.
The four Lemur-2 satellites were released from the Cygnus vehicle after it raised its orbit to an altitude of 500 kilometers. The Cygnus, which departed the ISS Nov. 21, raised its orbit for the satellite deployment prior to a planned reentry Nov. 27.
While Cygnus vehicles have deployed cubesats after departing the station, this was the first time that the Cygnus raised its orbit above the ISS prior to the deployment. The higher orbit gives the satellites a longer orbital lifetime: about two years from that higher orbit, versus nine months had they been deployed at the same altitude of the station.
"The ISS deployments have been great to keep innovating our technology," said Jenny Barna, launch manager at Spire, in a Nov. 25 interview. "But this is a real, operational orbit, which is great for us."
Spire has launched 21 cubesat-class spacecraft to date, of which 16 are currently in orbit, including the four deployed Nov. 25. Most of those have been placed into orbit directly from the ISS or from other Cygnus spacecraft at the same altitude as the ISS. Four were launched into a polar orbit on an Indian Polar Satellite Launch Vehicle in 2015.
Spire is developing a constellation of cubesats to collect weather and ship tracking data. That effort has been slowed by difficulties the company has run into getting those satellites launched as secondary payloads thanks to a series of launch delays.
"We're struggling to build a constellation quickly," Barna said, noting that at one point last year the company expected to be launching satellites on a monthly basis in 2016, but have had only two launches so far this year. "The problem is absolutely not launch availability. The problem is will the launches happen when you expect them to. That can be a real killer for companies working with venture capital and trying to get to a point where revenue is coming into the door."
Barna said that the company has booked slots for more than 70 satellites for launch next year on eight different vehicles. She did not identify the vehicles Spire is planning on using, but added the company is looking forward to flying additional satellites on the next Cygnus mission, OA-7, scheduled for launch in March 2017.
At least one launch in the first quarter of 2017 will place satellites into polar orbit, which Barna said would allow the company to provide global coverage. "Right now we're pretty happy with our constellation's performance," she said, citing recent software improvements that have increased the amount of data the satellites can provide by a factor of ten.
Barna said the company is keeping an eye on emerging dedicated smallsat launch vehicles, like Rocket Lab's Electron and Virgin Galactic's LauncherOne, but isn't expecting to use them to deploy its initial constellation. "We're cheering for all of them, and we think there's a few contenders," she said, citing a contract Spire announced with Rocket Lab in February. "But we're definitely not relying on the success of any of these companies to build our constellation and grow it."
Quelle: SN