4.11.2016

Navy prepares for recovering NASA's Orion Capsule
SAN DIEGO (CBS8) - NASA and the U.S. Navy are conducting tests to prepare for the recovery of the Orion Spacecraft.
The test capsule and the hardware that will be used to recover the spacecraft are being revealed at Naval Base San Diego Thursday.
CBS News 8's Shannon Handy has the details in this video report.
-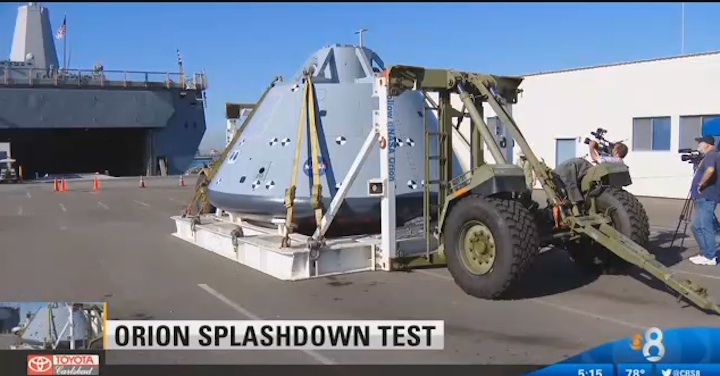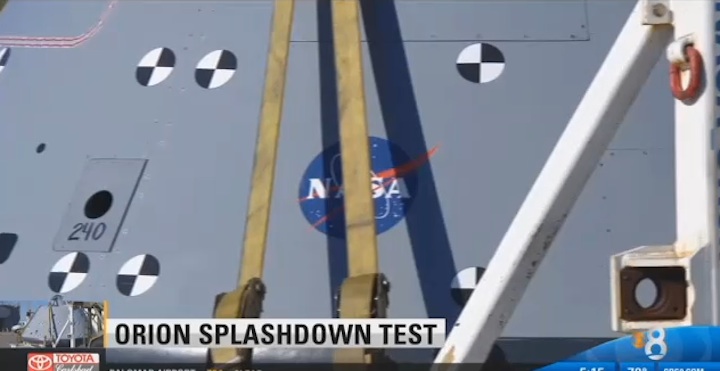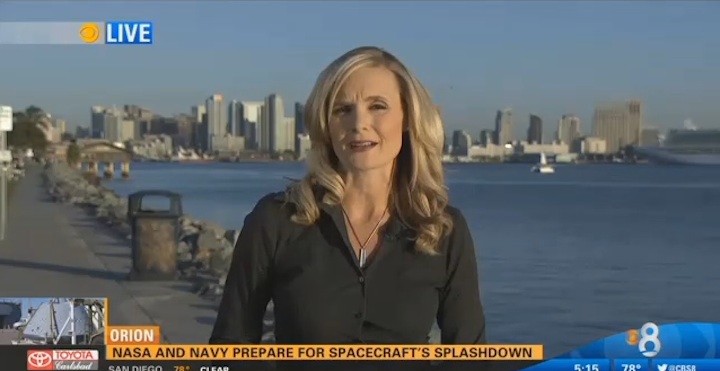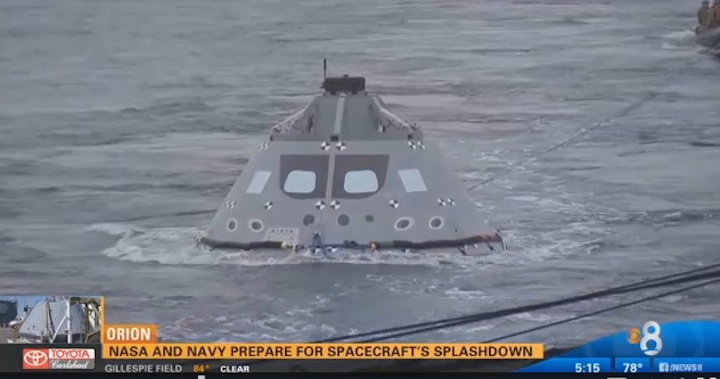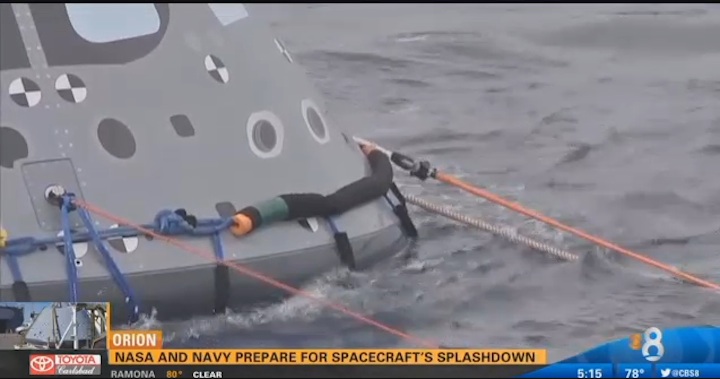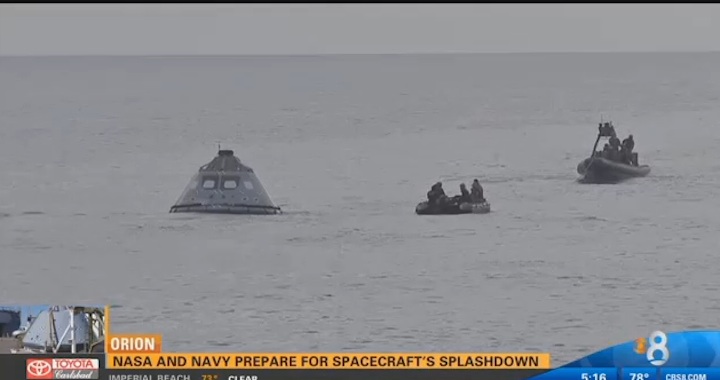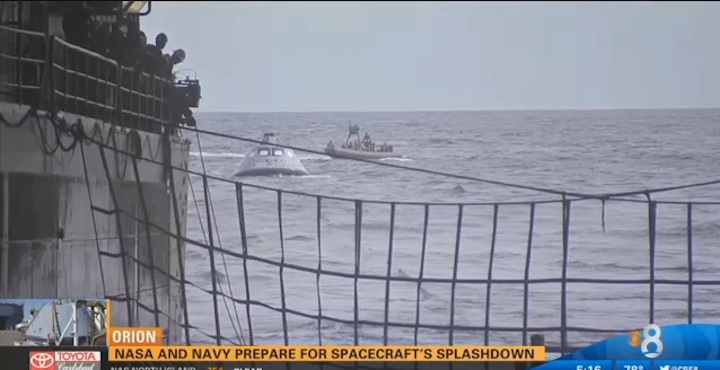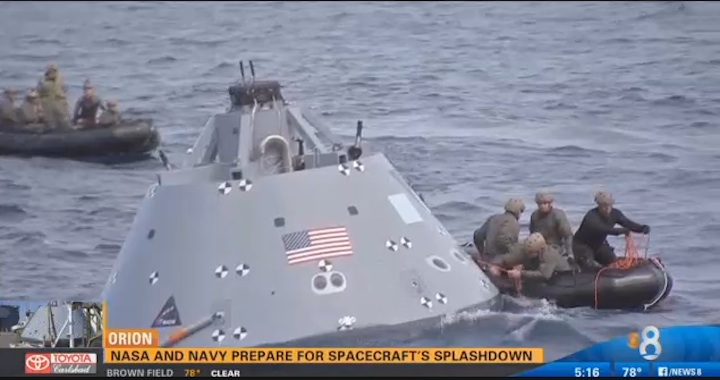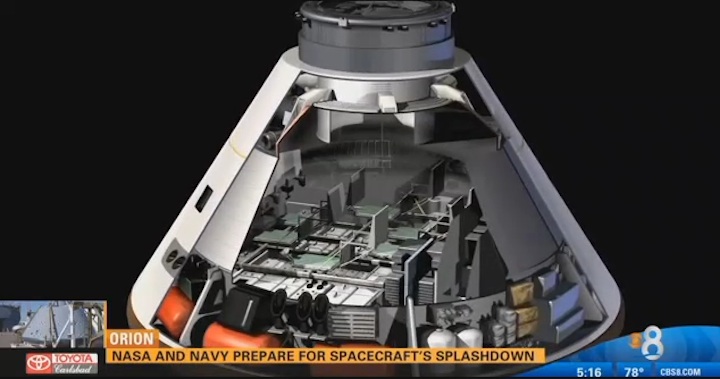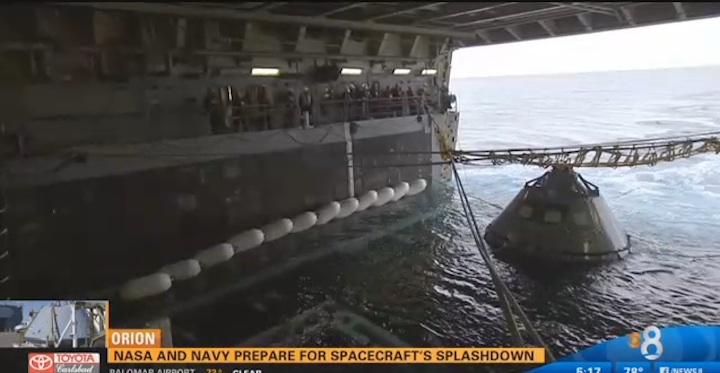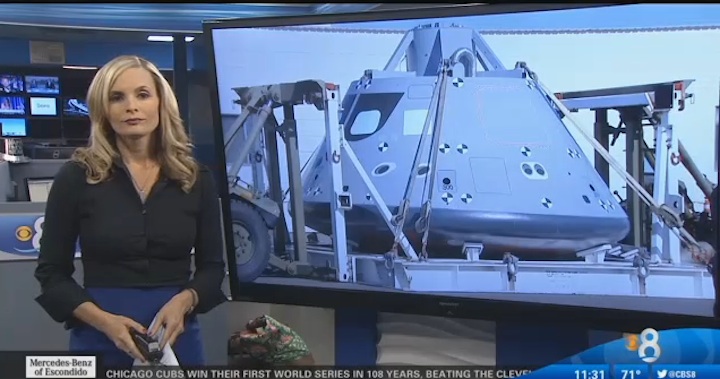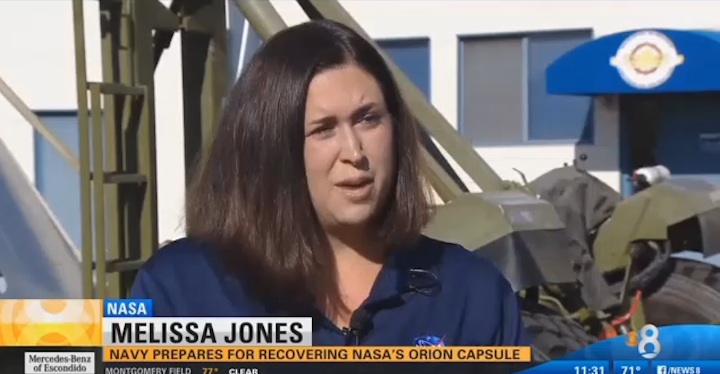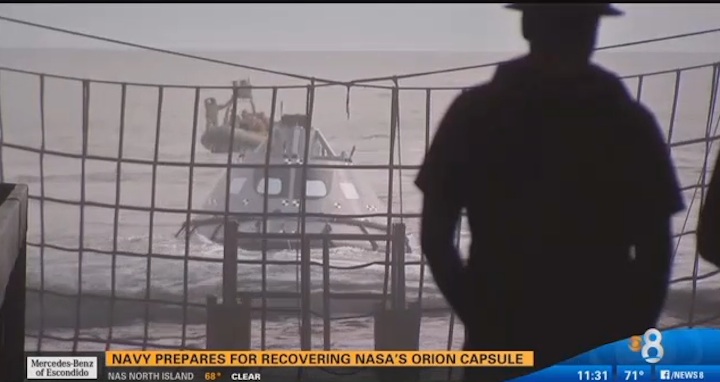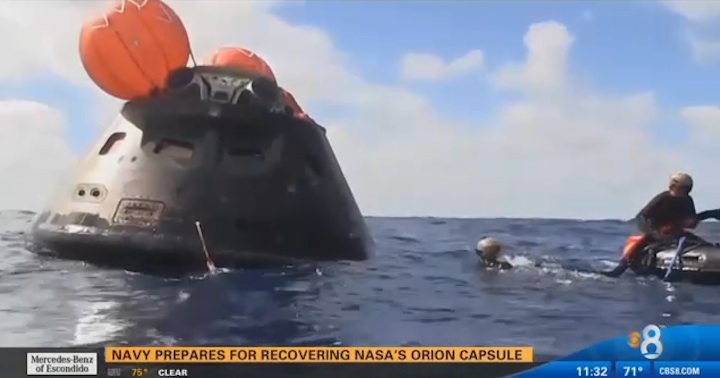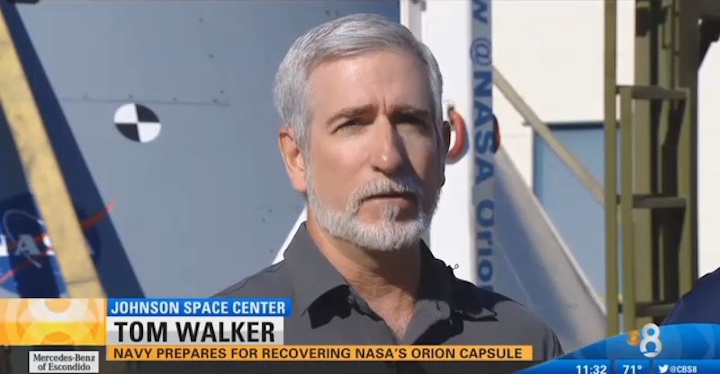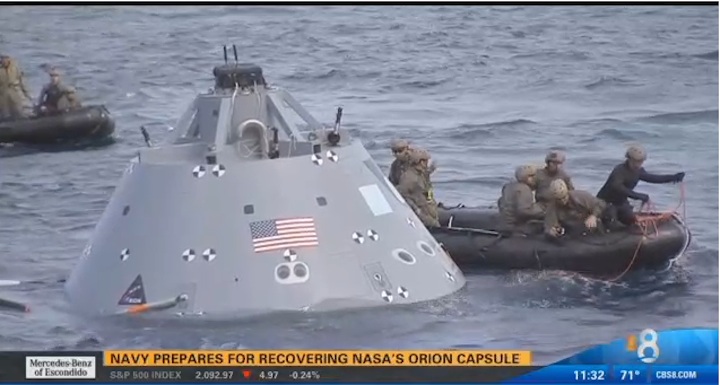 Quelle: CBS8
-
Update: 5.11.2016
.
Orbital ATK reviews SRB plans and competitiveness for SLS EM-1 and beyond
With booster casting operations for SLS's EM-1 mission well underway at Orbital ATK's manufacturing facility in Utah, the company is looking ahead in terms of how the boosters' flight data will be transmitted to ground stations during flight. Moreso, the company is looking beyond EM-1 to the build operations for the EM-2 flight boosters as well as how their SRBs remain competitive with Blue Origin's New Glenn and SpaceX's ITS super heavy lift rockets.
Orbital ATK's SRBs – an evolving post-flight environment:
A hallmark of the Shuttle program was the return to port, disassembly, and full-bodied inspection of the twin, 4 segment Solid Rocket Boosters (SRBs) that powered the five iconic winged vehicles through the first two minutes of their flights.
Over the course of the 135 flight Shuttle program, 133 flight set SRBs were recovered for such inspection – with only the STS-4and STS-51L SRBs being lost to parachute failures and the in-flight break up of the vehicle, respectively.
This recovery and post-flight inspection aspect to Shuttle SRBs allowed Morton Thiokol, subsequently ATK – now Orbital ATK – to ensure not only the functionality of the boosters' all important O-Ring joint seals, but also to have access to on-board recorded data of the flight performance of the boosters.
During the course of the Shuttle program, these post-flight inspections revealed issues with O-Ring seals on the STS-8/Challenger and STS-51C/Discovery missions, as well as a near burn-through event during the launch of Columbia on STS-78 due to a flight performance issue with a newly mandated EPA (Environmental Protection Agency) adhesive.
But SLS will see a change to this 30 year practice, as the new 5 segment SRBs will not be recovered for post-flight disassembly and inspection.
To this end, the boosters will transmit their flight data to ground receiving stations at the Cape, notes Orbital ATK in an interview with NASASpaceflight.com.
"Flight data will be gathered real-time from onboard instrumentation and transmitted to ground telemetry stations," states Jeff Foote, Orbital ATK Vice President, NASA Programs.
"Post-flight review timeline of telemetered data will be very similar to that of the Shuttle era, specifically the early Shuttle flights when the STS was most heavily instrumented."
Additionally, Mr. Foote noted that the data will not only be transmitted in real-time, but controllers will monitor the SRB flight data as it comes in, with detailed evaluation of the collected data following over a period of "several weeks".
Beyond EM-1 – second SLS booster set, advanced SRBs, & competitive markets
While Morton Thiokol and ATK had a rapid pace production schedule for SRB segments during the Shuttle era, the production schedule for SLS is considerably more relaxed given the anticipated four year gap between its first flight and its second.
Nonetheless, Orbital ATK will not wait four years to begin the casting process for the EM-2 flight set boosters.
According to Mr. Foote, "Fabrication is scheduled to start shortly after the EM-1 build, with the first EM-2 segment propellant cast in late Spring 2017 and the last segment cast about a year later."
In all, Orbital ATK noted that enough SRB casings exist for 18 total motors, with a tentative plan to use two motors for additional ground tests and 16 motors for the first eight flights of SLS.
Given an uncertain but anticipated one-flight-per-year mission rate for SLS beginning in 2022 or 2023, that would take the current casing inventory out to 2028 or 2029 – likely longer given programmatic delays and a growing need to more definitively define SLS's flight parameters, mission destinations, and mission objectives.
Regardless, the Block 1 and Block 1B variants of SLS will be the vehicle configurations used by NASA for those first 8 flights of SLS.
In terms of the SRBs and the understood nature and directive from NASA to create Advanced or next-generation flight set boosters, Orbital ATK stated that "The initial Block 1 and Block 1B vehicle configurations [utilize] existing SLS SRBs [that] provide an unrivaled launch capability that will enable beyond earth orbit human exploration and deep space science missions for at least the next decade.
"The need for future vehicle upgrades will be mission based.
"Previous NASA communications regarding the need for and timing of an advanced/upgraded booster center around SLS missions to Mars, which according to NASA documents will happen in the 2030s timeframe."
To this end, Orbital ATK added that the company remains "dedicated to serving NASA with advanced and upgraded booster options and continues to invest in preliminary development of various booster technologies."
Regardless of when NASA would ask for formal development of advanced Solid Rocket Booster technology for the eventual SLS Mars campaigns, the benefits of those advanced boosters are already well understood.
According to Mr. Foote, "More advanced SRBs are anticipated to provide more lift capability for the launch vehicle to reach space destinations. While performance (increased thrust, lower weight) is always a key metric in evaluating advanced SRBs, affordability, reliability, and common use are other key metrics that may prove to be just as important.
"Orbital ATK is currently developing commercially available solid propulsion system solutions at extremely competitive price points which contain a high degree of manufacturing and design commonality with human-rated deep space exploration requirements."
The extremely competitive price points and extreme reliability for the amount of lift capability they generate are two very important aspects to Orbital ATK's Solid Rocket Booster technology – especially given this year's formal announcements of Blue Origin's New Glenn and SpaceX's Interplanetary Transport System (ITS) super heavy-lift rockets.
While much speculation and discussion has been given to SLS's place in the changing launch market, as well as the specific role of government super heavy lift rockets versus their commercial counterparts, Orbital ATK pointed out that SLS itself will hold a unique place in the launch market.
"NASA's SLS will … serve a different piece of the global launch market than SpaceX and Blue Origin and even Orbital ATK's own Antares launch vehicle," noted Mr Foote.
"The SLS is well positioned to serve the launch market where mission success, flexibility, adaptability, and on time launch is paramount."
However, just because SLS will serve a unique niche in the super heavy lift launch market, that does not mean that NASA and Orbital ATK are complacent about the need to continuously evolve the SRB designed to suit SLS's mission specific needs
In fact, the two organizations are taking a strong approach toward evolving SRB design.
"NASA's SRBs have been the benchmark of reusability since the inception of the Space Shuttle. With NASA's current predicted launch cadence, the SLS vehicle experts at NASA are evaluating the place for reusable components including upgraded/advanced SRBs based on the economic use of reusable launch technology."
Quelle: NS
-
Update:
Orion's service module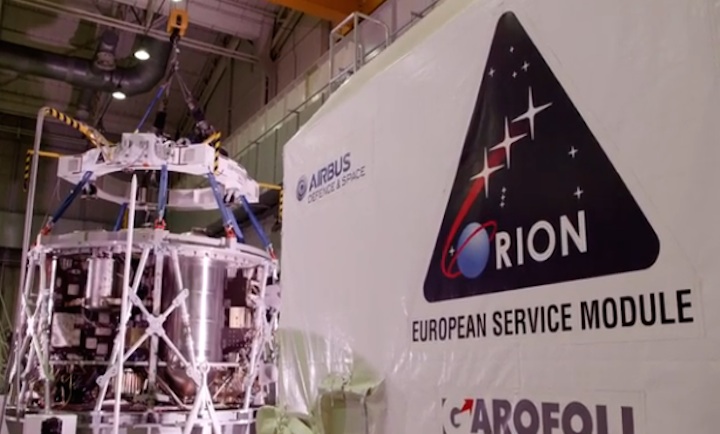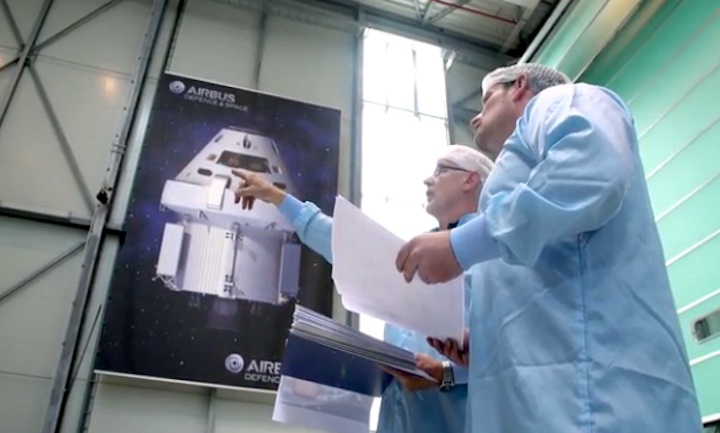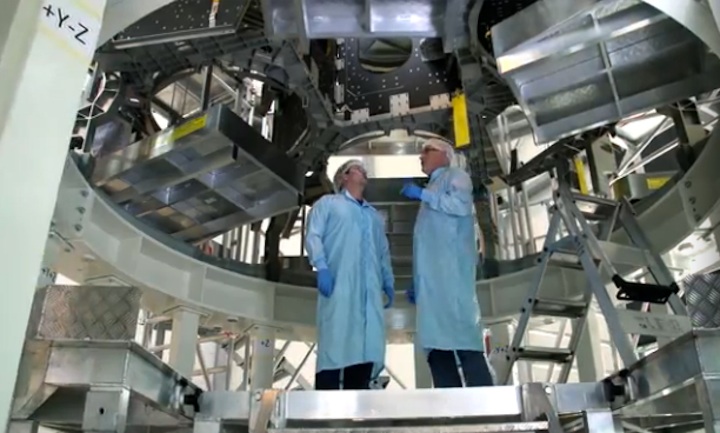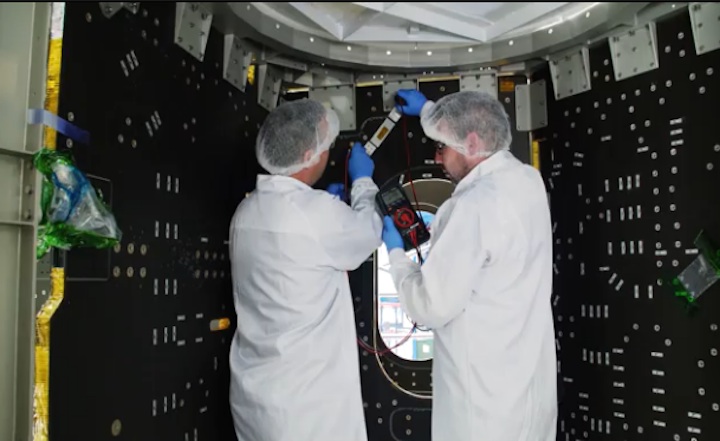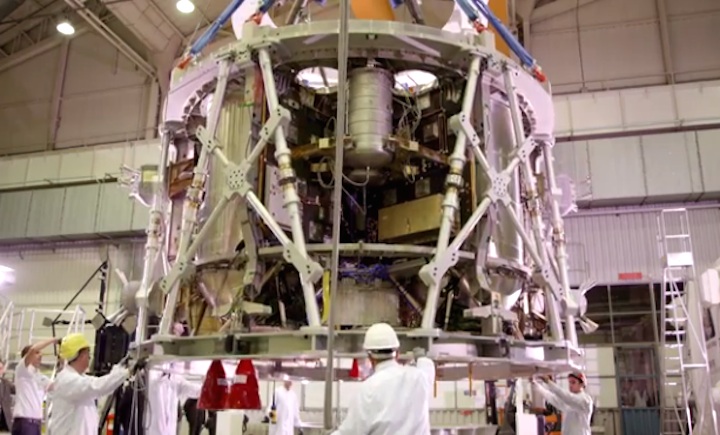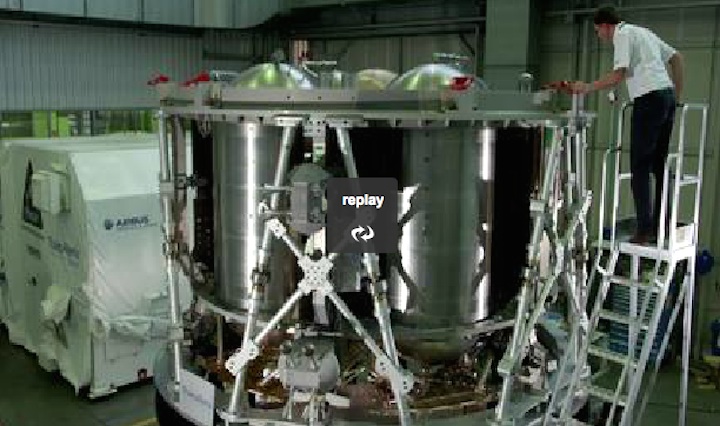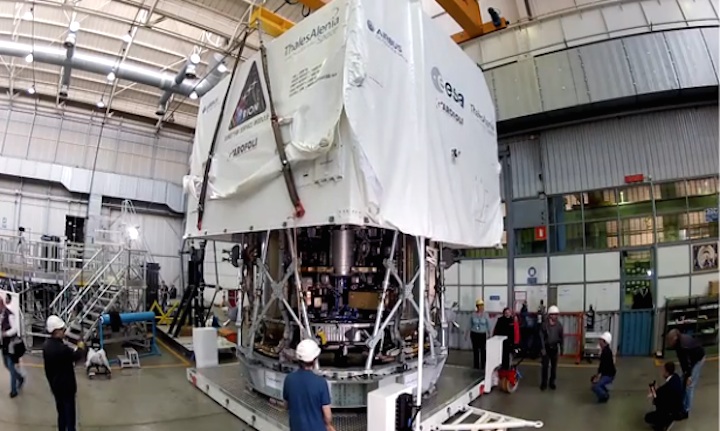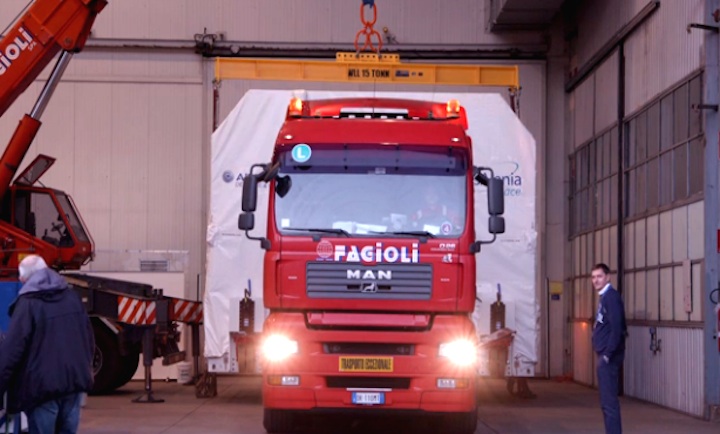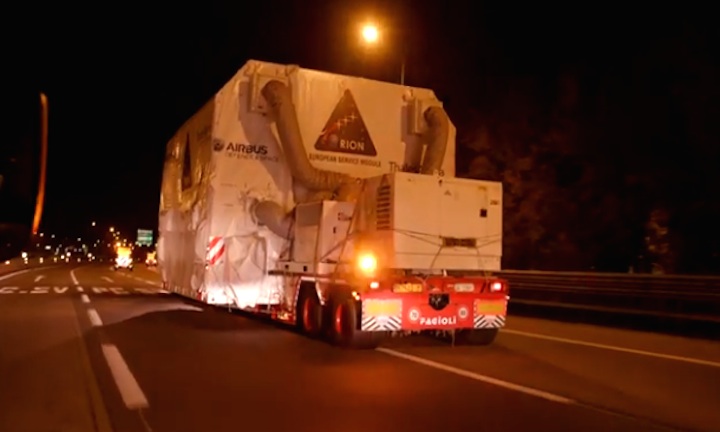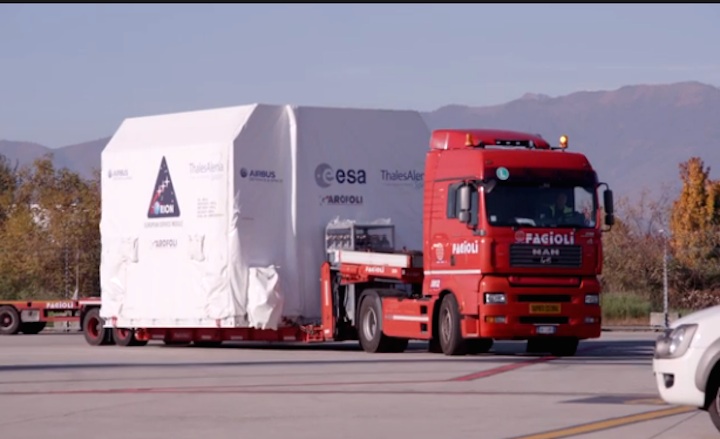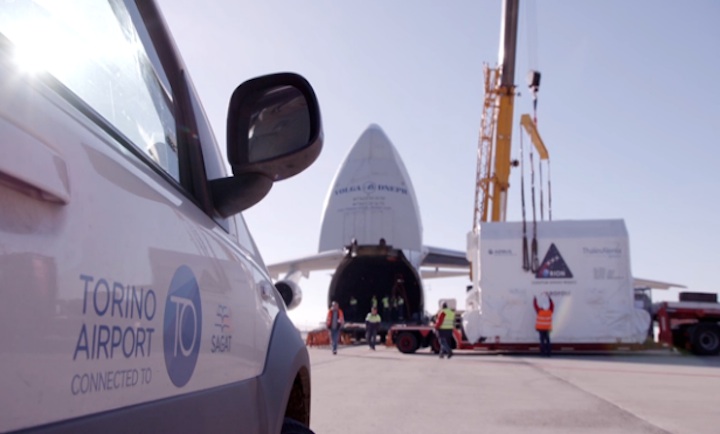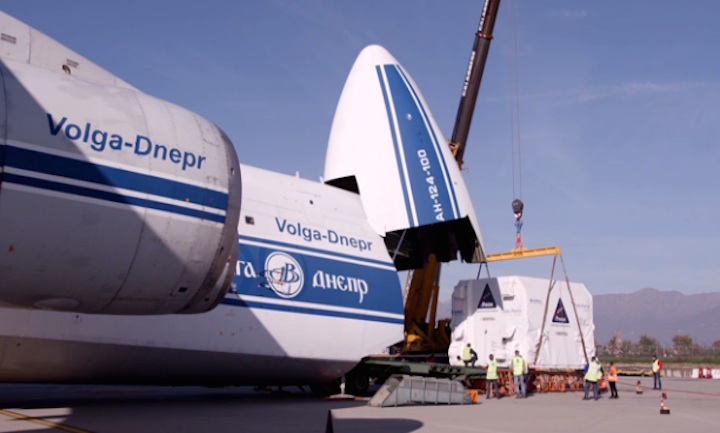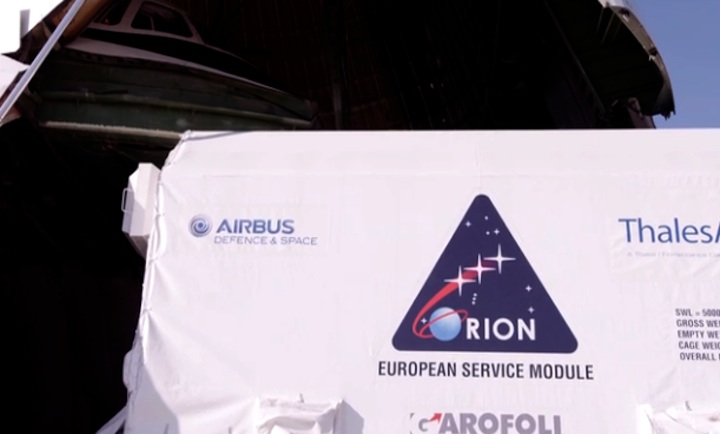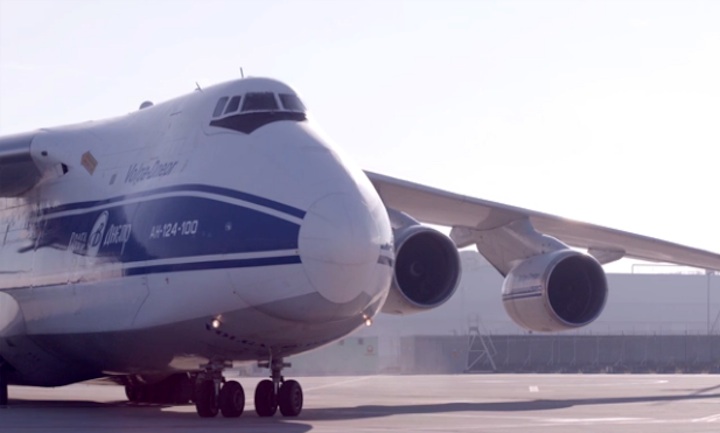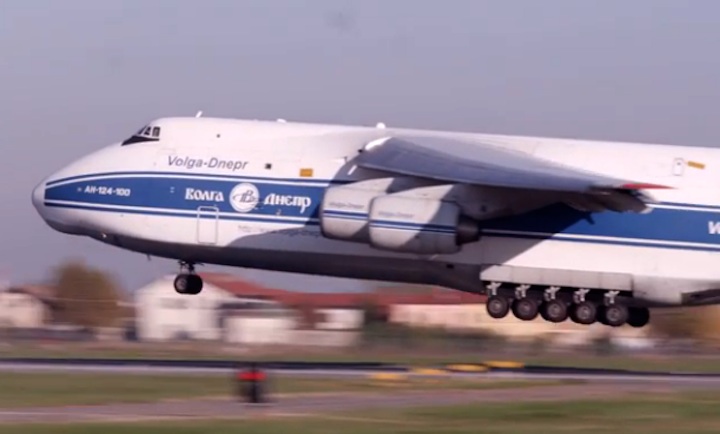 Quelle: Airbus
Orion Test Article on the Move

Time-lapse video shows the move of Orion's service module from the vibration table to the assembly high bay area in Plum Brook's Space Power Facility. Image courtesy NASA.
Engineers recently lifted and moved a full-scale test version of the 13-ton Orion service module in preparation for upcoming pyroshock tests at NASA Glenn's Plum Brook Station in Sandusky, Ohio.
During the tests, engineers will fire pyrotechnics to simulate the shocks the service module will experience as Orion separates from the Space Launch System (SLS) rocket.
The service module is an essential part of the spacecraft. It will propel, power and cool Orion in addition to providing air and water for the crew.
In this time-lapse video, the Plum Brook team removes the test article from the world's most powerful spacecraft vibration table and transports it into the assembly high bay area in Plum Brook's Space Power Facility.
Prior to the move, the test article passed a series of vibration tests to verify that it can withstand the vibrations as it launches and travels into space.
A thousand sensors collected data on Orion's service module as it was shaken on a vibration table. This testing simulated how Orion's structure flexed and will stand up to 35 tons of spacecraft weight during a launch.
Orion's first flight atop SLS, known as Exploration Mission-1 or EM-1, is targeted to launch in late 2018. It will venture tens of thousands of miles beyond the moon.
The test article was provided by ESA (European Space Agency) and built by Airbus Defence and Space.
Quelle: SD
2189 Views