Rosetta, the comet-chasing spacecraft that traveled four billion miles over the course of a decade, is now ready for its grand finale.
After catching up to Comet 67P and spending two years observing the rubber-duck shaped comet and conducting scientific measurements, the European Space Agency's probe is ready to say goodbye.
Around 7:20 am ET, the spacecraft will gather one final set of science observations during its descent before a mission-ending collision with an icy comet.
Related: Historic Comet Lander to Be Switched Off Forever
Rosetta, and its companion Philae lander, have given scientists a trove of information to help shed new light on the beginnings of the solar system. Here's a look at a few memorable moments from the mission.
Catching up to a Speeding Comet
Rosetta made history when it reached Comet 67P on August 6, 2015, marking the culmination of a 10-year, four-billion-mile journey. Its Philae landed on Comet 67P on November 12, 2014.
While the event was historic, Philae had a bouncy landing, coming to rest in a position that obscured some of its solar panels. The landing spot led to Philae having intermittent contact with Rosetta, which was its line of communication back to Earth.
This Comet Sings
Scientists were expecting to see a lot on Comet 67P, but they never expected it would greet them with a song. It's believed the song comes from oscillations in the comet's magnetic field, according to the ESA.
Going Beneath the Surface of 67P
You'd expect the interior of a comet to be stone cold, but Rosetta has a soft side.
Using radio waves, Rosetta and Philae were able to give scientists a picture of what the interior of the comet looks like.
Comets are mixtures of dust and ice. However, scientists were surprised to learn 67P is porous and comprised of fluffy dust particles mixed with ice, proving the old comet is a big softie inside after all.
Mystery Deepens: How Did Earth Get Its Water?
One of the most surprising findings challenged the theory that water was brought to Earth by comets. Rosetta's instruments analyzed the signature of water vapor on 67P and determined the comet's water wasn't a match for the structure of Earth's H2O.
Quelle: NBC-NEWS
---
At 08:00 GMT / 10:00 CEST the last commands will be uploaded to the spacecraft to fine-tune the spacecraft's pointing, based on the Navigation Camera images taken shortly after the collision manoeuvre. It is at this stage that a refined time for Rosetta's impact will be known: it is currently predicted at 10:40 GMT / 12:40 CEST (±20 minutes) at the comet but it is expected to be narrowed down to within ±2 minutes.
There will be a short transmission streamed via rosetta.esa.int, https://livestream.com/ESA/rosettagrandfinale and ESA's Facebook page confirming this information, and once known, we will update the time indicated at the top of this page and via our blog and social media channels.
Note that due to the signal travel time, the end of mission will be confirmed 40 minutes after the impact has actually occurred, within 20 minutes of 11:20 GMT / 13:20 CEST.
30 September 10:30–11:40 GMT / 12:30–13:40 CEST, end of mission coverage
Live streaming will begin at 10:30 GMT / 12:30 CEST via rosetta.esa.int, https://livestream.com/ESA/rosettagrandfinale and ESA's Facebook page featuring status updates from mission controllers live from ESA's European Space Operations Centre in Darmstadt, Germany. Note that the start time may be subject to ±20 minute change depending on the final confirmed impact time.
All times are subject to change due to circumstances beyond our control – check this page for the latest update.
Follow on social media via the following ESA accounts:
Twitter:
@ESA_Rosetta
@esaoperations
@esascience
@esa
Facebook:
Rosetta mission
ESA
Instagram:
Rosetta mission
ESA
Plus ESA Flickr, G+ and YouTube channels
Connect with all Rosetta channels via: rosetta.esa.int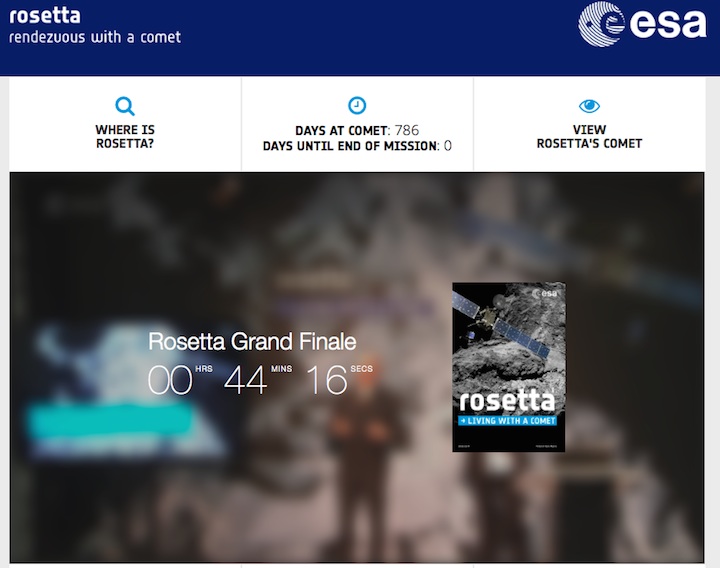 Quelle: ESA
---
WOW! Check out this amazing play of shadows on #67P, seen from ~11.7km at 05:25UT during #CometLanding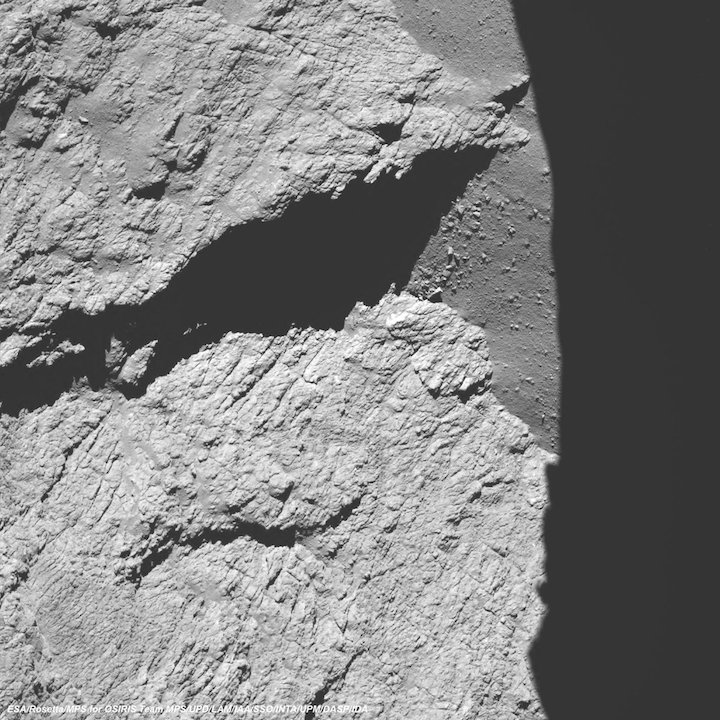 Quelle: ESA
...
DESCENT IMAGES BEGIN!
We've started to get images from Rosetta's descent. This one was taken by the OSIRIS narrow-angle camera at 01:20 UT, from a distance of around 16 km.
The image scale is about 30 cm/pixel and the image measures about 614 m across.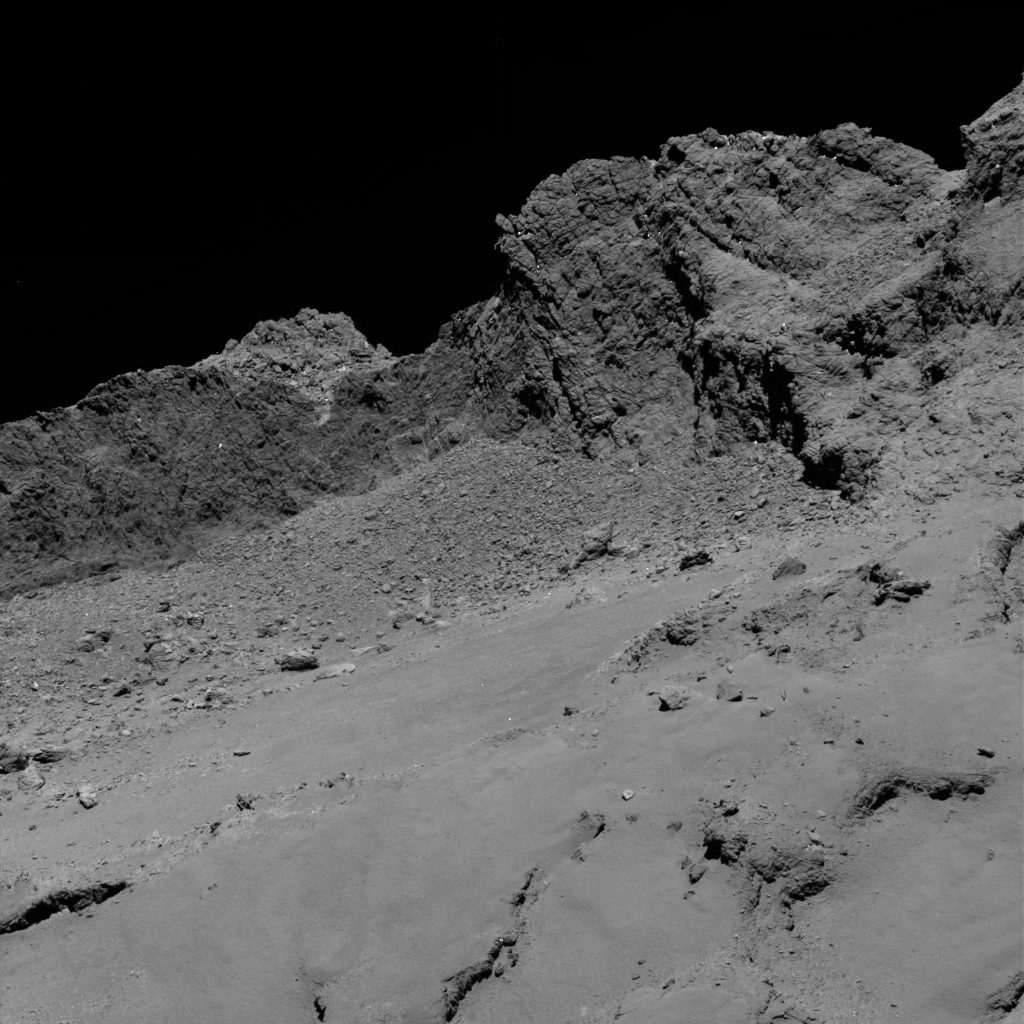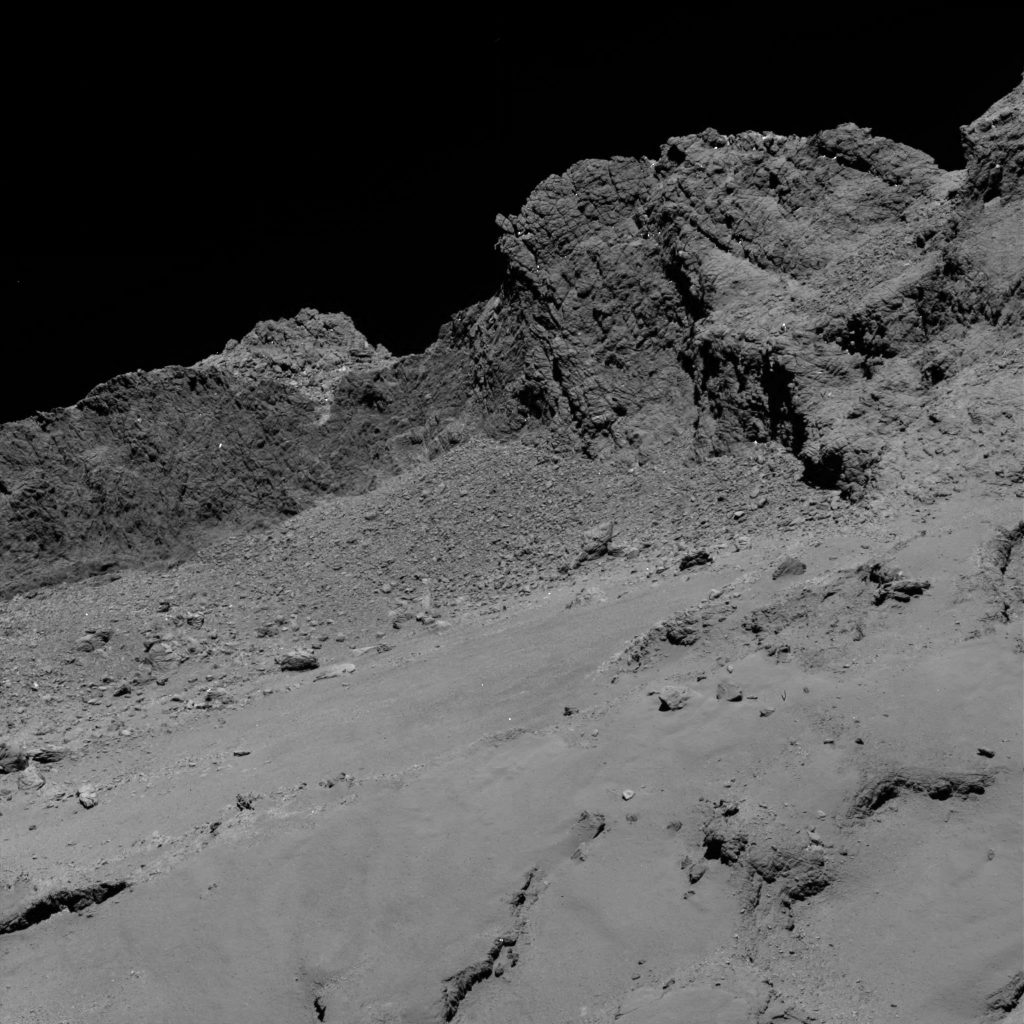 ---
IMPACT SITE IS COMING IN TO VIEW!
We just received this image from the OSIRIS wide-angle camera, taken at 02:17 UT at the comet. It shows the target impact region just coming in to view in the lower left –look for the distinctive shape of the Ma'at pits.
It was taken from a distance of about 15.5 km; the image scale is about 1.56 m/pixel and the image measures 3.2 km across.
COMETWATCH FINALE: ROSETTA'S LAST NAVCAM IMAGES
Rosetta's Navigation Camera captured five images shortly after the collision manoeuvre last night, which were used by flight dynamics teams to confirm the spacecraft is on track to impact its target in the Ma'at region of Comet 67P/C-G.
The NAVCAM images were acquired at 22:53, 23:25, and 23:56 UT on 29 September and 0027 and 0059 UT on 30 September (on board spacecraft time) when the spacecraft was between about 20 and 17 km from the comet centre.
The first two images show the scan of the spacecraft over the large comet lobe, featuring the Seth, Hapi and Ash regions, before the Hatmehit and Ma'at regions on the small lobe came into view.
The full set of lightly enhanced images are presented below. Click for distance and scale info.
The original images are also provided below:
Quelle: ESA
----
Update: 10.00 MESZ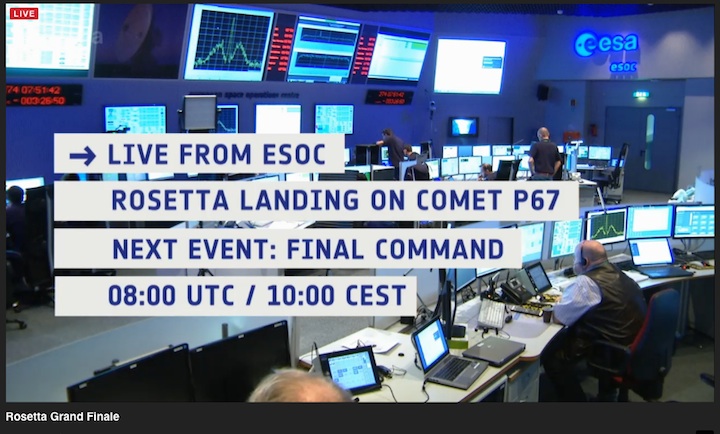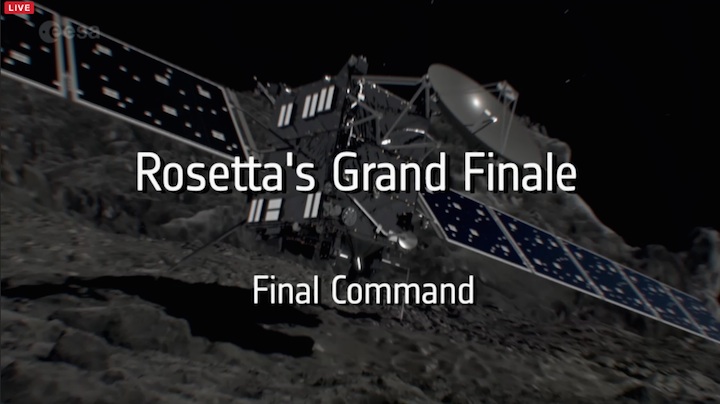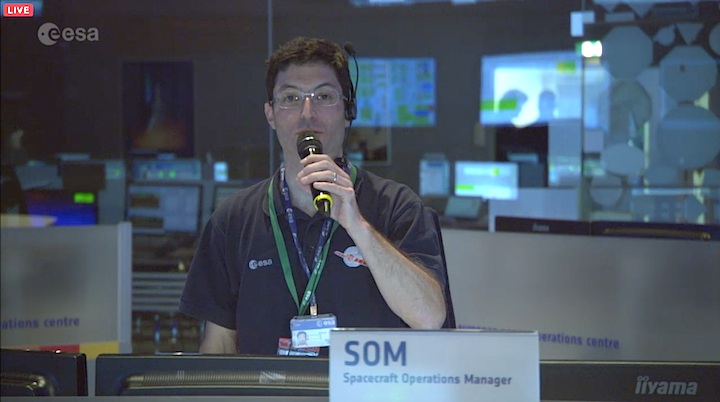 ...
Update: 12.30 MESZ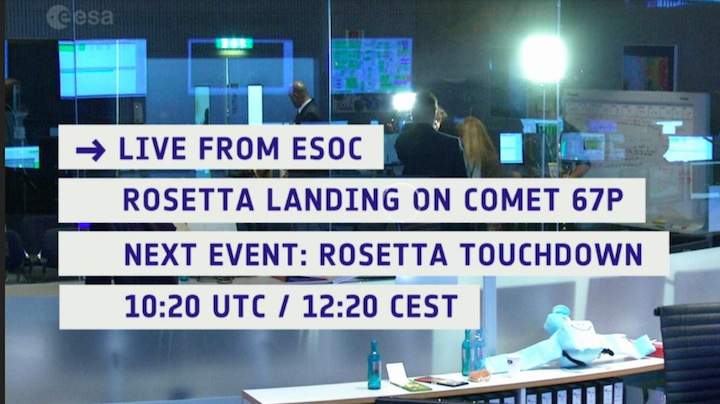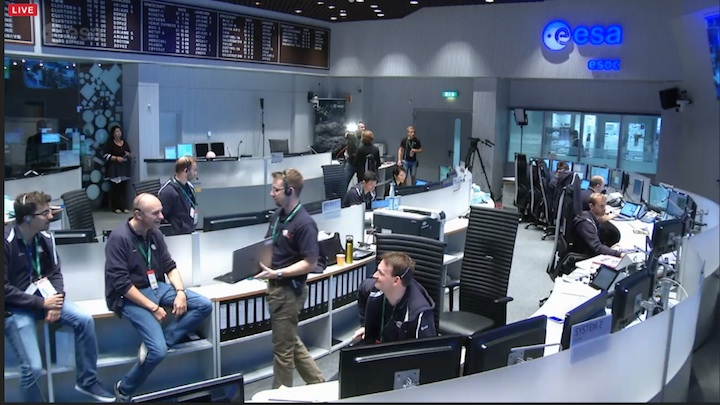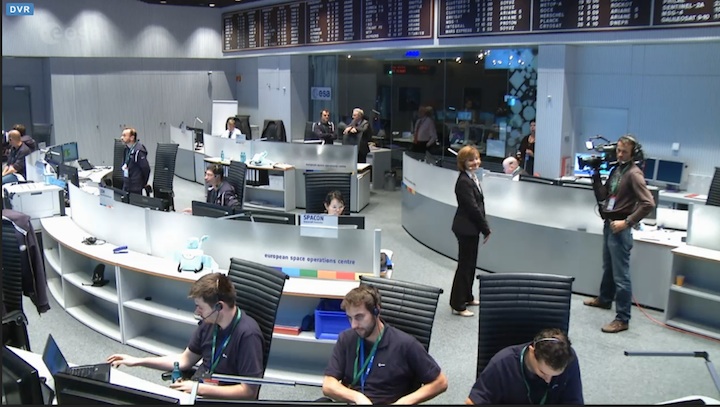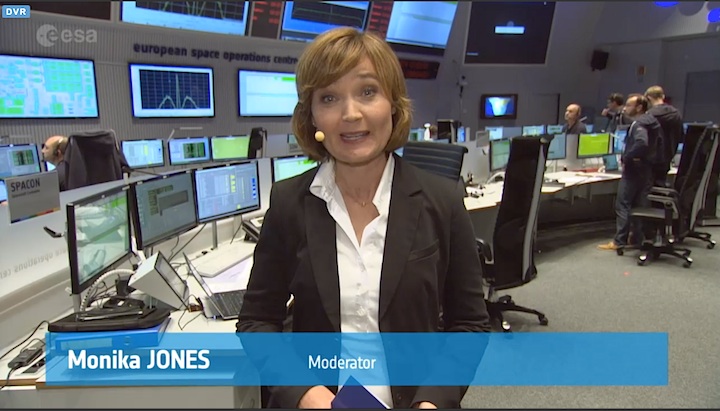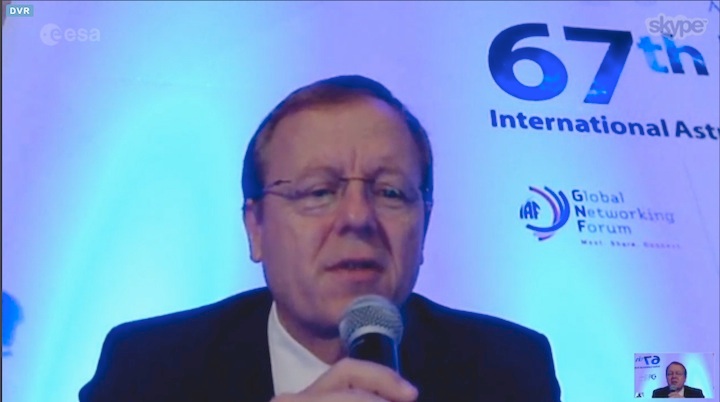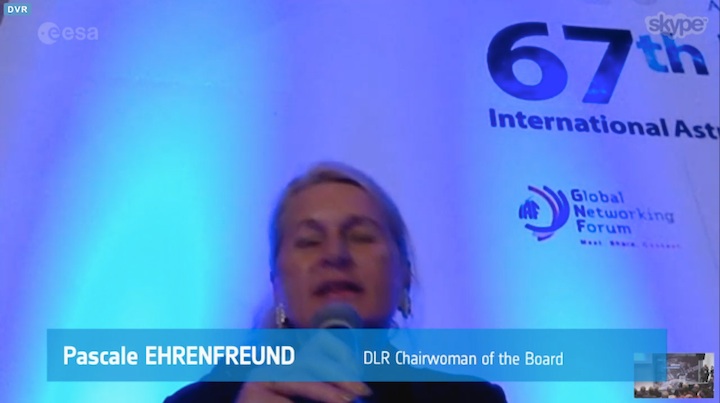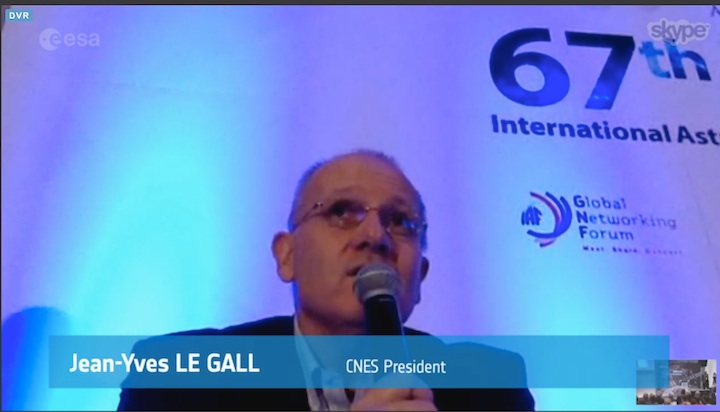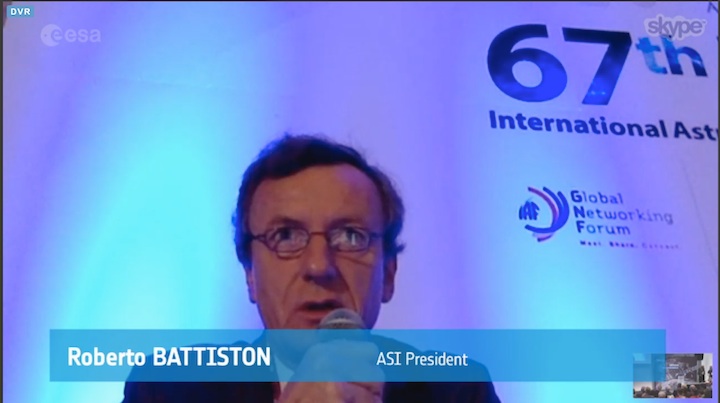 ...12.45 MESZ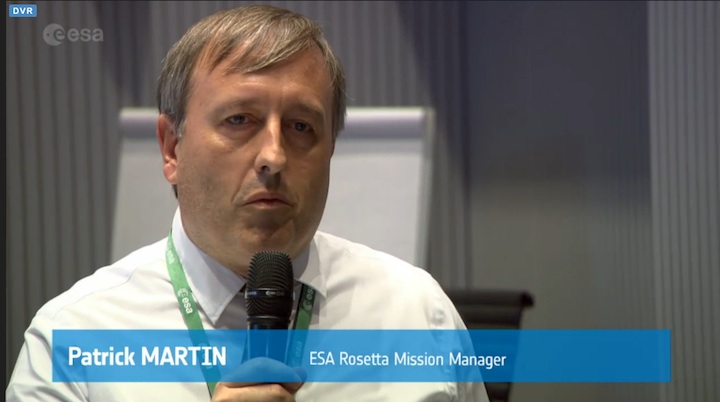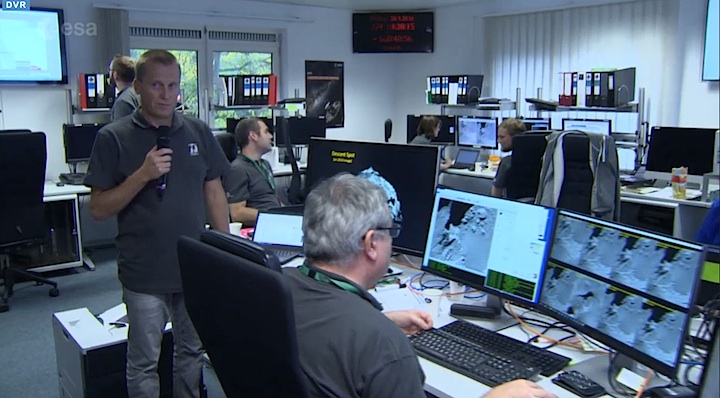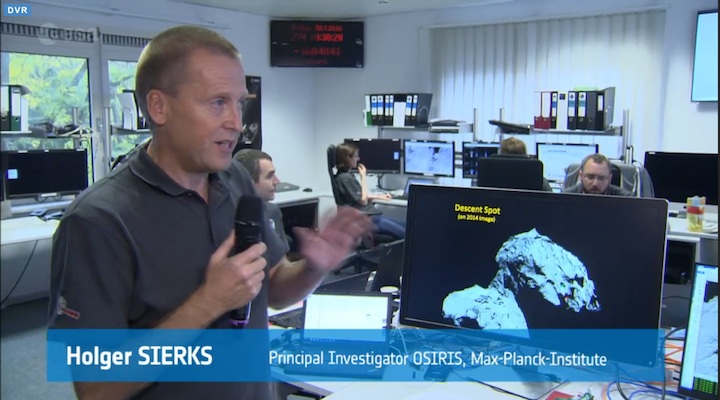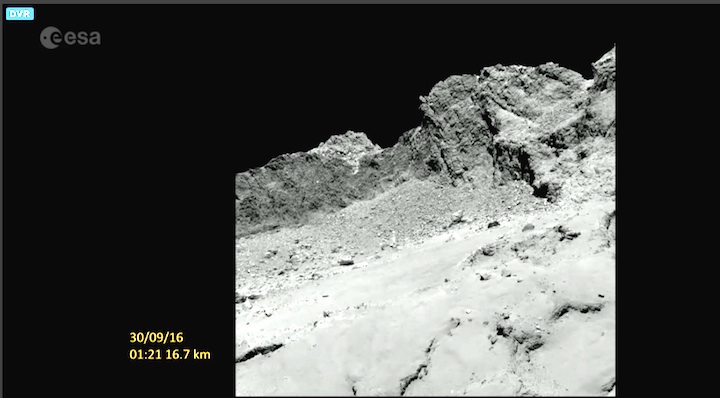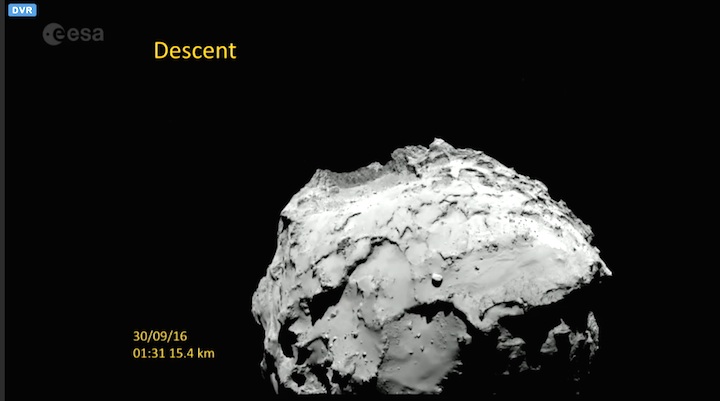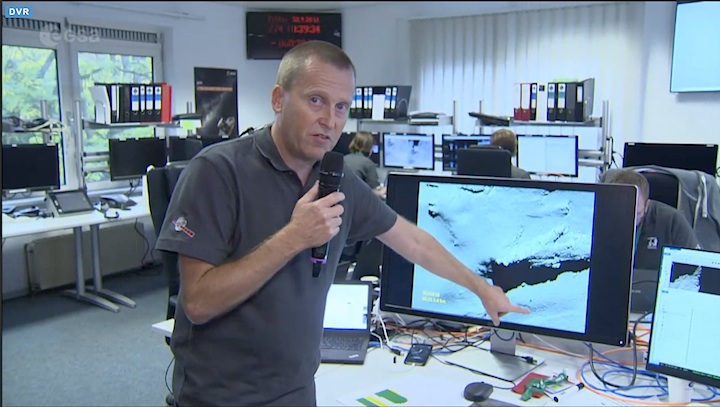 Landestelle für Rosetta...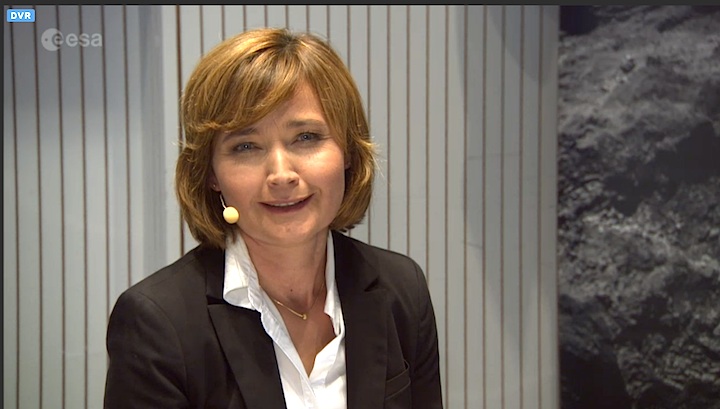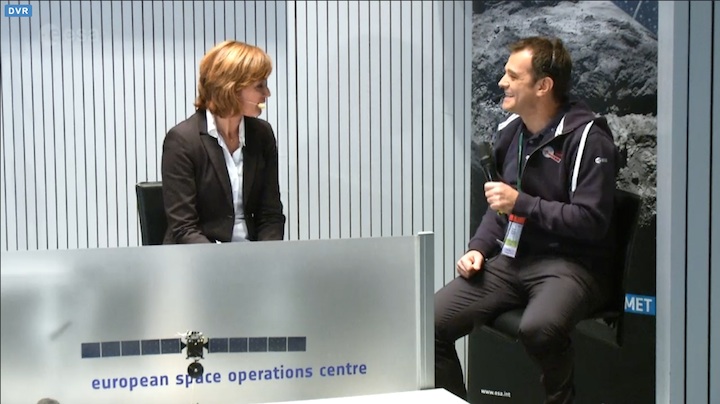 ...13.10 MESZ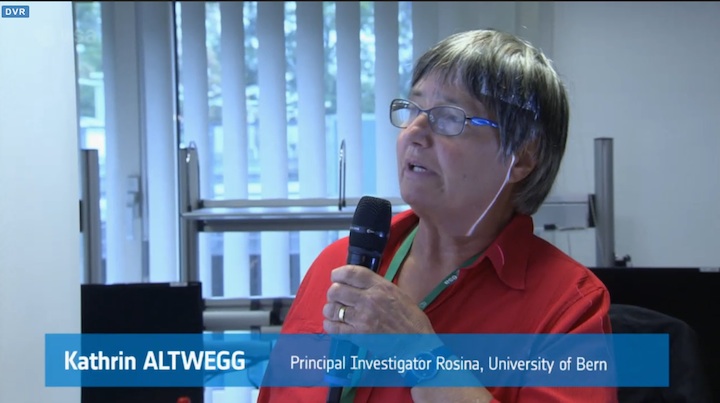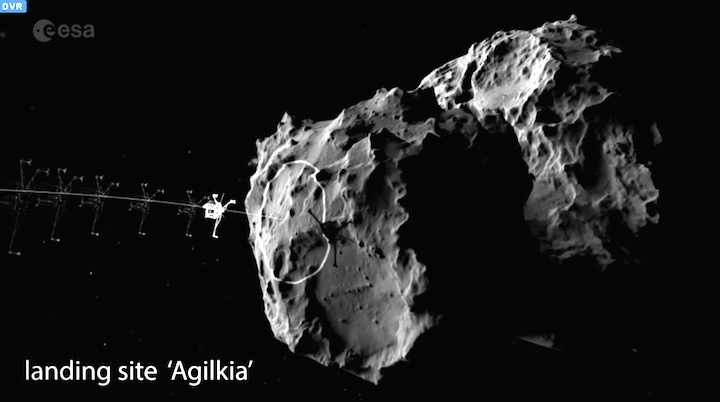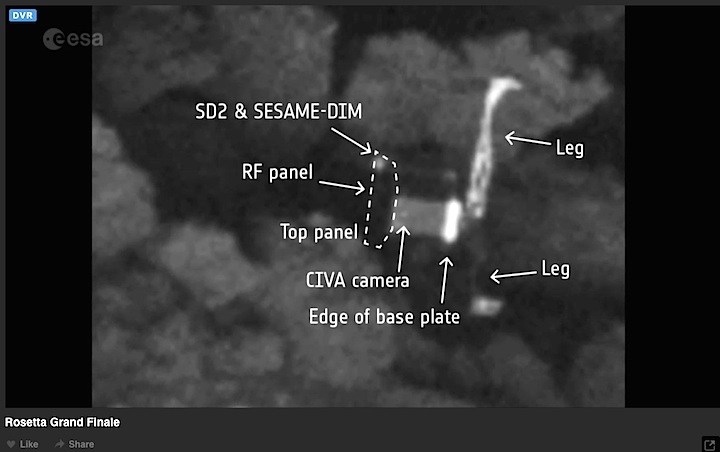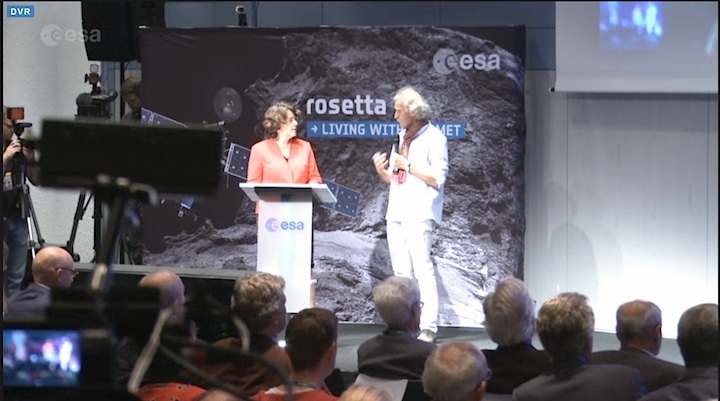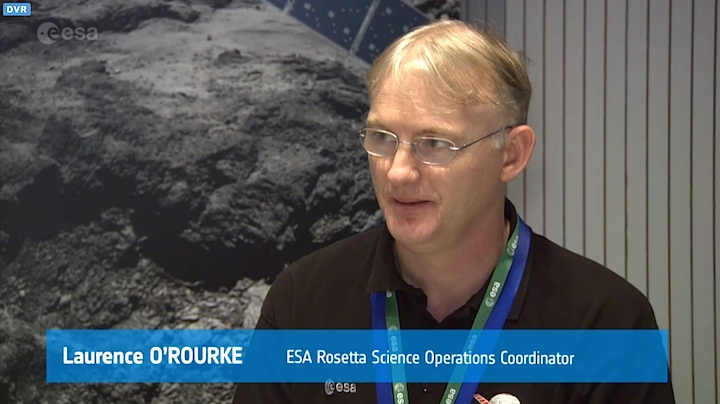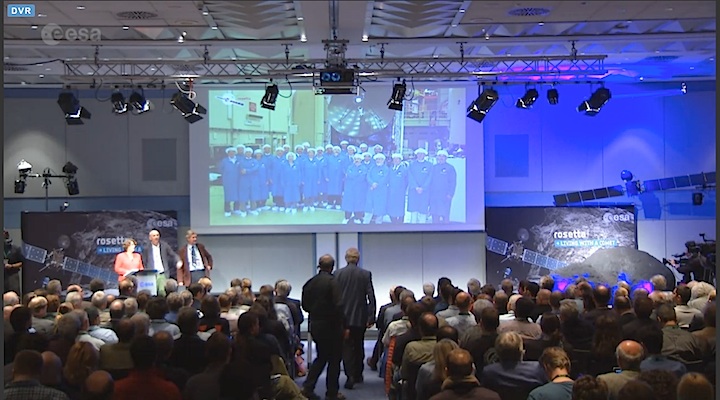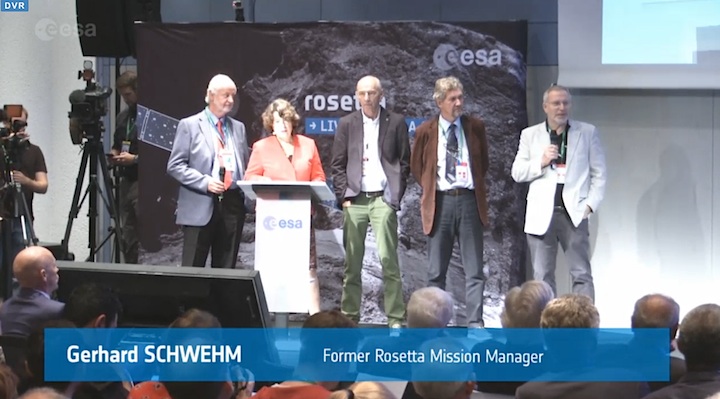 ...13.30 MESZ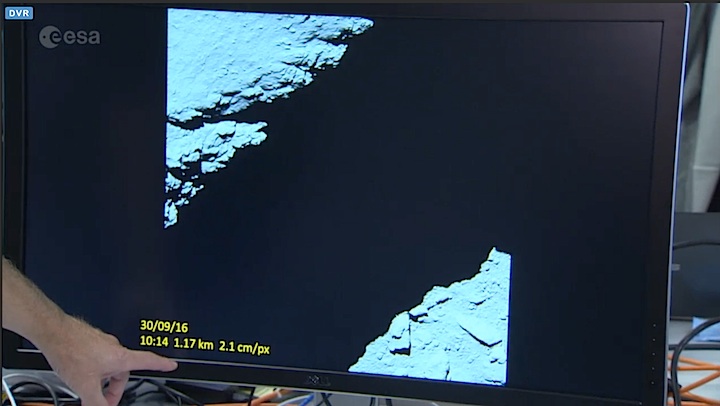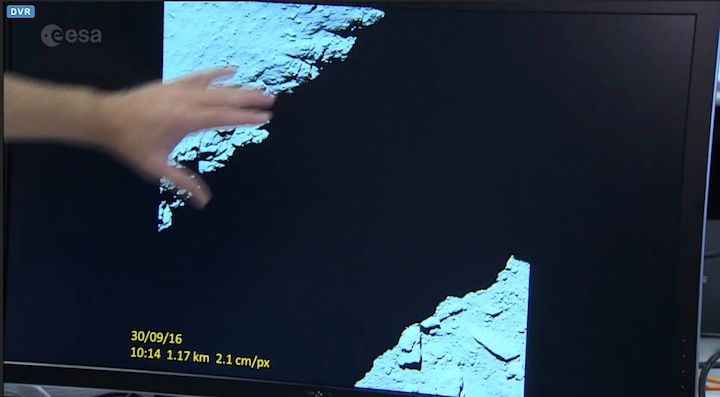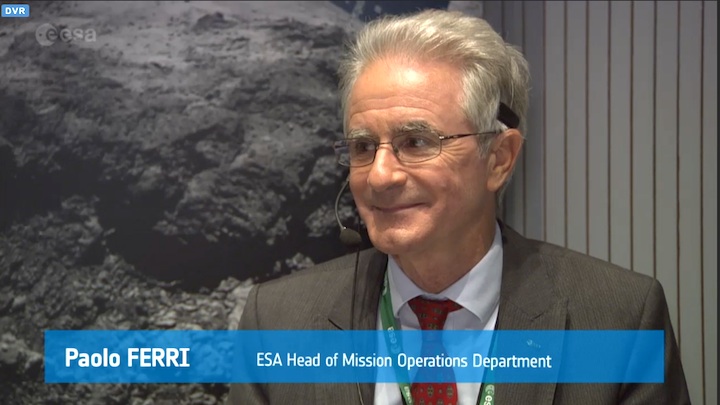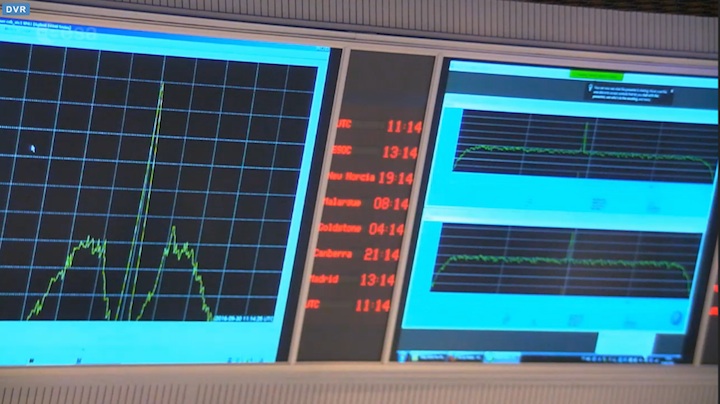 Rosetta auf den letzten Metern...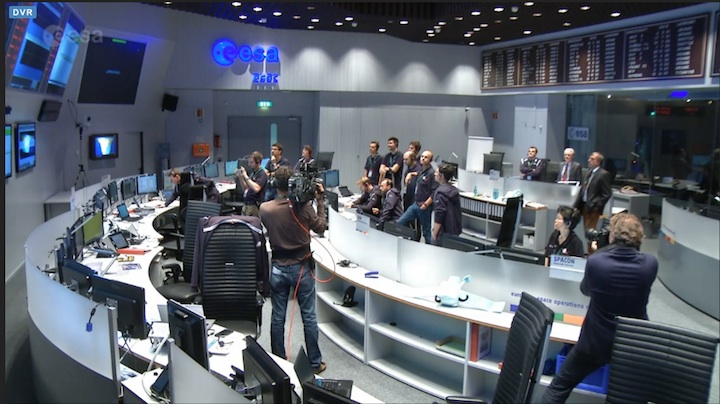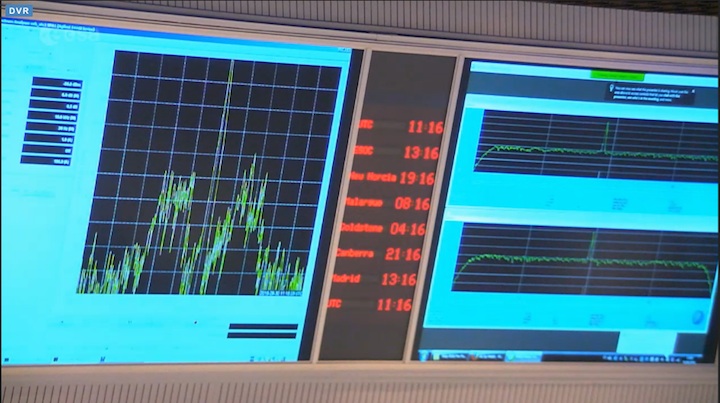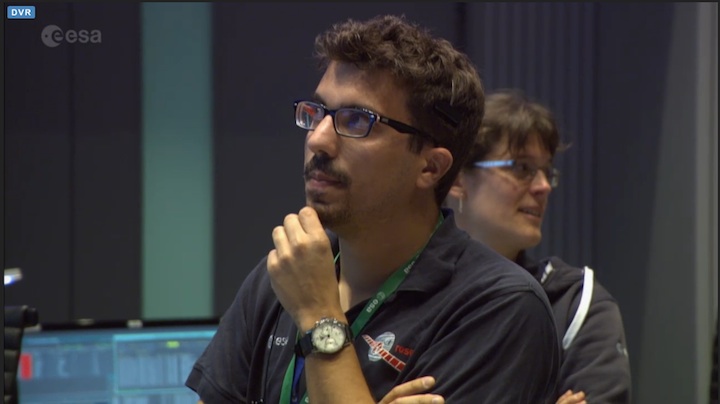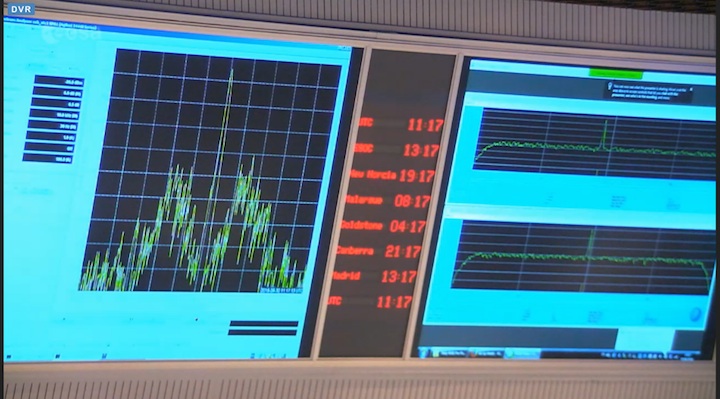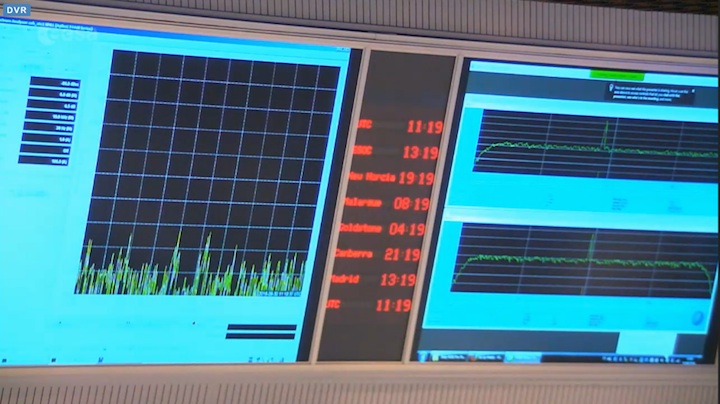 Rosetta ist gelandet...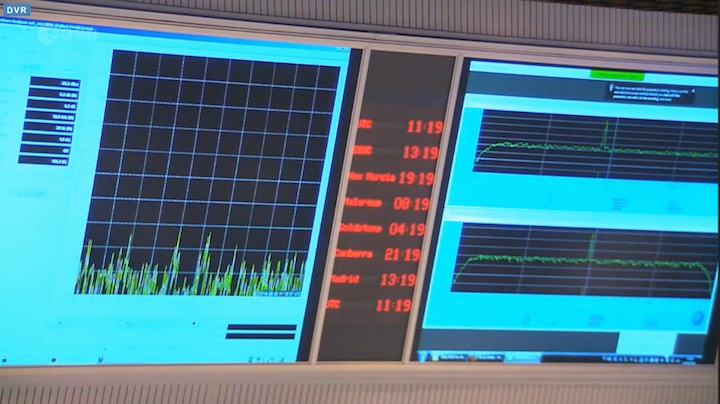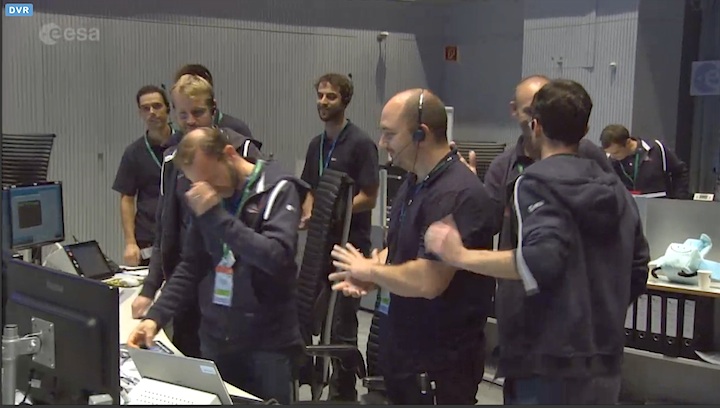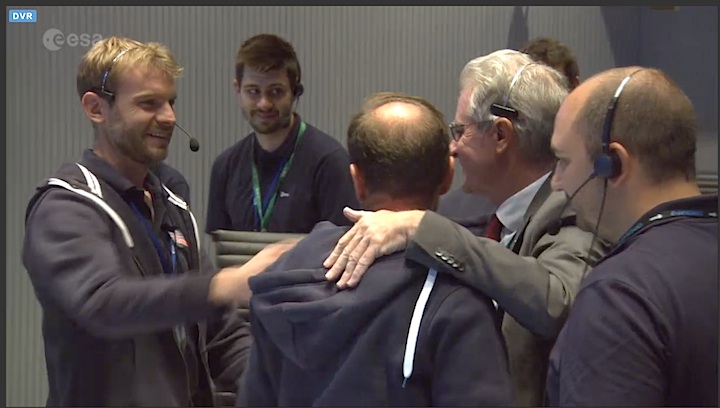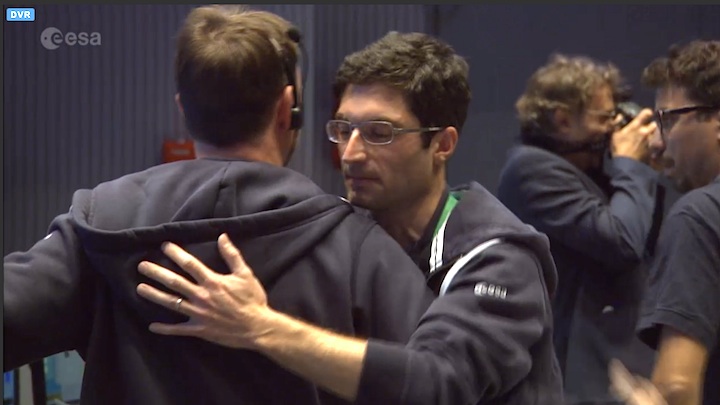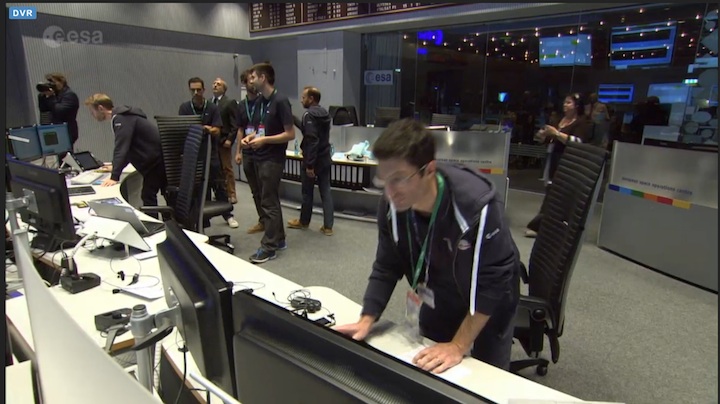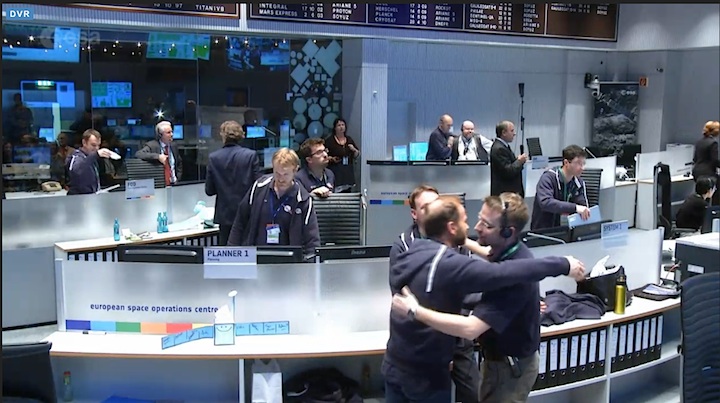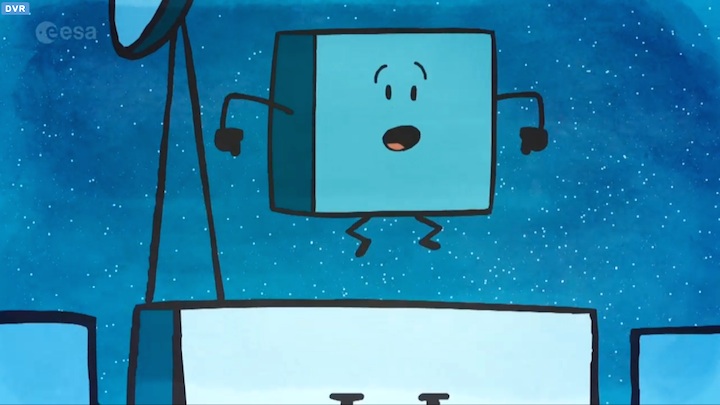 ...13.45 MESZ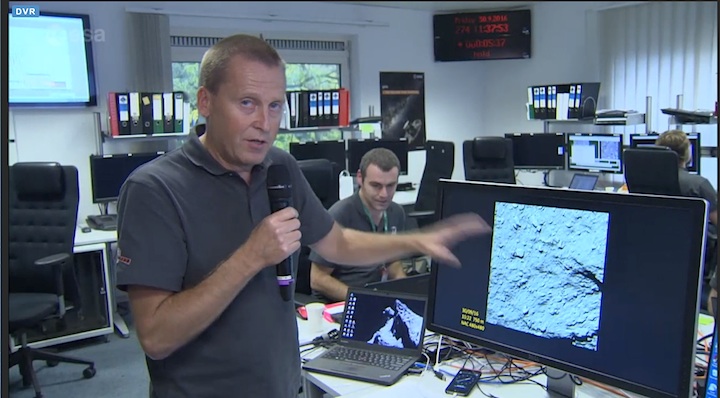 Die letzten Bilder von Rosetta...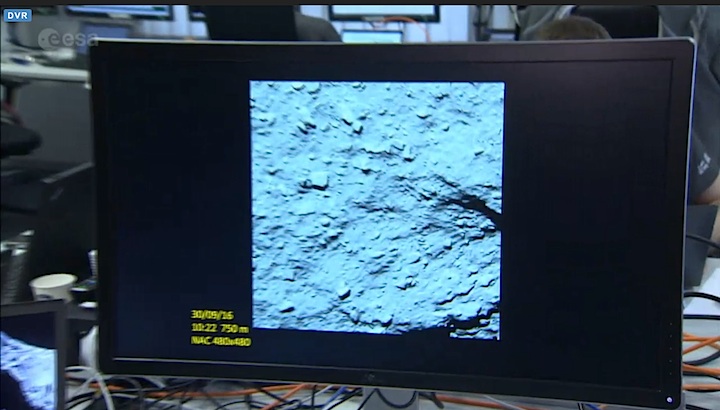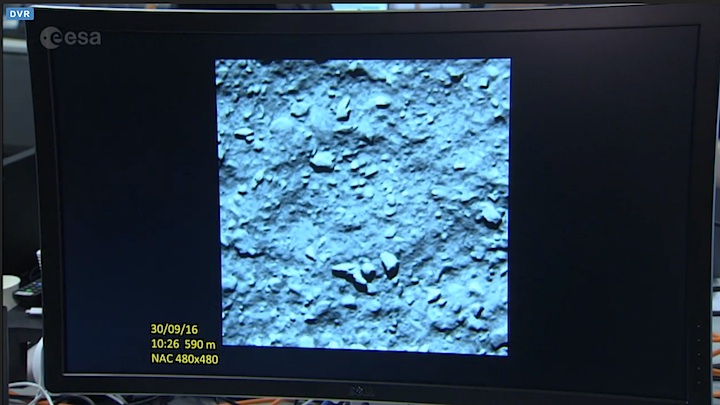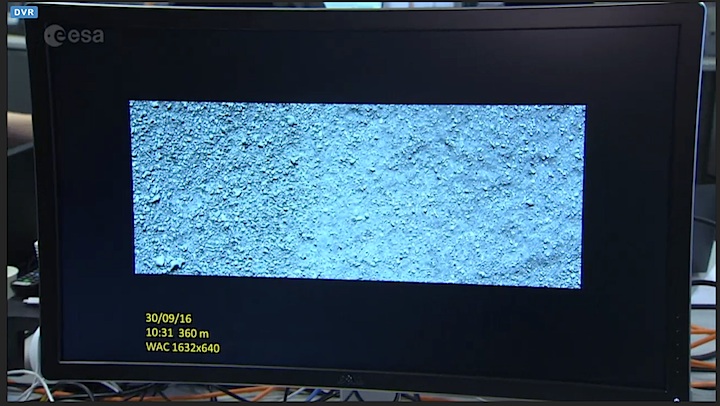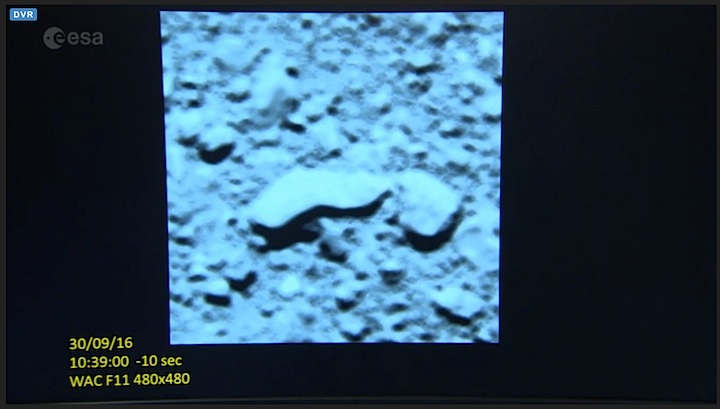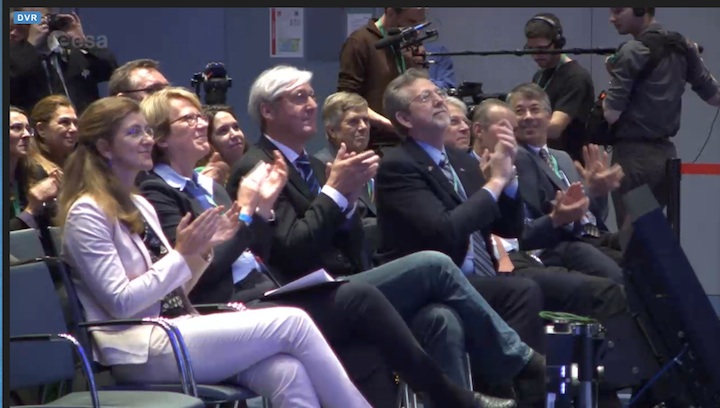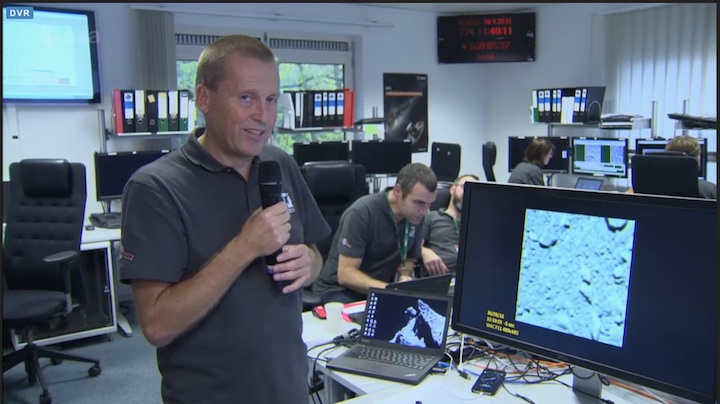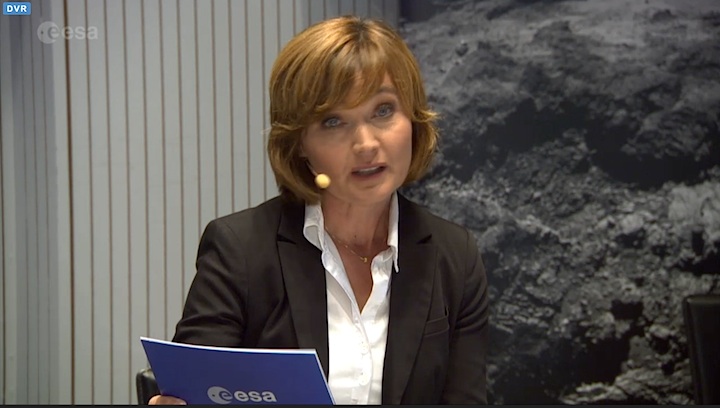 Quelle: ESA
-
Final Descent Image from Rosetta Spacecraft
A new image of comet 67P/Churyumov-Gerasimenko was taken by the European Space Agency's (ESA) Rosetta spacecraft shortly before its controlled impact into the comet's surface on Sept. 30, 2016. Confirmation of the end of the mission arrived at ESA's European Space Operations Center in Darmstadt, Germany, at 4:19 a.m. PDT (7:19 a.m. EDT / 1:19 p.m. CEST) with the loss of signal upon impact.
The final descent gave Rosetta the opportunity to study the comet's gas, dust and plasma environment very close to its surface, as well as take very high-resolution images.
The image was taken from an altitude of 167 feet (51 meters) above the comet's surface by the spacecraft's OSIRIS wide-angle camera on Sept. 30.
The image scale is about two-tenths of an inch (5 millimeters) per pixel. The image measures about 9 feet (2.4 meters) across.
NASA TV recorded coverage - Comet Finale for ESA's Rosetta Mission
The decision to end the mission on the surface is a result of Rosetta and the comet heading out beyond the orbit of Jupiter again. Farther from the sun than Rosetta had ever journeyed before, there would be little power to operate the craft. Mission operators were also faced with an imminent month-long period when the sun is close to the line-of-sight between Earth and Rosetta, meaning communications with the craft would have become increasingly more difficult.
The European Space Agency's Rosetta mission was launched in 2004 and arrived at comet 67P/Churyumov-Gerasimenko on Aug. 6, 2014. It is the first mission in history to rendezvous with a comet and escort it as it orbits the sun. On Nov. 4, 2014, a smaller lander name Philae, which had been deployed from the Rosetta mothership, touched down on the comet and bounced several times before finally alighting on the surface. Philae obtained the first images taken from a comet's surface and sent back valuable scientific data for several days.
U.S. contributions aboard the Rosetta spacecraft are the Microwave Instrument for Rosetta Orbiter (MIRO); the Alice spectrograph; the Ion and Electron Sensor (IES), part of the Rosetta Plasma Consortium Suite; and the Double Focusing Mass Spectrometer (DFMS) electronics package for the Rosetta Orbiter Spectrometer for Ion Neutral Analysis (ROSINA). They are part of a suite of 11 total science instruments aboard Rosetta.
Comets are time capsules containing primitive material left over from the epoch when the sun and its planets formed. Rosetta is the first spacecraft to witness at close proximity how a comet changes as it is subjected to the increasing intensity of the sun's radiation. Observations will help scientists learn more about the origin and evolution of our solar system and the role comets may have played in the formation of planets.
Rosetta is an ESA mission with contributions from its member states and NASA. Rosetta's Philae lander is provided by a consortium led by the German Aerospace Center, Cologne; Max Planck Institute for Solar System Research, Gottingen; French National Space Agency, Paris; and the Italian Space Agency, Rome. NASA's Jet Propulsion Laboratory, Pasadena, California, a division of Caltech, manages the U.S. contribution of the Rosetta mission for NASA's Science Mission Directorate in Washington. JPL also built the MIRO and hosts its principal investigator, Mark Hofstadter. The Southwest Research Institute (San Antonio and Boulder, Colorado), developed the Rosetta orbiter's IES and Alice instruments and hosts their principal investigators, James Burch (IES) and Alan Stern (Alice).
Quelle: NASA