He expects to have it in law by mid-2017.
COMMERCIAL rocket launches at Mahia are another step closer after the Government gave aerospace company Rocket Lab temporary permission to launch.
Economic Development Minister Steven Joyce yesterday signed a contract authorising Rocket Lab's space activities from New Zealand, paving the way for the company to launch rockets from its newly-completed launch site at Onenui Station.
"This contract is an important milestone in the work the Government is doing to support the development of a New Zealand-based space industry," Mr Joyce says.
"Rocket Lab is capitalising on some of New Zealand's advantages as an attractive location for space launches. We have clear skies, access to good launch angles, a skilled workforce and an innovation-friendly business environment."
Mr Joyce said the contract was an interim measure to allow Rocket Lab to start launching rockets before a bill establishing a regulatory regime came into force.
The Outer Space and High Altitude Activities Bill is expected to be introduced into Parliament later this month and the Government would seek to have it passed into law by mid-2017.
"The bill facilitates the development of a space industry and its safe and secure operation that meets our international obligations, including the Technology Safeguards Agreement (TSA) recently signed with the United States."
Treaty with the USA
The TSA is a bilateral treaty between the New Zealand and United States governments to enable the use and secure management of US rocket and satellite technology in New Zealand.
It allows commercial entities, including Rocket Lab, to import launch technology and satellites from the US.
In terms of its broader international obligations, New Zealand is committed to the peaceful and responsible use of space.
"Rocket Lab is yet another example of our fast-growing and increasingly diverse hi-tech sector," said Mr Joyce.
"Rocket Lab's leading role in developing a New Zealand space industry will provide opportunities for other entrepreneurs and businesses to realise spin-off benefits in a range of areas such as advanced materials for use in space applications."
The contract provides the mechanism by which to authorise Rocket Lab's space activities to be conducted from New Zealand; to manage the Government's liability under the United Nations Liability Convention; and to implement New Zealand's obligations under the TSA, enabling it to enter into force.
"The contract is consistent with the draft bill. Once the bill becomes law, Rocket Lab will transition to the new regime and the Government can choose to terminate the contract."
Before launching, Rocket Lab would need to get a licence from the US Federal Aviation Administration (FAA) so it could conduct its space launch activities in New Zealand.
Rocket Lab chief executive Peter Beck said the contract and upcoming TSA Bill were regulatory necessities.
"The Government's commitment to seeing New Zealand join the global space arena is exciting news for our country.
"The 'space economy' generates over $330 billion dollars annually and presents a considerable opportunity for New Zealand.
"Regulatory measures are a necessary step in providing the foundations for the growth of this sustainable high-tech industry. Rocket Lab is committed to international best practice on using space responsibly, peacefully and sustainably."
Quelle: gisborneherald
.
Update: 29.09.2016
.
First ever private spaceport opens for New Zealand "space bus"
The world's first private spaceport has been completed in New Zealand for Rocket Labs, a private company offering a budget satellite delivery service.
"Launch Complex 1", which was completed in only nine months, is located on the Mahia Peninsula of New Zealand's North Island.
Facilities at the complex include a hangar where the vehicle will be prepared for launch as well as a 50 tonne launch pad, which tilts to lift the rocket to a vertical position prior to launch. The company also built a 3.5km road to reach its chosen site.
The site was chosen for its remoteness, which will minimise disruption from air and marine traffic.
Rocket Labs' business is based on its two-stage Electron launch vehicle, which is powered by an innovative Rutherford engine. According to Rocket Labs, this "adopts an entirely new propulsion cycle, using electric motors to drive turbopumps, and is the first oxygen/hydrocarbon engine to use 3D printing for all primary components".
The rocket itself relies on standard modular parts to reduce weight and enhance reliability. For example, the vehicle's avionics system weighs 8.6kg, compared with the 4,500kg of NASA's first Space Shuttle.
The Mahia site allows a wide range of launch azimuths
The Electron is conceived as a kind of space bus, able to park a small satellite in orbit for as little as $50,000. The first launch is scheduled to take place before the end of the year, and a further nine are planned for next year. All of these launches have been fully booked.
Satellites launched from the complex will be used to provide services including crop monitoring, meteorological reporting, communications and location services.
Rocket Labs was founded by New Zealand rocket scientist Peter Beck in 2007. It is funded by Khosla Ventures, a US venture capitalist run by Indian billionaire Vinod Khosla, which specialises in early-stage high-technology projects.
A video-frams showing the construction of the space station can be seen here.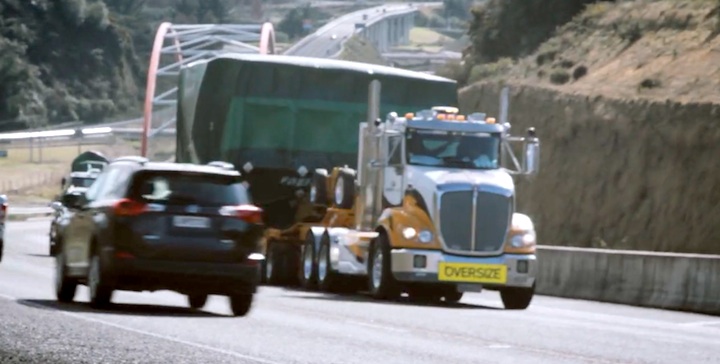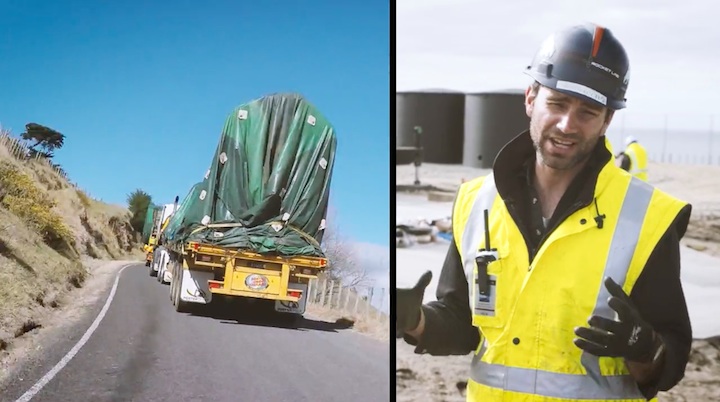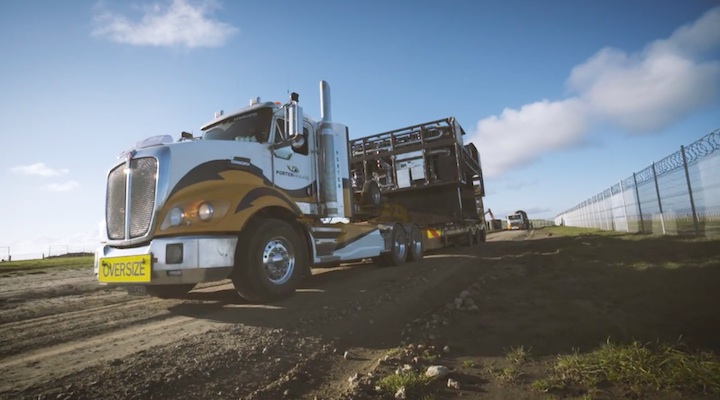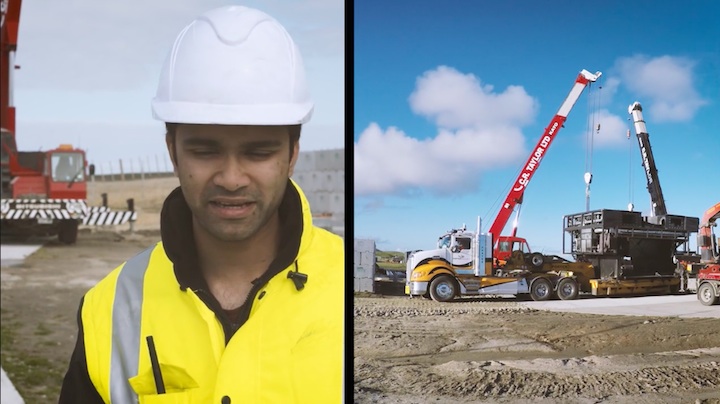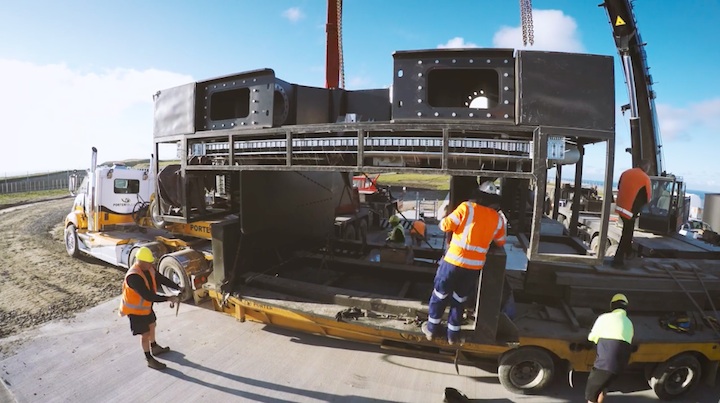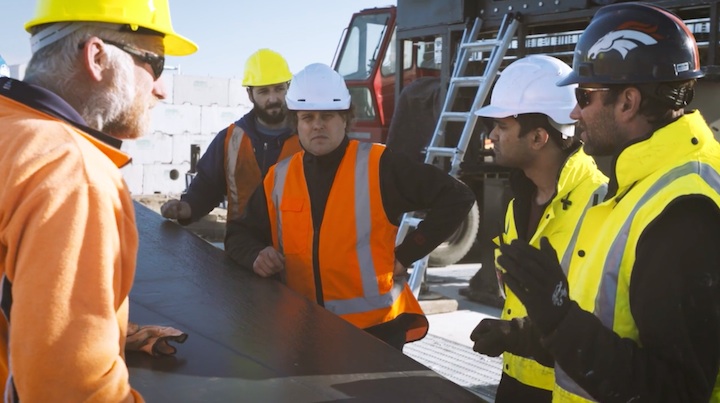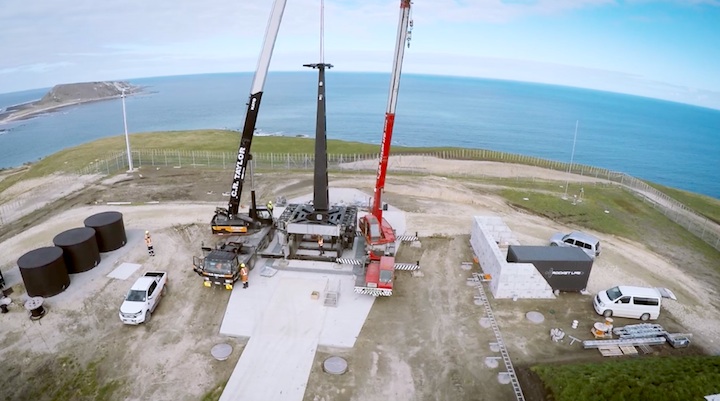 Image: Rocket Labs' staff pose with their Electron rocket. Illustrations courtesy of Rocket Labs.
Quelle: GCR