The object is examining by military officials of Tuyen Quang Province.
Professor Nguyen Khoa Son, from the State Space Science and Technology Program, said the objects may be the fuel tank of a satellite. Such objects have been discovered in other countries, Son said.
He said there are thousands of satellites in the sky. After completing their missions, many satellites enter the earth's atmosphere and burn up. They are controlled by humans to move out of residential areas, such as to the sea or the desert. Some big satellites, however, might not burn up completely and fall to earth.
There is another supposition: the objects are intact, suggesting they fell from a low altitude, below 100 km. "This may be the result of a failed launch of satellite," Professor Son said.
An expert from the Vietnam Space Center agreed with Son, adding that the objects may be a liquid gas tank for the control engine of a satellite.
Meanwhile, an aerospace expert argued that the gas tank must have a valve. He suggested that the authorities should consider the depth of the hole created by the object and the materials used to make the objects.
.
Earlier, Vietnam People's Army Deputy Chief of the General Staff, Lieut. Gen. Vo Van Tuan denied that the strange objects came from the army. He said that so far there was no confirmation on what exactly the objects were and where they came from.
At about 7:00am Saturday, residents in Bao Dap and Tan Dong communes in Yen Bai reportedly heard what sounded like thunder, despite no signs of rain.
They later found a strange round object with a diameter of about 40 centimeters lying on the ground in resident Tran Thi Loi's garden in Hamlet 1.
Tuyen Quang Military Command Deputy Commander Tran Van Du said that the sphere in question was made of alloy material and weighed about 35 kilos. He said the sphere was not a bomb and was not made of explosive materials.
The object was completely sealed off, making it infeasible to look at the inside. But echoes from knocking on its surface reportedly indicated that the sphere was probably empty.
Another metal piece, weighing about 0.2 kilos, was also found about five kilometers from Loi's house. The piece was said to have hit a resident's house. No one was injured.
Meanwhile, residents in Tan My commune in Tuyen Quang, a neighboring province to the east of Yen Bai, also heard three big explosion sounds around the same time in Saturday morning before discovering another strange round item on vacant land in Na Giang hamlet.
Tan My police said the sphere's surface was metal and had a diameter of nearly 100 centimeters.
An investigation is continuing.
Quelle: vietnamnet
---
Mysterious metal balls found in Vietnam may be space debris: officials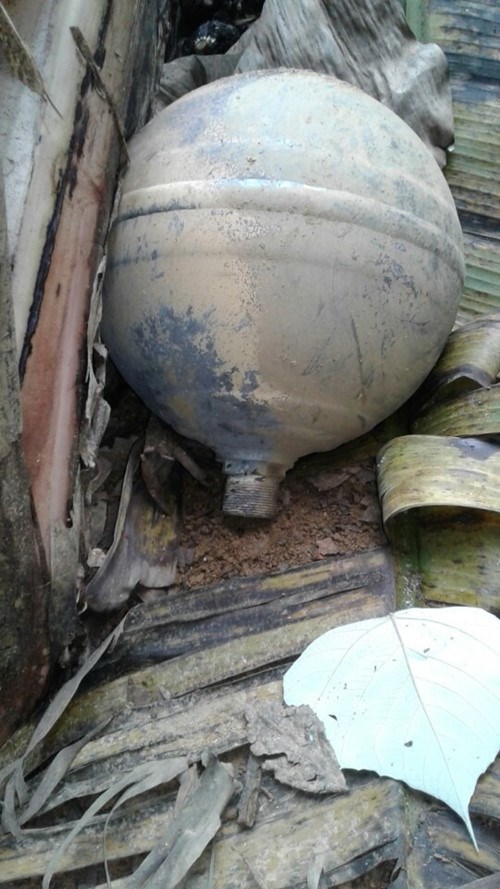 This six-kilogram sphere is reportedly found in a garden in Yen Bai Province. Photo: Duy Trinh
Officials from the defense ministry say three strange objects discovered in northern Vietnam last weekend are most likely space debris. 
The spheres, weighing 250 grams, six kilos and 45 kilos, were found at three separate locations in the northern provinces of Yen Bai and Tuyen Quang last Saturday. They had reportedly fallen from space. 
Initial investigations from the Ministry of Defense found that the objects could have been made in Russia and come from missiles or spaceships. They could have been used as compressed air equipment.
None of the objects were explosive devices, added officials.
Authorities said they will report the incidents to the Council of National Defense and Security, adding that space debris must be dealt with properly to avoid possibilities of accidents.
Witnesses said they saw the first sphere, around six kilos in weight, flying at around 6:30 a.m. before it crashed down on a garden in Yen Bai Province. They said there was a loud noise which prompted them to run away. 
.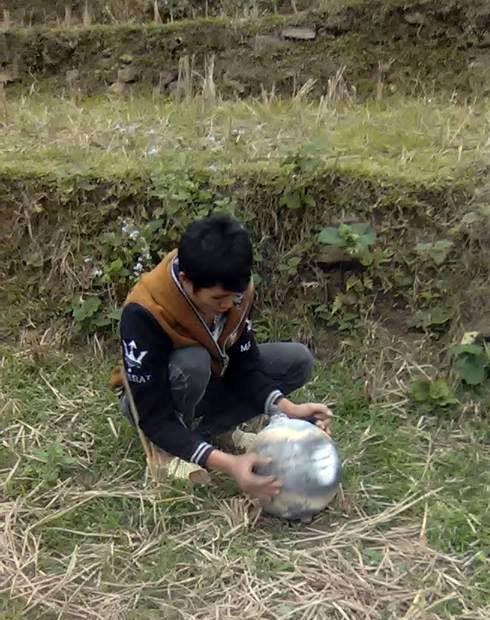 Local man Dang Van Canh shows a six-kilogram sphere he has discovered in Yen Bai Province. Photo credit: VietNamNet
.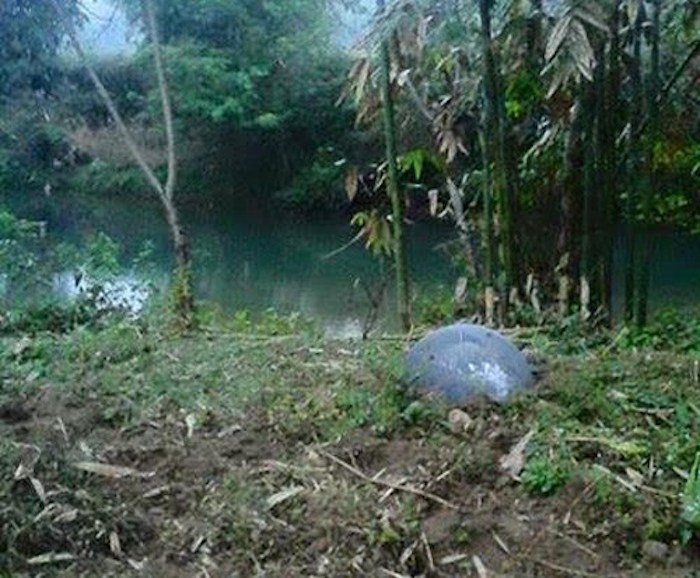 The last object, weighing around 45 kilos, has been found in a garden in Tuyen Quang Province. Photo credit: VIetNamNet
Quelle: THANHNIEN