.
10.12.2015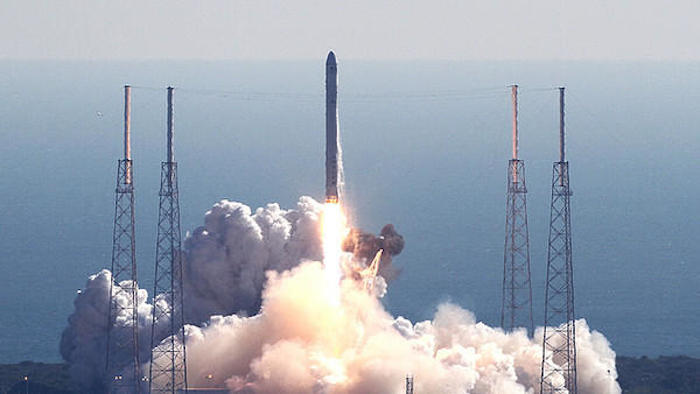 Now that Orbital ATK has successfully returned to the launching business, sending 7,000 pounds of supplies to the International Space Station, competitor SpaceX is next, and reportedly could launch as soon as Dec. 19.
SpaceX founder Elon Musk vowed in October that his company would launch two Falcon 9 rockets from Cape Canaveral Air Force Station in December, ending its stand-down since the last Falcon 9 blew up on June 26, causing it to have to reschedule a half-dozen space missions.
Yet SpaceX still has not announced a launch date yet for the next mission, to deliver a constellation of ORBCOMM satellites, or for the next mission it had pledged for December, to deliver an SES satellite to orbit. Earlier this week SpaceX said an announcement would be coming shortly. The company's webpage says only, "December, 2015."
December is ticking away, and things are happening, so a launch appears imminent.
On Nov. 30, Sierra Nevada Corporation delivered the payload to Cape Canaveral for SpaceX's next mission: 11 ORBCOMM OG2 satellites.
Today a journalist with SpaceFlightNow.com, Stephen Clark, reported, via Twitter, that ORBCOMM has said it expects to launch Saturday, Dec. 19.
ORBCOMM did not respond to an inquiry from the Orlando Sentinel.
Quelle: Orlando Sentinel
-
Update: 13.12.2015
.
ORBCOMM-2 MISSION UPDATE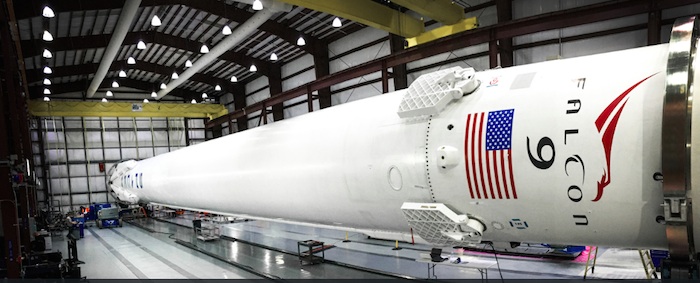 .
SpaceX is currently aiming for a December 16 static fire of the Falcon 9 at Cape Canaveral, Florida in advance of the upcoming ORBCOMM-2 launch. The launch of 11 next-generation OG2 satellites is part of ORBCOMM's second and final OG2 Mission at Cape Canaveral Air Force Station in Florida. The static fire will verify the readiness of the Falcon 9 rocket and once completed, ORBCOMM'S second OG2 Mission is targeted to launch about three days later between 8pm and 9pm ET.
Quelle: SpaceX
.
Update: 18.12.2015
.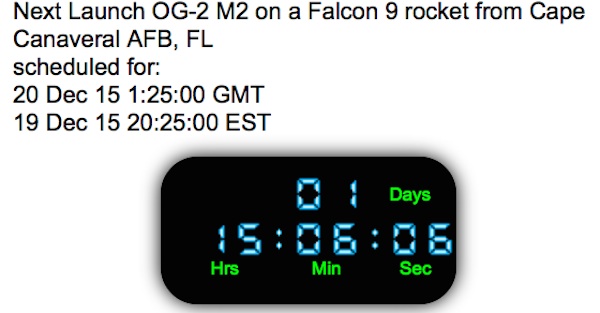 ...
Update: 19.12.2015
.
SpaceX completes testing, targets Sunday for launch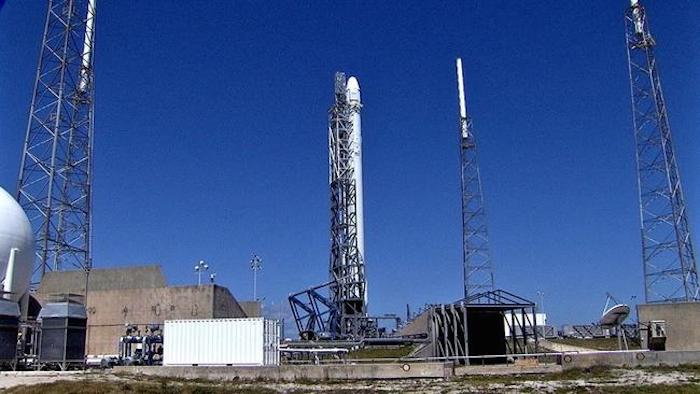 SpaceX is one step closer to launching its Falcon 9 rocket again.
The commercial space company's Falcon 9 launch is tentatively scheduled for Sunday, Dec. 20 at 8:29 p.m. following several delays, according to SpaceX founder Elon Musk.
SpaceX postponed the ground testing of the rocket's engines and its systems, also known as a static fire test, from Wednesday until Friday.
"Static fire test looks good," tweeted Musk. "Pending data review, will aim to launch Sunday."
SpaceX is set to launch its upgraded Falcon 9 rocket from Cape Canaveral Air Force Station, carrying a payload of 11 ORBCOMM-2 satellites.
There is a 10 percent chance that weather conditions could delay the launch, according to the Air Force's 45th Weather Squadron.
The Falcon 9 is set vertically on Launch Complex 40 at Cape Canaveral
Quelle: Orlando Sentinel
.
Update: 20.12.2015
.
Details of Falcon-9 Booster Landing Attempt at Cape Canaveral Sunday Night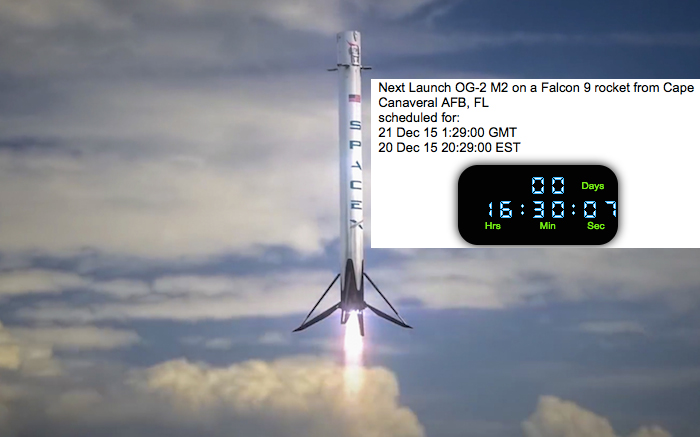 Illustration of a SpaceX Falcon-9 booster with its landing legs and hypersonic grid fins deployed for a landing attempt. The company will attempt this feat at Cape Canaveral, for the first time, with launch of the Orbcomm OG-2 mission Sunday evening. Image Credit: SpaceX
-
Six months after its 19th mission ended in pieces falling from the sky, SpaceX's new and improved Falcon-9 booster is set for a long-awaited Return to Flight (RTF), no sooner than Sunday night, December 20, carrying with it 11 Orbcomm Generation-2 (OG-2) communications satellites for delivery into low-Earth orbit. While the launch itself is the mission, delivering their customer's payload, the flight also gives SpaceX another opportunity for a secondary objective; to land their rocket's first stage booster, something the company has been working towards in an effort to provide a rapidly reusable and cheaper launch system.
Sunday's RTF will mark the first time a rocket landing has ever been attempted at the nation's historic Cape Canaveral launch site, and liftoff is currently scheduled for a 60-second window at 8:29 p.m. EST.
Continue reading Details of SpaceX Falcon-9 Landing Attempt at Cape Canaveral Sunday Night
Quelle: AS
-
Update: 19.30 MEZ
.
Rocket landing at Cape Canaveral planned after SpaceX launch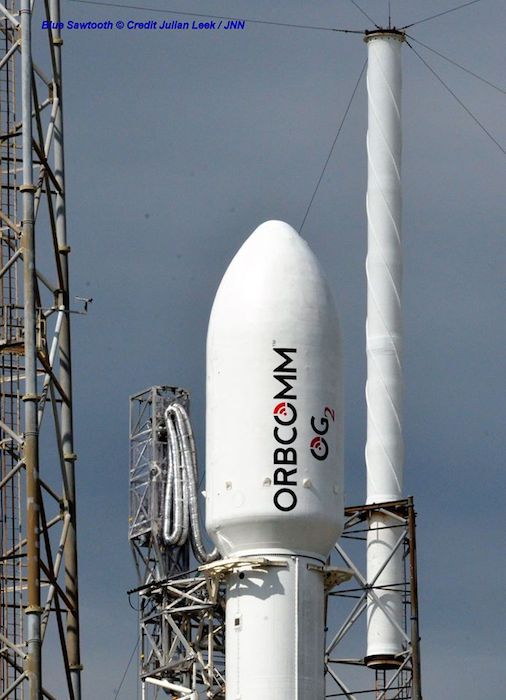 .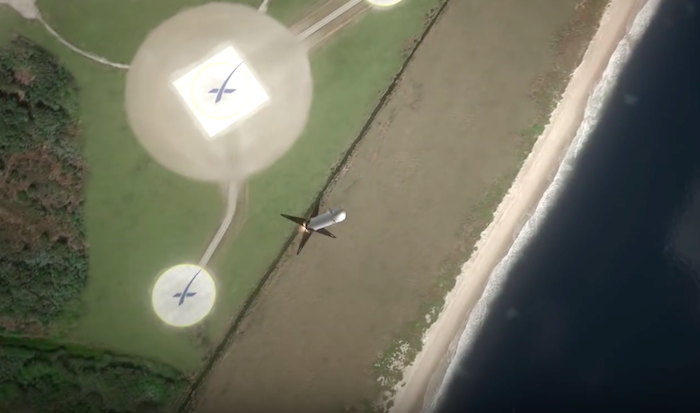 Artist's concept of a Falcon 9 booster stage descending to a landing site at Cape Canaveral. Credit: SpaceX
-
Assuming SpaceX's plans come to fruition, a Falcon 9 flight from Cape Canaveral on Sunday will end with a vertical rocket-assisted landing at an abandoned Cold War-era launch facility a few miles away.
SpaceX confirmed the rocket's first stage, a slender cylindrical kerosene-fed rocket body standing 156 feet tall, will aim for a controlled touchdown at a landing pad the company rented from the U.S. Air Force less than six miles south of the Falcon 9's Complex 40 launch pad.
Liftoff is set for a 60-second window opening at 8:29 p.m. EST Sunday (0129 GMT Monday). A backup launch opportunity is available Monday.
A statement released by SpaceX on Saturday said the company planned to recover the Falcon 9's first stage booster at Landing Zone 1, previously known as Space Launch Complex 13, an Atlas launch facility that was last used in 1978.
The Federal Aviation Administration was expected to formally approve the landing attempt in SpaceX's commercial launch license.
The Falcon 9's second stage engine will continue driving into orbit with 11 Orbcomm message relay satellites, the primary objective of Sunday's launch, after the first stage unlatches and falls away from the upper stage about three minutes after liftoff.
The first stage will flip around with pulses from cold gas thrusters, then re-ignite a subset of its nine Merlin main engines to propel itself back toward Cape Canaveral from the northeast.
.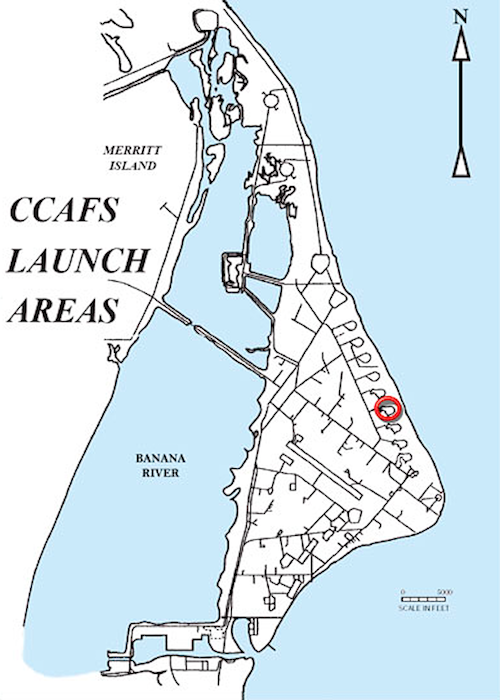 Launch Complex 13, or Landing Zone 1, is circled in this map of Cape Canaveral. Credit: Air Force Space and Missile Museum
-
On final descent, the rocket's center engine will fire up for a landing burn as four legs extend from the base of the booster. Maneuverable grid fins attached to the top of the first stage will help ensure aerodynamic stability.
Touchdown at Landing Zone 1, which sits just north of the eastern tip of Cape Canaveral on Air Force property, is expected within 20 minutes of launch, but the exact time has not been disclosed.
SpaceX has tried to land Falcon 9 boosters on an ocean-going barge in the Atlantic Ocean after two launches earlier this year, but the rockets tipped over after touchdown on the ship. The flight profile to steer the rocket back toward the coast — essentially reversing its course more than 60 miles up in space — has never been tried before, but the final landing sequence should be similar to the descents over the ocean.
The landing will be at night at Cape Canaveral, but the flash of the final descent burn could be visible to spectators.
A video of a landing attempt on SpaceX's autonomous spaceport drone ship after an April launch showed the rocket's fall toward the landing target, slowed down by the single-engine descent burn, then cold gas thrusters firing in an effort to keep the rocket upright.
SpaceX officials said a sonic boom could also accompany the landing as the rocket slows from supersonic speed.
"Just as when the space shuttle returned from space, there is a possibility that residents of northern and central Brevard County, Fla. may hear a sonic boom during landing," SpaceX said in a statement. "A sonic boom is the thunder-like noise a person on the ground hears when an aircraft or other type of aerospace vehicle flies overhead faster than the speed of sound.
"Residents of the communities of Cape Canaveral, Cocoa, Cocoa Beach, Courtenay, Merritt Island, Mims, Port Canaveral, Port St. John, Rockledge, Scottsmoor, Sharpes, and Titusville in Brevard County, Fla. are mostly likely to hear a sonic boom, although what residents experience will depend on weather conditions and other factors," the statement said.
The Air Force's 45th Space Wing, the unit which runs the Cape Canaveral spaceport, plans to evacuate much of the base for the historic landing attempt, the first of its kind on Florida's Space Coast.
If the rocket lands intact, SpaceX engineers will inspect the booster, scrutinizing it to learn how the vehicle weathered the re-entry and how much refurbishment is needed before flying again.
Sunday's launch also marks the first flight of an upgraded version of the Falcon 9, carrying condensed, super-cold propellants, larger fuel tanks and uprated engines to carry heavier payloads into orbit. The extra performance, coupled with the relatively light weight of the Orbcomm satellites — each one is about the size of a refrigerator — leaves ample propellant for the return to Cape Canaveral.
"If successful, this test would mark the first time in history an orbital rocket has successfully achieved a land landing," SpaceX said in a press release.
Quelle: SN
-
Update: 21.12.2015
.
Start von Falcon 9 um 24 Stunden verschoben...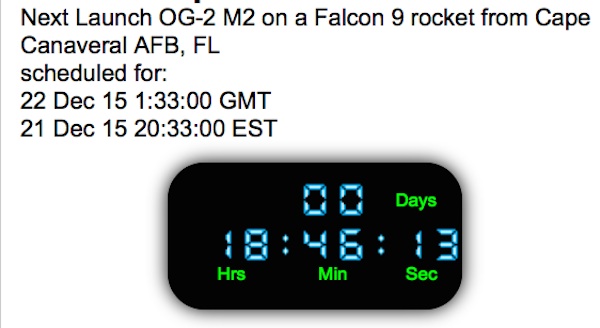 Quelle: SpaceX
-
Update: 22.00 MEZ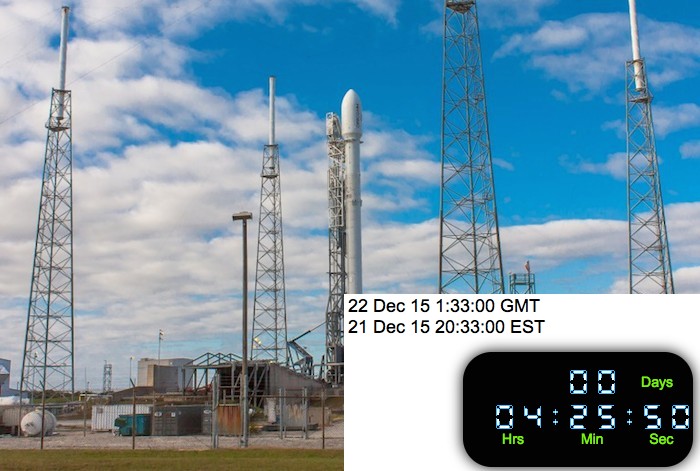 ...
2121 Views