.
5.06.2015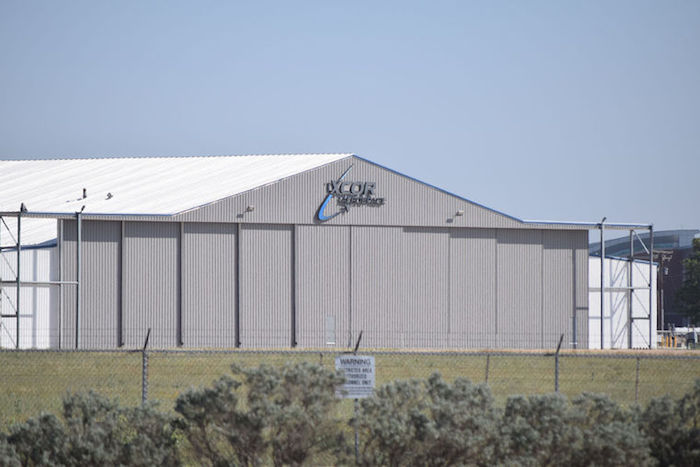 New XCOR mock-up is displayed at airport
Company's hangar to be done in next few months
A mock-up of XCOR Aerospace's Lynx spacecraft built by spacesuit company Orbital Outfitters is on display at Midland International Air & Space Port.
Orbital Outfitters CEO Jeff Feige said this morning that the mock-up is the fourth one the company has built. While Orbital Outfitters' primary focus is building a high-tech pressure chamber across from XCOR's hangar, the company's secondary business is the fabrication of such mock-ups, according to Feige.
XCOR director of media and public relations Brian Campen said that the XCOR hangar is to be completed within the next two two months. At least 10 employees already have moved to Midland and many are buying homes in the area, he said this morning.
Feige said Orbital Outfitter's building is expected to be completed by the end of 2015, or early 2016. He told the Reporter-Telegram that components for the pressure chamber will start arriving in the next few weeks.
.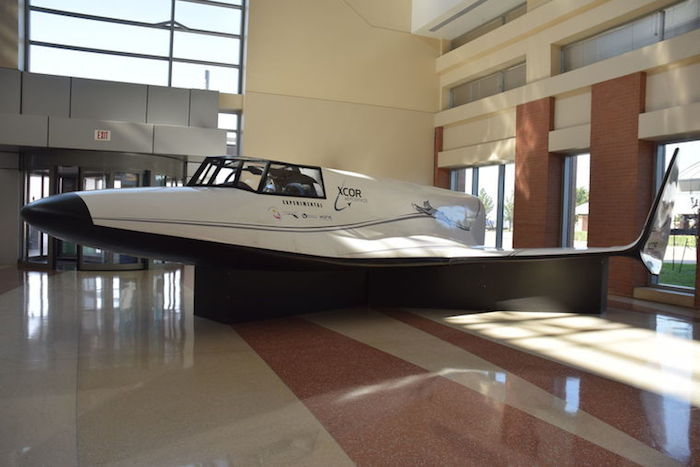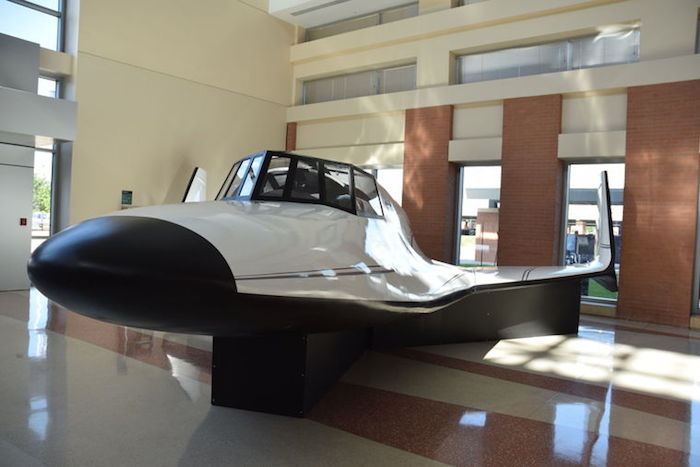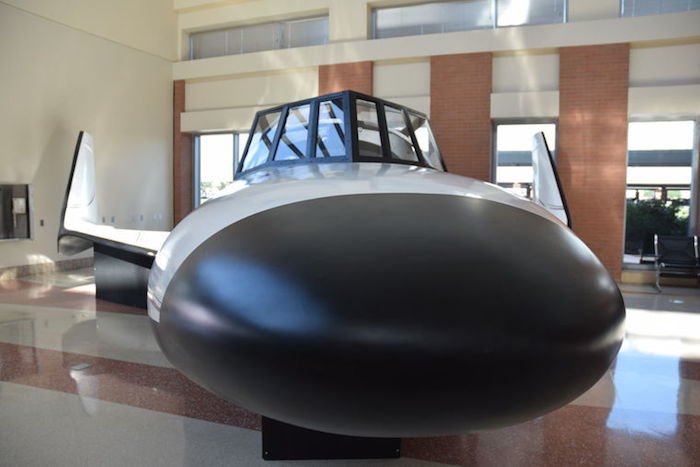 Quelle: Midland Reporter-Telegram
.
Update: 10.06.2015
.
XCOR wählt Matrix Composites zum entwickeln der Lynx Rippenstücke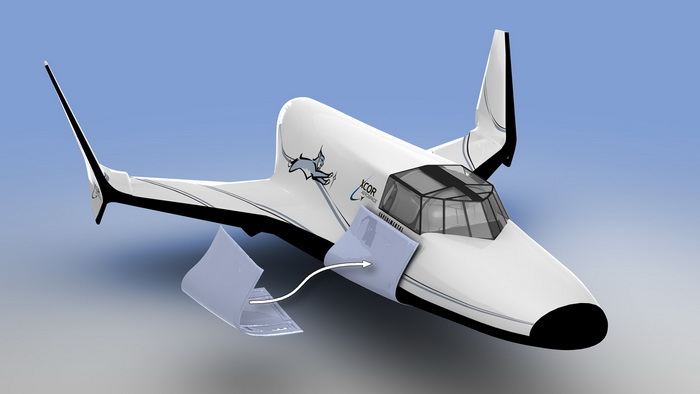 The chines cover the transition from the nose to the strakes on the Lynx Mark I
May 12th, 2015, Mojave CA - XCOR Aerospace® today announced its selection of Matrix Composites, Inc. of Rockledge, Florida as the manufacturer and supplier of the XCOR® Lynx® Mark I spacecraft composite chine panels.
"The chines allow the Lynx fuselage to have a continuous aero surface from the tip to the back of the strakes," noted XCOR Chief Technology Officer Jeff Greason. "Once the strakes are bonded and the nose is installed, the chines will be added to unify the space between the two, with some custom fitting at each end."
The chine panels, manufactured by Matrix Composites, are an integral part of the structural airframe and will allow access to vital life support and flight control system components that are mounted within the spacecraft. The panels are a carbon fiber and epoxy sandwich laminate with a lightweight foam core. Matrix Composites will manufacture the chine panels in their Rockledge, Florida facility with completion expected by June 2015.
"As Lynx comes together at Hangar 61 in Mojave, we are expanding our presence in Florida, the future home of our Lynx manufacturing facilities," said XCOR Chief Executive Officer Jay Gibson. XCOR Aerospace is expanding its Florida presence through a partnership with Space Florida. The company plans to locate its Lynx Mark II manufacturing facilities at Kennedy Space Center. "We could not be more pleased to work with Matrix Composites on this vital Lynx component as we expand our presence in Florida," added Gibson.
"We are honored that XCOR chose us to supply this integral part of the Lynx spacecraft's composite body," said Dave Nesbitt, Matrix Composites' President. "To be part of their mission of research, science, private spaceflight, and micro satellite launch is very exciting work, highlighting our capabilities with high performance composites."
-
Update: 24.08.2015
.
XCOR update: half of staff in Midland, ground testing to happen in Mojave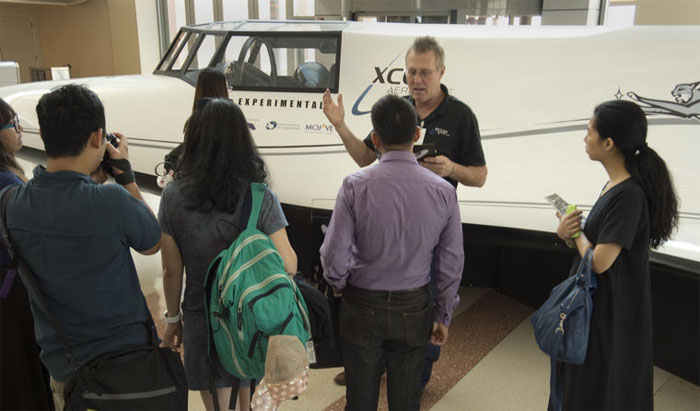 XCOR Aerospace has moved half of its staff to Midland as it attempts to juggle manufacturing demands back in Mojave, California with its shift to the Tall City.
The space company, which is developing the suborbital aircraft Lynx and orbital rocket engines for the United Launch Alliance project, has brought much of its ULA and administrative staffs to Midland while leaving many Lynx staff back in Mojave.
"There's a lot going on in Mojave," said XCOR mechanical engineer Mark Peck. "That's one of the reasons for not moving everyone right now is because we just don't want to take a month out of the build schedule."
Peck estimated that XCOR is six to nine months away from the Lynx 1's first flight. The main structure is complete and the wing mounts are being made. Once the craft is put together, the team in Mojave will do ground testing at the Mojave Air & Space Port. Peck cited the longer runway at Mojave and the ability to do extensive testing there without shutting down a commercial airport as reasons for doing the test back in California.
Safety components will be tested in Mojave to ensure that the Lynx will be able to brake upon landing. Peck talked about the company's emphasis on safety.
"We're very safety conscious. (CEO) Jeff Greason … his whole deal is when it flies is when it's ready is when it's safe," Peck said.
The private space industry has faced numerous setbacks recently. Space company SpaceX, led by multi-billionaire Elon Musk, has had three launches in a row fail. The latest, a resupply mission to the International Space Station orbiting around the Earth, SpaceX's Falcon 9 rocket disintegrated just over two minutes into the flight.
At the end of October a Virgin Galactic vehicle, the VSS Enterprise, was lost after it broke apart on a test flight. The co-pilot was killed, and the pilot was injured but survived. The accident was deemed to be a result of human error.
Peck said that such incidents are not good for the private space industry, which is still working to gain its footing.
"Whether it was space industry or car industry, it doesn't matter, of course it affects that," he said. "It's not good at all for any industry to have failures, things that slow you down. We're right next door to Virgin Galactic right there… and when they would test you'd roll your chair out there and take your laptop and sit there and watch their test."
Despite the competition in the industry, Peck says that the comradery is felt across the board no matter what company you work for.
"We cheered them (Virgin Galactic) along as much as they cheer us along because their success is like a success for the whole industry, and that's what we want," Peck said. "It's a pretty tight-knit community. Even though we don't share a lot of proprietary technology we all share the same desire to go to space and to take the public to space and to be the driving force behind the space industry."
As the Lynx 1 approaches completion, the team is already starting to work on components for the Lynx 2, according to Peck. Peck described the Lynx 1 as a testing vehicle, while the Lynx 2 will be the vehicle that first transports paying customers into suborbital space. The Lynx 3 will be similar to the 2 except that it will have a dorsal pod to carry experiments and microsatellites.
Quelle:Midland Reporter-Telegram
.
Update: 15.12.2015
.
XCOR beansprucht großen Durchbruch mit seiner Motorentechnik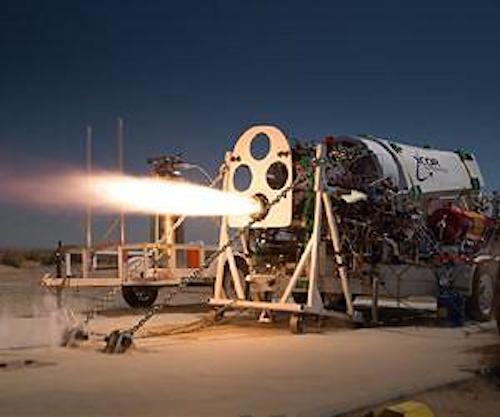 XCOR Director of Engineering and acting CTO Michael Valant announced that his team has reached an important milestone in the development of the reusable 5K18 Lynx main propulsion rocket engine. His engineers were able to 'close the loop' of the thermodynamic system under test conditions, a key technology for the Lynx sub-orbital vehicle.
This technology includes a novel method to drive essential engine parts using waste heat from the rocket engine, thus eliminating the need for adding large, heavy compressed gas tanks to the vehicle. T
his propulsion system is an essential part of the Lynx "instant reusability" because it allows the vehicle to be flown multiple times per day without costly servicing of components. In addition, XCOR engine technology could be used to benefit other rocket-propelled vehicles in the same way.
Valant: "There's still some work to do to improve the cycle efficiency before this engine, that in its basic 'open cycle' form has already had hundreds of successful test firings, is ready for flight, but this is a massive step forward for us in the development of this truly groundbreaking technology.
"I'm genuinely proud of my teams for working so painstakingly to reach this goal."
Michael Valant, newly appointed acting CTO, has currently 20 years of experience in rocket propulsion system design and development. Since 2006, he has worked at XCOR to design and develop various propellant systems and components, to include rocket engines, valves and pumps for kerosene and liquid oxygen to fit the design requirements for the XCOR Lynx sub-orbital vehicle main propulsion system.
Quelle: SD
3296 Views