.
Expedition 45 Flight Engineers Kjell Lindgren of NASA, Oleg Kononenko of the Russian Federal Space Agency and Kimiya Yui of the Japan Aerospace Exploration Agency will return Dec. 11 from a six-month mission aboard the International Space Station.
.
NASA Television will provide complete coverage Friday, Dec. 11 of the departure of three crew members from the International Space Station and their return to Earth beginning at 1 a.m. EST.
Expedition 45 Flight Engineers Kjell Lindgren of NASA, Oleg Kononenko of the Russian Federal Space Agency (Roscosmos) and Kimiya Yui of the Japan Aerospace Exploration Agency will undock their Soyuz TMA-17M spacecraft from the space station at 4:49 a.m. The crew members will land in Kazakhstan at 8:12 a.m. (7:12 p.m. Kazakhstan time). Their return will wrap up 141 days in space since their launch in late July.
Activities and NASA TV coverage are as follows:
1 a.m. - Farewell and hatch closure coverage (hatch closure scheduled at 1:25 a.m.)
4:30 a.m. - Undocking coverage (undocking scheduled at 4:49 a.m.)
7 a.m. - Deorbit burn and landing coverage (deorbit burn scheduled at 7:19 a.m., with landing at 8:12 a.m.)
10 a.m. - Video file of hatch closure, undocking and landing activities
9 p.m. - Video file of landing and post-landing activities and post-landing interviews with Lindgren and Yui in Kazakhstan
At the time of undocking, Expedition 46 will begin aboard the station under the continued command of NASA astronaut Scott Kelly. Along with his crewmates Mikhail Kornienko and Sergey Volkov of Roscosmos, the three-person crew will operate the station for four days until the arrival of three new crew members. NASA astronaut Tim Kopra, Russian cosmonaut Yuri Malenchenko and Tim Peake of ESA (European Space Agency) are scheduled to launch from Baikonur, Kazakhstan on Tuesday, Dec. 15.
Kelly and Kornienko are spending one year in space, twice the typical mission duration, to provide researchers the opportunity to advance their knowledge of the medical, psychological and biomedical challenges faced by astronauts during long-duration spaceflight.
Quelle: NASA
-
Update: 11.12.2015
.
Three space station fliers set for landing in Kazakhstan Friday
In a rapid-fire crew exchange, three space station fliers return to Earth Friday morning, landing on the steppe of Kazakhstan just four days before their replacements blast off from the Baikonur Cosmodrome a few hundred miles away, boosting the lab's crew back to six.
Soyuz TMA-17M commander Oleg Kononenko, strapped into the command module's center seat and flanked on the left by flight engineer/co-pilot Kimiya Yui of Japan and on the right by NASA's Kjell Lindgren, are scheduled to undock from the station's Rassvet module at 4:49 a.m. EST (GMT-5) on Friday.
After moving a safe distance away, Kononenko and Yui will monitor a four-minute 41-second rocket firing starting at 7:19 a.m., slowing the ship by about 286 mph to drop out of orbit. A little more than a half hour later, the Soyuz descent module will settle to a jarring a parachute-and-rocket-assisted touchdown near the Kazakh town of Karaganda around 8:12 a.m. (7:12 p.m. local time).
Kononenko and his crewmates will be making only the sixth night landing in space station history and as such, live video of the capsule's final descent is not expected.
The Russians prefer daylight landings, but a push to flight test upgraded avionics in a Progress supply ship scheduled for launch Dec. 21 prompted a slightly earlier-than-planned landing for the TMA-17M spacecraft. And that, in turn, resulted in a rare a post-sunset landing.
But Russian recovery crews train for bad weather and night landings, and mission managers said they did not anticipate any problems. Temperatures in the low 20s Fahrenheit are expected, along with light snow.
Touchdown will mark the end of a nearly five-month mission that began with launch from Baikonur on July 22. Kononenko, a veteran of two earlier flights to the space station, will have logged 533 days in space while Lindgren and Yui, both completing their first flights, will have logged 141 days aloft.
.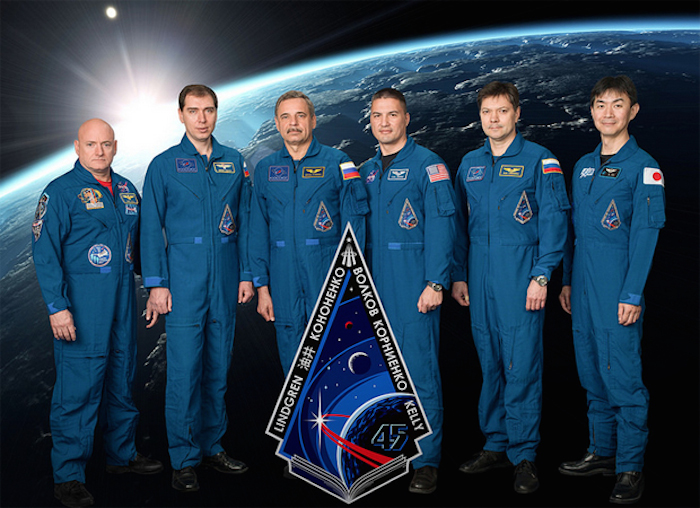 The crew of the International Space Station (left to right) Station commander Scott Kelly, Sergei Volkov, Mikhail Kornienko, Soyuz TMA-17M flight engineer Kjell Lindgren, TMA-17M commander Oleg Kononenko and flight engineer Kimiya Yui. NASA
-
After brief medical checks, the crew is expected to fly by helicopter to nearby Karaganda before splitting up, with Kononenko heading back to Star City near Moscow and Lindgren and Yui flying back to Houston aboard a NASA jet for debriefing and reunions with friends and family.
Assuming the landing goes well, Soyuz TMA-19M commander Yuri Malenchenko, NASA flight engineer Timothy Kopra and European Space Agency astronaut Timothy Peake, the first British citizen to make a long-duration flight aboard the station, will blast off from Baikonur at 6:03 a.m. on Dec. 15 (5:03 p.m. local time).
The launching is timed for roughly the moment Earth's rotation carries the launch pad -- the same one used by Yuri Gagarin at the dawn of the space age -- into the plane of the station's orbit, a requirement for rendezvous missions.
Docking at the recently vacated Rassvet port is expected six hours after launch, around 12:24 p.m.
Standing by to welcome the new crew aboard will be Expedition 46 commander Scott Kelly, Mikhail Kornienko and Sergey Volkov. Kelly and Kornienko are in the home stretch of a nearly one-year stay aboard the station and plan to return to Earth with Volkov, aboard the Soyuz TMA-18M spacecraft, on March 1.
Kelly and his crewmates will face a busy few days before taking a break for Christmas, beginning work to unload an Orbital ATK Cygnus cargo ship that arrived Wednesday carrying 7,700 pounds of equipment and supplies -- and holiday gifts for the crew -- and gearing up for docking of a Russian Progress supply craft on Dec. 23.
The Progress, scheduled for launch Dec. 21, is equipped with upgraded avionics and navigation gear and the supply run is a test flight of sorts to make sure the new systems are ready for routine use. Assuming this flight goes well, and another Progress mission in late March, the Russians plan to begin using the new systems aboard Soyuz crew ferry craft starting in June.
Quelle: CBS
--