.
17.07.2015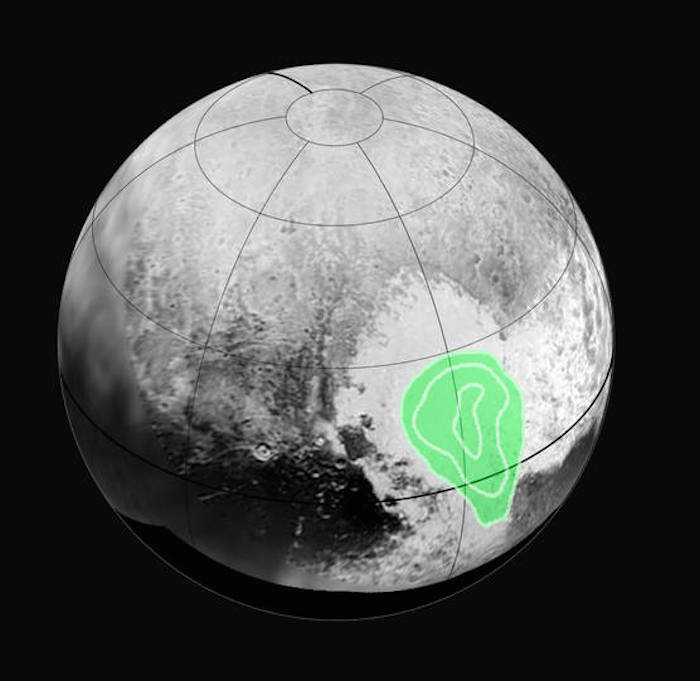 Frozen Carbon Monoxide in Pluto's 'Heart'
Peering closely at the "heart of Pluto," in the western half of what mission scientists have informally named Tombaugh Regio (Tombaugh Region), New Horizons' Ralph instrument revealed evidence of carbon monoxide ice. The contours indicate that the concentration of frozen carbon monoxide increases towards the center of the "bull's eye." These data were acquired by the spacecraft on July 14 and transmitted to Earth on July 16.
Image Credit: NASA/JHUAPL/SWRI
Last Updated: July 17, 2015
Editor: Sarah Loff
---
New Horizons Reveals Pluto's Extended Atmosphere
Scientists working with NASA's New Horizons spacecraft have observed Pluto's atmosphere as far as 1,000 miles (1,600 kilometers) above the surface of the planet, demonstrating that Pluto's nitrogen-rich atmosphere is quite extended. This is the first observation of Pluto's atmosphere at altitudes higher than 170 miles above the planet's surface (270 kilometers).
The new information was gathered by New Horizon's Alice imaging spectrograph during a carefully designed alignment of the sun, Pluto, and the spacecraft starting about an hour after the craft's closest approach to the planet on July 14. During the event known as a solar occultation, New Horizons passed through Pluto's shadow while the sun backlit Pluto's atmosphere.
"This is only the beginning for Pluto atmospheric science" says New Horizons scientist Andrew Steffl of the Southwest Research Institute in Boulder, Colorado. "Next month, the full Alice occultation dataset will be sent to Earth for analysis. Even so, the data we have now show that Pluto's atmosphere rises higher above its surface, in relative terms, than does the Earth's."
.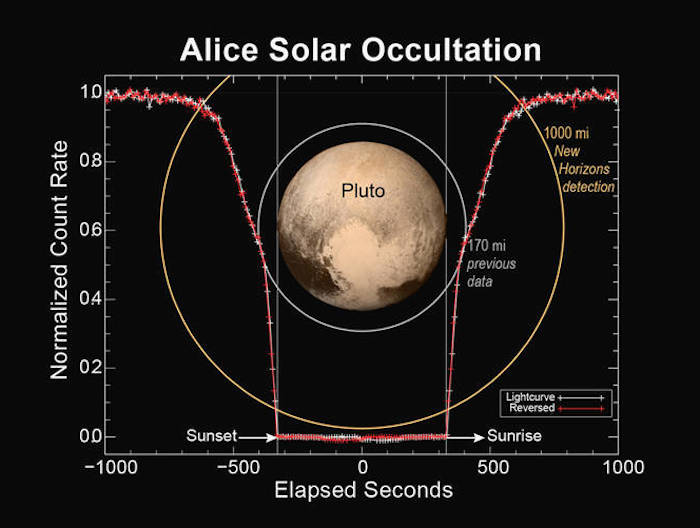 This figure shows how the Alice instrument count rate changed over time during the sunset and sunrise observations. The count rate is largest when the line of sight to the sun is outside of the atmosphere at the start and end times. Molecular nitrogen (N2) starts absorbing sunlight in the upper reaches of Pluto's atmosphere, decreasing as the spacecraft approaches the planet's shadow. As the occultation progresses, atmospheric methane and hydrocarbons can also absorb the sunlight and further decrease the count rate. When the spacecraft is totally in Pluto's shadow the count rate goes to zero. As the spacecraft emerges from Pluto's shadow into sunrise, the process is reversed. By plotting the observed count rate in the reverse time direction, it is seen that the atmospheres on opposite sides of Pluto are nearly identical.
Credits: NASA/JHUAPL/SwRI
-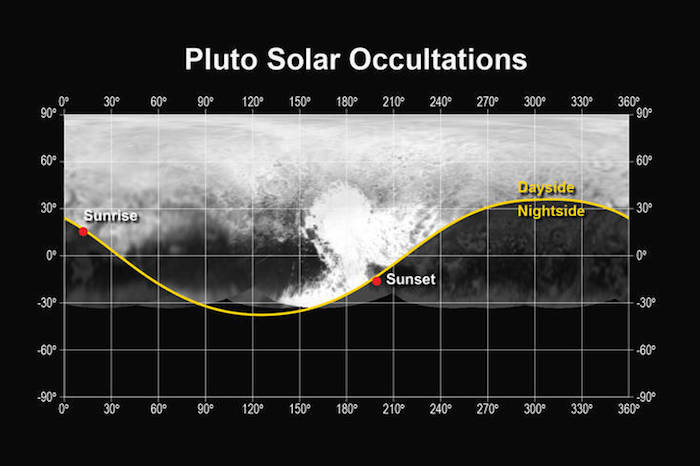 This figure shows the locations of the sunset and sunrise solar occultations observed by the Alice instrument on the New Horizons spacecraft. The sunset occultation occurred just south of the "heart" region of Pluto, from a range of 30,120 miles (48,200 km), while the sunrise occurred just north of the "whale tail", from a range of 35,650 miles (57,000 km).
Credits: NASA/JHUAPL/SwRI
Last Updated: July 17, 2015
Editor: Lillian Gipson
---
Pluto Wags its Tail: New Horizons Discovers a Cold, Dense Region of Atmospheric Ions Behind Pluto
.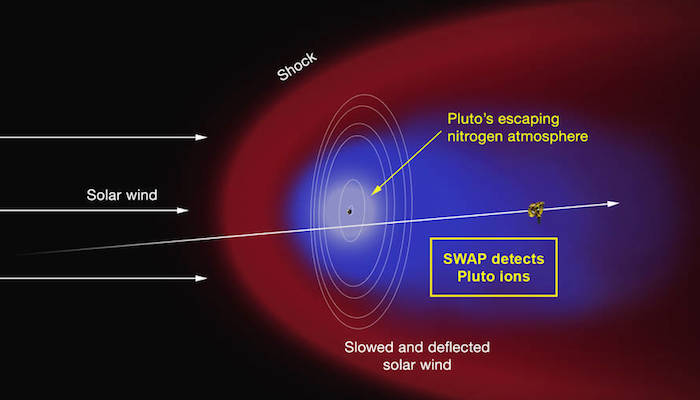 Artist's concept of the interaction of the solar wind (the supersonic outflow of electrically charged particles from the Sun) with Pluto's predominantly nitrogen atmosphere. Some of the molecules that form the atmosphere have enough energy to overcome Pluto's weak gravity and escape into space, where they are ionized by solar ultraviolet radiation. As the solar wind encounters the obstacle formed by the ions, it is slowed and diverted (depicted in the red region), possibly forming a shock wave upstream of Pluto. The ions are "picked up" by the solar wind and carried in its flow past the dwarf planet to form an ion or plasma tail (blue region). The Solar Wind around Pluto (SWAP) instrument on the New Horizons spacecraft made the first measurements of this region of low-energy atmospheric ions shortly after closest approach on July 14. Such measurements will enable the SWAP team to determine the rate at which Pluto loses its atmosphere and, in turn, will yield insight into the evolution of the Pluto's atmosphere and surface. Also illustrated are the orbits of Pluto's five moons and the trajectory of the spacecraft.
Credits: NASA/APL/SwRI
.
New Horizons has discovered a region of cold, dense ionized gas tens of thousands of miles beyond Pluto -- the planet's atmosphere being stripped away by the solar wind and lost to space. Beginning an hour and half after closest approach, the Solar Wind Around Pluto (SWAP) instrument observed a cavity in the solar wind -- the outflow of electrically charged particles from the Sun -- between 48,000 miles (77,000 km) and 68,000 miles (109,000 km) downstream of Pluto. SWAP data revealed this cavity to be populated with nitrogen ions forming a "plasma tail" of undetermined structure and length extending behind the planet.
Similar plasma tails are observed at planets like Venus and Mars. In the case of Pluto's predominantly nitrogen atmosphere, escaping molecules are ionized by solar ultraviolet light, "picked up" by the solar wind, and carried past Pluto to form the plasma tail discovered by New Horizons. Prior to closest approach, nitrogen ions were detected far upstream of Pluto by the Pluto Energetic Particle Spectrometer Science Investigation (PEPSSI) instrument, providing a foretaste of Pluto's escaping atmosphere.
Plasma tail formation is but one fundamental aspect of Pluto's solar wind interaction, the nature of which is determined by several yet poorly constrained factors. Of these, perhaps the most important is the atmospheric loss rate. "This is just a first tantalizing look at Pluto's plasma environment," says co-investigator Fran Bagenal, University of Colorado, Boulder, who leads the New Horizons Particles and Plasma team. "We'll be getting more data in August, which we can combine with the Alice and Rex atmospheric measurements to pin down the rate at which Pluto is losing its atmosphere. Once we know that, we'll be able to answer outstanding questions about the evolution of Pluto's atmosphere and surface and determine to what extent Pluto's solar wind interaction is like that of Mars."
Last Updated: July 17, 2015
Editor: Lillian Gipson
---
Frozen Plains in the Heart of Pluto's 'Heart'
.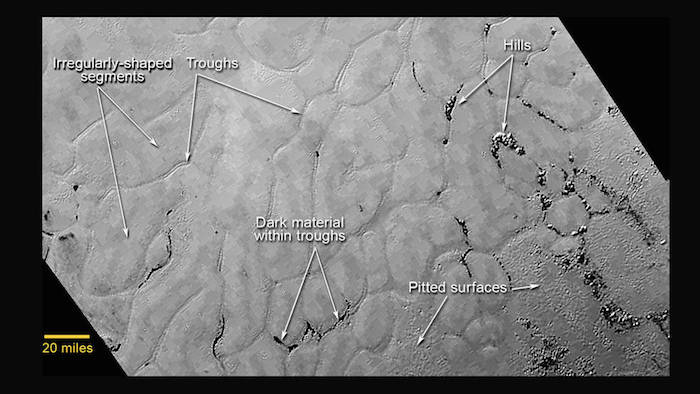 This annotated view of a portion of Pluto's Sputnik Planum (Sputnik Plain), named for Earth's first artificial satellite, shows an array of enigmatic features. The surface appears to be divided into irregularly shaped segments that are ringed by narrow troughs, some of which contain darker materials. Features that appear to be groups of mounds and fields of small pits are also visible. This image was acquired by the Long Range Reconnaissance Imager (LORRI) on July 14 from a distance of 48,000 miles (77,000 kilometers). Features as small as a half-mile (1 kilometer) across are visible. The blocky appearance of some features is due to compression of the image.
Credits: NASA/JHUAPL/SWRI
.
In the latest data from NASA's New Horizons spacecraft, a new close-up image of Pluto reveals a vast, craterless plain that appears to be no more than 100 million years old, and is possibly still being shaped by geologic processes. This frozen region is north of Pluto's icy mountains, in the center-left of the heart feature, informally named "Tombaugh Regio" (Tombaugh Region) after Clyde Tombaugh, who discovered Pluto in 1930.
"This terrain is not easy to explain," said Jeff Moore, leader of the New Horizons Geology, Geophysics and Imaging Team (GGI) at NASA's Ames Research Center in Moffett Field, California. "The discovery of vast, craterless, very young plains on Pluto exceeds all pre-flyby expectations."
This fascinating icy plains region -- resembling frozen mud cracks on Earth -- has been informally named "Sputnik Planum" (Sputnik Plain) after the Earth's first artificial satellite. It has a broken surface of irregularly-shaped segments, roughly 12 miles (20 kilometers) across, bordered by what appear to be shallow troughs. Some of these troughs have darker material within them, while others are traced by clumps of hills that appear to rise above the surrounding terrain. Elsewhere, the surface appears to be etched by fields of small pits that may have formed by a process called sublimation, in which ice turns directly from solid to gas, just as dry ice does on Earth.
Scientists have two working theories as to how these segments were formed. The irregular shapes may be the result of the contraction of surface materials, similar to what happens when mud dries. Alternatively, they may be a product of convection, similar to wax rising in a lava lamp. On Pluto, convection would occur within a surface layer of frozen carbon monoxide, methane and nitrogen, driven by the scant warmth of Pluto's interior.
Pluto's icy plains also display dark streaks that are a few miles long. These streaks appear to be aligned in the same direction and may have been produced by winds blowing across the frozen surface.
The Tuesday "heart of the heart" image was taken when New Horizons was 48,000 miles (77,000 kilometers) from Pluto, and shows features as small as one-half mile (1 kilometer) across. Mission scientists will learn more about these mysterious terrains from higher-resolution and stereo images that New Horizons will pull from its digital recorders and send back to Earth during the next year.
Quelle: NASA
2109 Views