.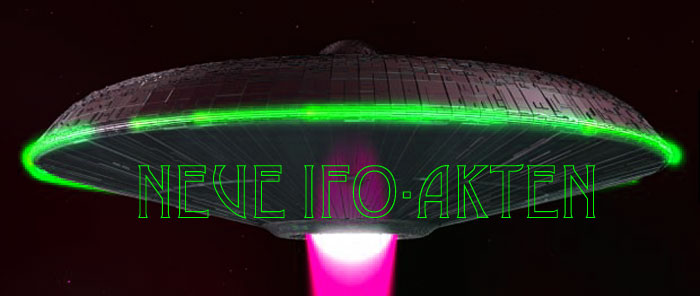 701 club: Case 1482 July 17, 1952
Don Berlinner describes this as:
July 17, 1952; Lockbourne, Ohio. 11 a.m. Witness: Air National Guard employees. One light like a big star was seen for 3 hours, but disappeared when an aircraft approached. Also seen the night of July 20, 22 and 232
While this sounds interesting, there are clues in this summary that suggest there may be an explanation. I was hoping the Blue Book file might contain the information that would make identification possible.
.
Blue Book's report
The Blue Book file contains a two page report written by Major Edward Wittmer of the 91st strategic reconnaissance squadron. His report, while brief, has enough information, in my opinion, to help identify the probable source.
The primary witness, William W. Stevenson, in this report was recently discharged from the USAF. This, apparently, made him a reli- able observer. Major Wittmer summarized the sighting as follows:
1. A circular shaped object giving the appearance of a star appeared somewhat smaller than an average airplane on immediate hori- zon. It was florescent and its most recent sighting the outer rim gave off an orange and green glow. The object as it came into the line of vision looked like a speck and then took on its final form. On the latest appearance it left a trail of reddish cast to side while moving and often remained stationary for long periods of time.
2. Stevenson observed the phenomenon at 0100 (0600Z) to 0400 (0900Z) EST? on Thursday 17 July, Sunday 20 July, Tuesday 22 July and Wednesday July 23. On Thursday 17 July he saw the object for a total length of time of one half hour from 0100 to 0130. The other mornings the object was sighted for varying periods of time. Wednesday 23 July it was seen in position for two (2) hours. William O. Havens, the other source, a neighbor, was also in attendance with Stevenson and confirmed his observation.
3. Both visual and weak field glasses were used in the observations from the ground.
4. The observers were ten (10) miles due north of Lockbourne Air Force Base and the object was moving north and south ten degrees from due east at a distance of three (3) miles and approximately five thousand (5,000) feet above the ground.
5. Both men were recently discharged from the USAF. Stevenson is a Sergeant Major of the 8166th Air Base Squadron of Ohio National Guard and Havens is Commanding Officer of the same unit. They are working in a civilian capacity on the air base. Stevenson contin- uously referred to object seen as "he".
6. The cloud coverage on Thursday and Sunday mornings was seven-tenths (7/10) to complete with a low ceiling. On Wednesday it was CAVU.
7. The observers could not give an explanation for their sightings but were positive it was not a star.
8. No physical evidence.
9. No interception or identification action taken.
10. When an airplane took off from or landed at Port Columbus, the object would disappear beyond human sight. On Wednesday 23 July the phenomenon did not disappear as planes from Port Columbus passed over it and it seemed as large as a plane.
11. On Monday 21 July 1952 at 2150 hours our observer also noticed to the south of Columbus proper an object that he called a "space ship". His neighbor who was watching with him, gave the object the name of "space ship" as she was looking through field glasses.2
From this description we can determine that the primary UFO was visible in the east around 0600Z (0200 EDT). it stayed in the eastern sky for the duration of the observation. The repetitive nature of the sighting on subsequent nights around the same time indicates this probably had an astronomical explanation.
Because weather may have been a factor, I decided to obtain weather observation data for Port Columbus airport on the mornings in question. As noted in the report, sky conditions were not exactly perfect each night but the sky conditions were clear enough during the times in question to keep the door open for an astronomical explanation.
.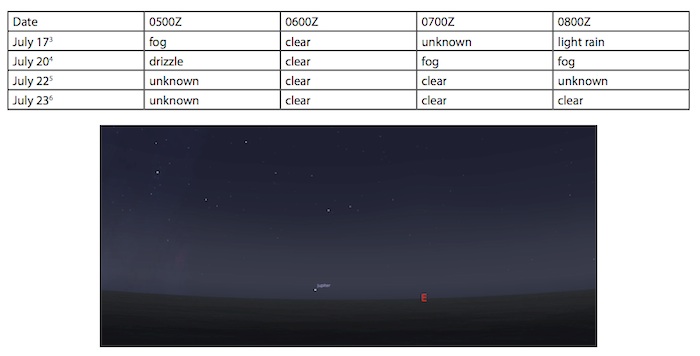 Examination of Stellarium reveals an obvious source to the sighting. The planet Jupiter rose just before 0600Z and was at an azi- muth of 70 degrees. By 0900Z, its azimuth was 99 degrees. The disappearance and reappearance of the UFO probably had more to do with clouds and weather than it attempting to avoid aircraft from Port Columbus airport. This appears to be confirmed by the fact that the UFO did not do this on the one morning that there were no clouds.
While the observers were certain that what they were seeing was not a star, they probably were not aware that bright planets like Jupiter, Venus, and Mars at opposition tend to be quite spectacular to the casual observer. Since they have a significant angular size they do not twinkle as much, if at all, making them appear "unstar-like".
Bonus sighting
There was also another UFO reported documented in the report that happened on July 21 at 2150 EDT. It was described as being south of Columbus as seen from their position. Since they were on the east side of town, near the Port Columbus airport, Colum- bus center was to the west/west-southwest. If the UFO was to the south of the city, then they were looking towards to the south or southwest. It seems possible that they mistook another planet or star for a UFO.
.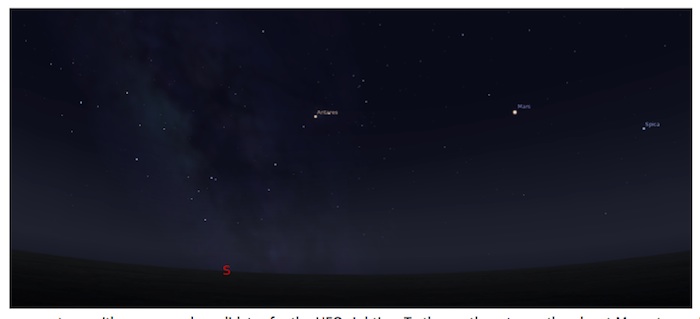 Stellarium presents us with some good candidates for the UFO sighting. To the southwest, was the planet Mars at an azimuth of about 220 degrees and a magnitude of -0.1. Antares was at an azimuth of 192 degrees and had a magnitude of +1. Spica and Saturn were further west around magnitude +1. Mars was the brightest and most obvious of the celestial objects in the direction of Colum- bus. Additionally, being a planet, Mars would not twinkle as much as the surrounding stars and would, again, give the appearance of an object that was "not a star".
Solved?
In both cases, I am pretty confident that the source of these sightings involved astronomical objects. Since Blue Book was over- whelmed with sightings in the summer of 1952, it is no surprise that this was not solved. This should be reclassified as probably Jupiter and, for the bonus sighting, probably Mars.
Quelle: SUNlite 3/2015
2299 Views