.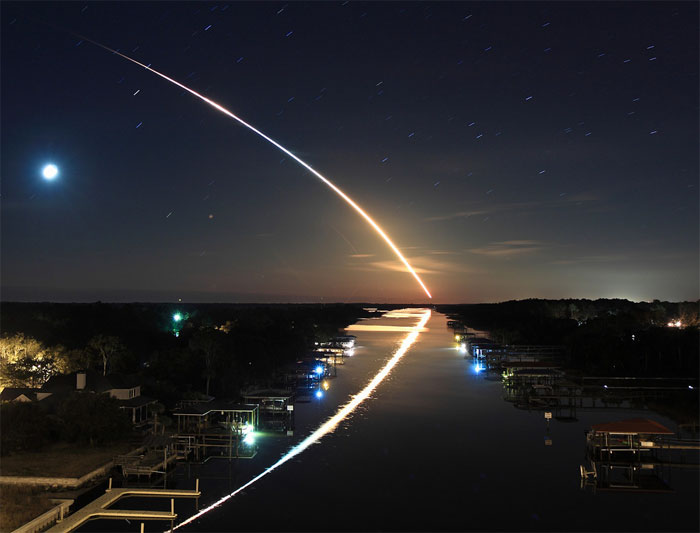 The months of January and February provided several space events that produced UFO reports to MUFON and NUFORC. Many of these are associated with rocket launches but some came from unexpected sources. These sources, while man-made, were unusual events that struck awe and wonder in some observers January 10 Falcon 9 launch from Cape Canaveral at 4:47AM EST
This rocket launch produced UFO reports on two occasions and potentially a third. The first report was made from Lake Wales/Winter Haven, Florida shortly after launch to NUFORC. The witness reported the time of the sighting as 4:55 AM and it lasted 30 seconds:
Appeared like a solid rocket booster traveling horizontally then disappeared for a minute showing up far away with a halo training it1 I wonder why the witness chose to compare it to a rocket launch when what they were seeing WAS a rocket launch. Only a few hours later, the booster and its payload made a pass just before sunrise in the upper mid-west and Canada. There were four reports from that region. One report came from Elfros, SK in Canada at 7:10AM:
....I turned to east and saw a bright light in eastern sky proceeding from south to north. The light was a bright white ball with a lighter white light in the shape of a boomerang at the nose of the ball. The light proceeded at a good rate of speed, slowed down for a short period, then regained speed again. There are large trees in town so I lost sight of it after about 30 seconds. I went north down the street to see if I could continue to see the light but it was gone...The ball of light did not make a sound. The shape would be if you took a boomerang, turned it so that it was pointing north and the ball of light was behind the pointy part. The ball was bright and the boomerang part was lit but not as bright as the ball. I've seen shooting stars before and this was not that. I don't know what it was but it definitely affected me.
I can't seem to get it out of my head. I wasn't nervous or scared during the sighting. I am more intrigued and would like to know what it was. I was hoping that it might turn and come back towards town but once it disappeared I never saw it again...
Another Canadian report came from Emerson, MB at 7:02 AM:
I was facing north on hwy 75, in my semi, about 1 mile north of the Emerson MB/Pembina ND border crossing. I was pulled over and was about to get out of my truck to check the tires. I opened my door, stood on the step, I took one step down and suddenly had a strong/strange feeling to look up. I looked up, directly at a strange blue/white object with a curved halo(?). At first I thought it was a very slow moving comet, having never seen a comet before, let alone a slow moving comet, that was just what popped in my head. I stared at it for a few seconds and noticed a second object behind it (roughly 6 inches behind if I held a ruler at arms length). Both objects were traveling the exact same speed, on the exact same path. I felt kind of sick in my stomach when I realized that I didn't know what this was. I then jumped back into my truck, went into my sleeper and grabbed my phone to take a video. My phone was on when I grabbed it, I jumped back out and ran to the front passenger side of my truck and somehow in that few seconds my phone shut off! It took about a minute to turn my phone back on and to start the video camera. As I waited for my phone and camera to load, the lead object's "halo" was growing and shrinking and appeared to be swirling. Whenever it would make the swirling motion the actual object would black out. I don't remember physically hearing anything, but I had a feeling like I was hearing a noise similar to rustling leaves, but that may have been adreneline,I don't know. I continued watching the object for a few more seconds, but then I had a very strong feeling of being alone and I suddenly felt very frightened and I couldn't get back in my truck fast enough. I jumped in, feeling very panicked and scared, I locked the door, and took off...3
In the Midwestern United States, observers also saw the object. At 7:00 AM, a Sauk Centre, Minnesota observer reported:
Elongated fixed object gliding northeast without noise. Too large, low, slow, and quiet to be an airplane. It had one bright but hazy white light in front and a smaller bright white light (no haze) on the tail end. The rest of it appeared to be invisible, except for these two lights. Where the mid section would be, there was small white light that appeared to blink slow and irregular. This was at 7:00 a.m., and it was dark enough to see the stars. At first I thought I was looking at stars until I noticed it was moving. Then, I could tell that it was much much closer than any stars could be. It was much closer than an airplane would fly.4
An observer in Duluth, Minnesota saw the event as well:
At approximately 7:03 A.M. on the morning of 1/10/15, I went out to pick up my newspaper. In the Northern sky (North of my vantage
point), I noticed a light moving from West to East. It was bluish to green in color. The strange thing was that it had 3 plumes coming out of it. One plume was directly behind it and two others were coming almost straight out the sides. It was very bright and easily noticeable.
Following behind the first were three more. They were single lights, almost as bright, but smaller and yellow colored. There were no plumes on these lights. All 4 lights were following a same flight pattern, but far enough apart that there is no way it could have been a single aircraft. The first (plumed), third and fourth lights were in a direct line. The second light was higher in altitude.
Ted Molczan computed the pass of the second stage for this time period and produced a ground track that explained the sightings rather well. Apparently, the second stage booster was venting spent fuel and the sun illuminated the expanding cloud of gas/fuel. These observers did see a unique event. However, they did not see anything alien.
The third set of reports were made when the second stage rocket re-entered the earth's atmosphere over eastern Russia on January 18th around 6:48 local time. There was a spectacular video of the re-entry. I am unaware of any UFO reports being filed for the event but I only examined MUFON's and NUFORC's database.
January 20 Atlas 5 launch from Cape Canaveral at 8:04 PM EST
I was on vacation in Florida for this launch and we traveled to the causeway at Port Canaveral to observe the liftoff. Like the Falcon 9 launch, it also produced UFO reports. The first came from Tampa:
i WAS IN THE CVS PARKING LOT.THE FRONT OF MY CAR FACING BRITON PLAZA. ACROSS THE STREET WAS A TACO BELL, AND A DUNKIN DONUTS. I WAS WAITING THERE FOR MY MOTHER TO GET BACK INTO THE CAR AND I NOTICE A SHOOTING STAR. IT WAS RED AND ORANGE. BUT THE STAR DID NOT SHOOT ACROSS THE SKY. IT WAS LIKE A SLOW MOTION SHOOTING STAR. LEAVING A STREAM OF ORANGE AND RED BEHINDE IT. THEN THE STREAM DISAPEARED AND THE STAR-LIKE OBJECT BEGAN TO MOVE HORIZONTALLY WHAT LOOKED LIKE WAY ABOVE THE PUBLIX IN THE BRITTON PLAZA. THE STARLIKE OBJECT WAS SEVERAL FEET ABOVE AND EVEN ABOVE AN ACTUAL PLANET THEN IT DESCENDED ALMOST LIKE IT WAS ROCKING BACK AND FORTH DOWNWARDS UNTIL IT WAS BELOW IT. BY THIS TIME MY NIECE AND I WERE BOTH WATCHING IT VERY INTRIGUED. WE BOTH MADE WISHES ASSUMING IT WAS A SHOOTING STAR BUT REALIZES ITS A MUCH STRANGER THING AND THEN THE LIGHT JUST DISSAPEARED OUT OF NO WHERE. WE GOT OUT OF THE CAR AND WAITED TO SEE IF THE LIGHT WOULD APPEAR AGAIN AND TO RULE OUT THE POSSIBILITY OF IT BEING A PLANE BUT THE LIGHT NEVER SHOWED AGAIN.7
East of Tampa, in Haines City, came another report:
Object appeared to be a slow moving orange colored ball descending through cloud layer leaving a very long sparkly reflective trail of orange material. First impressions or thought was neat, followed by it looks like some sort of plasma trail. Estimate trail to be several miles long. Once object passed cloud base; typically around 3,000', it leveled off and proceeded with straight and level flight for several minutes with a color change to brilliant white with no trail. After several minutes, object made slow 90 degree turn and flew away from my location. At one point object disappeared during level flight for about a minute, then reappeared. Object stayed visible during level flight maintaining its white color until it was so far away that it disappeared from view simply by distance and faded away. My personal opinion is this was obviously a controlled craft returning from orbit and I was lucky enough to witness the atmospheric entry phase of its flight. Its origin, or who was controlling it, is unknown. This is my first UFO sighting and found myself intrigued and fascinated by the whole experience.8
The observer was correct in that it was being controlled but we do know who was controlling it. To the north, near Green Cove Springs, came another report:
Driving, just getting into GCS when to the southeast corner, what seemed right above St. Johns River, hundreds of feet above, was an orange flame that looked like a meteor because of the trail behind it, but it never moved closer, only hovered. 7 cop cars whizzed by me with blue lights and sirens within seconds of it appearing. What scared me the most is it seemed nobody else saw what I was pointing out. What scared me the most was that as soon as cops appeared, the light in the sky started to........ disappear.9
I find it interesting how witnesses like to associate military and other official vehicles with UFO reports. These police vehicles were probably responding to something else. I doubt they were trying to chase a rocket launch.
January 31 Delta 2 rocket launch at 6:22 AM PST from Vandenberg
NUFORC and MUFON did not have any UFO reports. Does this mean that California observers are more critical and aware of the rocket launches? It appears that weather was a factor in preventing UFO reports as many nearby locations were cloudy. Videos of the launch showed the rocket enter into a cloud back shortly after launch indicating it was not widely observed.
February 11 Falcon 9 launch from Cape Canaveral at 6:03PM.
This launch was interesting because the payload required a northeast trajectory that paralleled the Eastern seaboard. The rocket's path made it possible for observers in some eastern states outside Florida to see some of the staging events. One came from Quinby, Virginia:
It was just getting dark as I got in my truck while parked on the edge of a field. I was facing east and over the woods to my right I noticed a really bright ball of white light moving slowly to my left. At first I was thinking it was an airplane but the bright light would have been pointed in the direction that it was moving, it was pointed in the opposite direction , behind it... with beams of light coming from the ball of light looking like spokes of a wheel. It was so quiet out there in that farm field... there was absolutely no sound coming from it, nothing...
I then hopped out of the truck to take video of it and realized my cell phone was in the truck charging so I ran back and grabbed it, turned on the phone and tried to start the video and noticed it was getting dimmer and seemed to get lower, then I lost sight of it completely as I pressed the start button ... like it disappeared into some low clouds. Airplanes make noise and comets move fast and! leave a tail of fire behind them, this was neither. It truly was the strangest thing I have ever witnessed in my 45 years of life.10
The time of the report and direction of flight indicate he was observing the second stage burn, which was over five minutes long and quite spectacular for those wanting to observe it. Another report came from Portsmouth, Virginia. It was very brief and described the object as a bright light with a tail and appearing like a comet.11 This event was a good example of how rocket launches, under the right conditions, can be seen from great distances.
February 23 CZ-4B rocket body re-entry
A brilliant re-entry display occurred over the western United States and Canada on the night of February 23rd. The trajectory was a south to north track that happened between 05:52 and 05:58 UTC (10:52-10:58 MST/9:52-9:58 PST). This event produced many reports to the American Meteor Society and quite a few to MUFON. MUFON's reports were interesting in how witnesses reported the event. As expected there were a few that perceived the re-entry as a craft with lights instead of individual fragments.
Nampa, Idaho - I saw a large bar-shaped object hovering in the sky. It had defined edges and star-like lights placed in equi-distant intervals along the length.12
Wenatchee, WA - we saw something moving slowly in the sky that looked like a long red cylinder shaped object that was moving towards us.13
Wickenburg , Az - This was not a airplane or a blimp, as far as i know there are no aircraft that we possess that are over 200 yards long and can fly with no noise. we watched it travel across our line of sight, it was a clear night with only minimal cloud cover to our west with a setting moon that shone light on the object. It was solid black, a large burning light on the front and a smaller glowing light at the rear.14
These are all examples of the "airship" and "excitedness" effects noted by Dr. William Hartmann in regards to the Zond IV event. The witnesses did see something but they were very wrong in the conclusions they drew. The DID NOT know what they saw.
February 25 White Sands Missile launch
On the morning of February 25th, White Sands launched a missile that released a scientific payload into the upper atmosphere. The resultant release of vapor created an interesting pink display in the morning sky. It was visible from Chihuahua, Mexico, where a report describing the display was filed with MUFON.
The object looked like a round cloud, no sound just a ball of white gas with inner light pink slowly shifting to red and violet over and over, around 5;30 AM it never moved, this cloud vanished with the sunrise and it was seen for many people and even it's already on the local news.15
I wonder if MUFON will identify this one?
Space activity and UFO reports
It is not unusual for space activities to create UFO reports. Venting boosters in orbit, re-entries of debris, and launches can be appear
strange to those not familiar with them. UFO databases need to take note of these kinds of reports and label them as IFOs.
Quelle: SUNlite 2/2015
2795 Views