.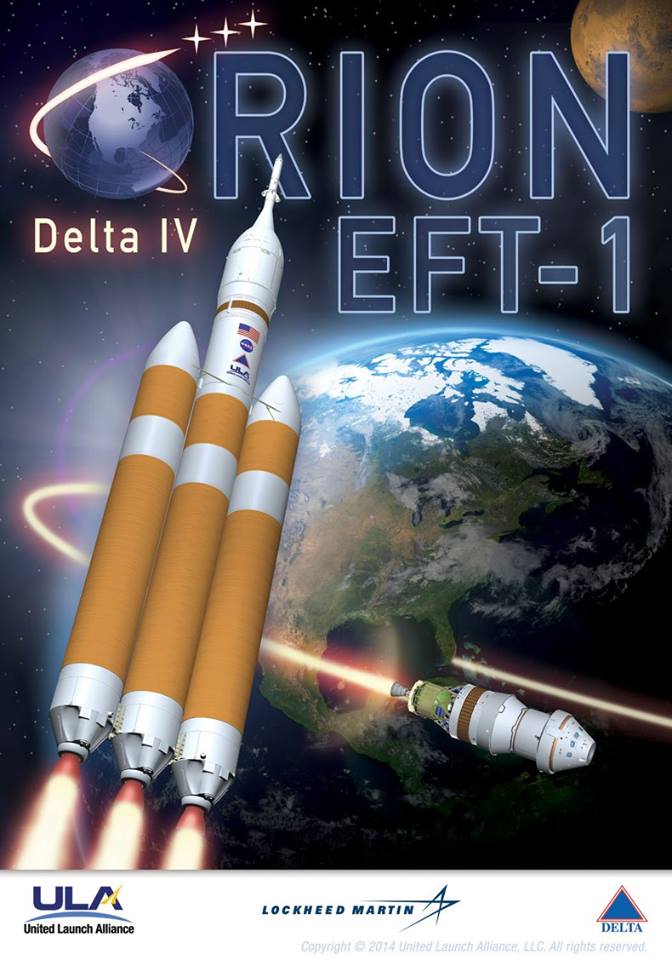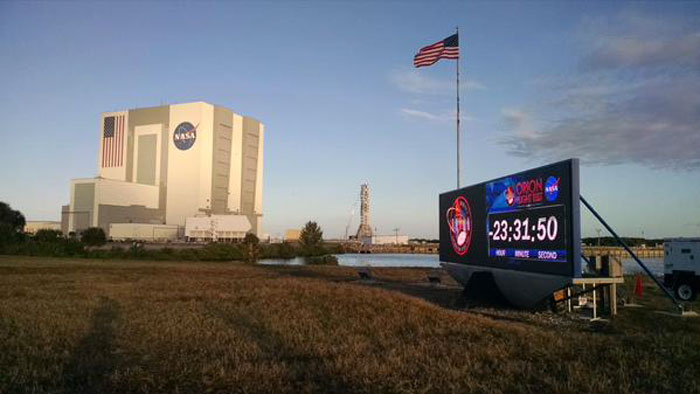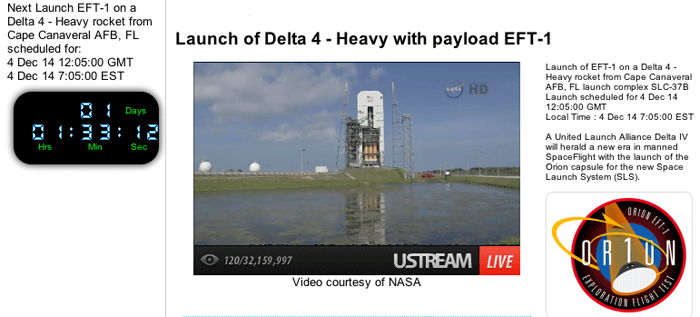 ...
Orion Launch Weather Forecast Improves
Meteorologists upgraded their outlook for Orion's launch tomorrow morning to give it a 70 percent chance of acceptable conditions. The forecast says drier conditions are expected and the chance of coastal showers has diminished during the 2-hour, 39-minute launch window. The primary rules concerns remain flight through precipitation and high winds.
With less than 23 hours remaining before Orion begins its first flight test with a launch on a Delta IV Heavy rocket, everything remains on track for liftoff at 7:05 a.m. EST. The Mobile Service Tower enclosing the rocket and spacecraft will be rolled back to its launch position late tonight, revealing the Orion stack on the launch stand at Space Launch Complex 37.
Quelle: NASA
.
Update: 4.12.2014 / 9.30 MEZ
.
Orion Test Flight Brings Back That Old Apollo Feeling at NASA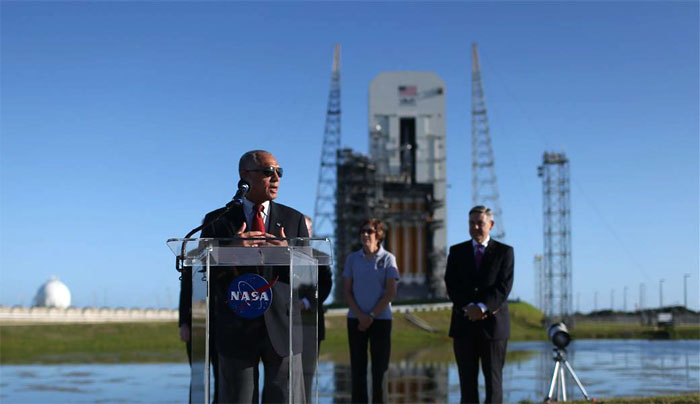 CAPE CANAVERAL, Fla. — This week's first-ever test flight of NASA's Orion deep-space capsule is all about the future of America's space effort, but it's also about reviving the past.
"I feel like the Blues Brothers — we're getting the band back together," Bob Cabana, director of NASA's Kennedy Space Center, said Wednesday during a news conference at the Orion's Florida launch pad.
The cone-shaped Orion craft is due for liftoff at 7:05 a.m. Thursday, atop a Delta 4 Heavy rocket at Cape Canaveral Air Force Station's Launch Complex 37. Mission managers said there were no major technical issues standing in the way of an on-time launch.
Forecasters raised the chances of acceptable weather to 70 percent from 60 percent, with the possibility of rain or high winds looming as the only factors that could spoil the launch.
This Orion test vehicle won't be carrying a crew. The flight is meant only to check out the spacecraft's systems for the first time in space — particularly its heat shield and parachutes. But a full-featured version of the spaceship is scheduled to send astronauts beyond Earth orbit in 2021, for the first time since the Apollo 17 moonshot in 1972.
NASA plans to use Orion spaceships to send astronauts to an asteroid by the mid-2020s, and to Mars and its moons starting in the 2030s.
"What you will see tomorrow is building upon the legacy of Apollo. ... If we didn't want to go to Mars, then we shouldn't have done Apollo," NASA Administrator Charles Bolden told reporters.
Echoes of Apollo
Even this crewless outing — known as Exploration Flight Test 1, or EFT-1 — carries echoes of Apollo: The 4.5-hour, two-orbit trip will send Orion 3,600 miles out from Earth, the farthest that a spacecraft meant for humans has flown since 1972. And it will splash down in the Pacific Ocean — just like NASA's last Apollo spaceship, which returned to Earth at the end of the Apollo-Soyuz Test Project in 1975.
"It's been close to 40 years since NASA has recovered a human-rated spacecraft from the ocean," said Jeff Angermeier, who manages ground systems development and operations for the EFT-1 mission.
Apollo veterans will be on hand on the recovery ship as well as in Mission Control. Angermeier said Milt Heflin — who was onboard the recovery vessels for eight splashdowns during the Apollo and Skylab eras — is aboard the USS Anchorage this time around. And Apollo flight director Gene Kranz (famous for "Failure Is Not an Option") will be a VIP guest at NASA's Johnson Space Center.
EFT-1's lead flight director, Mike Serafin, acknowledged that his team sought veterans' guidance "about how they did things under Apollo." He also noted that everyone at Mission Control was a veteran of the space shuttle program, which ended in 2011.
Serafin seconded Cabana's sentiment about getting the band back together. "We haven't had this feeling in a while, since the end of the shuttle program," he said.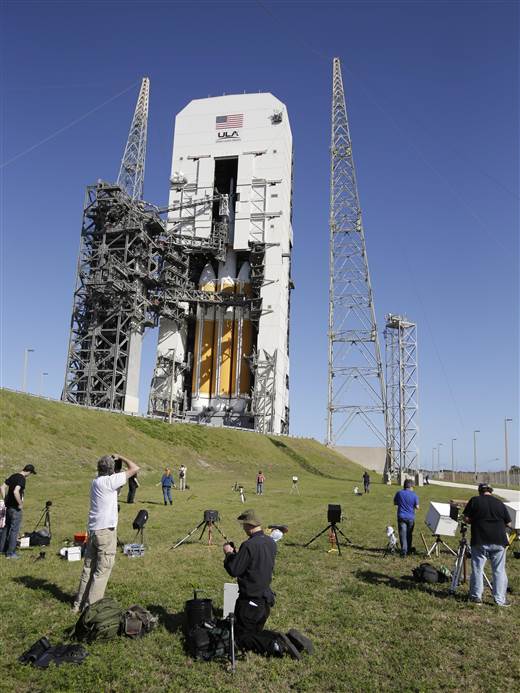 Photographers set up remote cameras on Wednesday to record the launch of NASA's Orion space capsule atop a Delta 4 Heavy rocket from Cape Canaveral Air Force Station in Florida.
.
Test flight for the team
This time around, NASA managers aren't the only players in the band: In fact, the prime contractor for the Orion program, Lockheed Martin, is handling launch logistics for the $370 million test flight under a novel arrangement with NASA.
"This is a test flight of the ways we work together as well," said Mike Hawes, Lockheed Martin's Orion program manager.
For NASA, even the fact that people are paying attention to the Orion test flight comes as a welcome blast from the past. The space agency says more than 500 journalists and 150 #NASASocial tweeters and bloggers have been accredited for the launch — which is more than for any other Florida launch since the shuttle fleet's retirement. Tens of thousands of spectators are expected to watch liftoff.
"It is exciting to me, to see you," Bolden told the crowd who attended Wednesday's launch-pad news conference.
Quelle: NBC
...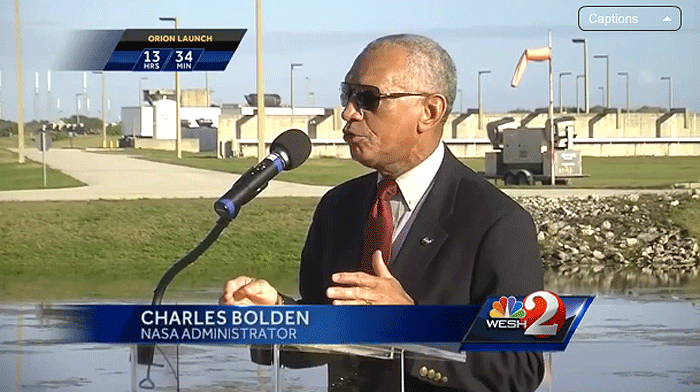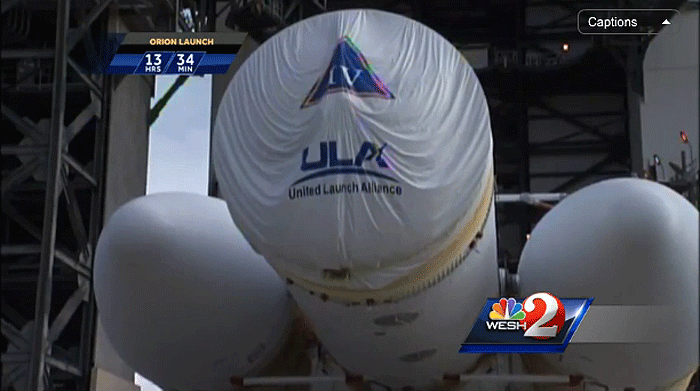 ...
Update: 11.40 MEZ Frams: NASA-TV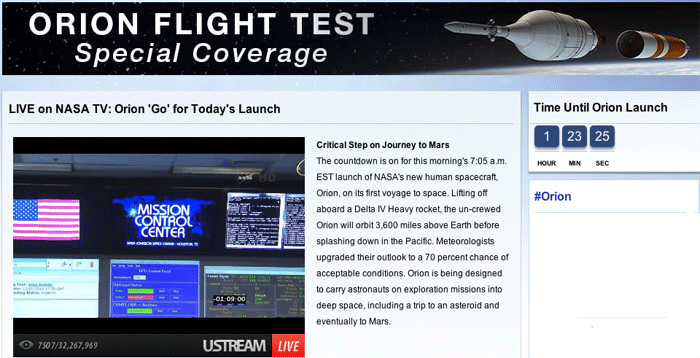 ...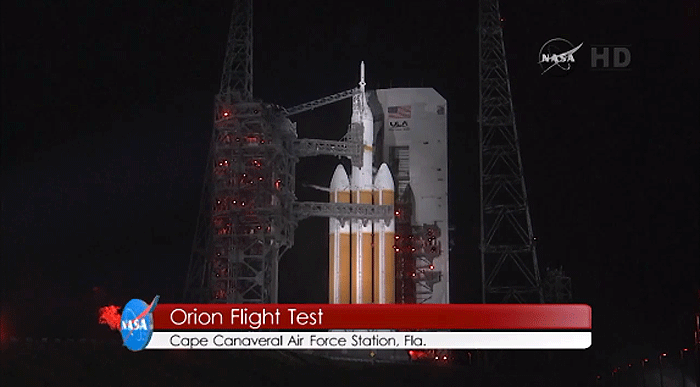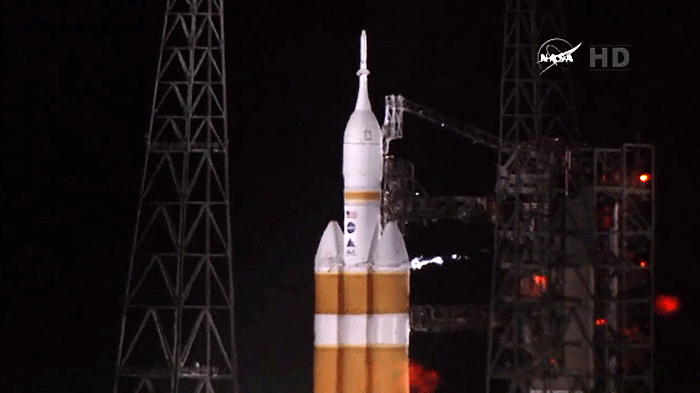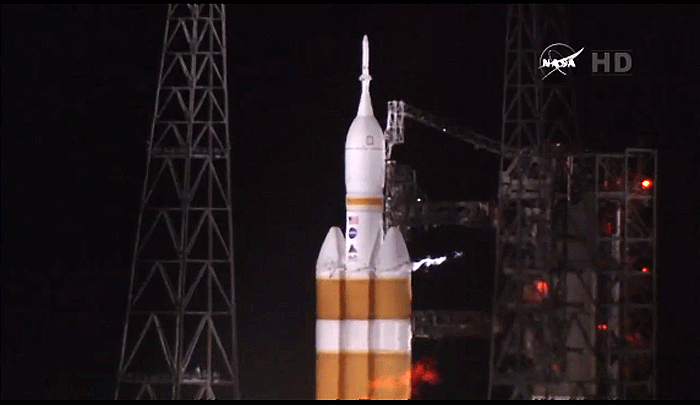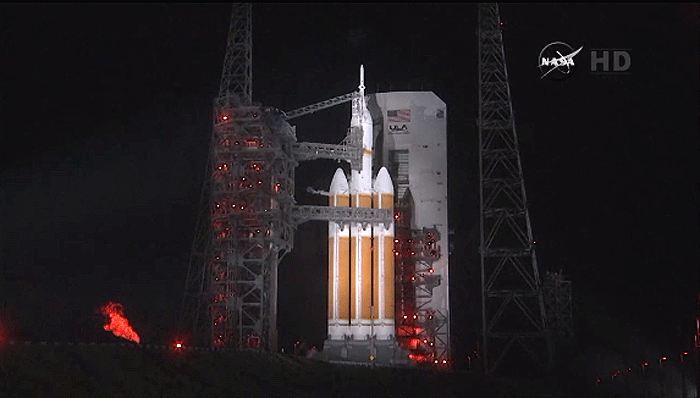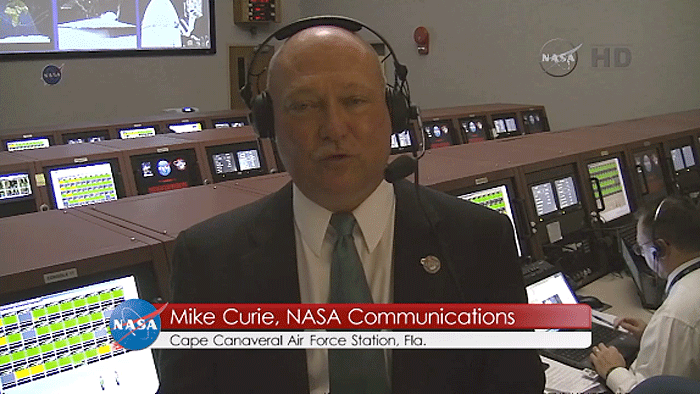 ...
12.20 MEZ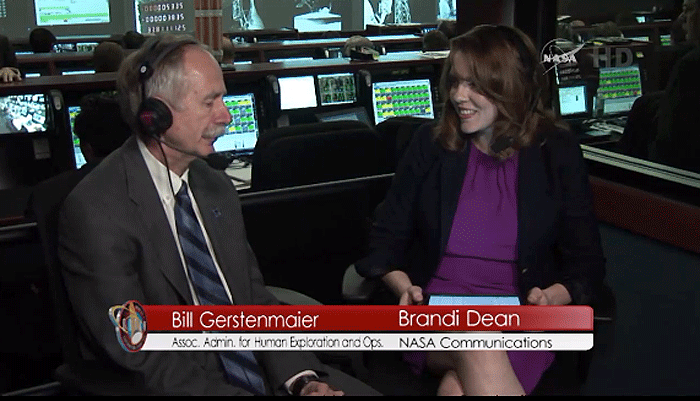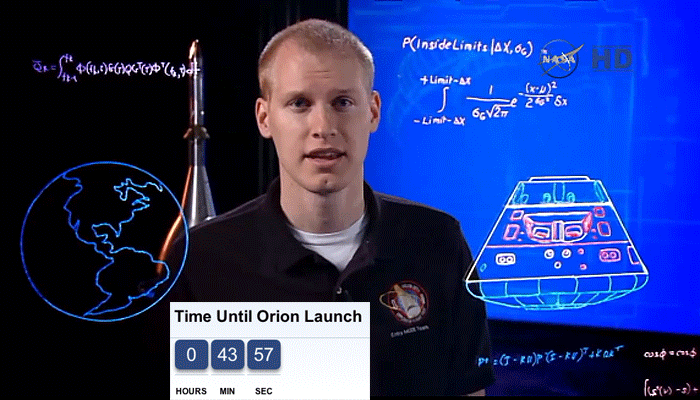 ...
12.30 MEZ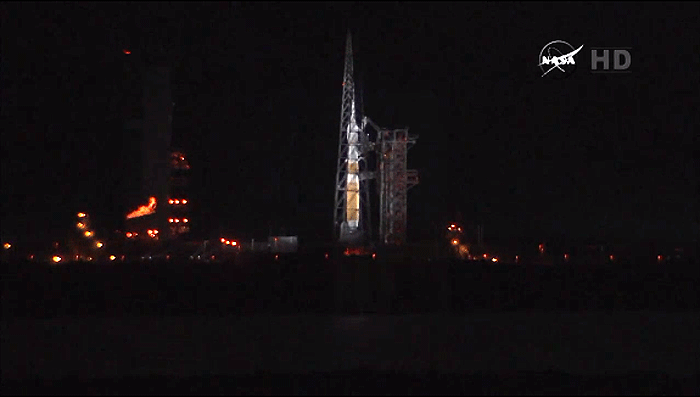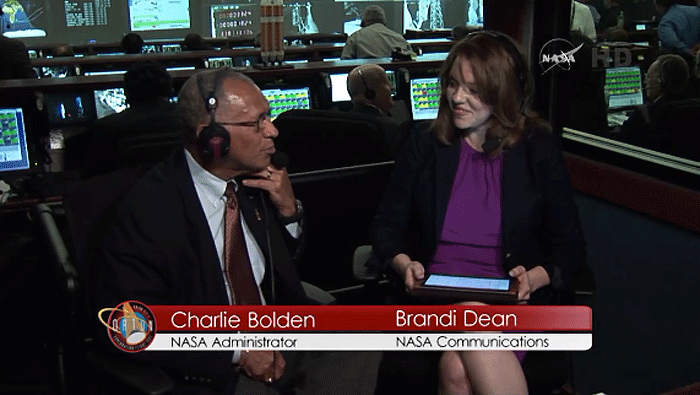 ...
12.40 MEZ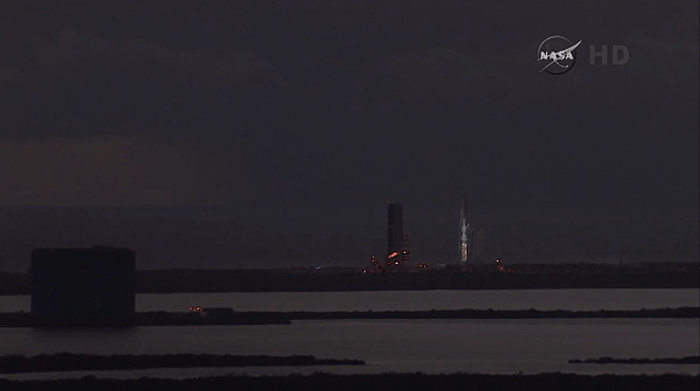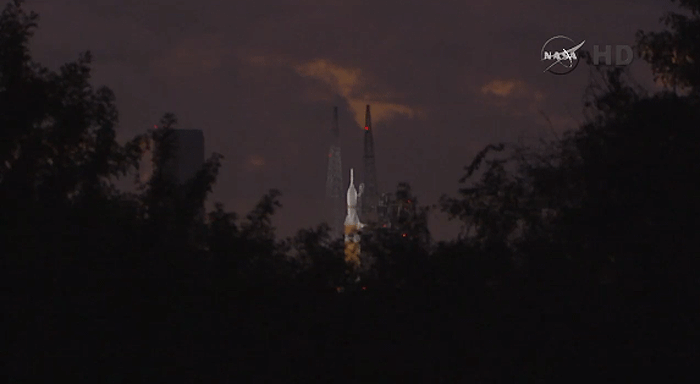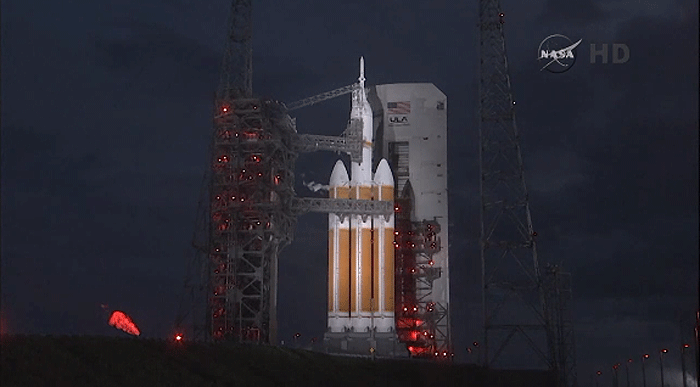 ...
12.50 MEZ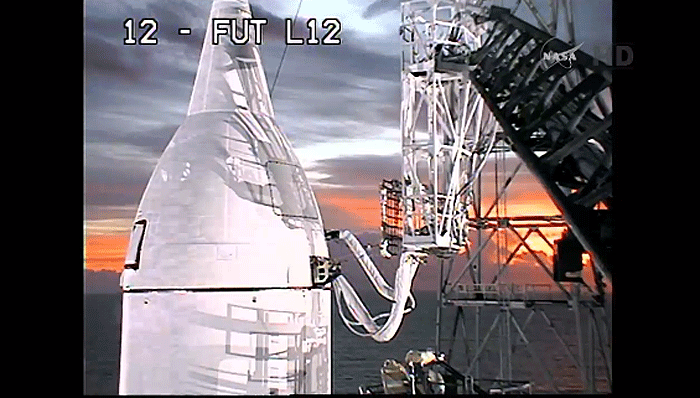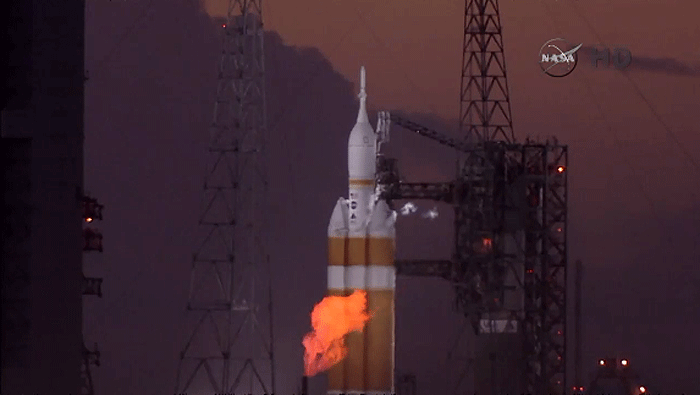 ...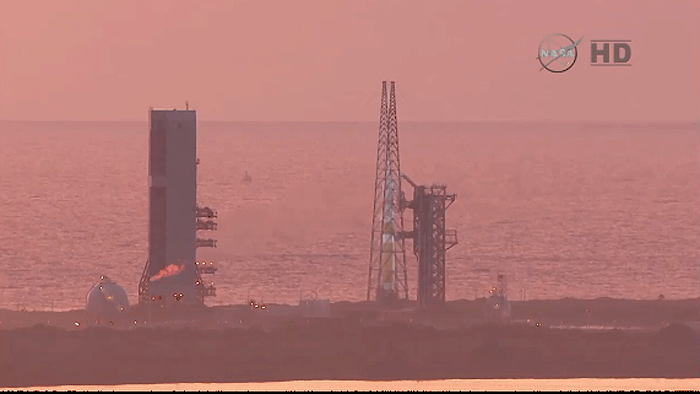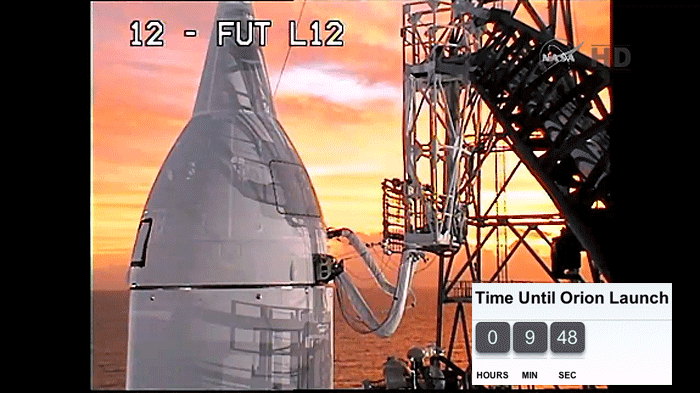 ...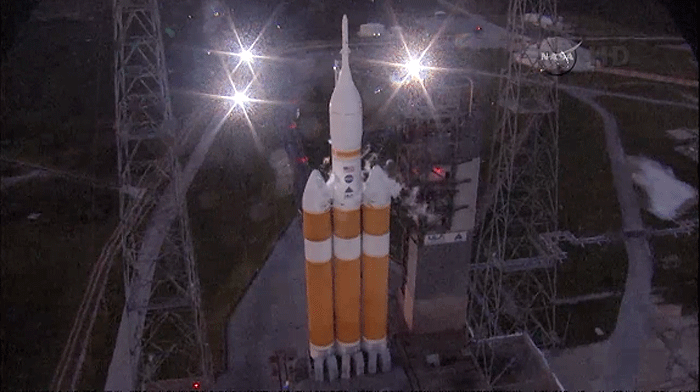 13.30 MEZ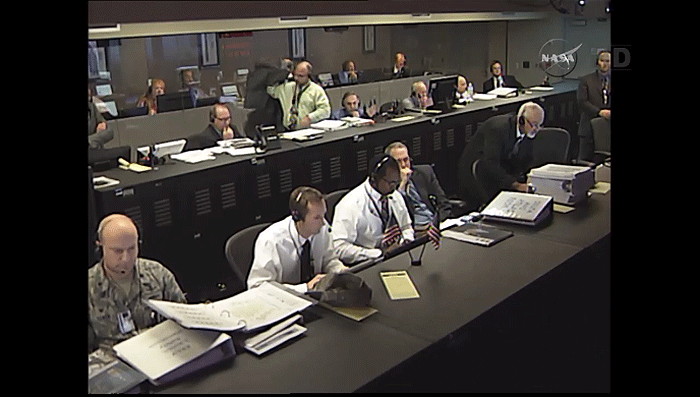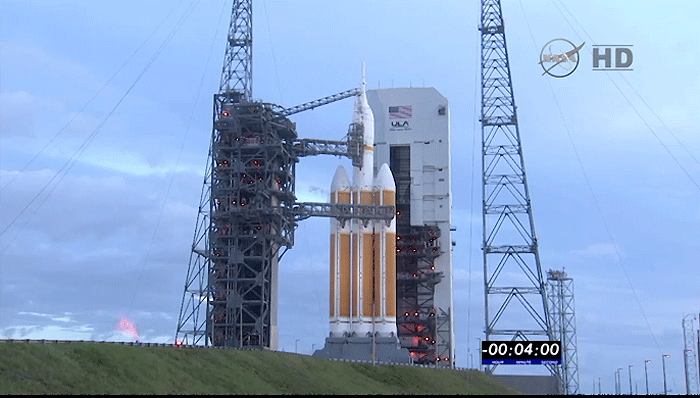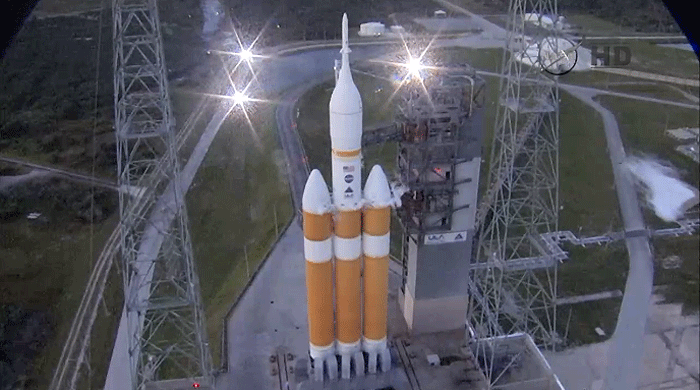 ...
13.40 MEZ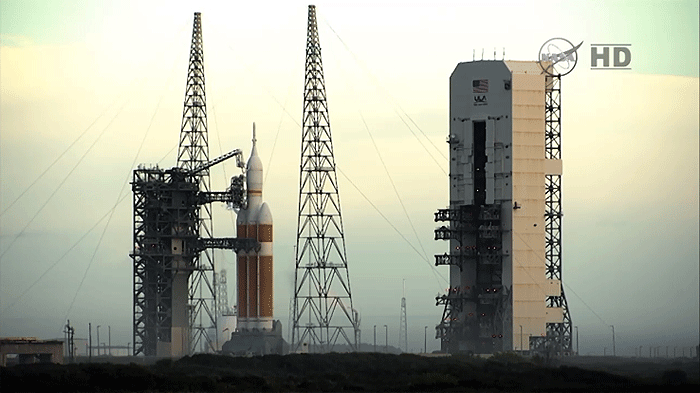 ...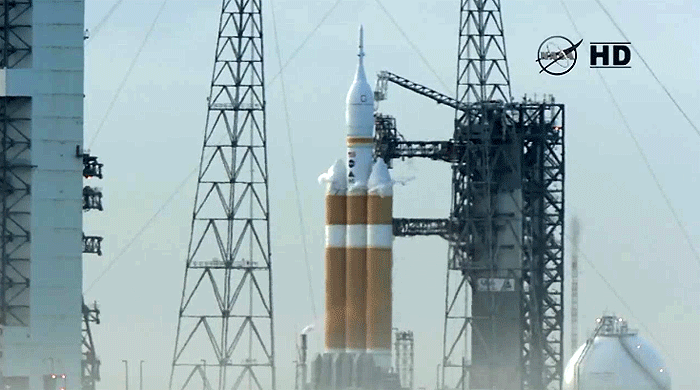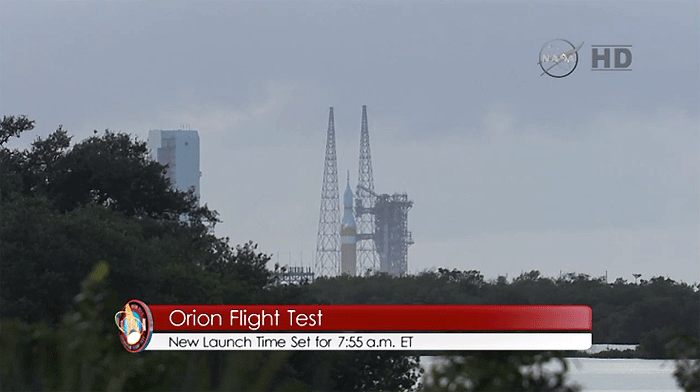 ...
14.00 MEZ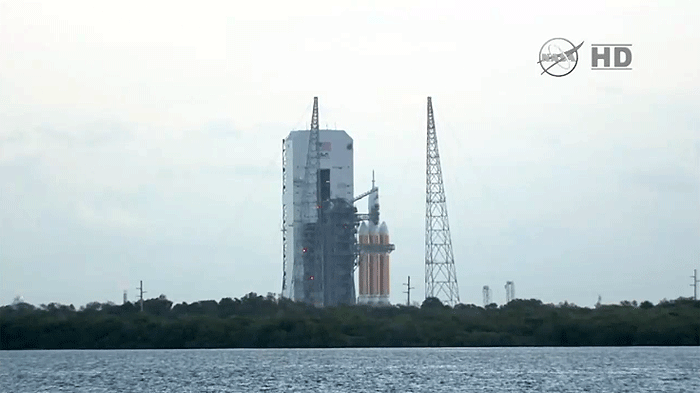 ...
14.30 MEZ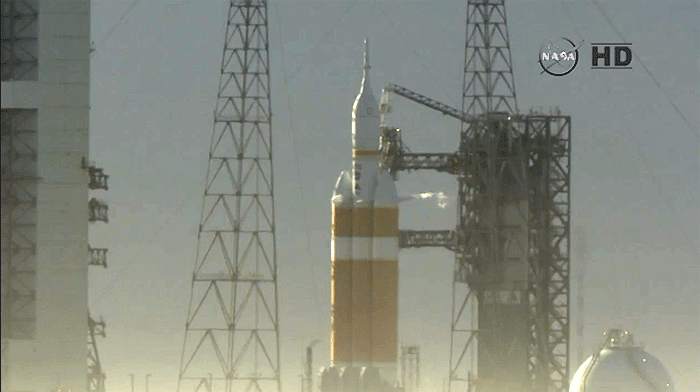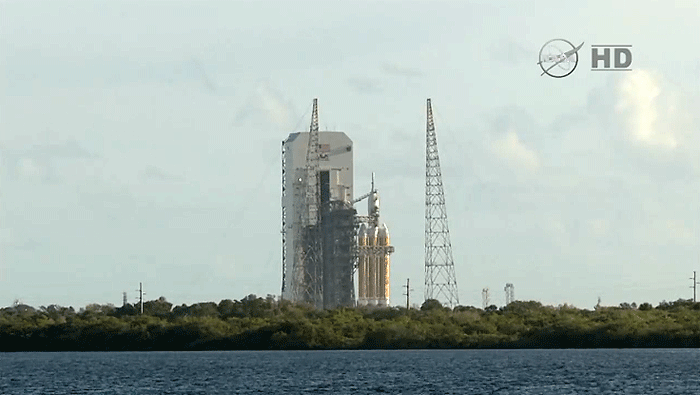 ...
14.45 MEZ
@NASA
Fill-&-drain valves on 3 core boosters will be cycled open & closed to see if that solves the problem.
...
Once it launches, @NASA_Orion flight will test parachutes, avionics, & altitude control. Hour left in #launch window!
...
NASA's Orion launch scrubbed
Space agency set to try again Friday
Follow the Progress of NASA's New Spacecraft for Human Exploration
Friday Opportunity at 7:05 A.M. EST
Thu, 04 Dec 2014 14:46:35 GMT
The launch team has tentatively set a liftoff time of 7:05 a.m. EST, the opening of a 2-hour, 39 minute window just as today. We will begin our launch coverage at 6 a.m. tomorrow on NASA TV and on the Orion blog. Tune into the blog and NASA.gov for continuing updates throughout the day.
.
Update: 17.30 MEZ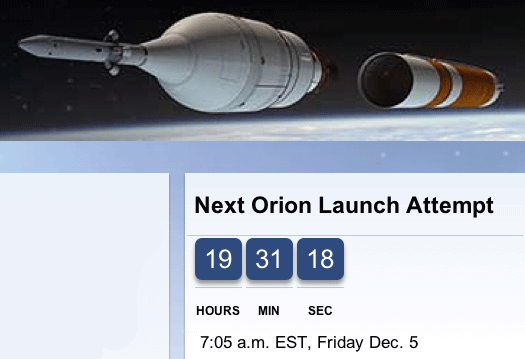 Quelle: NASA
.
Update: 21.15 MEZ
.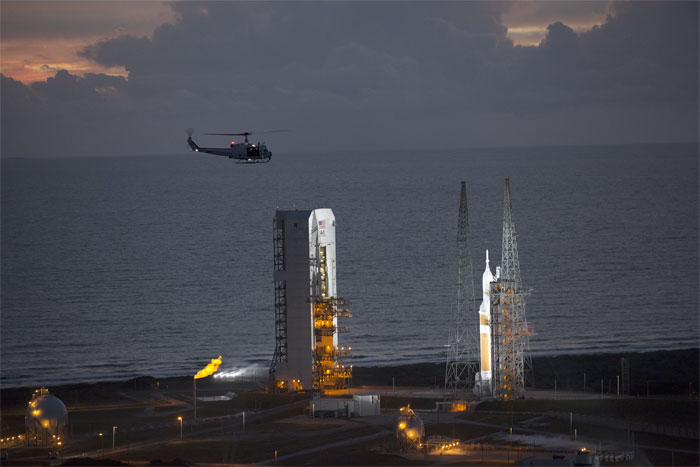 NASA probing valve issue, planning for Friday Orion launch

NASA said engineers are going over data to ensure they know what happened that led to Thursday morning scrub of the spacecraft Orion launch.
Two sticking valves on hydrogen fuel lines scrubbed the final launch attempt of the Delta IV Heavy rocket that will carry Orion on a test flight.
The hydrogen valves appear to have become slow and sluggish because of cold conditions caused by the hydrogen fuel, according to United Launch Alliance Chief Operating Officer Dan Collins.
"This is something we have seen on one previous Heavy launch, where we had a long window and had gone ... quite a ways into the window," Collins said.
Collins said engineers were reviewing the data to confirm that was what happened, and he believed the equipment would be ready for a Friday morning launch.
Two previous attempts during the Thursday morning launch window were held because of gusting winds. High winds can push the rocket during liftoff and cause it to drift toward the towers around the launch pad, Collins said.
There was also a concern about a boat straying into a prohibited area near the launchpad during the first attempt, but officials said the boat was not in danger.
There was no attempt to close the fuel valves during the first two attempts, Collins said.
Friday morning's launch is scheduled for 6:05 a.m. Central time. There is also a launch window Saturday.
There are two scenarios left for the launch, according to Collins. If Friday's launch is scrubbed before the launch window opens, an attempt would be made Saturday. However, if Friday's attempt is scrubbed during the launch window, hydrogen fuel tanks would need to be refilled and another launch date would have to be scheduled.
Quelle: SpaceAlabama
.
Managers Tap Friday Launch Attempt
Orion's managers for NASA, Lockheed Martin and the United Launch Alliance said they will push on with planning to launch Orion on its flight test Friday morning at 7:05 a.m. EST. The launch window will be 2 hours, 39 minutes, the same time span as Thursday. "Our plan is to fly tomorrow," said Mark Geyer, Orion program manager.
Fill-and-drain valves on the Delta IV Heavy will be tested throughout the day so the launch team can prevent a mechanical problem like one that came up Thursday. "We're very confident we're going to be able to exonerate the equipment," said Dan Collins, chief operating officer of United Launch Alliance. The valves that failed to close properly late in the countdown allow liquid hydrogen to flow into the three core boosters of the first stage. Normal operation calls for the valves to stay open during the fueling and shut tight a few minutes before liftoff to seal the fuel tank.
Although Orion didn't get off the ground today to begin its first uncrewed flight test, the officials said a great deal was learned about the systems during the countdown as the spacecraft went on internal battery power and saw other changes through the lead-up to launch and then through the three attempts at different points in the launch window. "The spacecraft worked extremely well," said Mike Hawes, Lockheed Martin's program manager for Orion. Lockheed Martin built Orion for NASA and is operating this mission. "The systems did just like the simulators told us they'd do."
The weather for Friday is forecast to be a bit worse than Thursday, though still favorable. Meteorologists are calling for a 60 percent chance of acceptable conditions.
Quelle: NASA
.
Update: 5.12.2014 9.50 MEZ
-
The first flight test of Orion, NASA's next-generation spacecraft capable of sending astronauts on future missions to an asteroid and the journey to Mars, now is scheduled to launch Friday, Dec. 5 at 7:05 a.m. EST, atop a United Launch Alliance Delta IV Heavy from Cape Canaveral Air Force Station in Florida. NASA Television coverage will begin at 6 a.m. There is a two-hour, 39-minute window for the launch.
A Thursday launch attempt was scrubbed due to valve issues that could not be remedied before the launch window closed. Several valves are used to fill and drain the first stage of the rocket with propellant prior to liftoff.
NASA TV commentary of the flight will continue through splashdown, approximately 4.5 hours later in the Pacific Ocean about 600 miles southwest of San Diego. A post-flight test news conference will be held Friday approximately two hours after splashdown.
During its trip, designated Exploration Flight Test-1, Orion will orbit Earth twice and travel to a distance of 3,600 miles into space. The flight is designed to test many of the most vital elements for human spaceflight and will provide critical data needed to improve Orion's design and reduce risks to future mission crews.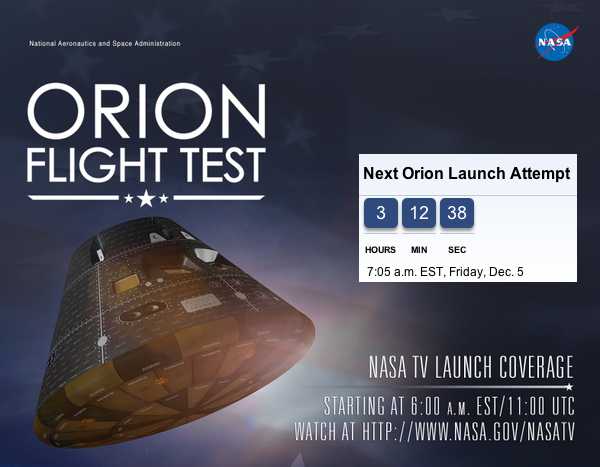 2898 Views