.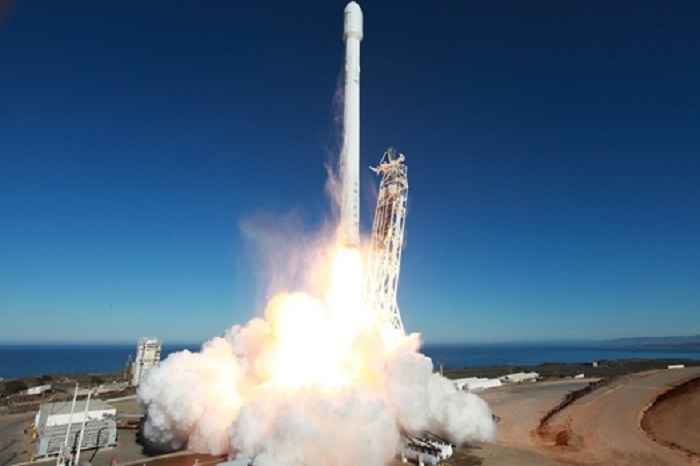 SpaceX Plans Crucial Satellite Launch on Monday
SpaceX conducted a successful static fire of its Falcon 9 rocket on the pad at Cape Canaveral on Thursday, paving the way for a crucial launch on Monday designed to prove the vehicle's worth in the lucrative communications satellite industry.
The task on Monday: to deliver the SES-8 satellite to geosynchronous orbit, a first for the company. The drama revolves around whether engineers have correctly diagnosed and fixed the problem that resulted in the second stage failing to re-light during a demonstration flight in September.
If the flight succeeds, SpaceX can begin working through a large backlog of communications satellites on its manifest. A successful flight would also be a major step toward certifying the rocket to carry government payloads.
SpaceX says engineers have implemented a fix on the upper stage engine:
The aborted engine restart on the Falcon 9 test flight was caused when fluid lines for the second stage Merlin engine's igniter fluid froze after long exposure to cold oxygen, according to Emily Shanklin, a SpaceX spokesperson.

"This never happened on the ground, because ambient air kept the lines warm," Shanklin said in a statement. "We've added insulation and made sure that cold oxygen can't impinge on the lines.

SpaceX's Merlin engines use pyrophoric igniters with a hypergolic fluid called triethylaluminum-triethylborane, or TEA-TEB. The system allows an engine to restart multiple times on the ground or in flight without refurbishment.
Monday's launch will be the second of the upgraded Falcon 9 v. 1.1, whose improvements over its predecessor include improved Merlin 1-D engines, longer fuel tanks, an improved stage separation system, a payload shroud and enhancements.
The SES 8 flight will be the third Falcon 9 launch of the year. The company has plans to launch Thaicom 6 satellite in December, but a date has not been set yet.
Quelle: SpaceX
.
Update: 24.11.2013
.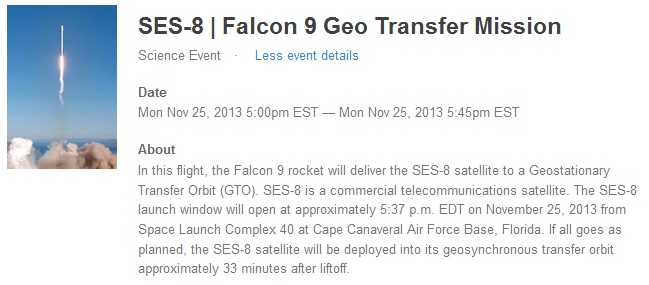 .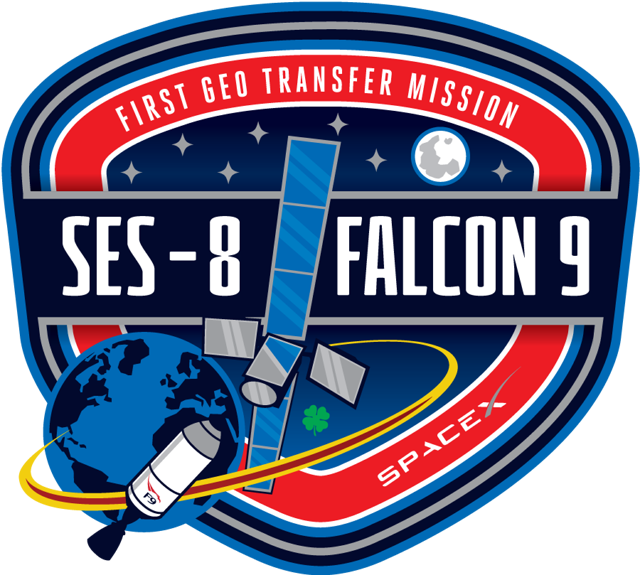 Quelle: SpaceX
.
Update: 15.30 MEZ
.
SES 8 broadcasting satellite prepared for launch
The SES 8 communications satellite is prepared for launch Nov. 25 atop a SpaceX Falcon 9 rocket.

These photos show the satellite's shipment from its factory at Orbital Sciences Corp. in Dulles, Va., and arrival at Cape Canaveral, Fla. The images also show the satellite's preparations inside a clean room at Cape Canaveral and views of the Falcon 9 rocket's 5.2-meter diameter payload fairing, which protects the spacecraft during final prelaunch preparations and the early phases of flight.

The fairing will be released about four minutes after liftoff when the rocket is above the thick, lower layers of the atmosphere. The satellite weighs 3.2 metric tons when fully fueled with propellant. It is owned by SES of Luxembourg, one of the world's largest commercial satellite operators.

Launch is scheduled for 5:37 p.m. EST (2237 GMT) Monday from Cape Canaveral's Complex 40. The 224-foot-tall booster is making its first launch into geostationary transfer orbit, the drop-off point for most communications satellites.

Communications satellites like SES 8 are released in a highly elliptical orbit by their launcher, then the spacecraft use their own engines to maneuver into a circular orbit 22,300 miles over the equator.
.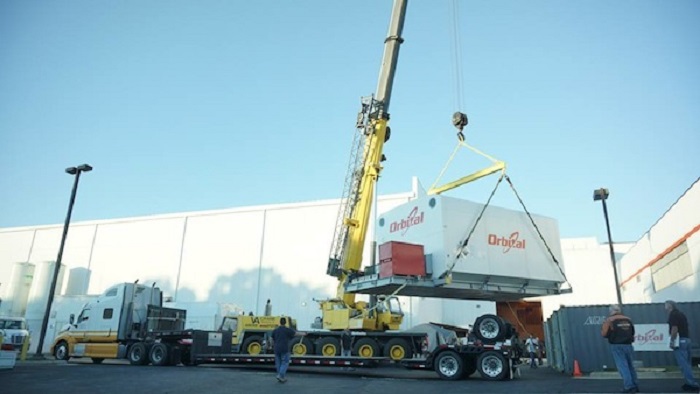 .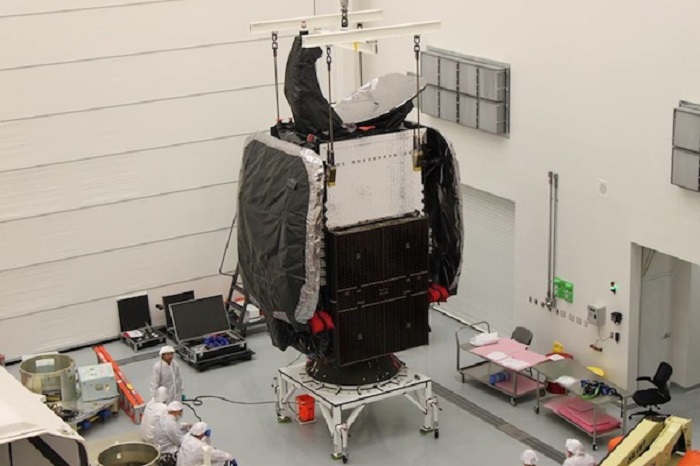 .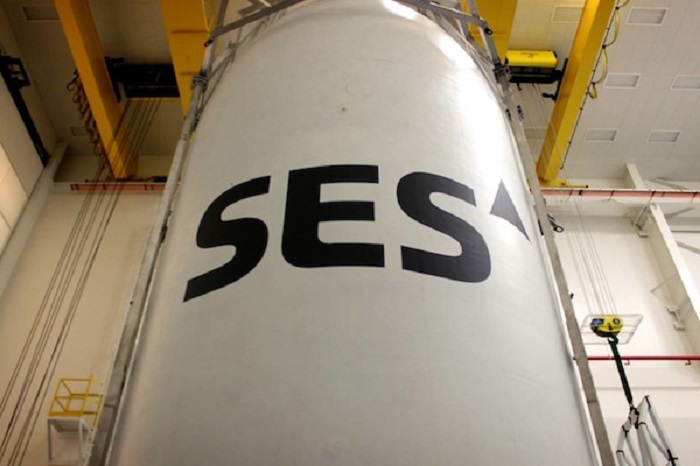 Quelle: SES
.
Update: 25.11.2013 / 9.45 MEZ
.

.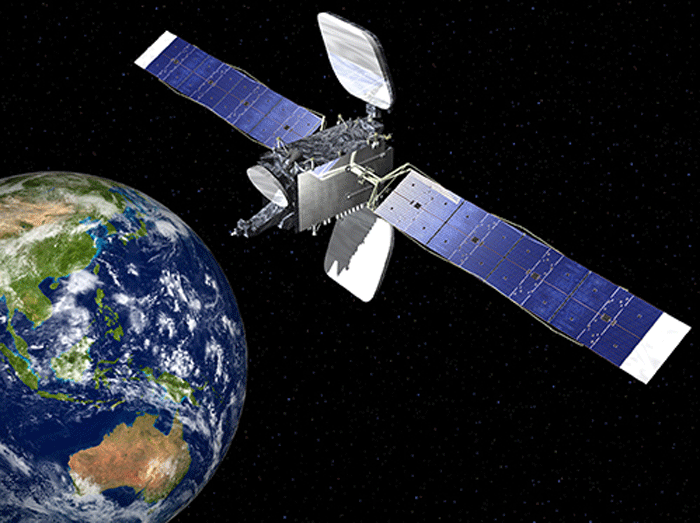 Quelle: SpaceX
.
Update: 23.50 MEZ LIVE Start SpaceX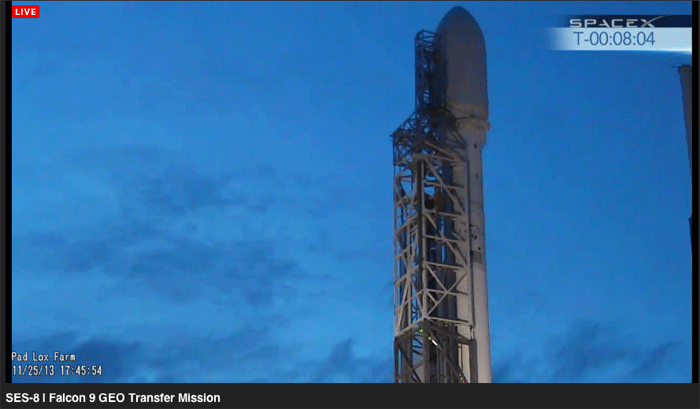 .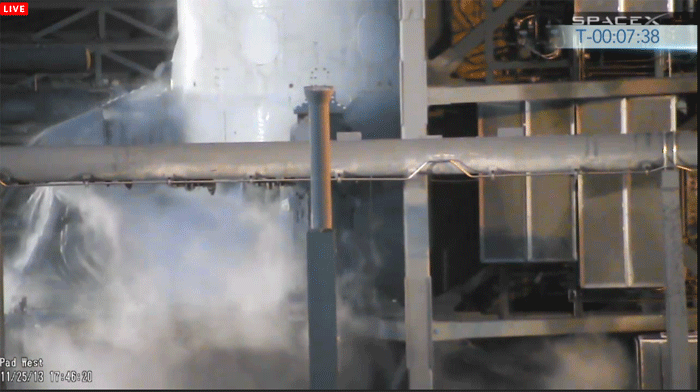 .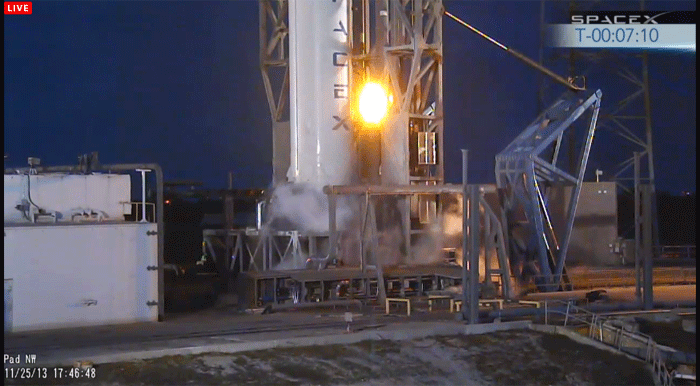 .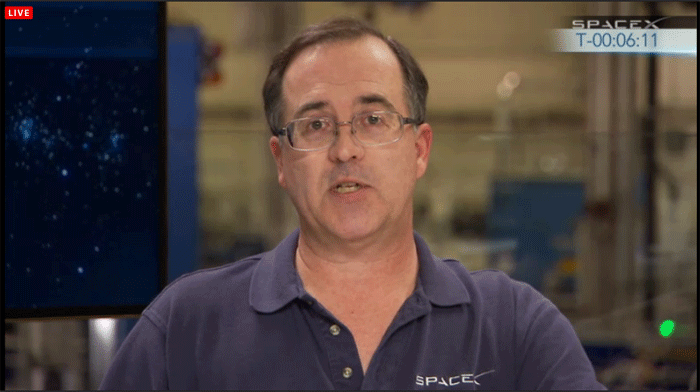 .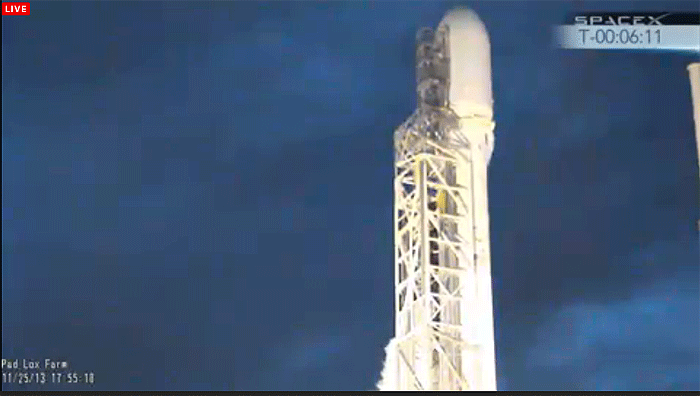 .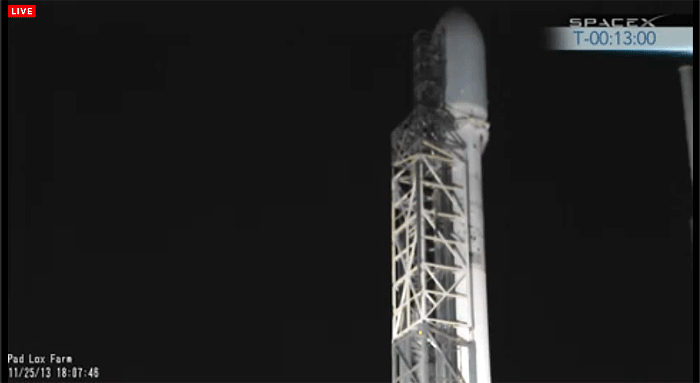 Countdown Break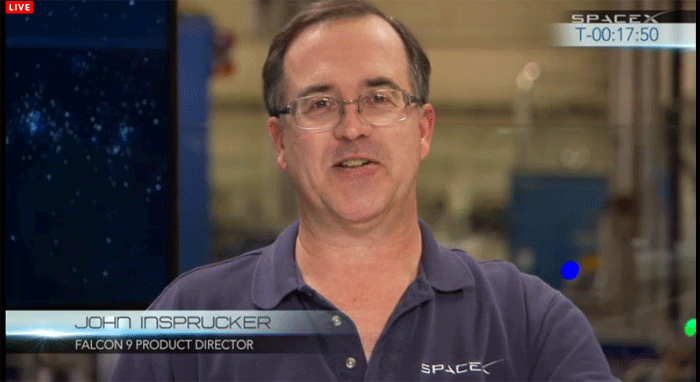 .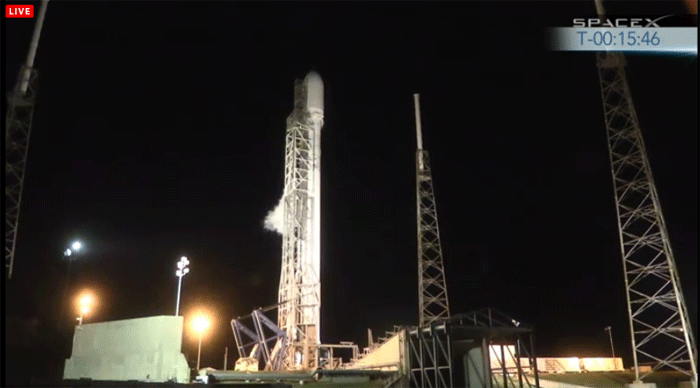 .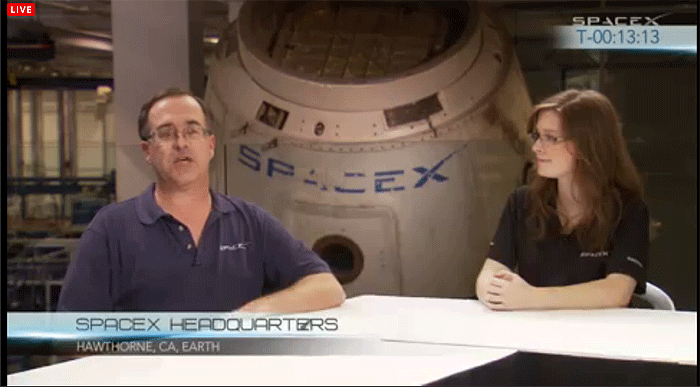 26.11.2013 / 0.18 MEZ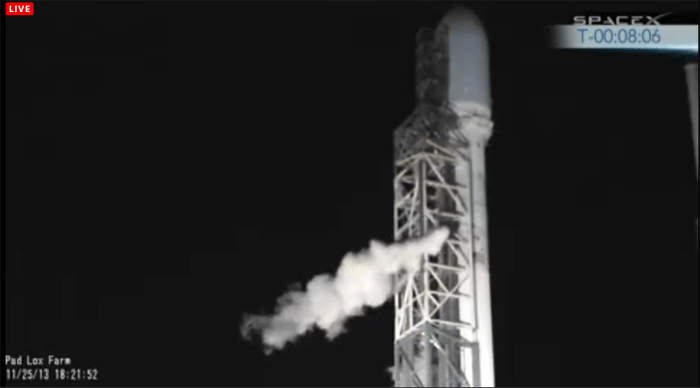 .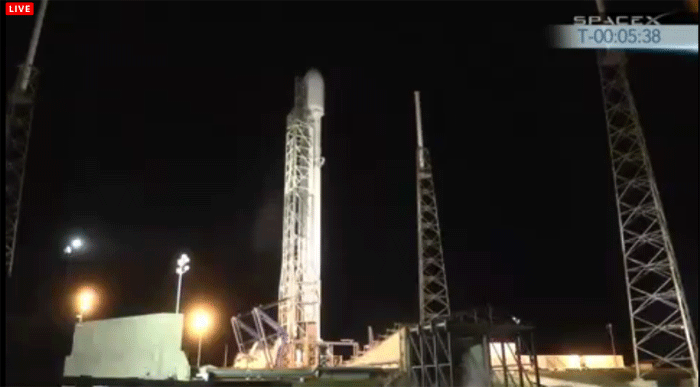 .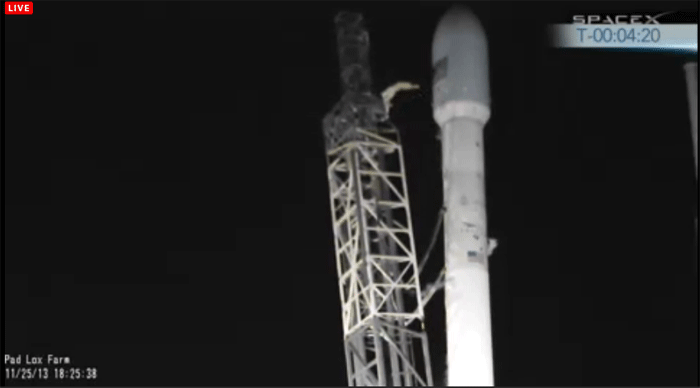 .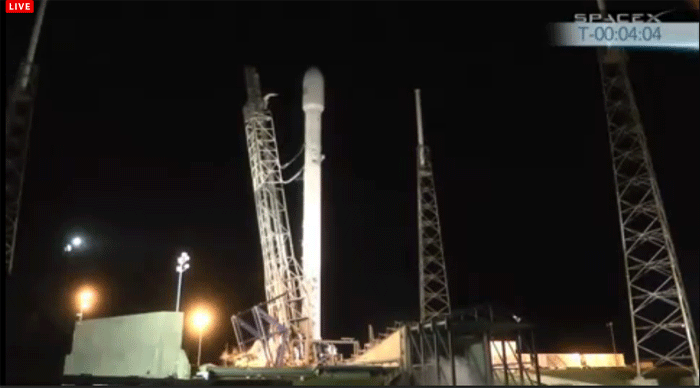 .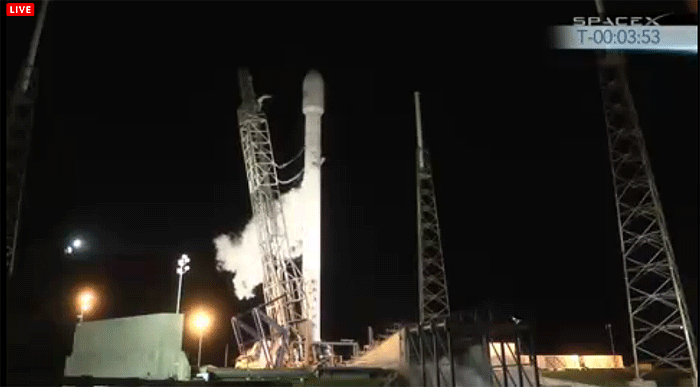 Start-Abbruch von Falcon-9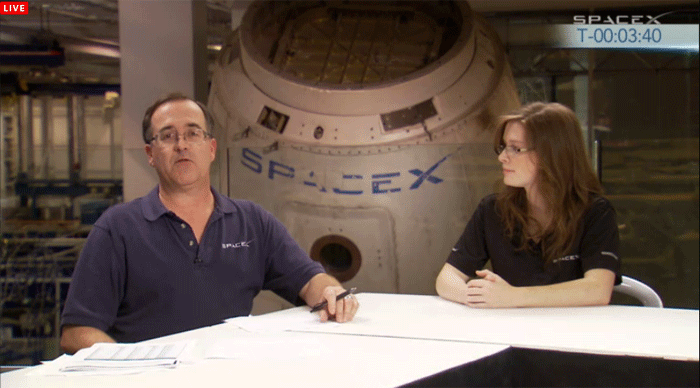 Quelle: SpaceX
.
Update: 8.50 MEZ
.
SpaceX scrubs satellite launch after problem with first stage
CAPE CANAVERAL, Florida - SpaceX scrubbed the planned launch of a satellite on its upgraded Falcon 9 rocket today with less than 4 minutes remaining on the countdown. There was a problem with the first stage, a webcast announcer said, and technicians did not have time to assess or fix it within the launch window. The next attempt will come Thursday, Thanksgiving Day in the United States.
SpaceX is trying to lift a telecommunications satellite into geosynchronous orbit around the Earth. This will be the company's first placement of a satellite in the higher orbit.
"We observed unexpected readings with the first stage liquid oxygen system, so we decided to investigate," SpaceX spokeswoman Hannah Post said in a statement later Monday night. "The launch vehicle and satellite are in great shape and we are looking forward to the next launch opportunity Thursday at 5:38 p.m. Eastern time."
Liquid oxygen is one of the Falcon 9's two first stage propellants. The other is rocket-grade kerosene (RP-1).
(Updated at 8:30 p.m. CST to add the SpaceX statement and some background information on liquid oxygen.)
UPDATE, 6:53 PM: The launch has been scrubbed for today. The third launch attempt was halted with 3:40 left in the countdown after a SpaceX engineer saw a problem with a system to keep the Falcon 9's liquid oxygen fuel pressurized. Since the launch window was closing only 16 minutes later, that put an end to today's launch attempts.
The next launch window is tentatively set for Thursday, Thanksgiving Day, starting at 4:38 p.m. CST.
.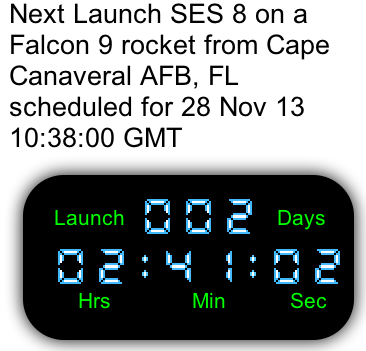 Quelle: SpaceX
.
Update: 27.11.2013
.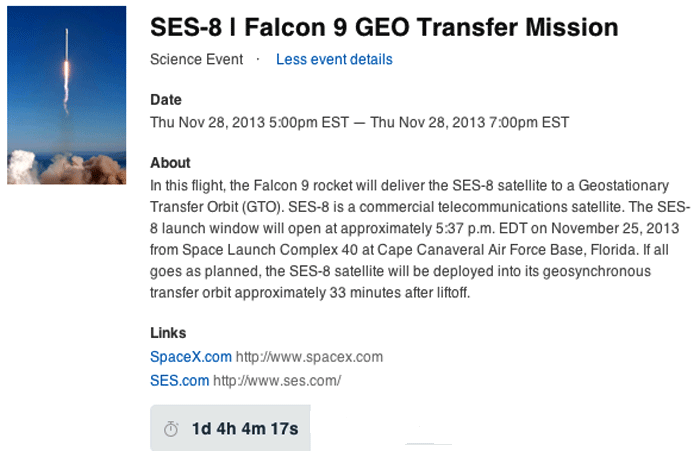 Quelle: SpaceX
.
Update: 28.11.2013
.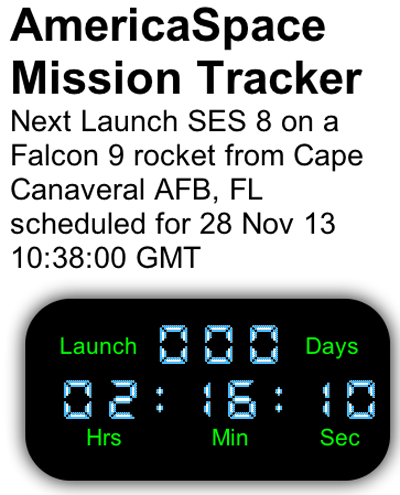 ...Update: 22.30 MEZ
.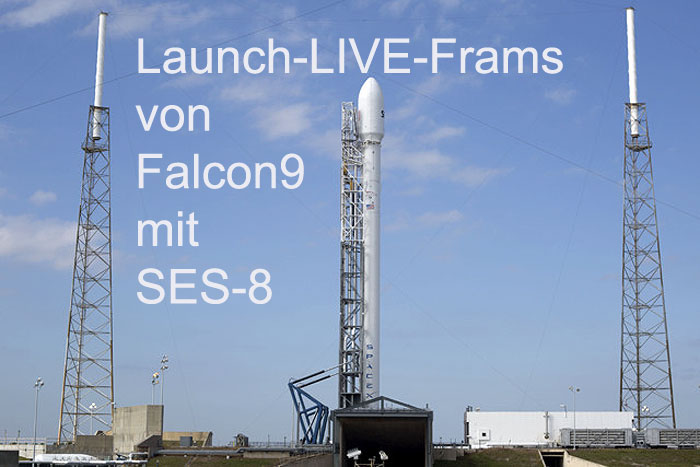 ...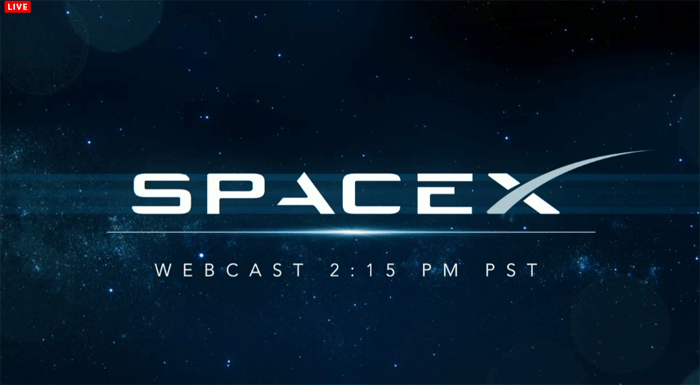 .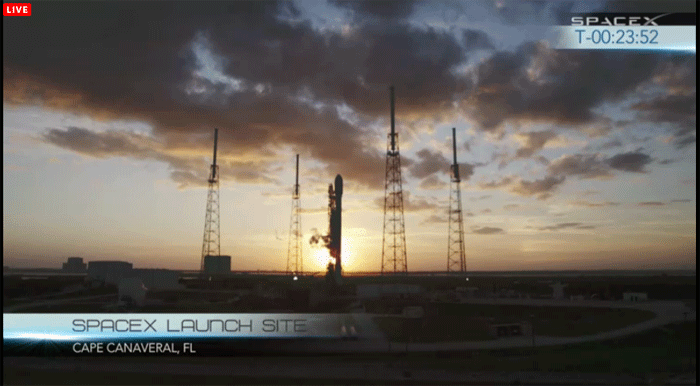 .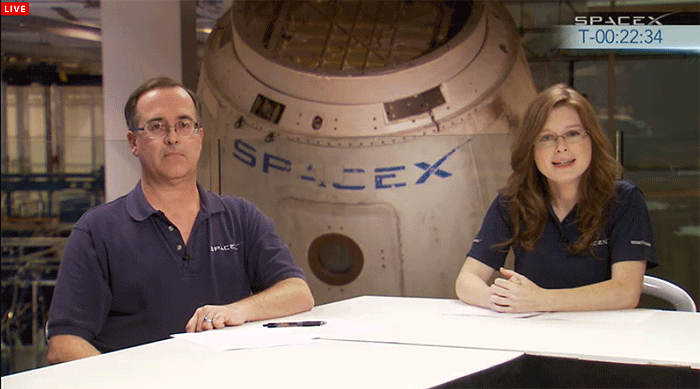 .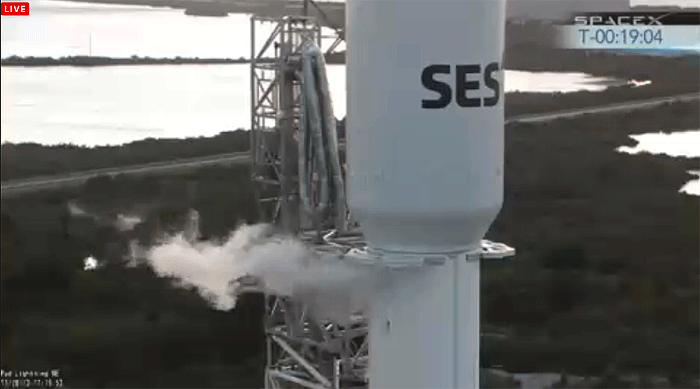 .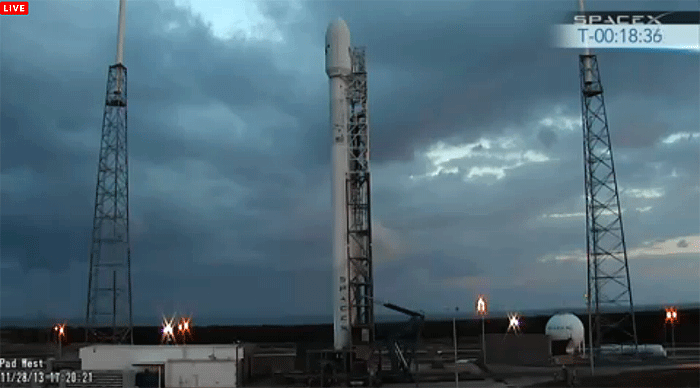 ...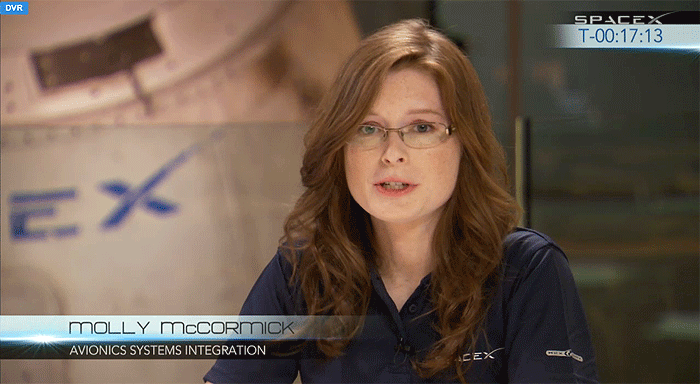 .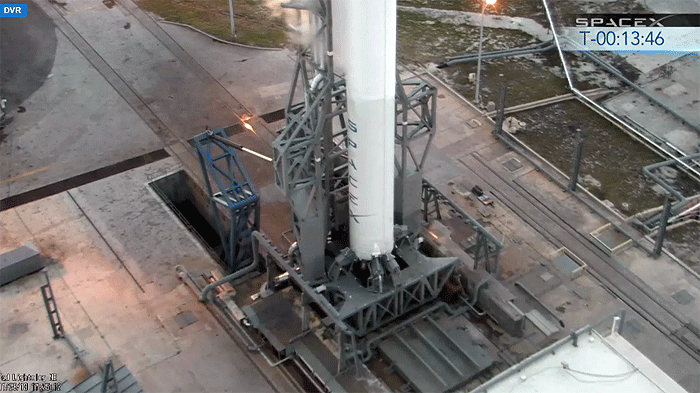 .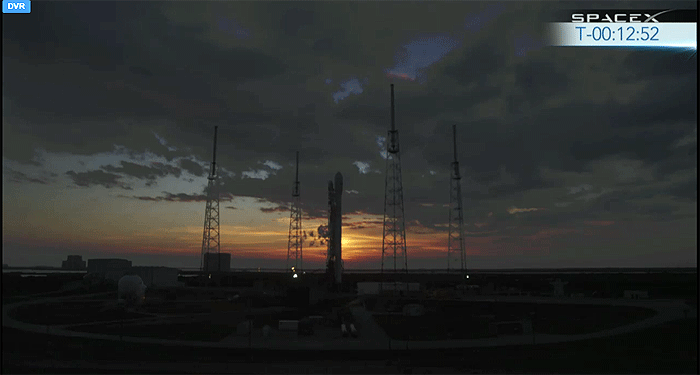 ...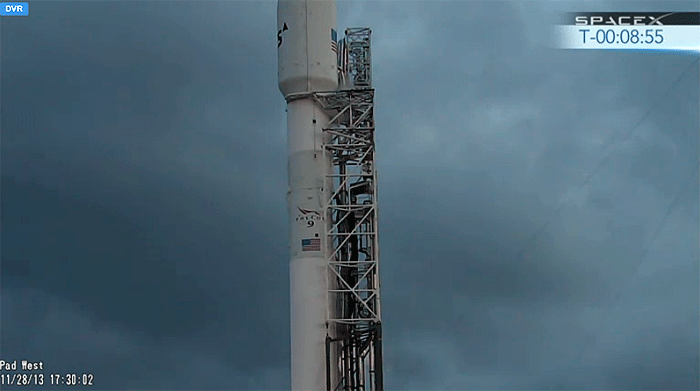 .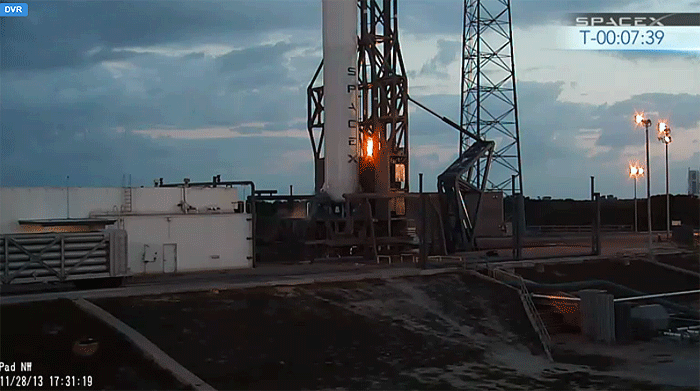 ....Zweiter Fehl-Start vonnFalcon-9
.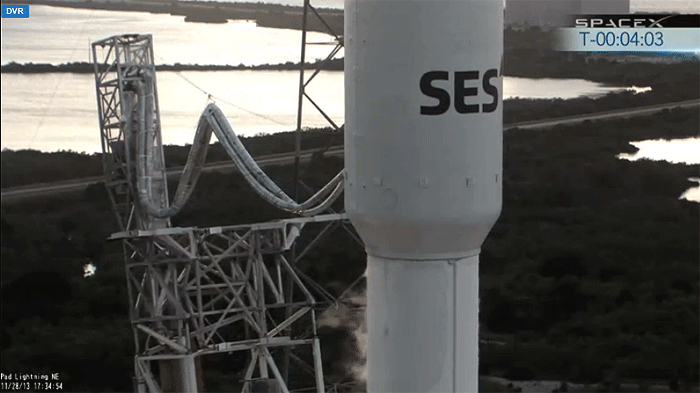 .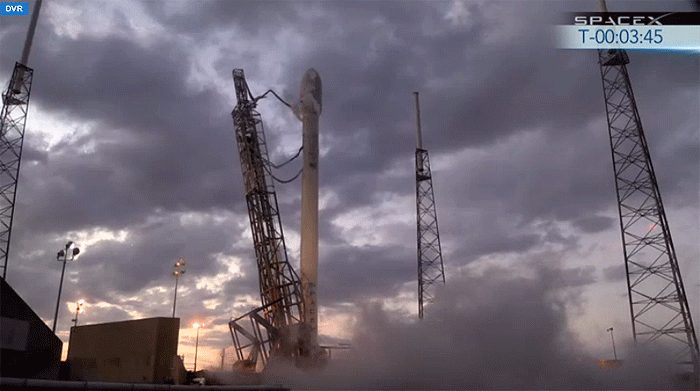 .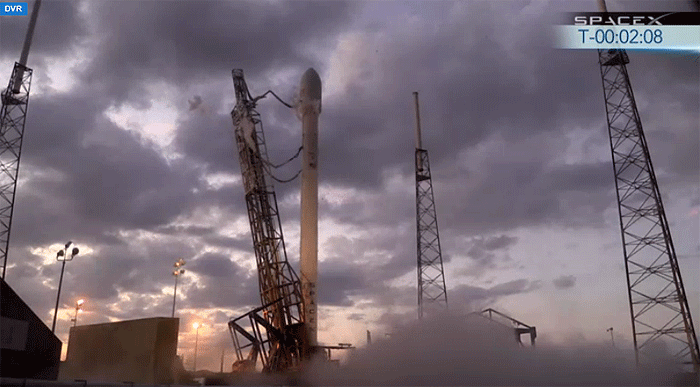 .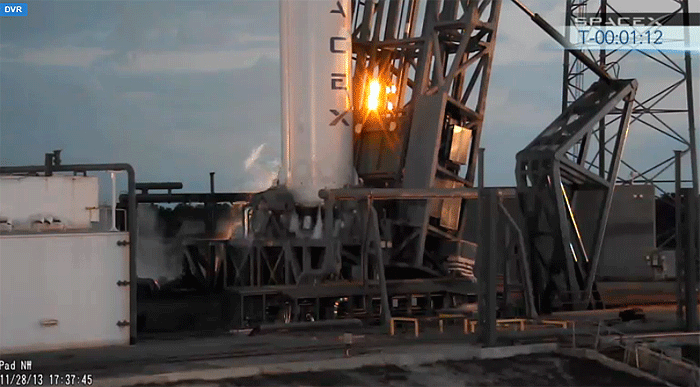 .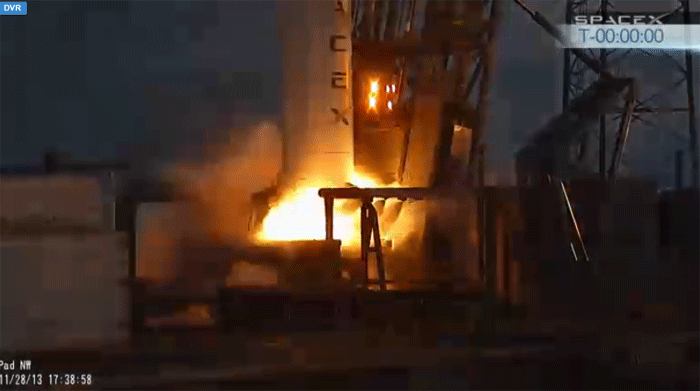 .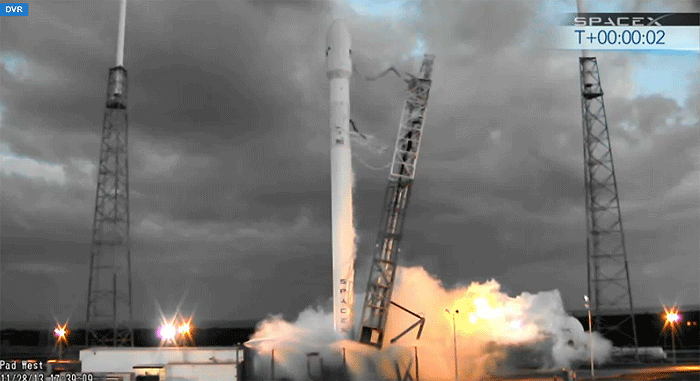 .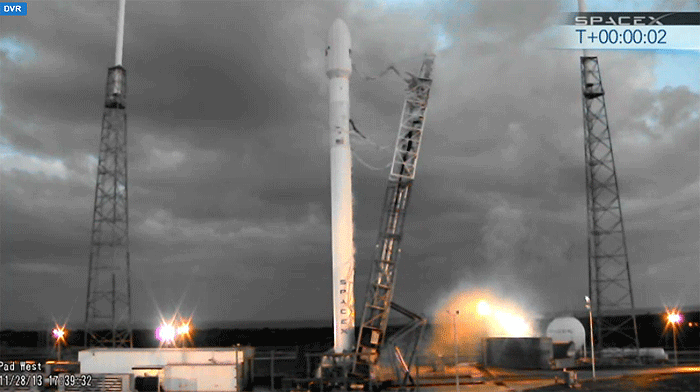 .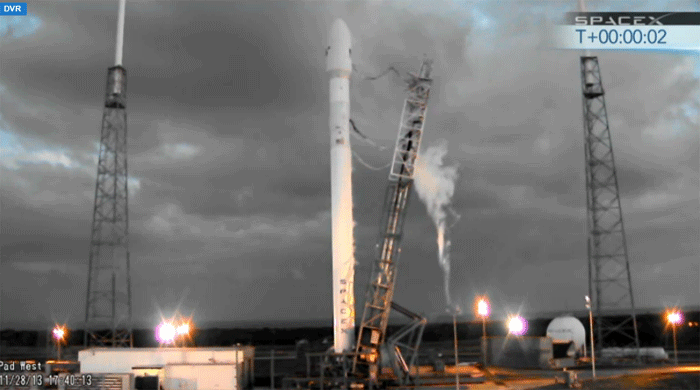 .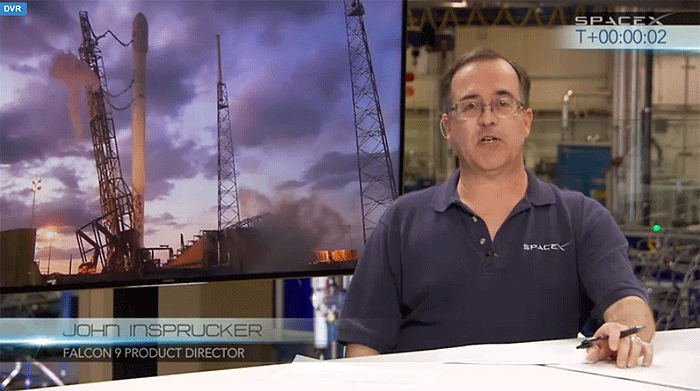 .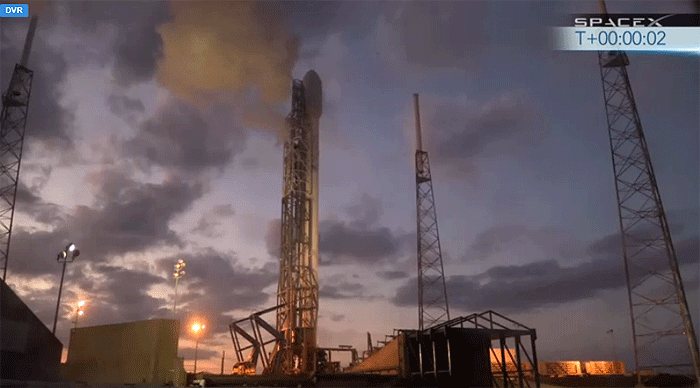 .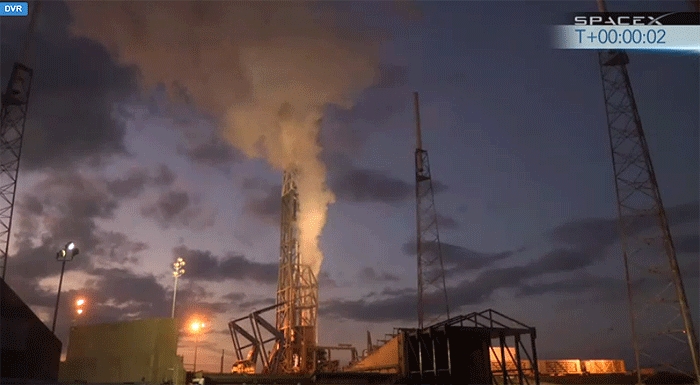 .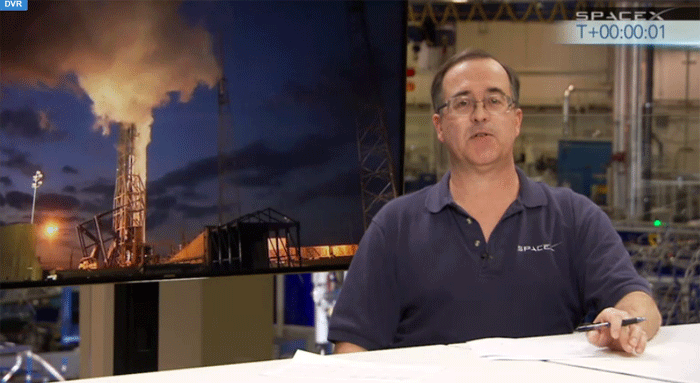 ...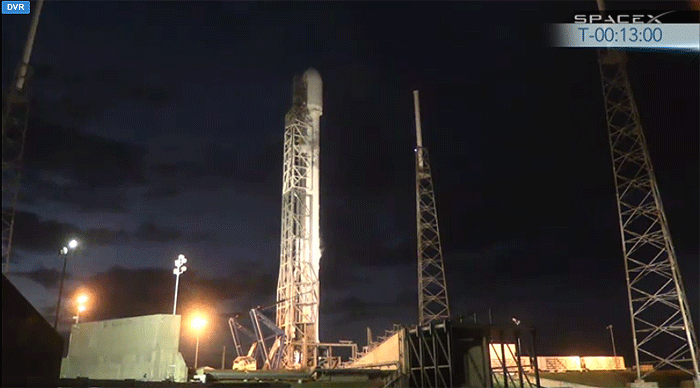 .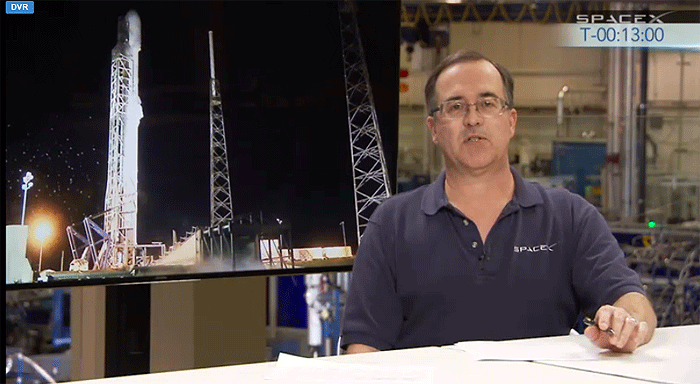 Quelle: SpaceX
.
Update: 29.11.2013 / 0.30 MEZ
.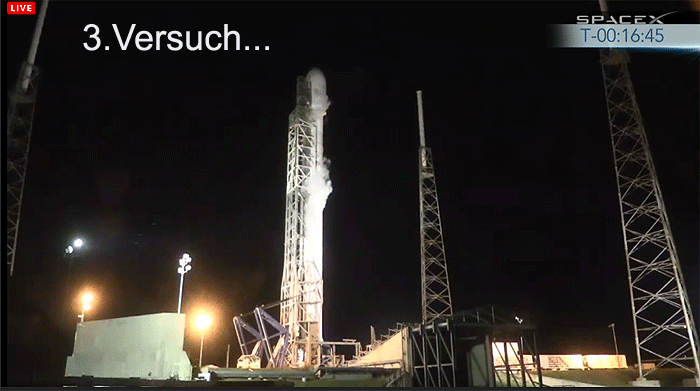 .
...nochmaliger Start-Abbruch!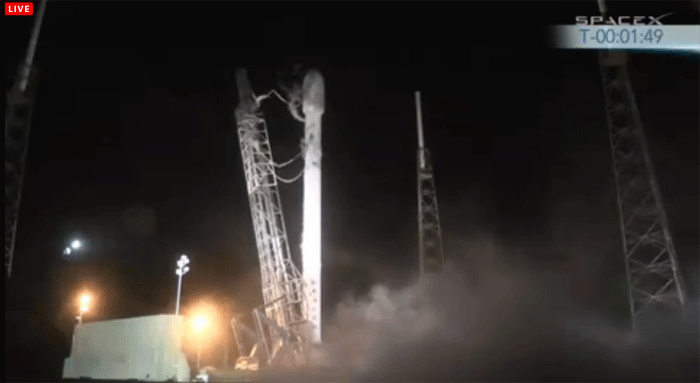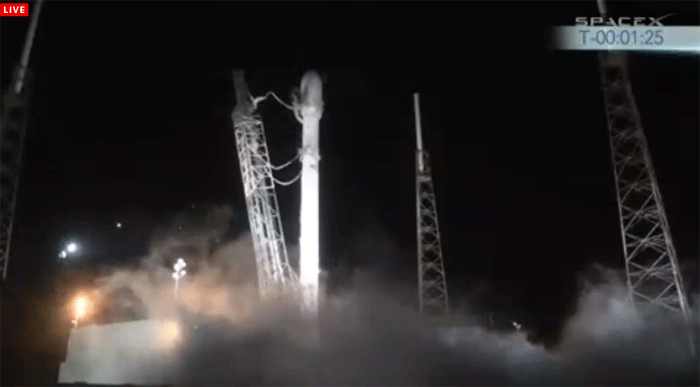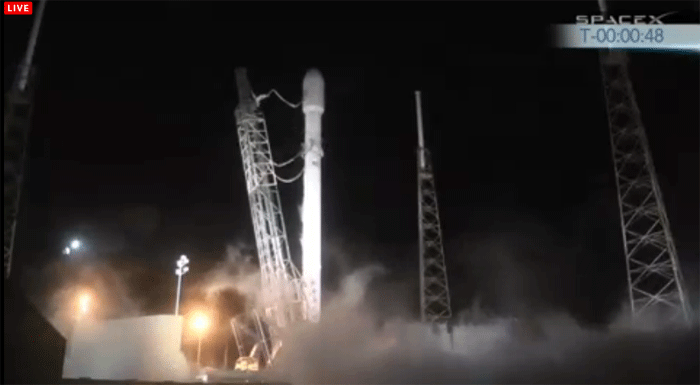 Quelle: SpaceX
.
Update: 9.00 MEZ
.
Launch Update
Launch scrubbed for today. Team bringing rocket down to take a closer look at the engines. Likely a few days before next attempt.
Quelle: SpaceX
.
Update, 7:08 pm EST: Sounds like this is going to be a significant delay if they need to bring the rocket back to the hangar. This could postpone the Falcon 9 launch of Thaicom 6 — scheduled for Dec. 20 — into 2014.
Quelle: SpaceX
.
Update: 30.11.2013
.
SpaceX targets Monday evening for Falcon 9 launch
SpaceX is targeting Monday for a third attempt to launch the SES-8 communications satellite from Cape Canaveral Air Force Station, the company said today.
"Rocket engines are healthy, but cleaning turbopump gas generators will take another day," CEO Elon Musk tweeted. "Aiming for Mon eve launch."
The launch window Monday would open at 5:41 p.m. EST, and there's a 60 percent chance of favorable weather conditions.
Technical issues thwarted the first two launch attempts, last Monday and Thursday.
On Thanksgiving, the Falcon 9 booster's nine engines fired briefly, but cut off when computers sensed thrust building more slowly than expected.
In another Twitter message today, Musk said the abort was caused by oxygen in the ground-side igniter system.
Launching Sunday was not an option. As with the two days before Thanksgiving, the Federal Aviation Administration would not close the air space because of the high volume of air traffic around the holiday.
SpaceX is attempting to launch its upgraded Falcon 9 rocket for the first time from Florida. The 224-foot rocket is carrying its first commercial payload, aiming for an orbit more than 22,000 miles over the equator.
The launch would be the first of a commercial communications satellite from the Cape in four years.
Quelle: Florida Today
.
Update: 1.12.2013
.
The TEA-TEB glitch: Can't light a Falcon 9 without a spark
.
As noted in the previous post, SpaceX CEO Elon Musk has tweeted that the problem that halted Thursday's launch attempt was with the system that lights the Falcon 9's nine Merlin 1D first-stage engines using a chemical mixture called TEA-TEB.
I asked Ben Brockert (aka @wikkit on Twitter), CEO of Denver-based Able Space Co., to expand on that — and boy, did he ever come through. For the tl;dr crowd (that's how the cool Internet kids say "too long; didn't read"), the money quote: "[I]t was like they expected 180 proof TEA-TEB but only got 100 proof. The fire in the engines was monitored and was less than the launch computer expected, so it shut the engines down rather than proceeding to full thrust."
Here's the full response:
Hypergolic ignition is one of the neat concepts in rocketry that don't have a great parallel in day-to-day life. It's an rare thing that would be scary if it was something that happened often. Hypergolic simply means that, when exposed to each other, two chemicals will burst into flame without a spark or other ignition source.

The ignition process on a rocket engine is critical and must be of high reliability. On a vehicle with multiple engines, if 8 out of 9 lit but one was just dumping un-lit propellant out the end, the fire from the others would ignite that propellant. The fire would then travel up into the engine where it would create a massive pressure spike, definitely destroying the engine and possibly destroying engines nearby. In propulsion testing the euphemism for this is a "hard start" leading to "rapid unplanned disassembly".

SpaceX is solving the problem of absolute ignition reliability by using hypergolic ignition. They use a mix of two chemicals, triethylaluminum and triethylborane, aka TEA-TEB. Each is basically a metal atom (aluminum or boron) holding on to three hydrocarbon molecules (tri-ethyl), ready to break at a moment's notice.

These two chemicals will spontaneously and near instantaneously burst into flame upon contact with oxygen. It can be oxygen in air or liquid oxygen in a rocket engine. The boron in the TEB is what causes the green flame when the engines start. To start the engine, LOX is flowed through the rocket injector into the chamber from the vehicle's tank, TEA-TEB is injected into the chamber to create ignition, then RP-1 (fancy kerosene) is flowed in from the vehicle tank to start burning. The flows are increased, thrust is made, and the rocket launches.

To save weight on the first stage apparently they are flowing the TEA-TEB from a tank on the ground. Elon's tweet was "Abort was caused by oxygen in ground side TEA-TEB. Upper stage on separate internal circuit, so doesn't face same risk."

So there was some oxygen that inadvertently got in the TEA-TEB tank. Could have just been atmospheric oxygen that got in when the tank was refilled, or could have been a bit of oxygen that flowed back in from a previous engine test. That would then react with the TEA-TEB in the tank and reduce its concentration, so that the tank then contained a mix of TEA-TEB and combustion products.

In other words, it was like they expected 180 proof TEA-TEB but only got 100 proof. The fire in the engines was monitored and was less than the launch computer expected, so it shut the engines down rather than proceeding to full thrust.

The other common approach for igniting restartable liquid engines is the "spark torch igniter". A spark plug ignites normal propellants in a little rocket engine, which fires into the big rocket engine. This is what most of the smaller New Space rocket companies use because working with hypergols is unpleasant. Hypergolic chemicals are expensive, usually poisonous, some are carcinogenic, and by nature any spills or contamination can result in unexpected fires.

In theory, hypergols are more reliable. In practice, that seems to not necessarily be the case.

Quelle: WacoTrib
.
Update: 3.12.2013
.
SpaceX Pushes SES Launch Back a Day to Dec. 3
.
After sending its Falcon 9 v1.1 rocket to the hangar for engine inspections and a gas-generator swap, Space Exploration Technologies Corp. (SpaceX) will make its third attempt to launch its first commercial communications satellite — SES-8 — on Dec. 3.
An hour-long launch window opens at 5:41 p.m. Eastern time.
"We're now targeting launch on Tuesday with Wednesday as a back-up day," SpaceX spokeswoman Emily Shanklin wrote in a Dec. 2 email.
"All known rocket anomalies resolved," SpaceX founder and Chief Executive Elon Musk tweeted Dec. 2. SpaceX crews at the Cape Canaveral Air Force Station in Florida "[w]ill spend another day rechecking to be sure."
SpaceX tried twice to launch SES-8, which belongs to satellite fleet operator SES of Luxembourg, on Nov. 28. The Hawthorne, Calif.-based company aborted the first attempt just after ignition because of a slower-than-expected pressure ramp-up in the Merlin 1-D engines that power its Falcon 9 v1.1 rocket.
A second attempt later that evening was aborted with less than a minute to go in the countdown because of oxygen contamination in the ground-based chemical igniter used to light the engines, Musk tweeted Dec. 1.
The rocket was taken off the pad so that the interior of its engines could be examined with a borescope. Following the inspection, SpaceX opted to replace the gas generator that powers one of the rocket's nine Merlin 1-Ds "as a precautionary measure," Musk tweeted.
A successful SES-8 launch would set the stage for SpaceX to begin clearing out a big backlog of commercial satellite launch contracts the company won well in advance of completing the Falcon 9 v1.1 rocket.
.
Quelle: SpaceX
3418 Views