-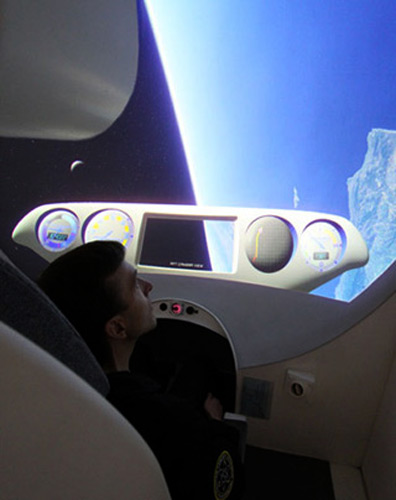 The NASTAR Center was the first to win FAA approval for a spaceflight simulator. Photo courtesy NASTAR Center.
-
A crowded field of contenders is vying to produce commercial spacecraft in the next few years, and those spacecraft will need pilots.
Training has already begun.
The National AeroSpace Training and Research (NASTAR) Center, a subsidiary of Environmental Tectonics Corporation, has added spaceflight training to its aviation programs for both government and commercial operators. The company announced in October that FAA safety approval has been granted for its altitude chamber, able to subject participants to pressure altitudes up to 100,000 feet. The FAA previously approved the spaceflight simulator used in the NASTAR Center's astronaut training programs, and the company has already trained 250 "spaceflight participants" to date, including 115 future Virgin Galactic flight crew members (astronauts).
"This has become quite an emerging industry," said Brienna Henwood, director of space training and research for the NASTAR Center, created by ETC, a global manufacturer of simulators based in Southampton, Pa. With commercial space companies planning to begin flight testing in 2013 and 2014, "we're already having a lot of people knock on our door."
Among those knocking are companies like XCOR Aerospace, currently working to build a two-seat Lynx suborbital vehicle that the company hopes to launch in 2013. NASTAR Center is also working with Armadillo Aerospace, Blue Origin, and Virgin Galactic to train crews and passengers, or "spaceflight participants," and researchers seeking to experiment in microgravity. In addition to these suborbital efforts, Boeing, SpaceX, and Sierra Nevada Corp. each landed a share of a $1.1 billion NASA grant announced in August to develop orbital craft capable of carrying humans to the International Space Station, with flights expected in 2017.
Training for those missions will, for the first time, create spaceflight opportunities for private passengers and crews selected by corporations instead of government space agencies. For crews, the path to space may in coming years no longer require extensive military or test flight experience.
"It was a high criteria to be a NASA astronaut," Henwood said. "Now, I think all of that's going to be accessible to all of us."
At the direction of Congress, the FAA has left the requirements for commercial space crews deliberately vague: a pilot certificate, instrument rating, and Class II medical are specifically required under 14 CFR Part 460, but many of the training requirements are more broadly defined, allowing operators some flexibility. Simulation of normal flight and emergency conditions is among the requirements, and NASTAR Center is the first provider to offer a space-qualified simulator. (ETC also designed the Disney attraction Mission: Space at Epcot Center.)
NASTAR Center training starts with a half-day entry-level course ($500), and a two-day course for "spaceflight participants" that costs $3,000. Prospective flight crew members would then go on to more advanced training, the cost and specifics tailored to a particular mission.
NASTAR Center is also working with its simulators and centrifuge to develop data on how spaceflight will affect the rest of us, those not trained for military combat or Space Shuttle missions. Henwood said there will also be opportunities even for those who are not suited for, or interested in, a high-speed, high-G environment.
"I will need pilots as instructors," Henwood said, noting that physicians, curriculum developers, and other specialists will be in increasing demand in the coming few years as programs—and training—ramp up. "Keep following the direction of the industry, because there will be a lot of jobs coming."
The FAA Office of Commercial Space Transportation has also approved zero-G training conducted by Zero Gravity Corporation, billed as the only option available for the general public to experience weightlessness short of space travel.
In addition to the aforementioned firms, which are well on the way to suborbital flight, there are other players. A Florida company, Rocket Crafters, is working on several fronts, designing spacecraft for both commercial transportation and training. Ronald D. Jones, Rocket Crafters president and chief technology officer, said those two-seat trainers—which Rocket Crafters hopes to bring to flight schools and collegiate aviation programs starting in 2015—are being developed in conjunction with a comprehensive spaceflight academy, in partnership with an existing aeronautical program he declined to identify, yet (an announcement may be forthcoming soon).
"Our goal, actually, is for the space flight academy to be the first institution to offer full certification programs in this field," Jones said.
While much of the private investment in suborbital flight to date has focused on the tourism model, where participants will experience a few minutes of weightlessness before returning to the original launch location, Jones said Rocket Crafters is designing transport vehicles able to carry a relatively small number of passengers across oceans at Mach 6. Think New York to London in two hours or less, depending on routing requirements and any ATC holds.
"That is the goal of most of the providers, but that's a long, long way off," Henwood said of supersonic—or hypersonic—space travel.
-
Quelle: NASTAR Center
4312 Views